Discover more from The Pick and Roll
We're all about Aussie hoops. Independent, objective analysis and commentary. Insightful narratives built around Australian basketball. Read about our men and women in the NBA, WNBA, NCAA, Europe, national teams, NBL, WNBL, NBL1, prospects and more.
Over 2,000 subscribers
NCAA Women: 2015 All-Australian Awards
Michael De Lacy takes a look back over the 2014/15 NCAA Division 1 hoops season and hands out his end of season awards.
---
Player of the Year
Stacey Barr | Idaho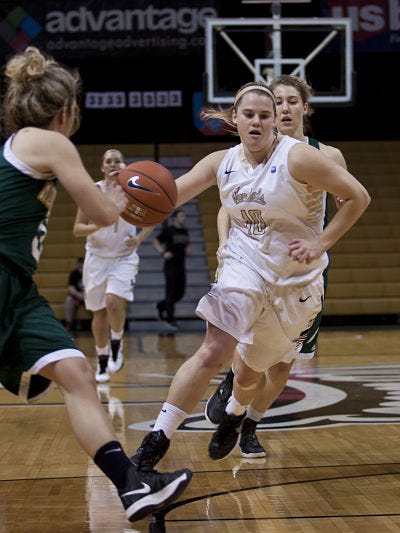 Stacey Barr - Courtesy University of Idaho Athletics
Statistically Barr had the best year of her career, even though the team couldn't put the numbers on the scoreboard and earn the results they had hoped for. Always known as a scorer, Barr finished her career as a Vandal in averaging an amazing 21 points per game. Barr wasn't easy choice for player of the year; a number of other players who just missed and had very impressive seasons, including were Alex Sheedy, Nicole Seekamp, Alicia Froling and Funda Nakkasoglu.
Barr was simply outstanding this year, earning a long List of accolades that included:
Capitol One Academic All-District Team

Big Sky Conference Preseason Player of the Year

Women's Basketball Coaches Association (WBCA) Honourable Mention All-America team.

Setting a school record for career 3-point field goals (268)

Voted an All-Region nominee for the 2015 Women's Basketball Coaches Association (WBCA) Division I Coaches' All-America Team

Voted Second Team All-Conference by the conference's coaches
"I am proud to have had to opportunity to coach Stacey here at the University of Idaho," head coach Jon Newlee said.
"It is disappointing to see the rest of the conference coaches not acknowledge the season she had. She is one of the greatest women's basketball players this school has seen. She deserved to be recognized as one of the top five players in the conference this season."
Defensive Player of the Year
Alicia Froling | Southern Methodist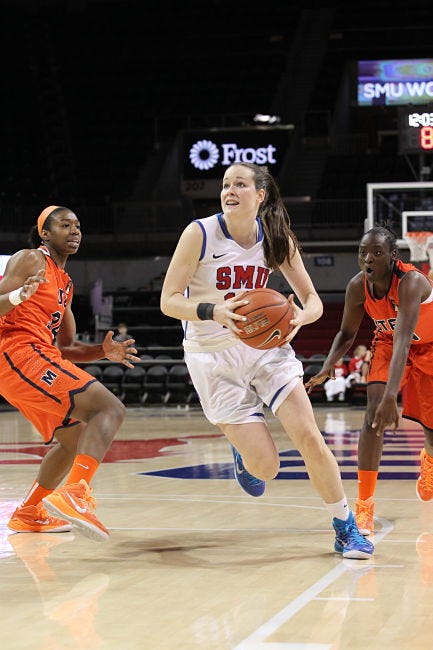 Alicia Froling - Courtesy of SMU Athletics
The defensive player of the season went to the Mustangs' freshman Alicia Froling from Queensland, someone we interviewed back in March. The Gun forward posted 54 blocks for the season, setting an SMU record for a freshman and second all-time in school history. Froling recorded 4 blocks in a game 3 tines during the season. To top it off, Froling has just been invied to Australias U19 Jayco Gems camp.
''This is a great opportunity for Alicia. Anytime an athlete gets to represent their country, it is a tremendous honor," SMU head coach Rhonda Rompola stated.
"She has been training diligently since the season ended, and we as a program are very excited for her."
Most Improved Player
Lauren Nicholson | Saint Mary's
Lauren Nicholson has cemented herself as a very important piece in the Gael's line-up. The junior guard a very impressive season and saw her scoring numbers take a big leap up from the previous 2013-14 season where she averaged 12 points, 1.2 assists and 2.7 rebounds per game. She managed to boost her production to career-high's of 17.6 points and 3.5 rebounds per game, starting all 33 games for the Gael's. Look to see Nicholson's numbers take another step forward as she approaches her last season at Saint Mary's as a Senior.
https://www.youtube.com/watch?v=pM8-ZOyOqwM
Freshman of the Year
Funda Nakkasoglu| Utah State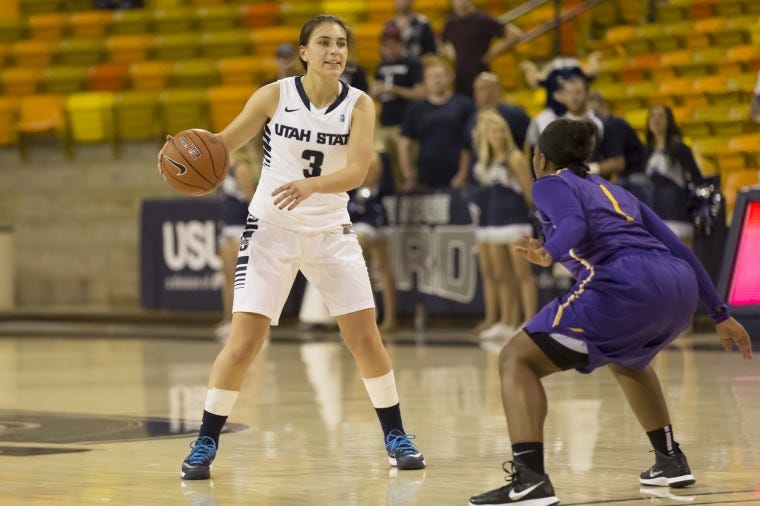 Funda Nakkasoglu - Courtesy Utah State Athletics
Freshman Funda Nakkasoglu led her team with 17 points and 4.6 assists in 34 minutes per game. The high scoring freshman gave Utah State fans some important hope over the next few years with her outstanding first year. Nakkasoglu just edged out SMU's Alicia Froling and Baylor's Kristy Wallace who all enjoyed brilliant first years as college players.
Nakkasoglu was named the Mountain West Women's basketball Freshman of the Year, becoming the first Aggie women's basketball player to do so. She was also named honourable mention all-Mountain West honours, as well as being named to the Mountain West All-Freshman Team and College Sports Madness Freshman of the Year for the Mountain West. Rounding off her accolades, she was also named in the Full Court Freshman All-American Third-Team.
Season Highlights
With the season well and truly over, I also thought it would be worthwhile to call out a few highlights from the past season.
Hannah Young's biggest highlight for the season was when she connected on a massive game-winning buzzer-beater for Virginia Tech with the assist from fellow Aussie Vanessa Panousis.
https://www.youtube.com/watch?v=XuhiVAmcX58
The St. Francis - Brooklyn Terriers went on a fairytale run to win the Northeast Conference tournament and secure a berth in the big dance, with Australians Eilidh Simpson and Alex Delaney playing an integral role in their success.
https://youtu.be/a4A2zayMjIg
And to wrap up an amazing season by the Aussie women in Division I hoops, here is my attempt at naming the All-Australian First and Second teams.
All Australian Teams
First Team
Guard | Nicole Seekamp | South Dakota
Guard | Stacey Barr | Idaho
Forward | Funda Nakkasoglu | Utah State
Forward | Alex Sheedy | Fresno State
Centre | Alicia Froling | Southern Methodist
My First team features two of most impressive freshmen this season who managed to hold out some seniors who were forced into the second team. Froling and Nakkasoglu both dominated respectively for their teams. Seekamp and Sheedy were no-brainer selections alongside Barr.
Second Team
Guard | Vanessa Panousis
Guard | Eilidh Simpson
Forward | Ashleigh Karaitiana
Forward | Lauren Nicholson
Centre | Mollie McKendrick
My Second team was a lot harder to select. It contains Boston's Mollie McKendrick who held an important leadership position for the Terriers. My toughest task was in leaving out another freshman in Kristy Wallace who was also sensational for Baylor.
Farewell to the following Australian Seniors;
Stacey Barr

Ashleigh Karaitiana

Mollie McKendrick

Nicole Seeklamp

Alex Sheedy

Eilidh Simpson
The Pick and Roll farewells one of strongest groups of senior Aussie women who have played in Division I basketball. One could expect to see most, if not all, successfully make the transition from college to professionals within the next 6 months.
---
Who was your Favourite Aussie player or team this past season? Did anyone get missed that should have received a mention? Share your opinion by posting a reply