Discover more from The Pick and Roll
We're all about Aussie hoops. Independent, objective analysis and commentary. Insightful narratives built around Australian basketball. Read about our men and women in the NBA, WNBA, NCAA, Europe, national teams, NBL, WNBL, NBL1, prospects and more.
Over 2,000 subscribers
NCAA Spotlight on the Aussie Women: Farley with a big milestone (11-Mar-14)
Michael De Lacy once again takes a quick look back over the last week of NCAA Division I hoops action and calls out the notable performances by the Aussie women."Stay Tuned For the Season Recap which will include all seasonal awards.
---
Player and Team Of the Week
For both key awards this week, look no further than Bree Farley and the Fresno State Bulldogs.
Farley weaving through traffic - Courtesy Fresno State Athletics
Fresno State kick off this week's recap with a narrow 47-53 loss. The Bulldogs were unable to hold off Colorado State after displaying some hot shooting first half (45%) and earning an 11-point lead. Senior Bree Farley went 5/14 from the field but was still able to provide a solid stat line with 13 points, 9 rebounds and 3 steals in 30 minute of action. 6'6" team-mate Jacinta Vandenberg also had a strong game in the paint in finishing with 4 points, 7 rebounds, 2 assists and 1 block in 33 minutes.
The Bulldogs were able to fight back in yet another tough game and secure a 67-63 victory over San Diego State. 'Big Shot' Farley went a perfect 5/5 from the field in scoring 16 points with 3 rebounds and 2 steals in a great game. Vandenberg also enjoyed another solid outing with 6 points and 8 rebounds in only 19 minutes.
They backed up with an impressive 107-80 victory over San Jose State. Before the game, Farley was honored on a dream senior night for the Aussie who also became just the 21st player at Fresno State to reach 1,000 career points. With all the attention, Farley delivered a memorable performance in compiling a new career-high 31 points (12/12 FT) and 7 rebounds in only 27 minutes. After returning from a recent injury, guard Alex Sheedy provided outstanding support with a double-double that included a career-high 22 points with 11 rebounds and 4 assists in only 25 minutes. While Vandenberg only received limited court time, she managed 8 points and 7 rebounds in 15 minutes. Farley made this statement after the victory;
"To be playing at my best form at this point in the season is really important for me and my team," Farley said. "It was a very special moment and one that I will never forget."
http://www.youtube.com/watch?v=qaa83chede4&feature=youtu.be
The Best of the Rest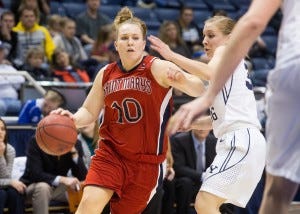 Gaze in action for the Gael's vs BYU - Courtesy Saint Mary's College Athletics
Over in the West Coast Conference, Saint Mary's were able to overcome Pepperdine in a 74-61 victory. Senior Kate Gaze had an unlucky night from the field in going 3/14, however she was able to put this behind her and help the team in anyway she could. She still ended with an impressive 16 points, 6 rebounds, 6 assists and 2 steals in 38 minutes. In their next game Gaze once again filled the stat sheet, compiling 12 points, 4 assists and 3 rebounds in 31 minutes as the Gaels grabbed a 76-72 win over Portland.
Without any surprise, junior Stacey Barr continued playing at a high level. She produced 17 points, 5 rebounds and 3 assists in Idaho's 69-61 victory against Utah Valley. Barr has been in outstanding touch, having connected on at least one 3-point basket in everyone one of her last 10 games. The Vandals then went on to dismantle Chicago State 91-41, and Barr was at it again. She went 5/11 from the field in adding 16 points with 6 rebounds and 2 steals in 32 minutes.
Another win was earned when Idaho defeated Seattle 60-57 that sewed up the Western Athletic Conference regular season title. Barr however struggled with her jumper early, going 4/14 from field but still managing to record a team-high 14 points with 7 rebounds, 4 assists and 2 steals in 36 minutes. Barr has remained consistent on all parts of the court making a three point basket in each of her last 12 games while also scoring in double figures in 34 of her last 36 outings.
Boston was able to grab a cruising victory over Loyola Maryland 74-55. Junior Mollie Mckendrick went 4/9 from the field and went close to a double-double in finishing with 11 points, 9 rebounds and 2 assists in 29 minutes. The Terriers then came up short with a season ending loss in the quarter-finals of the Patriot League tournament, falling short against Army in a low scoring battle. McKendrick was able to collect her 4th double-double of the season with 17 points on 6/17 shooting alongside 10 rebounds and 2 blocks in 35 minutes of action. McKendrick was the only player to reach double figures for Boston.
Nicole Seekamp played a vital role in South Dakota earning a hotly contested victory over Western Illinois 96-94. Seekamp was close to a rare triple-double in a spectacular game for the junior, tying her season high of 26 points to go with 7 rebounds, an equal career-high 9 assists and a very strong defensive effort with 4 steals in 35 minutes. Making a living from the charity stripe in nailing all 10 of her attempts, Seekamp helped lead her Coyotes to a 74-56 win over IUPUI. She would finish with 16 points and 3 assists in another solid performance.
5'11" forward Marena Whittle compiled 17 points and 7 rebounds in 26 minutes of non-stop action as North Dakota State lost to Denver in a tightly contested match. Then in their following game, Whittle provided a 14 point and 10 rebound double-double with 2 steals. However North Dakota State were uable to claim victory in going down to IUPUI 64-72 in the Summit League tournament quarterfinals, thus ending their season.
Some other worthy performances worth calling out include;
Hawaii's Ashleigh Karaitana went a rough 6/14 from field but still was able to provide 17 points and 4 rebounds on seniors night in a 73-60 win against UC Santa Barbara.

St Francis Brooklyn were unable to hold off Bryant University in going down 58-63. Eilidh Simpson struggled with her stroke going 5/15 from the field but she compiled a team high 16 points and 4 rebounds in 32 minutes.

Sophomore Stephanie Bairstow went 4/9 from field in scoring 11 points with 5 rebounds in a 96-57 victory over San José State.

Murray States sophomore Bianca Babic had 13 points, 4 rebounds and 2 assists in 30 minutes in a 17 point loss to UT Martin 67-84.
---
Who was your Aussie player or team of the past week? Did anyone get missed that should have received a mention? Share your opinion by posting a reply