Discover more from The Pick and Roll
We're all about Aussie hoops. Independent, objective analysis and commentary. Insightful narratives built around Australian basketball. Read about our men and women in the NBA, WNBA, NCAA, Europe, national teams, NBL, WNBL, NBL1, prospects and more.
Over 2,000 subscribers
NCAA Spotlight on the Aussie Men: Magical Maynard (27-Jan-14)
Damian Arsenis checks back in with all the latest on the Aussie men playing Division I college hoops over the past week.
---
Just Briefly...
This edition is well overdue having been more than a week since we last checked in. There have been some outstanding performances by the Aussie men over the past week or so and I have done my best in trawling through all the box scores to bring everyone back up to speed...
Player of the Week
After an outstanding season to date, Corey Maynard took it to another level this past week. The 6'3" senior guard was simply outstanding, and his on-court exploits ended in him being named Northeast Conference (NEC) Player of the Week. Since my last recap, Bryant has played 4 games and has won them all behind the magical play of Maynard and has further justified why he was ranked at #4 in The Pick and Roll mid-season top 15 Aussies.
Maynard running the show vs Gonzaga - Courtesy of Torrey Vail via Bryant University Athletics
Heading into their home game against Sacred Heart with a 1-1 record in conference play, a win was imperative if the Bryant Bulldogs were to stay on pace to top the NEC standings. Maynard displayed his leadership and talents in contributing 19 points on 7/12 shooting including 4/7 from beyond the arc as Bryant earned a convincing 85-70 victory. In an all-round performance, he also collected 6 rebounds, 7 assists and 4 steals while protecting the ball well in only turning it over once.
Travelling to Fairleigh Dickinson (FDU), the Bulldogs momentum continued as they steamrolled to a big 95-68 win. The catalyst for the road-win was a career-best 30 point outing by Maynard who was on fire. FDU has no answer for Maynard who shot a sizzling 12/15 from the field and a perfect 3/3 on triples to go with 3 rebounds, 3 assists and 2 steals in 36 minutes.
Back at home for a 2-game stretch, Bryant continued to roll behind the outstanding play of Maynard but this time he turned helper. In overcoming LIU Brooklyn 87-79, Maynard still managed a solid 13 points, but he also dished out a game-high 9 dimes that helped the Bulldogs to a respectable 49% shooting percentage for the game. He also picked up 6 rebounds and had just 1 turnover as he continued his amazing run of form, but there was still more to come.
Bryant then registered their 4th straight win and improved to 5-1 in the NEC, this time accounting for St. Francis (NY) 83-79 in what was a much closer contest. Maynard was at his all-round best once again, compiling 13 points that including a perfect 9/9 from the line to go with 7 rebounds and 2 assists. Maynard and the Bulldogs will be looking for revenge this coming week against Robert Morris who currently sits alone on top of the NEC without a loss.
Maynard has been experiencing an outstanding season and currently ranks in the NEC top-15 in seven categories this season, including; scoring (12th), rebounding (15th), assists (6th), field goal percentage (10th), free throw percentage (6th), steals (3rd) and assist to turnover ratio (8th). Maynard who is averaging 12.75 points, 4.95 rebounds, 5.05 assists and 1.55 steals per game will be a key to the Bulldogs chances.
The NEC also recently provided some insights into the 4 Australian's on Bryant's roster and is worth checking out:
Team of the Week
While Bryant made a good argument for inclusion as team of the week thanks to Maynard, I could not overlook a New Mexico team that not only won their games, but also had two Aussies right at the forefront leading the way.
Greenwood running the point - Courtesy of New Mexico Athletics
The New Mexico Lobos recovered from their rare home loss to UNLV to account for Fresno State on the road 89-78 behind the stellar play of star forward Cameron Bairstow. Bairstow was again unstoppable in scoring a game-high 22 points that included 14/19 from the free throw line. He also added 8 rebounds, 1 assist and 1 block before fouling out in 33 minutes. Hugh Greenwood was steady at both ends in contributing 8 points, 4 rebounds and 2 assists without a turnover.
In a marquee Mountain West match-up, the Broncos travelled to New Mexico in a game that was a great advertisement for Australian basketball; featuring 5 key players from the land down under. Winning at the Pit however proved too much for the Boise State, with their arch rivals prevailing 84-75. While it is usually Bairstow and Anthony Drmic leading their respective teams, this game was a little different as Greenwood and Nick Duncan went head-to-head in a shoot-out from long range.While Duncan continues to emerge in his freshman year, it was Greenwood who would steal the limelight. In his best shooting performance of the year, Greenwood shot a sizzling 7/9 from the field including 5/6 on triples in scoring a season-high 20 points to go with 6 rebounds, 2 assists and 2 steals in 33 minutes. In his first career-start, Duncan gathered an impressive 16 points including 5/10 from beyond the arc alongside 4 rebounds and 1 steal; his 2nd consecutive game in nailing 5 triples.
In the win against the Broncos, Bairstow was his usual impressive self in collecting 17 points on 7/8 shooting to go with 3 rebounds, 2 assists, 1 steal and 2 blocks in 32 minutes. Drmic was well held by the Lobos to end with 9 points, 2 rebounds and 4 assists, while team-mate Igor Hadziomerovic missed the game. After his standout performance, New Mexico Head Coach Craig Neal had this to say about Greenwood;
"I think we've always expected that when we started the season for him to shoot the ball that well. I think he's been so instrumental in trying to get our team together, chemistry wise. He's passed up shots in the past, but I think he played really free tonight. He played the way I envisioned him playing. I think he can make shots like that."
You can hear what Greenwood and Bairstow had to say after the big win in their post-game press conference:
Missing one half of their "Vanilla Skyscrapers" in center Alex Kirk, New Mexico was made to work hard in overcoming Colorado State 68-66. Greenwood hit two big three-ball's late in the game, including one with less than a minute remaining, to ensure the Lobos held on to win. He finished with 8 points, 5 rebounds and 4 assists, while Bairstow shouldered a lot of the scoring load yet again in compiling 19 points (7/13 FG), 6 rebounds and 1 assist in a foul plagued 34 minutes. With the short-handed road win, the Lobos improved to 6-1 in the Mountain West ahead of their next game against Utah State. In averaging 20.3 points a game, Bairstow remains on track to become the first Lobo in school history to average more than 20 points over an entire season.
Best of the Rest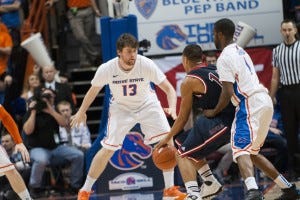 Duncan playing solid defence against Saint Mary's - Courtesy Boise State Athletics
Trying to keep pace with their Mountain West foes, Boise State took care of business against Utah State 78-74. A career-high 17 points that included 5/9 three-pointers from Duncan off the bench helped ensure a Broncos victory. With 3 triples and 12 of his points coming in the first half, Duncan also collected 6 rebounds and 1 assist, while compatriot Drmic was relatively quiet in notching up just 10 points, 2 rebounds and 4 assists.
Following their road loss to New Mexico, the Broncos needed to quickly get their campaign back on track and did just that in easily brushing aside San Jose State 76-55. Drmic scored all 10 of his points in the first half in also finishing with 6 rebounds and 1 block in 34 minutes, while Duncan who started again, providing 9 points on 3/5 three-pointers to go with 2 rebounds and 1 assist in 22 minutes. Boise State improved to 4-3 in conference play and will be looking to record another win at home against Air Force this week. Despite some quieter scoring games, Drmic is still leading the Broncos in scoring with 17.7 points with 4.8 rebounds and 1.6 assists and 1.4 steals per game.
After dropping their first 2 Mountain West Conference games, the Wyoming Cowboys have since won 4 in a row, a run that continued at home against San Jose State. In the 67-56 win, senior guard Nathan Sobey collected 10 points 2 rebounds, 2 assists and 1 block in 28 minutes. Win number 3 was earned against Air Force, and thanks to a Sobey triple with just under 4 minutes remaining, it put the Cowboys ahead for good, going on to win 66-59. Sobey finished with 10 points, 4 rebounds, 4 assists and 1 steal in 34 minutes; his 4th straight game in scoring 10 points or more.
The winning streak continued as Wyoming defeated Nevada at home 64-62. Needing overtime to secure the win, Sobey was solid again in providing 9 points, 4 rebounds, 1 assist, 1 steal and 1 block in 42 minutes. The Cowboys are now 4-2 in conference play and just 2 games behind #7 San Diego State, with Sobey providing 7.2 points, 2.7 rebounds and 1.8 assists per game.
UC Riverside Highlanders earned a morale boosting win against the UC Davis Aggies 81-69 on the road, their first in the Big West this season. With power forward Chris Patton playing as the 6th man off the bench, he contributed 14 points on 5/7 shooting to go with 1 rebound and 1 block in 29 minutes. For UC Davis, forward Iggy Nujic was 1-rebound shy of a double-double, with 10 points and a career-high 9 rebounds in 32 minutes as his team slumped to 0-3 to open Big West play.
The winning feeling for the Highlanders was short-lived however as they were thrashed 69-100 by Hawaii on the road. Patton was his consistence self in compiling 11 points on 4/5 shooting alongside 3 rebounds, 1 assist and 1 steal in 23 minutes. Back at home after the big loss, the Highlanders missed their opportunities and ended up going down to UC Santa Barbara 65-68 in an overtime thriller. Patton was outstanding, shooting an efficient 10/13 from the field in scoring a game-high 23 points. He also chimed in with 6 rebounds, 1 assist and 1 steal in 36 minutes, but it wasn't enough for the Highlanders to avoid losing their 10th game this season by 5 points or less. Next up was Cal Poly, and finally a second conference win as the Highlanders prevailed 61-58. Patton led the way in scoring a game-high 17 points alongside 6 rebounds, 1 assist and 1 block in 31 minutes. The 6'10" forward now has season averages of 13.4 points, 6 rebounds and 1 assist per game.
Nujic shoots over the Nevada defense - Courtesy Wayne Tilcock, AggiePhoto.com
Following the big loss to UC Riverside, UC Davis bounced back to register their first win in Big West Conference play as they accounted for Cal State Fullerton at home 69-61. In what turned out to be a hard slog, Nujic's 10 points, 1 rebound and 1 block contribution off the bench proved invaluable in ensuring the Aggies earned an 8-point win. That success quickly became a distant memory as the visiting Hawaii turned it on to inflict a 73-90 loss. Nujic continued his emergence by clocking up a season-high 19 points on 6/9 shooting, including 2/4 from the three-point line in just 19 minutes. UC Davis next take on Cal Poly in the coming week and will be hoping to turn their season around with a solid road win.
Over in the America East Conference, Peter Hooley continues to star for the Albany Great Danes. In an encouraging 85-78 win over Maine, Hooley piled on 19 points including a perfect 12/12 from the charity stripe, and it was his last 6 all made in the final 16 seconds of the game that ensured the Great Danes came away victorious. Hooley also finished with 3 rebounds and 6 assists in 33 minutes and received good support from fellow countrymen in the form of the Rowley brothers. The younger Mike Rowley contributed a career-high 10 points, 5 rebounds, 1 assist and 3 steals in 23 minutes, while Sam Rowley had a quiet 6 points and 2 rebounds in a foul plagued 12 minutes.
The Great Danes backed up with a 66-60 home win over Binghampton and it was again the 6'4" Hooley leading the way. Hooley this time collected a game-high 17 points to go with 3 rebounds, 4 assists and 3 steals in 38 minutes on court to maintain his great run of form. Forward Sam Rowley was again quiet by his lofty standards, picking up just 6 points, 6 rebounds, 1 assist and 1 steal in 27 minutes. Hooley's great form was stifled against New Hampshire as he was restricted to a season-low 4 points to go with 5 rebounds, 2 assists and 1 steal. With Sam Rowley able to notch just 8 points on a poor 4/12 shooting (8 rebounds, 1 assist, 3 steals and 1 block); it was no coincidence that Albany dropped the game 56-60.
Albany is now 4-3 in conference play ahead of their contest against America East leaders Stony Brook (6-0). Hooley who has season averages of 14.8 points, 2.9 rebounds and 2.8 assists per game will be required to step back up to his best if Albany has any chance of earning a coveted win. The elder Rowley also needs to rediscover the touch that has eluded him over the last couple of weeks.
Corban Wroe delivered what was arguably his best game of the season as Hartford defeated Massachusetts Lovell 69-51, with the forward scoring 11 points to go with 9 rebounds and 3 assists in 33 minutes. The Hawks would then go on to win their 3rd in a row as they managed to edge ahead of Binghampton on the road 56-54 in a tight, low-scoring affair. It was a Taylor Dyson mid-range jump shot with just over 2 seconds left that ensured Hartford came away with a win. Dyson finished with 7 points, 3 rebounds and 2 assists, while Wroe had 6 points, 4 rebounds, 2 assists and 3 steals.
Still on their road trip, Dyson continued where he left off if compiling an equal game-high 15 points, 9 rebounds, 1 steal and 1 block, however the Hawk's dropped the close one this time around against UMBC 58-60. Wroe chimed in with 4 points, 9 rebounds, 2 assists and 1 steal before fouling out in just 20 minutes. Hartford is now 4-3 in America East league play and next takes on the 5-1 Vermont at home.
After winning 2 straight, Eastern Washington travelled to Northern Arizona and found the going tough as they fell 65-84. Venky Jois continued his fine form that saw him earn Big Sky Conference and The Pick and Roll player of the week awards last week. The forward posted a 14 point and 15 rebound double-double to go with 1 steal and 2 blocks in 33 minutes; however the Eagles received very little production from their bench and experienced an overall poor shooting night that prevented them getting close enough to steal a win.
Still on the road, the Eagles next took on Sacramento State and came up short 64-75 as they once again struggled with their shooting. Jois however went 7/10 from the field in scoring a team-high 17 points to go with 7 rebounds, 3 assists, 2 steal and 1 block in 38 minutes, but he was not able to drag his team across the line. The Eagles limped back home to try and turn their fortunes around and thankfully they did just that against Southern Utah; recording a much-needed 90-83 victory. Jois was again in great form and was 1 rebound shy of another double-double, racking up 19 points, 9 rebounds, 1 assist, 1 steal and 1 block. The Eagles now face an uphill battle to improve on their 3-4 Big Sky Conference record and climb their way back up the standings. One thing is for sure though; Jois who is averaging 13.6 points, 8.5 rebounds, 2.2 assists, 1 steal and 1.4 blocks per game will be doing his utmost best to ensure the Eagles every opportunity.
Freshman guard Jaryd Eustace continues to impress in coming off the bench for the Miami (OH) RedHawks, contributing 13 points (5/8 FG), 2 rebounds and 1 steal as his team overcame Ball State 64-52. Ball State's imposing Australian power forward Majok Majok was 2 points short of another double-double, ending with 8 points, 10 rebounds and 1 block in 30 minutes. Two wins later, Eustace chimed in with an 8-point outing on a perfect shooting display including 2/2 from downtown and 2/2 from the line as Miami (OH) accounted for Bowling Green 70-65. Miami (OH) improved to 4-2 in the Mid-American Conference and is now just 1-game behind East leaders Akron.
Ball State put aside their season struggles to break a 4-game losing streak as they overcame Buffalo 71-68 for their first win in conference play. Majok chipped in 12 points, 5 rebounds and 2 assists in 30 minutes. However the success was short-lived as they then lost at Western Michigan 53-62 despite Majok racking up his 7th double-double of the season. Majok finished with 13 points, 10 rebounds, 1 assist and 2 blocks and now averages 10.9 points, 10.2 rebounds and 1.2 assists per game.
Trist advances the ball - Courtesy Rick Smith via Lafayette Athletics
Lafayette were once again on the wrong end of the ledger as they went down 61-66 to American. Forward Dan Trist continued his solid form by posting 12 points and 4 rebounds but it wasn't enough to stop the Leopards recording another loss. Things did not change as Trist and the Leopards hosted Holy Cross. Trist chimed in with 10 points, 2 rebounds and 1 steal in coming off the bench but the Leopards lost 58-59.
Heading back on the road, Lafayette next took on Lehigh and lost another close one 68-71 despite a team-high 16 points, 4 rebounds and 2 assists from Trist. He is posting career best numbers of 13.5 points, 5.4 rebounds and 1.1 assists per game, however Lafayette are now on an unenviable 10 game skid and have lost all 8 of their Patriot League games. The Leopards have not tasted victory since mid-December, having also lost 7 games this season by 5 points or less in what has turned out to be a very trying season to date.
6'10" center Angus Brandt continued his consistent form in compiling 14 points, 5 rebounds, 2 assists and 1 block as Oregon State earned a much-needed 80-72 win at home against Oregon. They then backed up by visiting Washington State and worked their way to another win, this time emerging 66-55. Brandt was again in the thick of the action, scoring 14 points on 6/9 shooting to go with 4 rebounds and 1 assist in 34 minutes on court. However the good run ended at the hands of Washington 81-87 despite Brandt's 11 points, 4 rebounds and 3 assists. The Beavers are now 3-4 in Pac-12 conference play, with Brandt contributing 12.4 points, 4.4 rebounds and 1.8 assists per game.
---
Has Damian left out any performance of note? Do you agree with his selections? Please share a comment!