Discover more from The Pick and Roll
We're all about Aussie hoops. Independent, objective analysis and commentary. Insightful narratives built around Australian basketball. Read about our men and women in the NBA, WNBA, NCAA, Europe, national teams, NBL, WNBL, NBL1, prospects and more.
Over 2,000 subscribers
NCAA Spotlight on the Aussie Men: 2014 All-Aussie Awards
Damian Arsenis takes a look back at the 2013/14 NCAA Division I season and provides his All-Australian Award winners that is sure to spark some debate!
---
Another big year for the Aussies
With 52 of the 55 Australian men on rosters taking to the court across 33 schools and 20 conferences, it has been another big year for the contingent from the land down under. After the standout collegiate careers of Matthew Dellavedova (Saint Mary's College/Cleveland, NBA), Ryan Broekhoff (Valparaiso/Besiktas, Turkey) and Brock Motum (Washington State/Virtus Bologna, Italy) all came to an end following their graduation in 2013, one could have been excused for forecasting a lean year by the Aussies. However there were plenty of talented young men who lifted their games to help maintain the success on (and off) the court.
By season end, two players led their teams to the NCAA tournament and in doing so were named conference tournament Most Valuable Player (MVP). There were many others who also showcased just how good the talent is from Australia and this brings me to the end of season accolades. It is time to recognise the efforts of the Aussie men this past season, and therefore please let me introduce to you my 2014 All-Aussie Awards. While some selections came relatively easy, some others were quite tough. Some selections were far too close for my liking, but I made a call one way or the other. I have also provided the complete list of season averages for every single Aussie male athlete; all in the one spot for you to review.
---
Player of the Year | Cameron BAIRSTOW | New Mexico
Early on, Anthony Drmic of Boise State was giving his Mountain West Conference rival and compatriot Cameron Bairstow a run for his money. However as Drmic battled with injury, Bairstow just went from strength to strength in one of the best and most consistent seasons that any Australian has managed to string together. Bairstow was outstanding on a very good team featuring two other NBA aspirants, and outshone them both.
http://youtu.be/k0Fml_gcLEE
Bairstow's numbers are hard to argue against. He averaged a Mountain West best 20.4 points per game on 55.6% shooting from the field alongside 7.4 rebounds, 1.6 assists and 1.5 blocks per game. While he got the job done at both ends of the floor while recording an impressive 8 double-doubles, he was a potent, consistent scorer throughout the year and the Lobos banked on him time and time again. In starting every game during the season, Bairstow scored 14 or more points in 33 of the 34 games the Lobos played, with his lowest output being 8 points in a non-conference loss to Massachusetts. If you look further, Bairstow actually scored 20 or more points 22 times - an amazing output that included reaching a career-high 29 points against both Charleston Southern and Colorado State. He was simply an unstoppable force in what was one of the best single seasons in New Mexico history. Bairstow ended his senior year by garnering a host of awards and recognition, including;
Mountain West Player of the Week x 3

First Team All-Mountain West

Mount West Tournament MVP

All-Mountain West Tournament First Team

USBWA District VIII Player of the Year

All-District 8 First Team

NABC All-District 17 First Team

Second Team All-America by Sports Illustrated

Third Team All-America by NBC Sports and CBS Sports

Honorable Mention All-America by the Associated Press

Bob Cousy Award Watch List

Robertson Award Watch List

Wooden Award Watch List
Most Improved | Cameron BAIRSTOW | New Mexico
Has any Aussie improved as much as Bairstow did from one season to the next? As a junior who averaged 9.7 points and 5.9 rebounds in 24 minutes per game, he doubled his scoring output and went from a solid contributor, to stamping his authority as one of the best power forwards in all of college basketball and one of the most improved players in the country.
Bairstow in an aggressive mood - Courtesy New Mexico Athletics
There were small indicators late in his junior year of good things to come, yet very few predicted his meteoric rise. Bairstow took a big step in helping lead Australia to a silver medal at the 2013 World University Games, and his rapid improvement saw him earn a place in the Australian national team that defeated New Zealand 2-0 to clinch the 2013 FIBA Oceania series. His off-season experience and exploits proved to be the launching pad for what was simply a spectacular year by a player now widely regarded as being an NBA second round draft pick.
Honourable mention goes to sophomore guard Peter Hooley of Albany who lifted his scoring average from 8.8 points per game to a team-best 15.5 this past season. He also ended the year in leading the Great Danes to the America East Tournament title and was named MVP along the way. Jordan Vandenberg also emerged in his senior year at North Carolina State, however there was never a doubt that this award should go to Bairstow.
Defensive Player of the Year | Venky JOIS | Eastern Washington
This was my toughest selection to make. The choices included Hugh Greenwood at New Mexico, Corey Maynard at Bryant and Jordan Vandenberg at North Carolina State amongst a host of others. However while there were many good choices, one stood out for me and that was versatile forward Venky Jois.
Jois on the drive - Courtesy Eastern Washington Athletics
Jois can do it all; score, rebound and defend. For someone who is 6'7" he can play well above his height, often being required to guard taller, stronger and more athletic opponents and he always does so with aplomb. With a special blend of athleticism and strength, he is able to position himself well as a defender to prevent his large opponent from getting good looks. Jois is the glue for the Eagles and managed to log a team best 8 rebounds and 1.6 blocks, while also picking up 0.9 steals per game. Jois swatted more shots than any other Aussie during the season, despite given up height to his nearest challengers in Bairstow (1.5bpg) and Vandenberg (1.4bpg).
Freshman Player of the Year | Sam DALY | Grand Canyon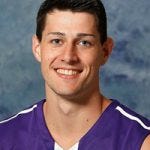 Sam Daly - Courtesy Grand Canyon University Athletics
There was some competition for this award, with Boise State's Nick Duncan, Miami's (OH) Jaryd Eustace and Louisville's Mangok Mathiang all in contention for recognition. While Mathiang was playing supporting minutes off the bench for a national title contender and Eustace made the most of some good opportunities with the RedHawks, Sam Daly of Grand Canyon is my contentious selection as Aussie rookie of the year.
Playing under the direction of former NBA star Dan Majerle in Grand Canyon's first year as a Division I program, Daly enjoyed a truly remarkable yet frustrating beginning to his collegiate career with the Antelopes. As a walk-on freshman with Grand Canyon, Daly was nearly resigned to red-shirting due to experiencing difficulty in gaining academic clearance, especially as he missed the Antelopes entire non-conference schedule. However Daly received some good news when he and the team learned that he had been cleared to play during their pre-game shoot around before their first Western Athletic Conference game.
Daly would go on to make an immediate impact, and it was not long before he was in the starting lineup. After scoring just 2 points in his collegiate debut, he then went on to score 3 straight games of 10 points or more, culminating in a 12 point, 4 rebound and 2 assist outing in which he started and played all 40 minutes. He then went on to play 13 straight games before going down with a season-ending injury. Before his premature end to the season, Daly was delivering 7.1 points, 3.4 rebounds and a team-best 4.2 assists per game. There is no doubt that Daly will be back better than ever next season for the rising Antelopes.
All-Australian Teams
First Team
Guard | Peter HOOLEY | Albany Guard | Hugh GREENWOOD | New Mexico Forward | Anthony DRMIC | Boise State Forward | Cameron BAIRSTOW | New Mexico Centre | Angus BRANDT | Oregon State
Peter Hooley managed to push his way into my first team ahead of Corey Maynard, who along with Venky Jois, were the unluckiest to miss out. America East Tournament MVP Hooley was the late season bolter who forced his way in, while Hugh Greenwood was reliable on a very good team in finishing 6th in the nation for assist to turnover ratio. Out of all the Aussies, it is safe to say that Greenwood had the safest pair of hands by far in taking care of the rock and running the Lobos offense. Swingman Anthony Drmic was a near automatic selection alongside Bairstow, while Angus Brandt was a model of consistency for Oregon State in his senior year that placed him ahead of Majok Majok and Jordan Vandenberg for center.
Second Team
Guard | Corey MAYNARD | Bryant Guard | Nathan SOBEY | Wyoming Forward | Venky JOIS | Eastern Washington Forward | Dan TRIST | Lafayette Centre | Majok MAJOK | Ball State
Jois and Maynard headline my second team, both unlucky to miss out on first team selection. Nathan Sobey lifted his game to new heights at Wyoming and deserves his place in the team along with Dan Trist who managed to score almost at will for Lafayette. In averaging a double-double over the season for Ball State, Majok deserves his position in the second team ahead of an improved Vandenberg.
Third Team
Guard | Taylor DYSON | Hartford Guard | Sam DALY | Grand Canyon Forward | Sam ROWLEY | Albany Forward | Chris PATTON | UC Riverside Centre | Jordan VANDENBERG | North Carolina State
Sam Rowley and Chris Patton were both pushing for inclusion into the second team, but I had them both just being edged by Trist. Taylor Dyson deserved his place for his great progress throughout the season at Hartford. Vandenberg makes the third team after a most improved season following a college career dampened by injury. Despite a limited season, my rookie of the year Sam Daly just managed to sneak into my third team over Christian Salecich.
Honourable Mention
Guard | Christian SALECICH | SIU Edwardsville Forward | Iggy NUJIC | UC Davis Forward | Corban WROE | Hartford Forward | Sam MCBEATH | Nicholls State
Salecich and Corban Wroe could possibly consider themselves unlucky not to make my third team, while Iggy Nujic showed good signs following his transfer to UC Davis from Texas-San Antonio while Sam McBeath was slowed by injury.
---
Do you agree with Damian's selections? We would love your feedback so please share a comment.
For a comparison, Damian's mid-season rankings can be reviewed here: The top 15 with all the stats
---
2013/14 Season Stats
The stats for all the Aussie men have been collated for you all here in the one spot! They have been sorted by points per game. # Name School MIN PTS FG% 3P% FT% REB AST BLK STL TO 1 Cameron BAIRSTOW New Mexico 32.9 20.4 55.6% 33.3% 73.5% 7.4 1.6 1.5 0.6 2 2 Anthony DRMIC Boise State 32.8 15.9 44.1% 34.1% 78.1% 4.5 1.7 0.1 1.1 2 3 Peter HOOLEY Albany 35.1 15.5 39.8% 38.8% 85.2% 2.7 2.6 0 0.8 2 4 Venky JOIS Eastern Washington 31.8 13.4 52.8% 11.1% 52.8% 8 2.5 1.6 0.9 3 5 Corey MAYNARD Bryant 35.2 13.3 44.7% 28.1% 82.6% 4.9 4.3 0.2 1.3 3 6 Daniel TRIST Lafayette 22.5 13.1 54.4% 0.0% 70.6% 5.4 1.1 0.2 0.3 2 7 Chris PATTON UC-Riverside 26.4 13 51.7% 0.0% 69.4% 5.8 1.2 0.7 0.6 2 8 Angus BRANDT Oregon State 25.4 12.6 52.1% 36.7% 76.1% 3.9 1.5 0.7 0.4 2 9 Majok MAJOK Ball State 29.8 11.2 54.7% 0.0% 58.2% 10 1.1 0.8 0.3 3 10 Sam ROWLEY Albany 29.2 11.1 51.4% 0.0% 69.3% 6.9 1.8 0.6 1.1 3 11 Nathan SOBEY Wyoming 30.2 9.8 42.7% 25.9% 69.1% 3.4 1.9 0.2 0.5 1 12 Taylor DYSON Hartford 18.8 8.1 37.1% 36.4% 76.6% 2.4 0.5 0.1 0.5 1 13 Sam McBEATH Nicholls State 18.3 7.4 42.0% 35.1% 56.1% 3.9 1.3 0.5 0.7 1 14 Sam DALY Grand Canyon 28.6 7.1 43.1% 16.7% 61.4% 3.4 4.2 0.2 0.8 3 15 Igor NUJIC UC-Davis 21.1 7 39.6% 31.8% 68.9% 3.4 0.7 0.2 0.3 2 16 Christian SALECICH SIU-Edwardsville 23 6.8 41.8% 36.0% 68.8% 2.1 2.3 0 0.7 1 17 Dexter KERNICH-DREW Washington State 22.2 6.3 39.4% 36.4% 74.3% 1.7 0.8 0.2 0.4 1 18 Corban WROE Hartford 25.3 6.3 48.6% 43.3% 80.0% 3.2 1.7 0.1 0.6 2 19 Jaryd EUSTACE Miami (OH) 18.6 6.3 38.3% 31.0% 70.2% 2.6 0.8 0.1 0.6 1 20 Hugh GREENWOOD New Mexico 31.8 6.2 40.1% 33.1% 64.5% 5.1 3.4 0.3 0.9 1 21 Durrell McDONALD De Paul 19.6 5.4 40.9% 41.5% 66.7% 1.8 1.2 0.1 1.1 1 22 Nicholas DUNCAN Boise State 17.1 5 42.3% 41.0% 70.4% 2.6 0.3 0.2 0.3 1 23 Jordan VANDENBERG North Carolina State 22.1 4.6 68.0% 0.0% 52.2% 4.7 1 1.4 0.3 1 24 Joshua OSWALD Miami (OH) 16.6 4.6 40.0% 23.6% 77.3% 2.8 0.5 0.3 0.4 1 25 Lachlan PREST Nicholls State 22.2 3.8 32.4% 28.6% 100.0% 1.7 1.2 0.4 0.2 1 26 Igor HADZIOMEROVIC Boise State 18.2 3.7 39.5% 16.7% 54.5% 2.9 1.5 0.1 0.5 1 27 Mangok MATHIANG Louisville 14.7 3.6 52.8% 0.0% 61.9% 3.6 0.4 1.4 0.4 1 29 Liam THOMAS Nicholls State 15.5 3.3 54.8% 0.0% 46.7% 3.2 0.6 1.3 0.3 1 28 Matthew HODGSON Saint Mary's College 10.5 3.3 53.3% 0.0% 42.5% 2.6 0.1 0.9 0.1 1 30 Felix VON HOFE Eastern Washington 8.6 2.9 38.2% 33.3% 64.3% 0.6 0.2 0.1 0 0 31 Bosko KOSTUR Bryant 9.2 2.8 36.4% 22.2% 63.6% 1.7 0.1 0 0.3 1 32 Luke DEVLIN Albany 13 2.4 49.2% 0.0% 47.6% 2.4 0.7 0.2 0.3 1 33 Chudier PAL UNC-Asheville 9.5 2.1 48.5% 0.0% 44.4% 2.6 0.4 0.8 0.1 1 34 Dane PINEAU Saint Mary's College 8.2 1.9 45.0% 41.2% 80.0% 1.4 0.3 0.4 0.1 0 35 Michael ROWLEY Albany 10.3 1.9 33.3% 28.6% 65.4% 2.1 0.3 0 0.3 1 36 Indiana FAITHFULL Wofford 12.8 1.8 26.8% 6.7% 76.5% 1.4 1.9 0.2 0.4 1 37 Declan SOUKUP Bryant 7.5 1.8 28.6% 20.0% 81.8% 0.6 0.8 0 0.5 1 38 Jackson ALDRIDGE Butler 7.9 1.6 34.1% 30.0% 33.3% 0.5 0.5 0 0.1 0 40 Cade TOWERS Nicholls State 6.9 1.5 34.5% 40.0% 25.0% 0.9 0.1 0.1 0.1 1 39 Piers CARROLL Nicholls State 1.8 1.5 66.7% 66.7% 0.0% 0 0.5 0 0 0 41 Darcy MALONE Louisiana State 3.8 1.4 55.0% 42.9% 25.0% 0.9 0.2 0.1 0.1 0 42 Daniel HILL Eastern Washington 6.5 1.3 29.4% 33.3% 60.0% 0.3 0.6 0 0.3 1 44 Nathaniel MUSTERS Lafayette 10.4 1.2 57.7% 0.0% 20.0% 1.9 0.3 0.6 0.3 1 43 Matt HANCOCK Lamar 9.1 1.2 25.0% 21.4% 66.7% 1.1 0.4 0 0.1 0 45 Jack LOPEZ Montana 5.6 1.1 28.6% 22.2% 77.8% 0.8 0.1 0.1 0 0 46 Claybrin McMATH Bryant 7.5 0.8 47.8% 0.0% 20.0% 1 0.1 0.2 0.2 0 47 James HUNTER Washington State 1.9 0.8 60.0% 0.0% 20.0% 0.3 0 0.1 0.2 0 48 Michael HARPER Hawaii 3.9 0.6 33.3% 25.0% 0.0% 0.6 0.1 0 0.1 1 49 Spencer LLEWELLYN Pacific 2.9 0.3 12.5% 0.0% 100.0% 0.2 0.2 0 0 0 50 Matt DONLAN South Dakota State 2.3 0.3 25.0% 0.0% 0.0% 0.3 0.1 0 0 0 51 Dougal WEIR Hartford 3.5 0.2 25.0% 0.0% 0.0% 0.3 0.1 0.1 0 0 52 Ben WILSON Idaho State 0 0 0.0% 0.0% 0.0% 0 0 0 0 1 - Jeromie HILL Texas-San Antonio - - - - - - - - - - - Alex OVERS Nicholls State - - - - - - - - - - - Marley BIYENDOLO Pepperdine - - - - - - - - - -