Discover more from The Pick and Roll
We're all about Aussie hoops. Independent, objective analysis and commentary. Insightful narratives built around Australian basketball. Read about our men and women in the NBA, WNBA, NCAA, Europe, national teams, NBL, WNBL, NBL1, prospects and more.
Over 2,000 subscribers
NCAA Spotlight on the Aussie Men: Hooley and Bairstow with MVP performances (17-Mar-14)
Damian Arsenis checks back in with all the latest on the Aussie men playing Division I college hoops over the past week.
---
March Madness continued to build with "Champ Week" coming to an end. Conference tournaments have now all been won and are done. So let's get straight into it and see how the Aussie contingent have fared.
Players & Teams of the Week
I call it a draw. I call it even. Cameron Bairstow and Peter Hooley both deserve recognition for their play over the past week, and New Mexico and Albany also both deserve the honours as well. Why? Both players were named tournament MVP's as they helped guide their teams to tournament wins and earning automatic berths to the NCAA tournament as a result. and they also received a lot of support from their Aussie team-mates.
Peter Hooley | Albany Great Danes
Also in the America East tournament, Albany took on the #1 seeded Vermont in their semi-final and looking to cause an upset. Thanks to another stellar performance by their stellar Australian sophomore guard Peter Hooley, the Great Danes caused a big upset in pulling away for a 67-58 win. Hooley nailed 4 treys on his way to a game-high 26 points with 1 assist in 37 minutes on court, following up his career-high of 30 points in the previous game. Sam Rowley chipped in 7 points, 8 rebounds and 2 blocks as Albany kept their NCAA tournament hopes alive by making the final.
The Great Danes faced Hartford's semi–final conqueror Stony Brook in the final for a chance to make it back-to-back NCAA tournament appearances. Stepping up on the big stage was junior forward Sam Rowley. Rowley was on fire, going 9/11 from the field to score 18 points before picking up his 5th foul with 8 minutes to go and his team trailing by 6 points. However the Great Danes incredibly outscored Stony Brook 23-8 down the stretch to win 69-69, taking home the America East crown and booking a ticket to the big dance.
Although his game ended prematurely, Sam Rowley also collected 5 rebounds, 4 assists and 3 steals in his 29 minutes. Right there with him was also Hooley who was again outstanding, scoring 9 of his 15 points in the final 7 minutes. He also added 5 rebounds, 2 assists and 2 steals in playing all 40 minutes. Senior forward Luke Devlin provided a pivotal 26 minutes off the bench that included 2 points, 3 rebounds and 1 block. Recognised for his consistent and exemplary play in averaging 23.7 points across all three tournament games, Hooley was awarded the Reggie Lewis Most Outstanding Player trophy. Joining Hooley on the All-America East Tournament team was fellow Aussie standout Sam Rowley.
http://www.youtube.com/watch?v=Buvy2fsUZRI
Cameron Bairstow | New Mexico Lobos
After losing the Mountain West Conference crown to #8 San Diego State, #20 New Mexico were out to atone and took out their frustration on Fresno State, winning 93-77. As he has done all season long, Cameron Bairstow led the Lobos to the win, racking up a double-double with an equal game-high 21 points, 10 rebounds, 1 assist and 3 blocked shots. Compatriot Hugh Greenwood also stepped up with 8 points, 8 rebounds, 3 assists and 1 block without a single turnover. The Lobos were hungry, and they had their eyes on the Broncos next.
Like their meetings during the regular season, this game would come down to the wire. In a great advertisement for Australian basketball, 5 Australians featured in the game. Behind another big-time performance from Bairstow who had a game-high 23 points that included 13/15 from the free throw line, New Mexico managed to hold off Boise State in a thrilling finish, 70-67. Bairstow was big in the clutch, hitting a key jumper with 42 seconds remaining, and then icing the game with 2/2 from the line. He also finished with 8 rebounds, 1 assist, 1 steal and 1 block. Greenwood once again provided great support with 8 points, 6 rebounds, 3 steals and 1 block.
The Lobos wanted revenge, they sought redemption, and they earned their chance. #8 San Diego State versus #20 New Mexico was the dream Mountain West final match-up, and the game did not disappoint. Some called it an upset; others called it justice, as the Lobos won a nail-biting encounter 64-58 to claim the tournament championship and an automatic NCAA berth. With 5 of New Mexico's last 8 points of the game, Bairstow was again clutch at the death. The 6'9" power forward ended with a game-high 17 points, 9 rebounds, 1 assist and 2 blocks. Greenwood was arguably just as good, with 12 points, 4 rebounds and 5 assists as the Lobos claimed their 3rd consecutive crown. Bairstow played throughout the tournament to the chants of "MVP" from the pro-Lobo crowd, and on the winning team he was duly named Mountain West tournament Most Valuable Player. New Mexico Head Coach Craig Neal had this to say after the game;
"Bairstow is the real deal," said Neal. "I think he will be an All-American selection and he deserves it. My kids have the hearts of a champion."
http://youtu.be/We1OMx5-UW8
Best of the Rest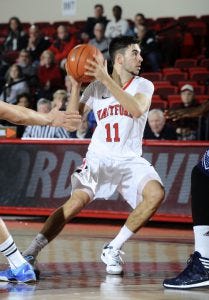 Corban Wroe looking to set up a team-mate - Courtesy University of Hartford
In the semi-finals of the America East tournament, Hartford was tasked with taking on #2 seed Stony Brook. With an equal career-high 21 points, junior guard Corban Wroe did everything within his power to drive home a win. However despite nailing a scintillating 7/9 from beyond the arc to go with 4 rebounds and 1 assist in a blemish free 32 minutes, the Hawks were bounced from the tournament 64-69. Wroe had help from fellow Aussie Taylor Dyson who together delivered 20 of the Hawk's 31 first-half points. Dyson finished with 9 points, 4 rebounds and 1 steal to end what was a promising run by Hartford.
Aiming to return to the NCAA tournament, Boise State got their Mountain West tournament campaign underway with an impressive 83-52 smashing of San Jose State. Playing hurt with a stress fracture in his foot, Anthony Drmic was shelved after 19 minutes in which he provided 2 points, 2 rebounds and 1 assist. However Igor Hadziomerovic stepped up with 10 points on 5/6 shooting with 1 rebound, 1 assist and 1 steal in 21 minutes. Freshman forward Nick Duncan played only 9 minutes in a limited role for 2 rebounds.
Taking on Nevada in Las Vegas was next up for the Broncos. With 17 points, 2 rebounds, 4 assists and 3 steals, Drmic was back in form as he helped drive Boise State to a 75-62 win and a date with New Mexico in the semi-finals. Hadziomerovic and Duncan combined for 5 points, 4 rebounds and 1 assist in the big win. As outlined earlier, the Broncos took the Lobos to the edge before going down 67-70. Drmic finished with 6 points, 4 rebounds, 3 assists and 1 steal.
Wyoming limped into the Mountain West tournament and the Cowboys were quickly bundled out in the quarter-final against UNLV 67-71. Putting up a good fight was senior guard Nathan Sobey who ended his collegiate career on an individual high, scoring 18 points with 7 rebounds, 3 assists, 1 steal after 37 minutes of action. Over his last 7 games, Sobey averaged an impressive 18.5 points and 5.7 rebounds per game.
Playing in the very strong Atlantic Coast Conference, North Carolina State made a very strong run in the conference tournament. In the first round the Wolfpack played inspired basketball to defeat Miami (FL) 67-58. Senior 7'1" center Jordan Vandenberg played well at both ends in contributing 4 points, 4 rebounds, 2 assists and 3 steals in 32 minutes. North Carolina State then caused a big upset in overcoming #11 ranked Syracuse 66-63 in the quarter-finals, raising hopes of earning a ticket to the NCAA tournament. Vandenberg arguably played even better, going 5/5 from the field in finishing with 10 points, 5 rebounds and 1 block in 30 minutes.
Next up, the Wolfpack faced an even tougher task in facing #7 Duke. The Blue Devils would prove too much to handle for North Carolina State, eventually falling 67-75 in an admirable performance. Vandenberg was solid in providing 6 points (3/4 FG), 3 rebounds, 3 assists and 1 block in 26 minutes. With the loss went with it any chance of a guaranteed berth in the NCAA tournament; the Wolfpack would have to rely on the selection committee instead.
In the first round of the Mid-American tournament, it would prove to be the last game of Ball State's imposing 6'10" power forward Majok Majok. The Cardinals were no match for Ohio and their season came to an end thanks to a 64-76 loss. Majok was solid as he has been all season, scoring 13 points with 5 rebounds and 1 blocked shot in a foul plagued 24 minutes. He ends his senior year averaging a rarer double-double of 11.2 points and 10 rebounds per game with a pro career beckoning.
Jaryd Eustace in control - Courtesy of Miami (OH) University
Unlike Ball State, Miami (OH) enjoyed better fortunes as they managed to take care of business 71-64 against Kent State. Freshmen Jaryd Eustace and Joshua Oswald combined for 9 points, 3 rebounds and 1 steal in the win. Against the #5 seeded Ohio however, things proved a little more difficult and the RedHawks would end up on the wrong end of a 55-63 final score line. Eustace ended an impressive debut season with 15 points, 7 rebounds and 1 assists in 27 minutes.
Reigning national champions and #5 ranked Louisville annihilated Rutgers 92-31 in the American Athletic Conference. In 15 minutes of action, freshman forward Mangok Mathiang contributed 3 points, 8 rebounds and 1 blocked shot. Houston was next and they only proved to be more fodder as the Cardinals raced away to another impressive victory, 94-65. Mathiang again played his role in coming off the bench, this time providing 2 points, 6 rebounds and 1 steal with 3 blocks in 17 minutes. The final was a meeting between the reigning champions and #22 ranked Connecticut. This time Mathiang only saw 10 minutes on court for 1 rebound. However Louisville was still able to prevail 71-61 and earn and automatic berth to the NCAA tournament, winning their 19th overall tournament title and 3rd in a row.
Brandt plays a key role for Beavers - Courtesy Oregon State Athletics
Playing in the first round of the Pac-12 tournament, Oregon State were defeated 88-74 by in-state rivals Oregon despite a big performance by 6'10" center Angus Brandt. The Australian was outstanding, scoring a game-high 20 points that included 3/3 on triples alongside 3 rebounds and 1 block in 29 minutes. It may well have been the last college game for the 5th year senior, ending his year averaging 12.5 points, 3.9 rebounds and 1.6 assists per game.
Also in the Pac-12, Washington State was no match for Stanford in going down 63-74. Dexter Kernich-Drew played a key role for the Cougars in trying to cause an upset, compiling 11 points, 1 rebound and 1 assist.
Nicholls State took on Southeastern Louisiana in the Southland Conference tournament first round and came out on top 71-64. 6'10" freshman Liam Thomas played a major role in the good win, scoring 6 points with an impressive 12 rebounds and 3 blocks in 29 minutes. However the #4 seeded Northwestern State proved a major stumbling block and the Colonels fell 72-88. In battling foul trouble, Thomas was still able to add 8 points, 5 rebounds, 1 steal and 2 blocks in just 18 minutes.
After scraping into the Big West tournament, UC Riverside was unable to make any waves as they fell short 43-63 to UC Irvine. In what was likely his last game, senior power forward Chris Patton played just 21 minutes in adding 5 points and 1 rebound in a relatively quiet goodbye to college hoops.
---
A breakdown of the Aussies in the NCAA tournament will follow soon - stay tuned!
Has Damian left out any performance of note? Do you agree with his selections? Please share a comment!