Discover more from The Pick and Roll
We're all about Aussie hoops. Independent, objective analysis and commentary. Insightful narratives built around Australian basketball. Read about our men and women in the NBA, WNBA, NCAA, Europe, national teams, NBL, WNBL, NBL1, prospects and more.
Over 2,000 subscribers
NCAA Spotlight on the Men: Bairstow the beast (19-Nov-13)
Damian Arsenis takes a quick look back over the past week in NCAA division 1 hoops action and calls out all the highs and lows of the Aussies in action.
---
Just briefly...
We are now well under way for the 2013-14 college basketball season as the teams look to work through their non-conference schedules. As with last week, I take a quick look at some of the action over the past week...
Maynard in action against Gonzaga - Courtesy Torrey Vail via Bryant University Athletics
When he first arrived at Bryant, the Bulldogs were one of the worst teams in division 1 hoops and were lucky to attract a crowd of 35. Some 3 years later, Corey Maynard who enters his senior year has gone a long way to changing all that as he helped guide Bryant to back-to-back wins over the past week and a winning record of 3-2 to start the season. Maynard kicked things off with an 18 point (6/8 FG), 6 rebound, 3 assist and 2 steal effort in 33 minutes in an 87-77 win over Dartmouth (recap). He then backed that up in fine fashion by compiling a near triple-double as Bryant ran away from Vermont 87-64 (recap and highlights). It was an impressive all-round performance as he racked up 6 points, 8 rebounds and a new career-high 10 assists with 1 steal and block to top it all off. Bryant basketball is now well and truly relevant once again.
Corban Wroe played an important role in scoring 9 points with 2 assists in Hartford's 63-53 win over Fairfield (recap and highlights) after dropping their first two games of the season. The Hawks then backed it up with an even more impressive 76-60 win over Fairleigh Dickinson at home (recap and highlights), with Wroe once again in the thick of the action. The junior guard scored 5 points but also hauled in a new career-high 9 rebounds alongside 4 dimes and 1 steal in 32 minutes on court. He was a key contributor in Hartford winning the battle of the boards 27-19, with the Hawks now improving to 2-2 to start the season. Fellow Australian starter Taylor Dyson had this to say after the game, "It was a good win. They pressed the whole game so we had three ball handlers on the floor for the most part."
Albany with its bevy of Australians lost to Quinnipiac 69-79 (recap) despite the best efforts of Sam Rowley who nearly matched his career high in scoring. Rowley maintained his early season form in shooting a sizzling 9/11 from the field on his way to a team-high 20 points to go with 6 rebounds and 2 assists before fouling out in 30 minutes. He has been on fire this season to date, averaging 16.3 points per game whilst shooting an impressive 79% from the field in a hot start to the season. Rowley referred to some careless play late in the game that may have cost them their chance, "We had some crucial turnovers towards the end of the game that led to the loss." Peter Hooley also had 8 points, 3 assists and 2 steals, whilst Luke Devlin managed 6 points of his own on 3/4 shooting in the loss.
Rowley for the easy score against Siena - Courtesy Bill Ziskin via University at Albany Athletics
Sharp-shooting big man Angus Brandt continued his return from injury in encouraging fashion by recording just his second career double-double. He was able to score 13 points with 10 rebounds and 3 assists and 1 block in 32 minutes as Oregon State accounted for Portland 79-73 (recap and highlights). In their second game of the week and with President Obama watching court side, Brandt was hampered by early foul trouble in recording just 2 points and 2 rebounds before fouling out in only 15 minutes. Despite this the Beavers still managed an impressive 90-83 win over Maryland (recap and highlights).
Washington State with two Australian's on their roster defeated Lamar 84-64 (recap and highlights) with athletic junior guard Dexter Kernich-Drew at the forefront of the action. Kernich-Drew compiled a season-best 15 points, 7 rebounds, 4 assists and 1 steal in 26 minutes on court, however it was a steal and breakaway dunk that energised the crowd and had everyone talking!
Playing against the highly rated Washington Huskies, Venky Jois and Eastern Washington pushed their Pac-12 opponents to the brink before falling 80-92 (recap). Jois who is the reigning Big Sky Freshman of the Year managed to compile a solid 9 points with 6 rebounds and 3 assists in registering 39 minutes game time. the Eagles are now 1-1 on the season and looking to regroup ahead of their next game against Walla Walla at home.
Imposing forward Majok Majok logged his first double-double of the season in helping Ball State to a narrow 87-83 victory over Southeast Missouri State (recap and highlights). The big man from Perth scored 11 points on 5/7 shooting to go with 12 rebounds in just 22 minutes on court. It is sure to be the first of many big hauls for the towering big man this season.
Player of the week
He may have just missed out last week, but Cameron Bairstow's 29-point new career-high in just 28 minutes for #22 ranked New Mexico left him without peer over the last week. Bairstow was once again unstoppable as he helped open the floodgates against Charleston Southern in a 109-93 shootout (recap and highlights). In breaking his personal scoring mark for the second straight game, Bairstow went 9/13 from the field while drawing 10 fouls and heading to the line to make 11/16 from the charity stripe; he simply was a beast in the paint in overpowering his outmatched opponents. Just for good cause, he also managed to pick up 5 rebounds, 2 assists and 1 steal along the way.
Bairstow in the post against Charleston Southern - Courtesy New Mexico Athletics
Over two games to start the season, Bairstow is averaging an amazing 25.5 points and 8 rebounds per game, and in doing so has formed an imposing Lobo frontline with 7-foot centre Alex Kirk. Against Simpson the big men combined for 53 points and 18 rebounds to send earth tremors throughout the Mountain West, if not across the entire country.
Compatriot and team-mate Hugh Greenwood battled his way out of early foul trouble to put together 7 points, 3 rebounds, 2 assists and 1 steal in just 19 minutes of action.
Team of the week
Once again it is a team from the Mountain West that provides us with the team of the week, and this time it is Boise State after they notched 100 points for the second straight game to open the season.
The Broncos maintained their high-scoring start to the year by dismantling Simpson 110-53 (recap and highlights). Once again it was Anthony Drmic who was in the thick of the action, scoring 16 points with 2 rebounds, 1 assist and 5 steals in just 21 minutes on court. After two games, Drmic is averaging an impressive 25 points and 4 rebounds per game, and along with Lobo Cameron Bairstow, they are clearly leading the way for the Aussies in the Mountain West and in fact across the entire NCAA.
Drmic on his way to the basket against UTA - Courtesy Karl LeClair via Boise State Athletics
Drmic had plenty of Aussie support though in the win against Simpson, with fellow Aussie Igor Hadziomerovic having his way in scoring 9 points alongside 4 rebounds and 7 assists in just 17 minutes on the hardwood. Freshman forward Nick Duncan in just his second game as a Bronco impressed, scoring 12 points including hitting on 3/4 from long-range with 4 rebounds, 1 steal and 1 block, widely drawing praise for his sweet stroke.
Hadziomerovic in control against Simpson - Courtesy Wankun Sirichotiyakul via Boise State Athletics
"This game was more about us getting better as a team. Anthony Drmic and Igor Hadziomerovic continued their good early season form. Nick Duncan led the team in minutes played and he is showing that he will be a valuable asset for the Broncos this season." - John Rillie, Assistant Coach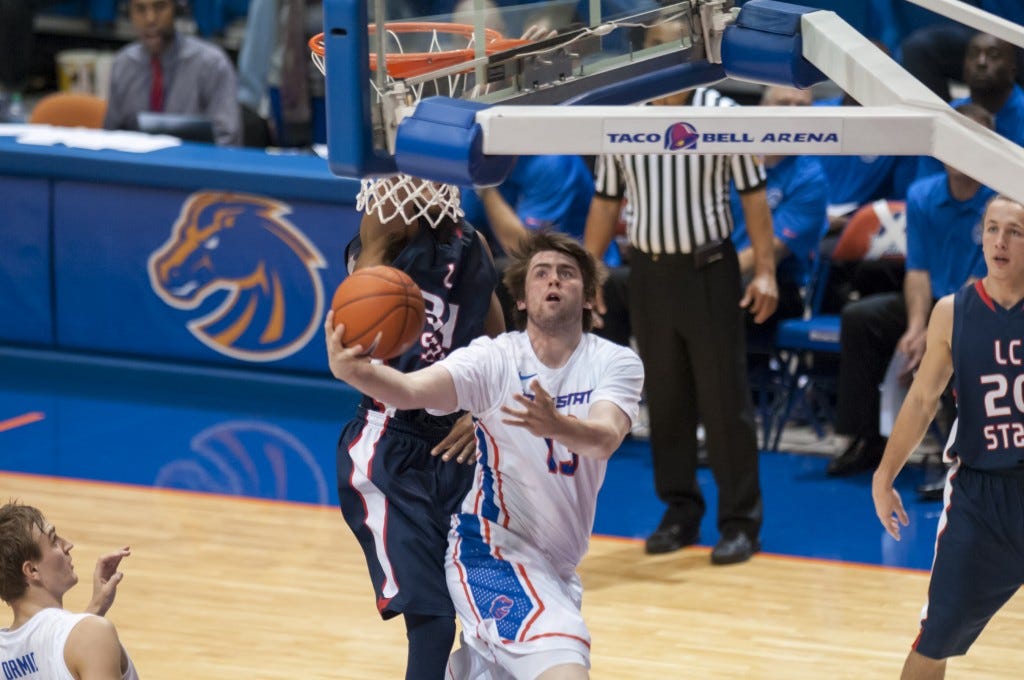 Duncan at the rim - Courtesy Wankun Sirichotiyakul via Boise State Athletics
---
Who was your Aussie player or team of the past week? Did anyone get missed that should have received a mention? Share your opinion by posting a reply.