Discover more from The Pick and Roll
We're all about Aussie hoops. Independent, objective analysis and commentary. Insightful narratives built around Australian basketball. Read about our men and women in the NBA, WNBA, NCAA, Europe, national teams, NBL, WNBL, NBL1, prospects and more.
Over 2,000 subscribers
NCAA Spotlight on the Aussie Women: Vandenberg helps Bulldogs win (22-Nov-13)
Michael De Lacy takes a quick look back over the past week in NCAA division 1 hoops action and calls out the notable performances by the Aussie women.
---
Around the traps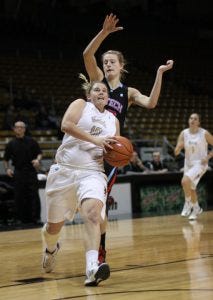 Stacey Barr drives - Courtesy University of Idaho Athletics
Idaho junior Stacey Barr kicks things off this week with a season-high performance in a 2-point win against Chicago.Barr started the game with a barrage of 3-pointers, shooting 4 of 7 on her way to 14 points and 3 boards in the first half! As the second half began, Chicago placed pressure on Barr's shots and restricted the Aussie to what was still a game-high 21 points (7 /18 FG), 6 rebounds, 2 assists and 1 turnover in 37 minutes. She was not expected to play the second game in back-to-back games against Chicago, as she suffered a leg injury in the earlier 81-63 win. She battled through the pain, being cleared to play by team officials after making it through the team's warm-ups, and was probably the difference in finishing 2-0.Saint Marys managing to hold on to win against Butler 90-86 in an overtime thriller.
Kate Gaze had relatively quiet game on paper, in 33 minutes going 0/4 from the field with just 2 assists and 3 boards. However on a positive note she was able to shoot 10/12 from the charity stripe for 10 points for the game. He performance from the line included 2 clutch made free throws in the last 32 seconds of regulation leading to overtime. The extra period began with Lauren Nicholson hitting two 3-pointers with one assisted by Gaze, enabling the Gael's to break free from the Bulldogs. While the game was close to being won, with 10 seconds to go, Gaze once again showed everyone that she is clutch, sealing the win by nailing a further 2/2 from the line and earning the win 90-86. Nicholson stole some of the limelight from Gaze this week, finishing the game with a new career-high of 23 points (7-14 FG) including 5/9 from beyond the arc, 8 rebounds and 2 steals in playing 39 minutes.
"Our team was very determined and focused today," said head coach Paul Thomas. "They stayed on task even though they were not making shots in the first several minutes. Having all five starters in double-figures is a compliment to our character."
Coming off some big performances last week and averaging 19 points after her first two games, Nicole Seekamp was harassed into shooting 0/10 from the field, however she still contributed 5 assists and 2 steals in a win against South Dakota 65-61. She the backed up with 12 points 3 rebounds and 1 assist in an overtime loss to Drake. Seekamp hit a triple in overtime to edge North Dakota ahead, however it proved to be Coyote's only score in the extra period, going down 81-89.
Kiara Bomben, the lone senior from Massachusetts pulled down a career 9 rebounds with 7 points in 22 minutes in a good performance. However Bomben could not prevent the Minute women 59-82 loss to American. They however backed it up with an upset 64-63 win over Rutgers. Bomben had 7 points, 2 rebounds and 3 assists in the big win ahead of their next encounter with Hartford.
Player of the week
Last week we had Nicole Seekamp from South Dakota take the prize for our first Aussie College player of the week. This week we have 6'6" Victorian centre Jacinta Vandenberg who earns the gong.
Vandenberg scores over a Trojan - Courtesy Keith Kountz via Fresno State Athletics
Vandenberg exhibited a strong performance for Fresno State in producing a new career-high of 15 points along with 5 rebounds. She shot a solid 5/8 from the field in playing 26 minutes, with even greater things predicted for the emerging centre according to Coach Raegan Pebley.
"She (Vandenberg) is just growing even more as a mature, confident player, I am just excited to see her grow. There are going to be ups and downs, but I think she's built her confidence on such a solid foundation of hard work and fundamentals that when she hits those downward steps she's going to bounce right back up."
In the same game, forward Alex Sheedy gathered a season-high 14 points, 2 assists and 2 rebounds in 32 minutes of action. Bree Farley also had and influence on the game, scoring 5 points with 4 rebounds, 4 assists and a very strong defensive effort with 3 steals in 32 minutes. All three Australians who played were in the starting five, with Courtney Gaze not suiting up.
Fresno State had an early 11 point lead in the first half that Fullerton could never reel in, eventually winning 68-57. Alex Sheedy also has a regular blog where she expresses her on and off court experiences on the Fresno State website should you wish to check it out.
Team of the Week
This week's team of the week was a hard choice between Virginia Tech and Saint Mary's. However I couldn't go past the Hokies and their big win against Bucknell 87-49, with all three Aussies playing and filling the stat sheet.
Vanessa Panoussis in control against Florida - Courtesy Virginia Tech Athletics
First of all we had 6'1" forward Hannah Young posting 8 points, 8 rebounds, 3 assists, 3 blocks in 31 minutes of hustle. Vanessa Panoussis also chimed in with 9 points, 2 rebounds and 4 assists in 21 minutes on the hardwood. And then there was also Madison Penn who worked hard for 6 points, 6 rebounds, 4 assists, 2 blocks and 2 steals in an all-round performance in just 18 minutes! It was a very promising win and great advertisement for Australian hoops. The Hokies made my this spot in team of the week because of the amazing contribution that the Australian contingent made and the fact that the Hokies outplayed Bucknell in all areas of the game.
Madison Penn handling the rock against Florida - Courtesy Virginia Tech Athletics
For Bucknell's lone Australian representative, Claire Maree O'Bryan had 3 points and 7 rebounds in a solid performance in a losing cause.
---
Who was your Aussie player or team of the past week? Did anyone get missed that should have received a mention? Share your opinion by posting a reply.