Discover more from The Pick and Roll
We're all about Aussie hoops. Independent, objective analysis and commentary. Insightful narratives built around Australian basketball. Read about our men and women in the NBA, WNBA, NCAA, Europe, national teams, NBL, WNBL, NBL1, prospects and more.
Over 2,000 subscribers
NCAA Men: Trist on fire, Rowley and Albany unbeaten
Damian Arsenis checks in with a summary of how the Aussie men have been performing in NCAA Division I action .
---
There has been around month since I last posted a weekly update. Unfortunately life got in the way. However instead of trying to catch up on every individual performance since early January, I focus on the major talking points of the Aussie men in NCAA hoops so far in 2015.
Big performances worthy of conference awards coupled with a handful of Aussies in nationally ranked teams headline this week's coverage.
---
Conference Recognition
Three Aussie men have received Player of the Week awards in over the past few weeks directly as a result of their stellar on court performances headlined by Sam Rowley and Dan Trist who each earned the accolade over consecutive weeks.
Sam Rowley | Albany Great Danes
As the reigning two-time America East champions, Albany's non-conference results were far from what they would have been hoping for to open the 2014/15 season. However with the commencement of the conference schedule, they have turned around their fortunes in sensational fashion. The Great Danes are currently streaking, going on an 12-0 run to open America East play and are now firming as favourites to three-peat.
Sam Rowley - Courtesy University at Albany Media Relations
Albany's success has come about as a result of some consistent yet outstanding performances from senior Australian Sam Rowley. The 6'6 forward earned consecutive America East Conference Player of the Week awards, lifting his output to an impressive 13.9 points and 7 rebounds per game while collecting 5 double-doubles along the way. What is even more surprising about the Great Dane's run is that it eventuated despite the loss of star sophomore guard Peter Hooley - out indefinitely following the passing of his mother who lost her long fight against cancer.
Rowley's mammoth 20 point, 15 rebound and 4 assists propelled the Great Danes to a 61-46 win against Binghamton will need to be replicated against second placed NJIT this week. Rowley will undoubtedly be integral to the Great Danes long-term chances, however the potential return of Hooley could be the piece of the puzzle that has them dancing come March for a third straight year.
Dan Trist | Lafayette Leopards
The efficient offensive force that is Dan Trist from New South Wales has been on a tear for the Lafayette Leopards in the Patriot League.
With an incredible seven 20-point games so far in 2015, the 6'9 senior forward dominated in carrying Lafayette to an overtime win against Bucknell. He posted a big double-double, consisting of a season-high 29 point with 11 rebounds and made his presence felt at both ends of the court and then backed it up with a 20 point 15 rebound and 4 assist outlining in a win against Binghamton. The performance marked his 4th double-double of the season and has firmly entrenched him as the scoring leader in the Patriot League, posting 18.2 points with 6.5 rebounds per game, while shooting a super-impressive 57% from the field.
While Lafayette continues to work towards challenging for the conference title, Trist's hard work and on court exploits earned him his second straight Patriot League Player of the Week awards, his third such recognition this season.
Jeromie Hill | Texas San Antonio
A third Australian senior forward in form of Queenslander Jeromie Hill of Texas San Antonio (UTSA) has also been exhibiting a combination of consistency with bursts of exemplary. The 6'8 sweet shooting power forward earned Conference USA player of the week honours after posting a career-best 36 points with 8 rebounds in an important win against Marshall. Hill's recent form has been so hot that he has compiled 4 of his 7 double-doubles this season in his last 4 games.
Jeromie Hill - Credit Jeff Huehn/UTSA Athletics
The Roadrunners front court, with Hill leading the way, has been getting the job done for the Roadrunners and to a better than many expected mid-table position in Conference USA with a 6-5 record. Their Australian star has played a major role in that success, delivering an attention grabbing 17 points, 7.9 rebounds per game. How far UTSA can go this season may well depend just how much Hill can shoulder the scoring load.
---
Nationally Ranked
Australia boasts three representatives on teams that have entered the top 25 national rankings. Their teams are expecting to see a lot of post-season action, so it is worth taking a closer look.
Mangok MATHIANG | Louisville Cardinals (9)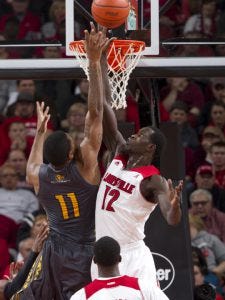 Mangok Mathiang with the block against Southern Mississippi - Courtesy University of Louisville
Louisville is a perennial contender for the national crown, and sophomore forward Mangok Mathiang is playing an important role off the bench for the current number 9 ranked team in the country.
Playing in the talent-laden Atlantic Coast Conference (ACC), the Cardinals boasts two wins against current number 12 ranked North Carolina. They face a challenging run home that includes outings against number 10 ranked Notre Dame before finishing against current number 2 Virginia.
Although the 6'10 Mathiang is only averaging 3.1 points per game, he is posting 5.2 rebounds and 1.3 blocks in almost 20 minutes an outing. Primarily used as a back up rim protector, Mathiang boasts two games where he swatted away 4 blocks, most recently rejecting 3 against the famed Tar Heels. Firmly entrenched in the rotation, Mathiang will prove to be an important piece of the puzzle as Louisville attempts to make a deep run for the ACC crown and ultimately the NCAA Tournament.
Deng DENG | Baylor Bears (16)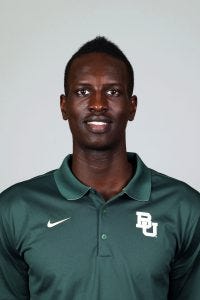 Deng Deng - Courtesy Baylor University Athletics
Junior transfer Deng Deng has been patiently biding his time for opportunities with the current 16 ranked Baylor in the loaded Big 12 conference.
Baylor have found the going tough in the highly competitive Big 12 and have a 6-5 record and are placed 6th in the standings. Important wins against Iowa State (ranked 14), Oklahoma (19) and West Virginia (15) have however enabled them to maintain a top 25 ranking. The Bears most stern test to date is likely to be this week against current number 8 ranked and Big 12 conference leader Kansas with return bouts against Iowa State and West Virginia still to follow.
Deng out of the Longhorns program in Melbourne's western suburbs as is Mathiang, provides limited back up minutes off the bench for the Big 12 contender. The 6'8 forward has been providing 3.1 points and 2.2 rebounds in just 9.4 minutes per game, with a season-high of 16 points against McNeese State in the opening game of the season. It will be interesting to see how Baylor use their Australian forward as the season moves towards tournament play.
Jackson ALDRIDGE | Butler Bulldogs (18)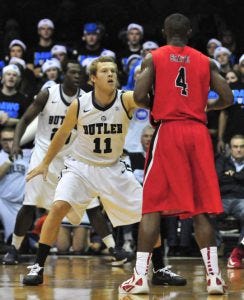 Aldridge at the defensive end - Courtesy of Butler University Sports Information
Of the three Australian's currently playing on nationally ranked teams, senior Jackson Aldridge is the player who has seen the least amount of time on court this season. In his fourth and final year, the experience he has gained in being a part of a mid-major program that moved to the Big East is one that cannot be replaced.
Butler boasts wins over current number 12 ranked North Carolina and then St Johns who were ranked 15 at the time. They have since accounted for then ranked Seton Hall twice to push them out of the national top 25 standings. They take on current Big East leader and number 6 ranked Villanova on Valentine's Day, with a win allowing them to take their place at the top of the table.
Aldridge, a 6'0 point guard, has seen very little action this season, contributing just 1.4 points in 5 minutes per game. When given chance he has done relatively well, chipping in a season-high of 10 points in 18 minutes as the Bulldogs beat Kennesaw State and 5 points in 11 minutes against Villanova. Barring injury, Aldridge's playing situation is unlikely to change as his team look to return to the NCAA tournament.
---
Freshman Rising
Emmett Naar has been discussed plenty this season and he continues to perform well for Saint Mary's. Xavier Cooks continues his emergence with Winthrop, however another Aussie needs to be added to the watch list – Bryant's Bosko Kostur.
Bosko KOSTUR| Bryant Bulldogs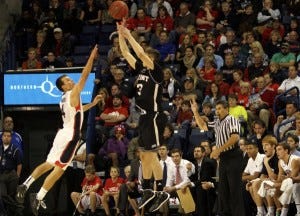 Bosko Kostur - Credit Torrey Vail via Bryant University Athletics
After being elevated into the starting lineup, Victorian Bosko Kostur has posted double-digit scoring games in 4 of his last 5 games outings. This included a career-high 18 points against St Francis, 17 against Mt St Mary's and 15 in an overtime loss to Sacred Heart.
The 6'7 guard has averaged an impressive 14 points per game while shooting better than 50% from the field and the three-point line across his last 5 games. His recent scoring output is well above his overall season numbers of 6.1 points per game and there is no end in visible sight.
Kostur is certainly making the most of his opportunities and is another young Aussie to keep an eye on as Bryant look to make some noise in the Northeast Conference. Bryant boast an 8-4 conference record and currently sit in equal second place tied with Robert Morris.
Emmett NAAR | Saint Mary's Gaels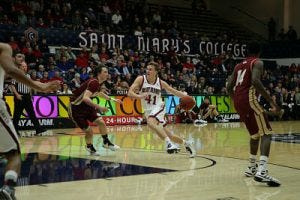 Emmett Naar - Courtesy SMCGaels.com / Tod Fierner
Emmett Naar continues to do what he has done all season - dishing out assists - as Saint Mary's make a run at Gonzaga in the West Coast Conference (WCC). However more recently the 6'1 point guard has been demonstrating that he is also a consistent threat from beyond the three-point arc.
Naar who has been providing a team-best 4.8 dimes per game has been shooting the three-ball at a very good 43.1%. It is this ability to keep opposition defenders honest that continues to see Naar so effective at setting up his team-mates.
Along with his play making skills, Naar is generating 7 points and 1.8 rebounds per game. While he is no longer the first choice starter as he was earlier in the season where he was playing almost 40 minutes per contest, he is still providing value off the bench and is most certainly still the man leading the way for the Aussie first year players.
Xavier COOKS | Winthrop Eagles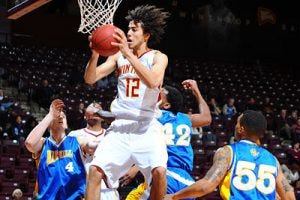 Xavier Cooks - Courtesy Tim Cowie / Winthropphotos.com
Already on the radar and pushing Naar for Aussie freshman of the year honours, Xavier Cooks has continued to quietly go about his work s a starter for Winthrop.
Cooks opened the year by being named Big South Freshman Player of the Week after posting some impressive performances. His breakout game where he collected his first career double-double with 16 points and 10 rebounds in a heartbreaking double overtime loss to High Point. With good athleticism, the 6'8 swingman has been able to compile 6.9 points (52.5% FG), 5.8 rebounds, 1.4 assists and 1.6 blocks per game.
As a starter, Cooks has been a solid contributor in each and every game and doing so both defensively and picking up points where he can offensively. In his most recent win against Liberty, he was able to again demonstrate his versatility at both ends, filling up the box score with 10 points, 3 assists, 3 steals and a massive 5 blocked shots. His value to the team will only continue to increase as he matures and gains further experience on a Winthrop side with an 8-4 conference record and in a logjam in second place, just 1 game behind leaders North Carolina Asheville.
---
Want more?
Check out Damian's guest appearance on Melbourne sports radio station SEN1116 show The Flag Flyers from 10 February 2015 where he talks exclusively about some of the Australian men in college hoops and the games to look out for over the next week.
[soundcloud url="https://api.soundcloud.com/tracks/190516937" params="auto_play=false&hide_related=false&show_comments=true&show_user=true&show_reposts=false&visual=true" width="100%" height="450" iframe="true" /]