The 2014/15 NCAA Division I season has been a mixture of highs and lows for the Australian men. Damian Arsenis takes the time to review their performance at the (near) half-way mark of the season.
---
Putting together preseason rankings is always a difficult task. It takes a lot of guesswork to get it right, especially with an influx of new players and the departure of many others. My pre-season top 10 players listing was filled with experienced seniors and some exceptionally talented players. With just over half the season now in the bag, I have conducted my mid-season re-evaluation for everyone to debate.
1 | Venky JOIS | Eastern Washington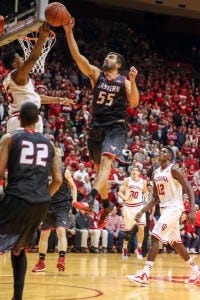 Venky Jois helped lead the Eagles to an upset against Indiana - Credit Joe Eke via Eastern Washington Athletics
The best performing Aussie of the first half of the season was Venky Jois, who led Eastern Washington to their best start in Division I history. It follows a big pre-season and a prediction of a stellar season ahead for the imposing Aussie.
Behind a stellar performance by Jois, the Eagles earned a historic upset win on the road over Indiana. Joisracked up back-to-back 38 point games and, in doing so, garnered a Big Sky Player of the Week award along the way.
The junior forward has scored 13 or more points in every game this season, up until the point when he rolled his ankle on an Eagles win over Portland State. Venky's importance to the team's success was noticeable, as he missed the next game against Sacramento State, one that Eastern Washington lost.
With 3 double-doubles under his belt, Jois has also recorded 4 or more blocked shots in a single game 6 times this season! His track record for swats includes 5 against Indiana, 6 against Idaho and a career-best 7 against Idaho State, extending his school record for blocked shots.
Venky is currently ranked 49th in the nation for scoring with 18 points per game, 60th for field goal percentage and 19th across the country for blocked shots at 2.8 per game! He leads all Aussies across these categories this season and is outperforming his compatriots so far this season.
2 | Dan TRIST | Lafayette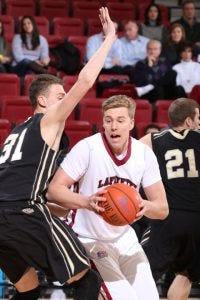 Trist looking to score - Courtesy Jeff Levy via Lafayette Athletics
Senior forward Daniel Trist has scored 12 points or more in all but 2 games this season, with 7 games of 20 points or more and 3 double-doubles, all the while shooting an impressive 55.8% from the field. He is posting career-best numbers of 16.9 points and 6.5 rebounds per game in just 24min of action and has become an offensive barometer of success for the Leopards.
Along with Jois, the duo have been the most efficient Aussie scorers this season, and have been recording 10 points or more per game. Trist's post game and scoring has been really impressive. When combined with his 75% shooting from the charity stripe, he poses a very dangerous proposition for opposing teams.
His efforts have been duly recognised. Trist picked up a Patriot League player of the week award in January while leading his team in points and rebounds this season. The Aussie forward has undisputedly been at the forefront of Lafayette's push for the Patriot League crown this season.
3 | Anthony DRMIC | Boise State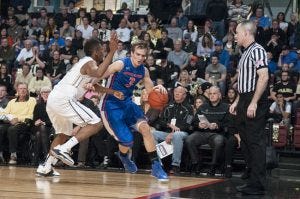 Anthony Drmic - Courtesy Boise State Athletics
Before being struck down by back injury and subsequently having his season ended thanks to ankle surgery (performed successfully this past week), Drmic was arguably one of the most dangerous offensive threats among all the Aussies in college hoops.
With a season-high of 29 points against Montana, he scored in double digits points in all but one of his games. His only game in single figures came against then #3 ranked Wisconsin, where he posted 7 points.
Despite battling injury, the dynamic swingman still managed 15 points & 5 rebounds per game. Whilst by no means a wallflower, his output was unfortunately limited from injury. It is worth noting that Drmic revealed playing through pain last season as well. He could potentially be a medical red-shirt next season, and hopefully injury-free and free to demonstrate his talents once more.
4 | Hugh GREENWOOD | New Mexico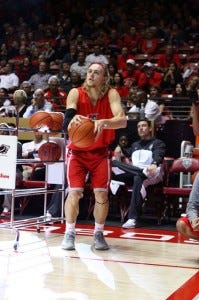 Hugh Greenwood - Courtesy University New Mexico Athletics
It has been a season of change for Hugh Greenwood. He was expected to move across to shooting guard, with Cullen Neal entering the starting line-up. However, Neal's injury forced Greenwood to move back to the point, and it seems like Hugh has had difficulty adjusting and coming to grips with his role. So far, it seems like the balance between scoring and play making is a tough challenge for Hugh.
Despite everything, Greenwood is averaging a career-best 11 points and 3.7 assists per game with 4.9 rebounds per outing. To demonstrate what he is capable of, he has also posted three 20-point games this season as the Lobos look to challenge once again for the Mountain West crown.
While he may have had his struggles with his shooting stroke, he has continued to do all the intangibles that make him the great player and leader that he is. He makes great decisions, provides hustle, leadership and does what his team needs in order to win. If he can become more consistent with his shot and scoring, he could well move his way further up my list, but more importantly, lead a renewed Lobos team back to the NCAA tournament.
5 | Jeromie HILL | Texas-San Antonio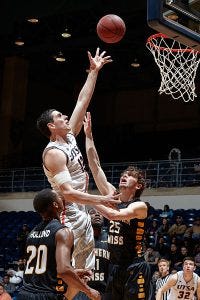 Jeromie Hill - Courtesy Jeff Huehn / University of Texas at San Antonio
Jeromie Hill, the 5th year senior forward is having a remarkable year in his return from missing all of last season due to a serious knee injury. He has helped guide his Roadrunners team to a respectable record after they were not expected to do much this season.
Posting career-best numbers of 15.5 points and 6.9 rebounds per game, the Aussie big man has been stretching opposing defenses with his ability to also hit the three-ball. Like Jois and Trist, he has been super consistent, scoring 10 or more points in all but 1 game this season. He has also scored 20 or more points 3 times this season and logged 3 double-doubles.
Hill's resurgence is the key to UTSA's success this season. If his positive influence on his more junior team-mates rubs off, the Roadrunners could well be expected to blossom thanks to their star Aussie forward.
6 | Sam ROWLEY | Albany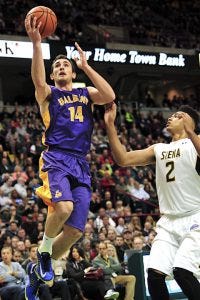 Sam Rowley on the drive against Siena - Courtesy University at Albany Media Relations
As one half of Albany's dynamic Aussie duo, Sam Rowley has been doing it all for the Great Danes in his senior year. The 6'6' forward has been delivering 12.8 points and 6.9 rebounds per game, both career-best numbers for the versatile player.
Rowley is shooting better than 50% from the field and almost 80% from the line in 31min per game. One of his season highlights to date, was also making the game winning layup against New Hampshire.
With 4 double-doubles and having scored in double figures in all but 4 games this season, he boasts a season high of 19 points with 12 rebounds against St Francis (PA). He is a key cog for the Great Danes, who are looking to complete a three-peat of the America East title this season.
7 | Peter HOOLEY | Albany
The other half of Albany's dynamic Aussie duo is junior guard Peter Hooley. The crafty scorer has been good for 14.5 points, 3.1 rebounds and 2.9 assists per game to date.
Teams are trying to slow him down by deliberately targeting the Aussie guard on defense. Hooley however continues to deliver in spades, provide leadership and has been influential in helping lead the Great Danes to a 5-0 start in America East conference play.
Hooley provides composure and leadership, but also hits the big shots when they are most needed and is able to combine with fellow Aussie Sam Rowley well. The Great Danes have won 8 of their last 9 games, and the game they lost was when Hooley missed court time due to illness.
He has scored 10 or more points in all but 1 game this season in a model of consistency, including a season-high of 20 points in a win against Siena. However, Hooley is now out of action indefinitely as he has returned home to be with his mother who has been battling cancer.
As a valued member of The Pick and Roll team, we send our thoughts and best wishes to the Hooley family during a difficult time.
8 | Majok DENG | Louisiana-Monroe
The junior transfer from South Australia has elevated both his game and Louisiana Monroe to the top of the Sun Belt Conference with an imposing 6-1 conference record. It is no coincidence that the Warhawks' on-court success correlates to the rise of Majok Deng.
The 6'10 forward is averaging an impressive 8.8 points, 7.3 rebounds and with 1.7 blocks per game. He has recorded 4 double-doubles already, including a monster 14 point and 15 rebound effort in a win against Arkansas Little Rock.
Deng has been a mountain in the middle for the Warhawks, and a key reason why they are a good chance to challenge for the Sun Belt crown this season. He is a talent to keep a close eye on as the season progresses; I'm not yet convinced we have seen the best of Deng yet.
9 | Nick DUNCAN | Boise State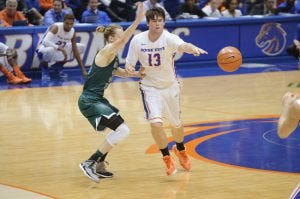 Nick Duncan - Courtesy Boise State Athletics
Nick Duncan managed to work his way into the regular starting group for the Broncos and has since contributed on a regular basis. His playing time went from 17 minutes per game last season to almost 29 minutes per outing this season.
While his shooting percentages are down in comparison to his rookie season, the sharp-shooting forward is posting a career-best 8.4 points and 3.2 rebounds per game. Duncan has made good scoring contributions in all but one game this season, and has continued to make a living by shooting the three-ball.
Duncan has been providing a lot of intangibles at both ends of the court that unfortunately do not get recorded on the stats sheet. With his noticeably improved fitness, he is playing an important role for the Broncos as they try to mould him into the next Cameron Bairstow. I would personally love to see him balance his perimeter play by starting some havoc offensively in the paint as well.
10 | Emmett NAAR | Saint Mary's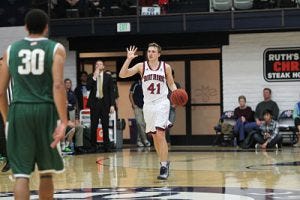 Emmett Naar - Courtesy SMCGaels.com / Tod Fierner
Freshman point guard Emmett Naar started the season in the starting 5 for the Saint Mary's Gaels. He was at one stage inside the top 15 for assists per game across the country, which took many by surprise.
While he is now playing a key role off the bench, he is still posting 5.1 dimes per game, including a career-best 10 against Denver. More recently, he dished out 7 assists off the bench in a win against BYU as Saint Mary's recorded their 9th win in a row and 8th straight in West Coast Conference play.
Taking on the point guard duties at the Gaels in the shadow of Mills and Dellavedova, Naar has done it his way and excelled. He has also boasted 6 games in double-digit scoring and 2 games where he played the full 40 minutes. Known more as a play maker, he is also shooting 42% from beyond the arc and almost 80% from the charity stripe and fast become a Gael favourite.
Naar is first in line to be Aussie freshman player of the year, and right now only Xavier Cooks from Winthrop --who has been named Big South Freshman Player of the Week twice this season-- is breathing down his neck.
On the cusp: Corban Wroe & Taylor Dyson of Harford.
NEW: Majok Deng (Louisiana-Monroe) & Emmett Naar (Saint Mary's)
OUT: Mangok Mathiang (Louisville) & Taylor Dyson (Hartford)
To listen to Damian's break down of his mid-season Top 10 Aussies in NCAA Division I basketball, check out his guest appearance on SEN 1116 Melbourne sports radio show "The Flag Flyers" on Tuesday, 20 January 2015 below.
[soundcloud url="https://api.soundcloud.com/tracks/186898714" params="auto_play=false&hide_related=false&show_comments=true&show_user=true&show_reposts=false&visual=true" width="100%" height="450" iframe="true" /]