Discover more from The Pick and Roll
We're all about Aussie hoops. Independent, objective analysis and commentary. Insightful narratives built around Australian basketball. Read about our men and women in the NBA, WNBA, NCAA, Europe, national teams, NBL, WNBL, NBL1, prospects and more.
Over 2,000 subscribers
NCAA Men: Simmons headlines mid-season Top 5
So many Australian men are standing out in NCAA Division I hoops this season. With conference play now underway, we take a look at the first couple of months of the season and rank the top 5 Aussies by performance and impact.
---
Mid-Season Top 5
5 | Venky Jois | Eastern Washington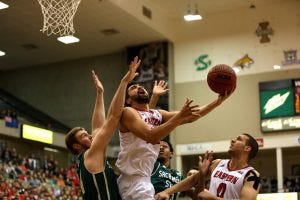 Venky Jois - Courtesy Eastern Washington Athletics
Despite battling illness for most of non-conference schedule, Venky Jois has continued to excel for the Eagles as they look to defend their Big Sky Conference crown. The versatile 6'8 forward has been efficient and effective for Eastern Washington, ranking 7th in the nation for field goal shooting percentage (67.9%) in posting 15.4 points per game. Also a defensive dynamo, Jois has pulled down 8.2 rebounds per game and is fast closing in on the Big Sky record for blocked shots. Currently in 2nd place, Jois already owns Eastern Washington's record for blocks with 212 and is now just 35 away from the conference record.
Jois piled on a season-high 29 points against George Fox and has recorded 3 double-doubles, including a 26 point and 16 rebound performance in a win against Denver. He swatted 5 shots against Seattle and a further 4 against Idaho with a season-best 7 assists against South Dakota. With Jois have seemingly overcome his illness, look for him to finish his senior season strongly as he aims to guide the Eagles back to the NCAA tournament.
4 | Emmett NAAR | Saint Mary's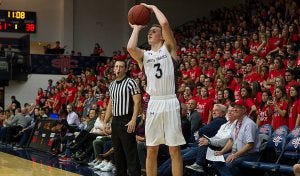 Emmett Naar | Credit: Tod Fierner via smcgaels.com
Naar has taken the reigns of the Gaels offense, however he has become more than just a floor general. The 6'1 point guard from Sydney has been an integral reason why Saint Mary's is rated as one of the most potent offensive sides in the nation, with the Gaels rated 4th for three-point shooting percentage (44.6%) and 2nd in field goal shooting percentage (53.1%). Naar himself has been on fire, at one stage leading the nation in three-point shooting with 67%, however he had since shown he is mortal in connecting at 56.1% - 5th best in the country.
While Naar has more than doubled his scoring output from last to 13.4 points per game, he is also dishing out 6.4 dimes an outing, good enough for 15th best in Division I. His rebounds (3.5) and steals (1.4) are also up on last season, and quite frankly there is plenty to like about the reliable handles and sharpshooting prowess of Saint Mary's latest star Aussie point guard. With Naar at the helm and with great support from fellow countrymen Dane Pineau and Jock Landale, Saint Mary's have collected an eye-opening 14-2 overall record and look set to challenge Gonzaga for West Coast Conference supremacy.
3 | Felix Von Hofe | Eastern Washington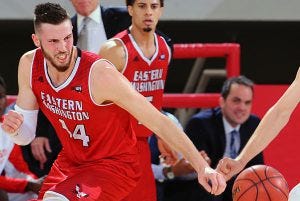 Felix Von Hofe | Credit: Tim Cowie/ DavidsonPhotos.com via Eastern Washington Athletics
Few would have predicted the impact that Felix Von Hofe would have in his junior year at Eastern Washington. The sharpshooting 6'5 forward from Melbourne has been nothing shot of sensational as he has made a habit of raining three-pointers, subsequently cementing his place in the starting lineup. Currently ranked 13th in the nation for three-pointers made (54), Von Hofe has boosted his offensive output from a meagre 5.1 points per game to an impressive 17.1 points a contest this season. He has been shooting the three-ball at 46.2% and a very good 49.1% from inside the arc, while adding 3.5 rebounds per game.
Von Hofe has only improved as the season has progressed, with the Melburnian averaging 24 points across his past 5 games, having scored 20 or more points 6 times this season. He posted a career-best 28 points in which he landed 8 treys against Denver, boasting 5 games in which he has connected on 5 triples or more this season to date. With a hot shooting hand, he collected the Big Sky Player of the Week award to close out 2015 and is yet to show any signs of cooling down in 2016.
2 | Majok DENG | Louisiana Monroe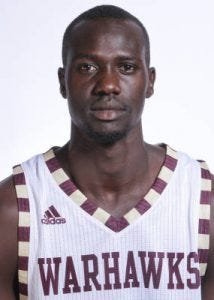 Majok Deng | Courtesy ulmwarhawks.com
Majok Deng, a 6'10 senior forward from South Australia has been dominant for the Warhawks so far this season, delivering offensive numbers that rival those of Ben Simmons, and in any other year, he may well have been at the top of the list. Deng has been a model of consistency, providing a career-best 19.9 points (49.4% FG) with 7.4 rebounds and 1.1 blocks per game despite missing three games with a leg injury. He has compiled 3 double-doubles, scored in double-digits in all but one of his 12 games, and has racked up 21 points or more across 5 outings with a season best of 33 points. Such has been Deng's scoring prowess this season, he currently leads the Sun Belt Conference in scoring and is ranked 32nd nationally in this category.
Deng was named to the All-Conference pre-season second team, and so far is on track to earn first team honours if he can maintain his outstanding performance as he tries to lead the 2-2 Warhawks (6-9 overall) to the conference title. He was most recently named Warhawk student-athlete of the month for December, an award he has gathered three times this season so far along with being named Louisiana Player of the Week.
1 | Ben SIMMONS | Louisiana State
No Australian basketball player has generated anywhere near the same level of hype as that of Ben Simmons, and yet he has been able to back up that hype and deliver like no Aussie freshman before him. The 6'10 transcendent forward has dominated college basketball to the point he has only further reinforced his standing as the likely #1 NBA Draft pick in 2016. While there is no doubting he could still improve his perimeter scoring and become more selfish offensively, there is no denying the special talent that Simmons is.
In delivering an Australian-best 20.6 points per game which is good for 23rd in the nation, he is also doing so at a great clip, making shots at 57.7% from the field despite defenders hanging from him. He has also been connecting on 76% from the charity stripe to demonstrate that he will become a capable perimeter threat. Simmons is also 3rd across Division 1 for rebounding with 13.1 boards per game, while also dishing out an impressive 5.1 dimes per outing. Throw in 1.9 steals and 1.3 blocks per game, and you have a complete package.
The pre-season All-American reinforced his standing with a 43 point, 14 rebound, 7 assist, 5 steal and 3 block line in a LSU win over North Florida, and has followed through with an amazing 12 double-doubles in just 15 games. He shone with a season-high 10 assists in a narrow overtime loss to North Carolina State, and a season-best 20 rebound performance against Marquette. Throw in his SEC Freshman Player of the Week award - an accolade that is not likely to be his last before the season is over. While LSU has struggled to deliver consistently on court throughout the season, the same can't be said of their Aussie superstar forward.
Special Mention
This season, Dane Pineau's star has been on the rise as he has delivered 11.3 points and 8.3 rebounds per game to date. The 6'9 big man has been efficient too, connecting on 62% of his shots from the field which is good for 4th in the nation. Like Pineau, Xavier Cooks has also been in great form, playing a key role in Winthrop's on court success. He has been good for 13.2 points (50.3%) and 6.2 rebounds per game in his sophomore season. Sharpshooters Anthony Drmic (13.8ppg) and Matt Donlan (13.9ppg) have also experienced their fair share of success too, with Donlan 20th in the nation for three-pointers made.
---
NCAA Men: Pre-season Top 10 Aussies