Discover more from The Pick and Roll
We're all about Aussie hoops. Independent, objective analysis and commentary. Insightful narratives built around Australian basketball. Read about our men and women in the NBA, WNBA, NCAA, Europe, national teams, NBL, WNBL, NBL1, prospects and more.
Over 2,000 subscribers
NCAA Men: Pre-season top 10 Aussies
The 2015/16 NCAA Division I season may well be set to unleash the most gifted array of Australian men's talent ever.
Such is the class of the incoming freshmen, combined with the outstanding talent of those returning, we are set for a massive season ahead. However who will be the standout Aussie this season?
While there is a lot of hoops to be had between now and the end of the season, I once again take a crack at selecting the pre-season top 10 Aussie men who are likely to lead the way.
---
Pre-Season All-Aussie First Team
G | Anthony DRMIC | Boise State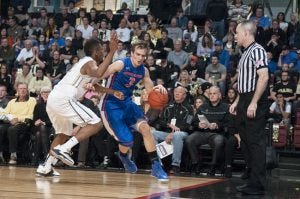 Anthony Drmic - Courtesy Boise State Athletics
After promising so much last season, Anthony Drmic was cut down by injury yet again, ending his season after just 7 games (15ppg and 5rpg). Complications from his ankle surgery stalled his return, however he has since overcome the niggling problem to return to full training.
The 2012 Mountain West Conference (MWC) Freshman of the Year was granted a medical red-shirt, a decision that enables him to return for a fifth and final year this season. After averaging 17.7ppg as a freshman, Drmic has the ability to be the best player in the MWC. He has averaged 15.3 points per game for his career, ranking seventh in school history with 1,528 points, and within reach to be the first to 2,000 career points.
Also recognised for his ability and potential, Drmic has been named to the pre-season All-MWC First Team and the 2016 Jerry West Shooting Guard of the Year Award watch list of 20 players by the Naismith Memorial Basketball Hall of Fame.
Remaining healthy is Drmic's priority, however if he can elevate his game back to his best, then he is one who could be discussed as a potential late round NBA draft selection.
G | Peter HOOLEY | Albany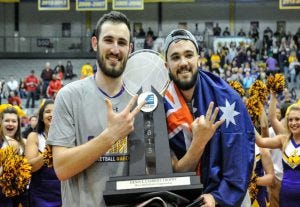 Peter Hooley with Sam Rowley | Credit: University at Albany
Who could forget Peter Hooley's miraculous shot last season after going through everything he experience off the court? This tenacious shooting guard is made of touch stuff and has plenty of talent to go with it. He loves the big stage, and after earning America East Second Team honours last season, he will be looking to lead the Great Danes to their fourth straight trip to the big dance.
Hooley posted 15.5ppg as a sophomore, but only added 13.7ppg as a junior, his return to Australia mid-season limiting his continuity and ultimately his output. With an ability to make big shots, Hooley's only obstacle this season may be his desire after earning so much on-court success over the past three years. With an off-season campaign spent with the Australian team at the World University Games, if he can remain focused, then he is likely to deliver his best year yet and that will see him in the top 5 Aussies this season.
"Peter has proven himself at the highest level as a student-athlete and has grown in to an effective leader who is respected by his teammates and coaching staff," shared Albany's head coach Will Brown after anointing Hooley has team captain for a third straight year.
F | Venky JOIS | Eastern Washington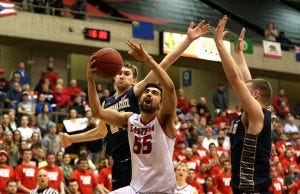 Venky Jois - Courtesy Eastern Washington Athletics
Venky Jois launched himself onto the national stage last season with back-to-back 38 point games and a statement performance in a win over Indiana at Assembly Hall. With another big season as a senior, Jois is likely to gain further traction in being discussed as a potential second round NBA Draft selection in 2016.
The 2013 Big Sky Freshman of the Year returns after earning Big Sky First Team selection in 2015, increased his output to 16.7 points, 7.7 rebounds, 2 assists, 2.2 blocks and 1.2 steals per game as a junior. He enters his final year at college as the favourite to earn Big Sky Player of the Year honours after being selected as pre-season MVP. Most respected basketball media outlets rank Jois as being one of the top 20 forwards across the nation this season, and based on past performance, Jois will not disappoint as he looks to lead the Eagles to the back-to-back Big Sky championships.
"Venky is a threat to have a double-double every night out," praised Eastern Washington head coach Jim Hayford. "He plays with great passion and energy, and is a captain of our team. Venky has been a foundation in the building of our program -- he is an outstanding student, a great leader, and committed to developing into the best basketball player he can be. I join all Eagle fans in anticipating a great senior year for Venky."
F | Ben SIMMONS | Louisiana State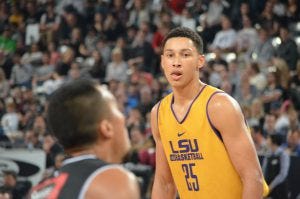 Ben Simmons | Credit: Damian Arsenis
There is no Australian player this season bestowed with greater expectation than the 6'10 point-forward that is Ben Simmons.
Simmons, the consensus number 1 player in high school last season, is already projected as a potential number 1 NBA Draft selection next year. During LSU's off-season tour of Australia, he demonstrated that he looks set to deliver in a point-forward type role made famous by Magic Johnson and more recently LeBron James. No Australian previously has garnered this much attention heading into college, and he headlines an incoming freshman Australian class brimming with NBA-level potential.
With a well-rounded game already, Simmons will be a chance to record his fair share of triple-doubles this season. While he is still to fine-tune his perimeter game, he has all the tools to dominate in his first, and likely only, year of college. The only question is whether Simmons will not only be able to carry the weight of expectation from LSU and Aussie fans, but also those of the rest of the basketball world. Already named pre-season SEC Player of the Year, and National Player of the Year by many media outlets, given what he has been able to achieve already, Simmons is ready to deliver and is primed for stardom.
C | Mangok MATHIANG | Louisville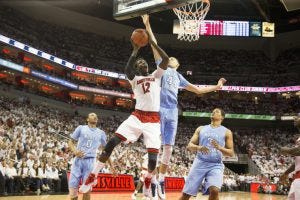 Mangok Mathiang | Credit: University of Louisville Athletics
Last season Mangok Mathiang worked his way from being in the rotation into a genuine interior presence as a starter on a team that went all the way to the Elite 8 in the NCAA Tournament. The 6'10 pivot provided defense and rim protection on one of the power programs in US college basketball, and then took his game to a new level in the off-season, one of Australia's best players at the World University Games.
The Aussie from Sudan via Melbourne is expected to play a larger role in season 2015/16, looking to become a genuine scoring threat to complement his defensive prowess. Expect to see him collect a fair share of double-doubles this season and potentially a Cameron Bairstow-esque rise to prominence across Louisville's campaign. For the Cardinal's to make another deep run towards the Final Four, they will need their Aussie center to be at his best.
Pre-Season All-Aussie Second Team
G/F | Deng ADEL | Louisville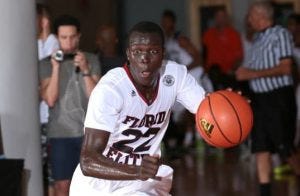 Deng Adel | Photo credit: adidas
The dynamic Deng Adel oozes talent and potential. If his pre-season form is anything to go by, he is likely to explode onto the scene in his freshman year.
Joining fellow Aussie Mangok Mathiang at the Cardinals, Adel poured in 35 points in an intra-team scrimmage to make his case for a starting berth. He started in their next exhibition game win against Bellarmine and was solid in that game too. While Adel may yet have his ups and downs this season, make no mistake that he is an NBA-caliber talent, something that is likely to result in him playing a lead scoring role this coming season.
F | Jonah BOLDEN | UCLA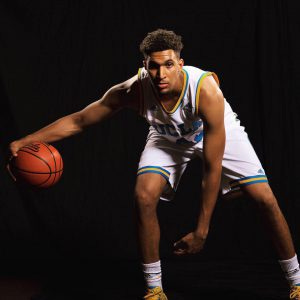 Jonah Bolden | Credit: UCLA Basketball
Jonah Bolden could only sit on the sidelines at UCLA last season and watch. He has worked hard on his game in that time, and will be champing at the bit to get into the thick of the action and make his mark on the famed Bruins program.
In taking to the court for the first time in an exhibition game against Cal State Los Angeles, the 6'10 big man collected an 11 point and 11 rebound double-double that is sure to whet the appetite of UCLA fans look to return to the business end of the season.
F | Xavier COOKS | Winthrop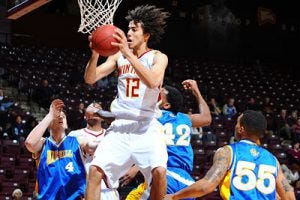 Xavier Cooks - Courtesy Tim Cowie / Winthropphotos.com
Xavier Cooks had a breakout first year in being named to the Big South Freshman Team, however he still promises to deliver more than his 7.8 points, 6.1 rebounds and 1.5 blocks per game from last season.
The 6'8 forward's potential and versatility has seen him named to the Big South's pre-season Second Team, with his Eagles team rated a realistic chance of challenging for the Big South title. Cooks 47 blocks last season saw him break a long-standing school record. Expected to play a larger role in 2015/16, expect to see Cook's production soar in direct correlation to his rising star.
F | Nick DUNCAN | Boise State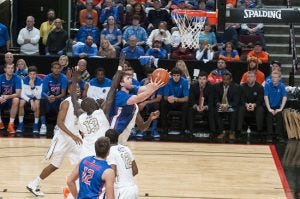 Nick Duncan - Courtesy Boise State Athletics
Nick Duncan has proven himself to be a deadly three-point marksman across his first two years at Boise State. After an inconsistent start to the year, he excelled in the postseason, closing out his sophomore year on a high by being named to the All-Mountain West Tournament Team.
After spending the off-season with the Australian national team at the World University Games, Duncan appears ready to step up to another level for the Broncos. He averaged 9.5 points per game last year, and while he may find it difficult to lift his scoring output with the return of Anthony Drmic to the lineup, his ability to hit open shots from range is sure to be valued. Lifting his rebounding output would be a high priority for the year ahead, and if he can do that, then expect to hear a lot more about Duncan.
C | Isaac HUMPHRIES | Kentucky
Isaac Humphries' signing with Kentucky was officially announced late last night
After reclassifying to be able to attend college this coming season, Isaac Humphries enters the season with Kentucky as a little known 7 footer. However the big man is a scoring and rebounding machine, and capable of putting up big numbers as his performance for Australia in junior international competition attests.
Humphries joins one of the most successful college programs in college hoops, and will be expected to play a major role this coming season. While he may be unlikely to start immediately, especially given projected top 3 NBA draft selection Skal Labissiere is also in the lineup, Humphries will play an important role that is likely to evolve over time. In his first exhibition outing, Humphries' promise was tantalising, adding 9 points (4/6 FG) with 6 rebounds in just 17 minutes. With a high IQ and refined offensive skillset, he will definitely receive a chance to shine.
Player of the Year
Ben SIMMONS | Louisiana State
While Venky Jois and Anthony Drmic may well play themselves into NBA Draft calculations, make no mistake, LSU is Ben Simmons' team and he will be an NBA player this time in 2016. The only question will be whether he goes number 1.
Ben Simmons | Credit: Damian Arsenis
---