Discover more from The Pick and Roll
We're all about Aussie hoops. Independent, objective analysis and commentary. Insightful narratives built around Australian basketball. Read about our men and women in the NBA, WNBA, NCAA, Europe, national teams, NBL, WNBL, NBL1, prospects and more.
Over 2,000 subscribers
NCAA Men: Jois leads the Aussie charge
With the 2014/15 NCAA Division I basketball season now underway, Damian Arsenis is back with all the latest on the Aussie men playing Division I college hoops over the past week.
---
College basketball is back baby!
The Australian men are primed for a massive year of college hoops, led by some outstanding talents both old and new. All the preseason predictions and hype are all out the window and the real thing begins. So who were the Aussies in action across the opening days of the season that impressed the most? I do my best in providing a recap as to how I see it.
Player of the Week
There were a number of players who opened the season in good form, with Anthony Drmic, Jeromie Hill, Daniel Trist and Majok Deng's debut all worthy candidates. However it was the stellar play of Eastern Washington's Venky Jois who led the Aussie charge in posting 35 points, 16 rebounds and 5 blocked shots across two wins, earning the nod as my player of the week after the first week of action.
Jois in action against Texas Southern - Credit Keith Currie via Eastern Washington Athletics
Junior forward Venky Jois helped lead Eastern Washington to a convincing 86-62 victory over Texas Southern in the opening game of the 2014/15 season. After leading by just 2 points at half time, Jois lifted to help guide the Eagles, who are widely tipped to challenge for the Big Sky Conference crown, to an important win.
Jois who went through the first half without scoring, managed to get going in the second half – exploding for a team-high 22 points on 11/18 shooting 7 rebounds, 1 steal and 3 blocked shots. His 22 second half points demonstrate that Jois is a barometer for his team and demonstrates the impact he can have on his team's chances this season. Fellow Australian Eagles Felix Von Hofe came off the bench to provide 4 points in 6 minutes, while Daniel Hill also chipped in with 2 points in 4 minutes.
Eastern Washington backed up to account for Utah Valley 75-50 and improve to 2-0. Once again it was Jois who helped guide the Eagles to victory, providing 13 points on 6/8 shooting with 9 rebounds, 4 assists, 2 steals and 2 blocked shots. Never trailing after launching to a 15-2 early lead, and defensively were superb. The Eagles play one more home game against NAIA team Walla Walla before heading on the road.
Team of the Week
With Eastern Washington, Saint Mary's, Boise State, New Mexico and Louisville all starting with two straight wins, I opted for the Broncos as the first team of the week this year thanks to a pair of big wins over Division I opponents in consecutive days with Anthony Drmic and Nick Duncan leading the way.
Drmic and Hadziomerovic - Courtesy John Kelly via Boise State Athletics
Boise State opened the season with a hard-fought 81-75 win over San Diego in the Loyola Marymount Classic thanks to a team-high 21 points from senior swingman Drmic. The dynamic Drmic was just 1-rebound shy of a rare double-double, with 9 rebounds and 2 assists without committing a single turnover. While Drmic impressed with his all-round game, Duncan was expecting a big night too after being elevated to the starting lineup. However the fit-looking forward was unable to make an impact after being limited to 16 minutes due to foul trouble, recording just 3 rebounds in that time. Igor Hadziomerovic came off the bench to provide 2 points, 1 rebound and 1 assist, also in a foul plagued 16 minutes.
In the final of the LMU Classic, Boise State took on the hosts who also featured Australian junior transfer David Humphries. Duncan opened the scoring with a triple and his confidence grew from there, ending with an equal game-high 15 points coming from 5 three-pointers made from 9 attempts with 4 rebounds and 1 assist. Drmic provided great support in gathering 12 points with 1 rebound, 1 assist and 1 steal as the Broncos commenced the year with a perfect 2-0 record and their Aussie connection starting to gather some steam.
For the home side it was their first loss of the season, with Humphries compiling 9 points, 2 rebounds and 2 assists. It was a solid performance by the guard who put up 8 points, 8 rebounds, 3 assists and 1 steal in his Division I debut in which the Lions accounted for Southeastern Missouri State in their opening contest at the classic.
As for the Broncos, it was the start to the season they were after, looking to improve further with games against Montana and current #3 ranked Wisconsin to follow. The game against the Badgers will be their first major test of the year and one in which the Aussie connection will need to be at their best to be able to deliver success.
Best of the Rest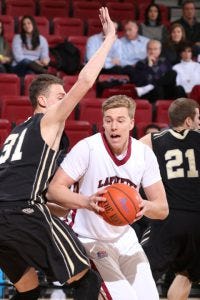 Trist looking to score - Courtesy Jeff Levy via Lafayette Athletics
With a game-high 21 points on an efficient 9/13 shooting, Trist led Lafayette to a big 77-50 win over Robert Morris. The senior forward put the first points on the board with a tip-in and the Leopards never looked back. With a myriad of post moves at the offensive end, Trist also compiled 7 rebounds and 2 assists to start the year on a high. It was a positive way to get the season under way for Lafayette who lost the first 5 games of the 2013/14 season.
However any hopes of an early winning streak were short-lived as the Leopards succumbed to West Virginia 56-83 in their next contest. The only shining light for Lafayette was their Australian forward Trist, continuing his efficient scoring by going 6/10 from the field in finishing with 12 points, 6 rebounds, 3 assists and 1 block in 26 minutes. Princeton will be their next challenge, and the Leopards will need Trist at his best to have any chance at succeeding.
Expect to hear more about Saint Mary's this season, especially if the debut performance by freshman guard Emmett Naar is anything to judge by. Last season saw the Australian connection with the Gael's at their lowest point for almost a decade, with just Dane Pineau providing spot minutes in coming off the bench. This season however could be different, with Naar starting in his first game and delivering a promising 12 points with 1 rebound and 5 assists, leading the Gaels to a 77-67 win over Division II School Cal State-Los Angeles. Pineau came off the bench to provide 2 points, 1 rebound and 1 steal, while freshman center Jock Landale played just 4 minutes in his collegiate debut.
The Gael's maintained their promising start to the year with an 83-71 win over a very good New Mexico State team. Naar again had the reigns and racked up a game-high 7 assists with 6 points and 4 rebounds; he could yet become the Gael's Matthew Dellevedova Mark II. Good support was provided off the bench by Pineau, with the 6'9" forward contributing 8 points on a perfect 4/4 shooting from the field with 3 rebounds and 1 assist. Now with a 2-0 record, Saint Mary's next confronts an unbeaten Denver.
Deng Deng - Courtesy Baylor University Athletics
Arguably the most impressive Aussie Division I hoops debut was delivered by 6'8" junior transfer Deng Deng from Lee College. Baylor opened their year with an 80-39 thrashing of McNeese State, with Deng going a red-hot 8/9 from the field to finish with a game-high 16 points in only 16 minutes on court. He would end up finishing with 3 rebounds, 1 assist, 1 steal and 2 blocked shots in what is shaping as a promising year for the Bears.
Majok Deng is another junior transfer who has shown promising signs to open the 2014/14 season. The 6'10 power forward made an immediate impact for Louisiana-Monroe in their 74-65 opening win over UAB. He chimed in with 13 points, 5 rebounds, 2 assists, 2 steals and a huge 4 blocked shots in starting for the Warhawks; something he would do again in a 106-39 demolition of Champion Baptist – a team that plays in the Association of Christian College Athletics. This time around it was 7 points, 6 rebounds, 2 assist, 1 steal and 2 block outing in just 20 minutes as the bench saw plenty of early season action due to the rout. The versatile Deng is someone worth keeping an eye on as the season progresses.
Despite the departure of Cameron Bairstow and other key players, New Mexico showed that they will still be a very good team this season after they overcame Idaho State at home 79-55 in convincing fashion. Senior guard Hugh Greenwood went close to a triple-double, collecting 8 points, 11 rebounds, 7 assists and 1 steal with just a solitary turnover in guiding the Lobos to a big win. Greenwood will be a barometer in gauging the success of New Mexico this season. For the visiting Bengals, Australian senior Ben Wilson started and was able to grab 7 points, 5 rebounds and 3 assists in 28 minutes. Wilson will need to step up this season if the Bengals are to climb out of the Big Sky cellar.
For the Lobos, they managed to win two in a row thanks to a 67-59 win at home in The Pit. It was the 6'4 Greenwood that got the Logos going early while the rest of his team were slow out of the blocks. He would finish with 11 points, 6 rebounds, 2 assists, 1 steal and 1 block in another solid if unspectacular showing. Greenwood and his fellow team mates are still adjusting to their new roles; they could become a formidable opponent of they can get going.
Jeromie Hill - Courtesy Jeff Huehn/UTSA Athletics
After red-shirting last year due to a knee injury, Jeromie Hill returned and was impressive in his best game back for Texas-San Antonio as they dispatched NAIA School Huston-Tillotson 92-74. Hill took a while to get going, but when he did he hit 7 straight shots on his way to 14 points with 5 rebounds, 1 assist and 1 steal in just 22 minutes on court. Fellow Australian James Ringholt began his collegiate career, coming off the bench to drop 6 points, 4 rebounds and 2 assists in 10 minutes in what proved to be an encouraging performance by the 6'10" forward.
In their second game of the week, the Roadrunners would lose a heartbreaker to 62-83 to Texas-Pan American despite another good performance by Hill. The Aussie forward this time recorded his 11th career double-double in delivering 16 points, 10 rebounds, 1 assist, 1 steal and 1 block in 37 minutes. It was a tough loss to swallow as chances to win the game went begging. Ringholt continued to show he will be a part of the regular rotation, providing 5 rebounds in 10 minutes off the bench.
Demonstrating his importance to the #8 ranked Lousiville, Mangok Mathiang played 32 minutes in their 81-68 win over Minnesota. Mathiang was a defensive presence despite what appears to be a relatively meagre 4 rebounds, 1 assist and 1 steal stat line. He also did not record a single turnover on a team that is expected to be a contender this season. Louisville followed up their first win with an 88-39 beating of Jacksonville State. This time around, Mathiang would fall 1 point shy of a double-double, recording 9 points, 10 rebounds and in 20 minutes off the bench as the Cardinals improved to 2-0 as many predicted.
Another Aussie freshman who earned a start in his first game was Melburnian Jamie Batish in Western Illinois' narrow 71-73 loss to Pacific. Batish provided 10 points and 5 rebounds with no turnovers in 35 minutes in what was a very mature display. He would then follow-up with 9 points, 3 rebounds, 1 assist and 1 steal in a 64-67 loss to UIC.
The Great Danes kicked off their year with three Australians featuring in their starting unit in taking on Providence; guard Peter Hooley and forward brothers Sam and Mike Rowley. Albany took the contest right up to their hosts, however Providence prevailed 64-60. Hooley struggled with his stroke yet still managed to generate 15 points with 5 rebounds and 6 assists. The Rowley brothers jointly chipped in 12 point, 14 rebounds, 3 assists and 1 block with junior Sam Rowley fouling out in just 22 minutes on court.
Rounding out this week's recap I finish with the three-point shooting clinic put on by junior guard Taylor Dyson as Hartford managed to defend their home court in a thrilling 51-50 victory over St Peter. Dyson hit 5/5 from beyond the arc on his way to a team-high 15 points, finishing the game as the only Hawk in double-digit scoring. He would also provide 3 rebounds and 1 assist in a turnover-free 27 minutes, while team-mate and fellow Aussie Corban Wroe provided 8 points and 1 rebound in 35 minutes. The win was exactly what the Hawk's needed after a disappointing 53-71 opening loss to Sacred Heart, a game in which Dyson and Wroe combined for only 9 points on a poor 3/15 shooting.
---
Has Damian left out any performance of note? Please share a comment!