Discover more from The Pick and Roll
We're all about Aussie hoops. Independent, objective analysis and commentary. Insightful narratives built around Australian basketball. Read about our men and women in the NBA, WNBA, NCAA, Europe, national teams, NBL, WNBL, NBL1, prospects and more.
Over 2,000 subscribers
NCAA Men: Hooley leads Great Danes to victory
Damian Arsenis is back with all the latest on the Aussie men playing Division I college hoops over the past week.
---
Some big results over the past week, with a big performance by a South Australian guard to help earn his team a much-needed win.
Player & Team of the Week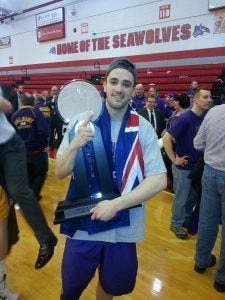 Peter Hooley with the 2014 America East MVP Trophy - Courtesy Peter Hooley
For the reigning 2014 America East champions Albany, the new season has not yet gone according to plan. However thanks to a 77-68 win against Siena, Albany finally recorded the morale-boosting victory they desperately were searching for in winning the Albany Cup for the 3rd straight year.
With their Australian 'dynamic duo' of Sam Rowley and Peter Hooley both firing, the Great Danes were overdue for a win and a key reason why they are my team of the week, with Hooley taking out player of the week honors.
While senior forward Rowley was at his consistent best with 11 points, 8 rebounds, 3 assists and 2 blocks, it was his partner in crime Hooley who really stepped it up. Hooley hit 4/9 triples on his way to 20 points that came with 3 rebounds and 2 assists to help notch up the Great Danes first win in 5 outings, breaking a 4-game losing streak. It was the first time that a Great Dane had scored 20 points this season (another team-mate did so in this game also), and Hooley was clearly the player of the week.
Rowley with 13.8 points and 8.7 rebounds per game, and Hooley with 13.4 points, 4.1 rebounds and 2.6 assists per game lead the team across these categories. When they both fire, the Great Danes are hard to beat. Yale and Fairfield await Albany over the next week and the Aussie co-Captains are sure to be leading the way yet again.
Best of the Rest
Eastern Washington improved their record-breaking start to the season by overcoming San Francisco on the road 81-76 to earn their 5th win in a row. While he didn't explode for another 30-point game, Venky Jois did rack up his 3rd double-double of the season with 15 points, 11 rebounds, 2 assists and 2 blocks in 32 minutes. Felix von Hofe provided great support off the bench, adding 5 points, 2 rebounds and 1 steal in 15 minutes.
Venky Jois - Courtesy Eastern Washington Athletics
The great Eagles run finally came to an end at the hands of #17 ranked Washington, and it was a game that they could have easily have won. After leading the Huskies for the majority of the game, and by as many as 10 points in the second half, the Eagles were not able to hang on as Washington made a couple of big treys late in the game to steal the home win. Jois was uncharacteristically inefficient in this game, making just 4/14 from the field despite compiling 13 points with 8 rebounds, 1 assist, 3 steals and 2 blocks in 32 minutes. Despite the loss, Eastern Washington showed that they can mix it with the best this season.
"There is no moral victory, but we gave the No. 17 team in the nation all it could handle" - Eastern Washington head coach Jim Hayford
After an encouraging performance against a nationally ranked team, Eastern Washington then experienced a loss against lowly Sam Houston State that they would rather forget. With Jois managing to collect his 11th straight game of 13 points or more this season (every game this season) with 7 rebounds, 3 assists, 2 steals and 1 block, the Eagles lost 52-76. The Eagles entered the game as the 11th best scoring team (84.2 per game) and the 13th ranked in field goal percentage (50.6 percent) in the nation but could not replicate that this time around. Sam Houston State managed to control the game and restrict the high-scoring Eagles, dominating in the paint in the process.
The Eagles conclude their 5-game road schedule with a trip to California this coming week. Jois is now delivering an amazing 19.6 points, 8.3 rebounds, 2.1 assists and 2.5 blocks per game while shooting 60% from the field. However he will need to rediscover his scoring efficiency if the Eagles are to earn a deserved road win.
Despite missing star senior guard Anthony Drmic who has a reported back injury, Boise State managed to win both their games over the past week and now find themselves on a 4-game winning streak. First it was a 91-51 demolition of Northwest Nazarene (NAIA), with Nick Duncan and Igor Hadziomerovic playing important roles. Duncan connected on 3/4 triples en-route to 9 points with 3 rebounds, 1 steal and 1 block in just 17 minutes as a starter. Boise State racked up a season-best 20 assists with Hadziomerovic coming off the bench to dish out 6 with 7 points and 1 steal in 20 minutes of action. It was a one-sided rout as the Broncos shot 54.2% from beyond the 3-point line and 55.9% from the field.
Southern Utah would be the Broncos next victim courtesy of a 79-60 scoreline. With Hadziomerovic inserted into the starting line-up, he helped control the tempo while gathering 8 rebounds and 1 assist in a scoreless 29 minutes. The usually deadly Duncan was ice-cold from the perimeter, missing all 6 of his attempts. However he still managed 9 points, 3 rebounds and 2 assists in 31 minutes. The Broncos have won 5 of their last 6 games, with their only two losses of the season coming at the hands of nationally ranked Wisconsin and the red-hot North Carolina State.
In what became a dour defensive struggle, New Mexico managed to overcome a determined Louisiana-Monroe 54-46 at home in The Pit. Aligned with the low-scoring game, senior guard Hugh Greenwood's shooting woes continued as he managed to only connect on 2/11 from the field on his way to 6 points. As he always does however, he again found other ways to contribute, providing 5 rebounds, 3 assists and 1 steal, while also delivering the intangibles such as leadership and direction. for the Warhawks, Australian 6'10 junior forward Majok Deng started and chimed in with 6 points, 6 rebounds, 1 assist, 2 steals and 1 block in 26 minutes of action.
For the Lobos, they next took on the winless Central Arkansas at home and came away with a convincing 76-55 outcome. New Mexico had to overcome an early deficit, in part thanks to Greenwood who rediscovered his stroke from long-range. The talented guard nailed 4/6 from beyond the arc on his way to 14 points, stuffing the stats sheet with 5 rebounds, 3 assists, 3 steals and 2 blocked shots with only 1 turnover in 32 minutes. The Lobos improved their win-loss record to 7-3 ahead of a two-game road trip that includes a re-match against New Mexico State followed by Grand Canyon.
"I put a lot of pressure on myself and I was forcing a lot of shots. Now, I'm letting it come to me." - Hugh Greenwood
Following the loss to New Mexico, the imposing Deng followed up to record his 3rd double-double of the season in Louisiana-Monroe's 78-53 victory over Central Baptist. The Warhawks opened strongly and never looked back, leading by as many as 28 points in the second half. Deng was a big presence at both ends of the court, scoring 11 points with 11 rebounds, 2 assists, 1 steal and 3 blocked shots in 34 minutes as a starter as his team won their 4th in a row and improved to 5-4 this season.
Nicholls State and junior forward Sam McBeath had a big week, with a 43-86 loss at #3 Wisconsin and then a 81-75 win over Division II school Arkansas Monticello. McBeath appears to be slowly returning to form and improving with each game, contributing 9 points and 3 rebounds against the Badgers in the big loss. However he was integral in then leading the Colonels to a narrow 6 point win thanks to his season-best 17 points and his first double-double of the season with 13 rebounds with 2 steals in 27 minutes. Sophomore Liam Thomas was also solid in the win, compiling 6 points, 5 rebounds, 3 assists and 1 block in 25 minutes. For Nicholls, it was their second win over the season; however both victories came against non-Division I teams.
Sam McBeath - Courtesy Nicholls Athletics
That record got no better against Louisiana Tech despite another double-double from McBeath. In a 54-79 loss, McBeath was able to accumulate 12 points, 11 rebounds and 1 steal in just 21 minutes. The Colonels next take on Troy as they look to record a first win against a Division I opponent this season.
Senior forward Jeromie Hill continued this good form in helping guide Texas-San Antonio to their 2nd win in 3 games with a 73-60 win over Texas A&M-CC. After trailing by 4 points at half time, the Roadrunners took the lead for good on the back of a Hill triple with just under 17 minutes left to play, with the Aussie forward finishing with 10 points, 8 rebounds, 3 assists, 1 steal and 1 block in 34 solid minutes. In 13 minutes off the bench, freshman big man James Ringholt chimed in with 3 points and 3 rebounds.
With averages of 14.8 points and 7.8 rebounds per game, Hill continues to be one of the best-performed Aussies in Division I hoops this season. He will need to be at his best with their next outing against the undefeated Big 10 program TCU (10-0).
Lafayette won their 4th game in a row and maintained their unbeaten start at home in easily dispatching Division III School Susquehanna 91-66. I the blow-out win, Dan Trist shone early before the Leopards emptied their bench. In just 14 minutes on court, the efficient senior forward accumulated an equal team-high 16 points on 6/8 shooting to go with 6 rebounds and no turnovers. Despite playing minimal minutes in this game, Trist managed to maintain his averages of 17 points and 6 rebounds per game on the season while shooting 61.4% from the field. Both the Leopards and Trist will find the going tougher against #10 ranked Kansas this coming weekend.
Dan Trist - Courtesy Lafayette Athletics
After having broken a losing streak with their win against Holy Cross, Hartford unfortunately were unable to maintain their momentum in losing a nail-biter to Rider 61-63. The Hawk's outscored Rider 37-32 in the second half, but were unable to overcome their first half deficit despite senior guard Corban Wroe compiling 11 points, 4 rebounds, 2 assists and 1 steal in 39 minutes. In a horror shooting night, Taylor Dyson was only able to make 1/9 from beyond the arc, ending with 6 points and 3 rebounds in 21 minutes. After starting the season 5-1, the Hawks have crashed to 6-5 with games against Florida International and current #21 ranked Notre Dame to close out 2014.
The past week was a mixed bag for the Saint Mary's Gaels, yet it saw the rise of their sophomore forward Dane Pineau. It all started off so well with a stirring 71-67 overtime win on the road against Creighton. Pineau was outstanding in the big win, making 6/8 from the field on his way to a career-first double-double with 13 points and 10 rebounds with 1 blocked shot in 29 minutes. Freshman point guard Emmett Naar was also outstanding in marshaling the Gael's, playing a massive 41 minutes for 4 points, 1 rebound, 4 assists and 2 steals with just 2 turnovers.
Unfortunately for the Gael's they let slip an opportunity to reinforce their growing stature by losing to Northern Arizona in a game they gave away. In the closing moments of the game, the visitors tied the scores up with less than 5 seconds to play, only to see the Gael's turn the ball over under their basket on the inbounds pass that enabled the go-ahead bucket for Northern Arizona. For the Gael's Pineau delivered a new career-high 15 points on 6/8 shooting alongside 3 rebounds, 1 assist, 1 steal and 3 blocked shots in another 29 minutes. He was awesome in the first half, at one stage scoring 10 straight points to keep the Gaels in touch. Naar was good with 3 points, 3 rebounds and a game-high 8 assists with just 1 turnover in 32 minutes.
It was the Gael's 2nd loss in 3 games after winning 5 straight to open the season. With an average of 6.3 assists per game, Naar is currently ranked 12th in the nation and displaying poise and maturity beyond his experience.
And some other news and individual efforts mentioning in closing out this week's recap;
Junior guard Durrell McDonald had 8 points, 5 rebounds and 5 assists before fouling out in 27 minutes as DePaul lost their 2nd game in a row in going down to Illinois State 72-78 at home.

Freshman forward Xavier Cooks continues his emergence with Winthrop, providing 6 points, 9 rebounds and 3 blocks in a 62-80 loss to Auburn. For the Tigers, freshman Jack Purchase did not hit the court.

Santa Clara won their 3rd game in a row thanks to a 76-67 win over Washington State. Freshman Kai Healy chalked up a new career-high 10 points on 3/3 shooting (4/6 FT) to go with 2 steals in just 15 minutes.

In starting, Ben Wilson collected 4 points, 5 rebounds, 5 assists and 1 steal in 40 minutes but Idaho State lost to South Dakota State 72-75.