NCAA Men: Hill and Jois round out Aussie accolades
The last of the conference regular season games have been played and won and March Madness is now gathering momentum. Last week we covered the first crop of a talented bunch of Aussie award winners, and this week we take a look at those who have since also garnered end of season accolades, headlined by a 5th year senior Queenslander and Eastern Washington's versatile star forward from Melbourne.
---
Jeromie Hill
|
Texas-San Antonio | Conference USA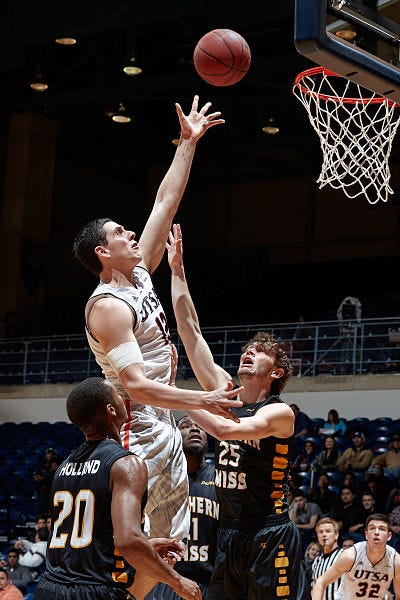 Jeromie Hill - Courtesy Jeff Huehn / University of Texas at San Antonio
Coming back from a serious knee injury is ever easy. With hard work and perseverance, 5th year senior Jeromie Hill came back better than ever. After posting career-best figures of 16.1 points and 8.1 rebounds per game for Texas San Antonio, the Queenslander was duly named to the All-Conference USA First Team.
The 6'8 sweet-shooting forward scored in double digits in all but two games this season and posted an amazing 9 double-doubles along the way. With 5 games of 20 points or more, his best single-game outing was a career-high 38 point performance in a win against Marshall. In this game he connected on 6/9 from beyond the arc and was duly recognised by being awarded Conference USA Player of the Week.
Hill is now one of just two players to register at least 1,600 points and 700 rebounds as a Roadrunner and now owns school records with 121 starts, 121 games played and 830 rebounds. He has clearly demonstrated he is back to his best and will be a great acquisition by his first professional club that he signs with.
---
Venky Jois |
Eastern Washington | Big Sky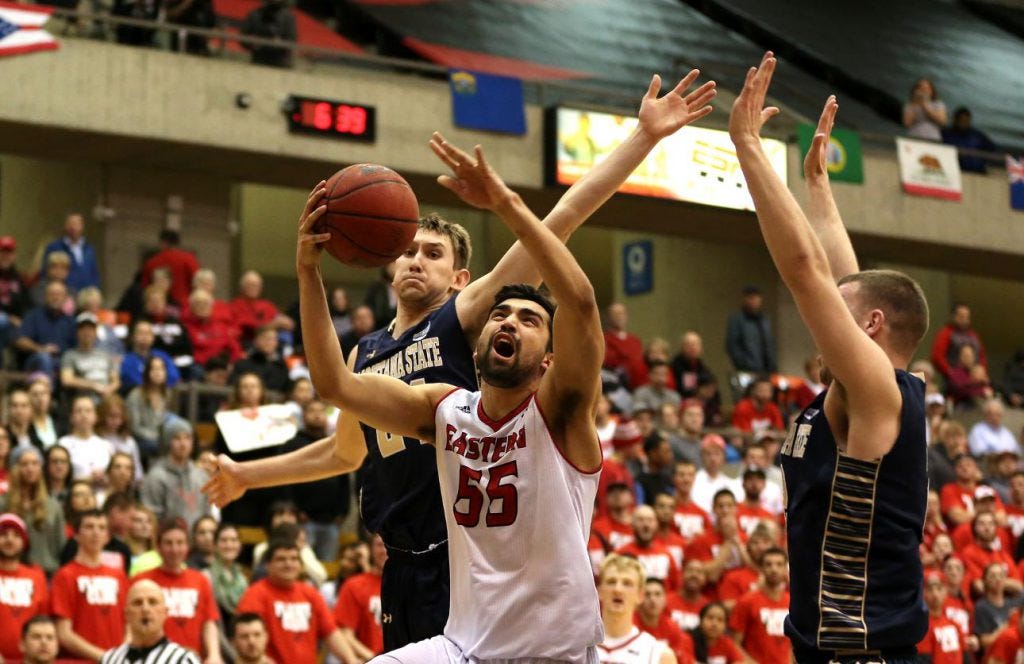 Venky Jois - Courtesy Eastern Washington Athletics
Venky Jois was the hottest and best performed Aussie in the first half of the season before he was struck down by an ankle injury. Despite missing 4 games and parts of two others with his ankle sprain, Jois was named to the All-Big Sky First Team.
The versatile 6'8 forward delivered 16.6 points, 7.7 rebounds, 2.1 assists and 2.2 blocks per game for the Eagles, scoring 1,000 career points along the way. He is now just 1 block away from equaling the school's single-season record for rejections with 68. With 8 double-doubles to his name, he has a host a big performances, including 20 points, 14 rebounds, 5 blocks and 2 steals in a win against Indiana at Indiana, and back-to-back 38 point explosions in wins against Eastern Oregon and Seattle - performances that earned him Big Sky Player of the Week honours.
"Venky is one of the players we've built this program on," shared Eagles head coach Jim Hayford. "He came in as a freshman and we went through a 10-21 season, but we knew he was the kind of person who could help us build our program. He's been a cornerstone of building our success, and I'm excited for all the recognition he's receiving."
---
Hugh Greenwood | New Mexico
| Mountain West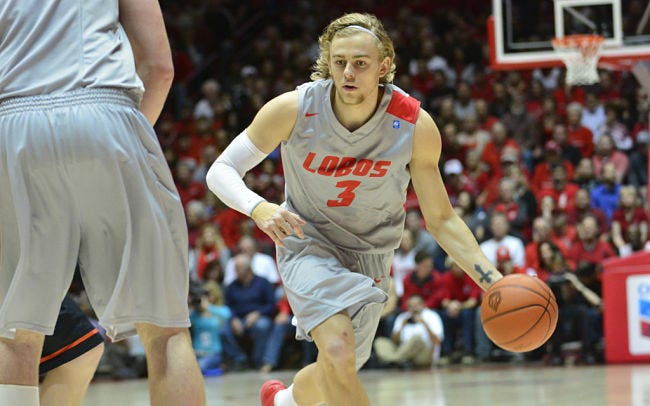 Hugh Greenwood - Courtesy University New Mexico Athletics
One of New Mexico's favourite basketballers of all time will be Hugh Greenwood, not only for his actions on court but also those off it. In rounding out his 4 years of college, Greenwood was named to the All-Mountain West Third Team.
After three successful campaigns with the Lobos, the 2014/15 was a tough one for Greenwood and his team. After losing three of their best players to professional leagues including Cameron Bairstow (Chicago, NBA) and another to injury (Cullen Neal), Greenwood was left to be the glue to keep the team together. Adjusting to a change in roles, Greenwood was able to deliver a career-best 11.6 points, 5.3 rebounds and 3.3 assists per game and remained the heart and soul of the team.
At times during the season, Greenwood may have struggled with his shooting stroke. However his resolve and willingness to do all the other intangibles were what won the respect of both his team-mates and his peers. Off the court, Greenwood's breast cancer awareness initiatives have made national headlines, and his Pink Pack charity has raised over US$52,000 for the University of New Mexico Cancer Center.
"We've had a lot of great players, a lot of great student‑athletes in eight years," stated New Mexico head coach Craig Neal on Greenwood's legacy with the Lobos after their season-ending loss to Air Force. "But I don't think we've had anybody that has touched our community and touched our campus or our program like him."
"Not just that he wasn't a guy that was the leading scorer, he wasn't the guy that always wanted the ball, taking all the shots. He just was a guy. He was all about team. It was never about me. That's what I hope our younger guys learn: It's not about me, it's about team."
---
Emmett Naar |
Saint Mary's | West Coast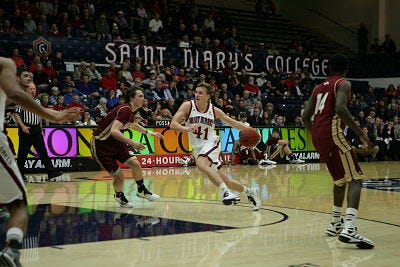 Emmett Naar - Courtesy SMCGaels.com / Tod Fierner
Emmett Naar enjoyed a fantastic freshman season with the Gael's and was suitably rewarded by being named to the West Coast Conference All-Freshman team.
Such was his start to college basketball, the point guard at one stage was averaging more than 6 assists per game and firmly entrenched in the top 20 in the nation in that category. However with a change in roles in which saw him move from the starting lineup to 6th man off the bench, he would finish the season averaging 6.4 points, 2 rebounds and 4 assists per game. What also impressed many onlookers was his ability to shoot the three-ball at a very good 46.1% clip.
The future is looking bright for Naar, with the Gael's tradition of boasting outstanding Australian guards set to continue.
---
Majok Deng |
Louisiana Monroe | Sun Belt
As a junior transfer from Indian Hills Community College, Majok Deng made an immediate impact for the Warhawks and was duly recognised by being named to the All-Sun Belt Conference Third Team.
The 6'10 forward provided 10 points, 7.2 rebounds and 1.4 blocks per game and was able to have an impact both offensively and defensively. Deng posted 6 double-doubles over the course of the season and with a career-high 21 points against Arkansas Little Rock. With his length and athleticism, Deng was able to be a presence in the paint and will be a force to be reckoned with as a senior next season for a team that fell 1 win short of the NCAA Tournament.the
---
Keep up to date with all the Aussies in college basketball during March Madness HERE.