NCAA Men: Aussies most likely to star in March Madness
March has just begun, meaning there is one thing on every basketball fan's mind. March Madness!
The Pick and Roll has compiled a list of the Aussies most likely to star in NCAA tournament action this year.
---
Mangok Mathiang & Deng Adel | Louisville
Projected as the #2 seed in the Mid-West Region by ESPN, Louisville will be back with a vengeance after last season's self-imposed post season ban.
Mangok Mathiang | Credit: University of Louisville Athletics
Aussies Mangok Mathiang and Deng Adel are not only set to take part in March Madness, they will have a large say in how far their team progresses. Both players are starters and key contributors to the Cardinals. Adel has averaged 11.4 points with 4.5 rebounds and 2.1 assists per game. Adel has had a strong bounce back season after an unfortunate injury riddled freshman campaign, while Mathiang has averaged 6.9 points and 6 rebounds as a senior for Rick Pitino's Cardinals. Just four years removed from their last national championship, the Cardinals will be hoping for an equally heroic tournament.
Seven Aussies | Saint Mary's
The Gael's fabled Australian connection has seven Aussies who are set to experience NCAA tournament action. Dane Pineau, Emmett Naar, Jock Landale, Jock Perry, Tanner Krebs, Jordan Hunter and Kyle Clark are the seven young men who have helped Saint Mary's to a 26-3 record.
Jock Landale | Tod Fierner/Saint Mary's College Athletics
The Gael's have also broken traditional reputations having found themselves ranked 20th in the nation by the Associated Press. Jock Landale has enjoyed a stand out season for the Gaels in averaging 16.8 points and 9.3 rebounds while also being shortlisted for the prestigious Naismith trophy. and earning All-West Coast Conference First Team honours.
Naar and Landale are in the starting group, with Pineau and, Clark, Hunter and Krebs all in the regular rotation in coming off the bench.
Isaac Humphries | Kentucky
The 7'0' Sydney native has had a mostly disappointing season for the stacked Wildcats side. Humphries has seen only a small boost in overall playing time while increasing his production to 3 points and 3.1 rebounds per game. Kentucky is once again placed well to go deep into tournament action, with the Wildcats aprojected as the #2 seed in the South Region, having been entrenched in the Associated Press National top 25 all season long.
Isaac Humphries | Credit: UK Athletics
Humphries will be hoping to have a larger hand in Kentucky's fortunes throughout March.
Dejan Vasiljevic | Miami
The sharpshooter from Melbourne has put together a solid freshman campaign playing for the strong Hurricanes program.
Dejan Vasiljevic | Credit: HurricaneSports.com
Vasiljevic has averaged 5.8 points which includes an 18 point performance against Syracuse where the Diamond Valley product splashed six three pointers. The Hurricanes are projected as the 8th seed in the East region by ESPN.
Xavier Cooks | Winthrop
Cooks has been one of the top Australian players in college basketball this season with a standout year for the Eagles. Standing at 6'8, Cooks brings versatility to the table for the 24-6 Winthrop. Averaging 15.9 points, 8.8 boards and 2.7 assists, the junior has played a vital part in the Eagles success this season. Cooks had a monster February where he was named Big South player of the week and put up a 21 point, 20 rebound performance. Cooks was duly named All-Big South First Team and will play a major role in his side's chances.
Xavier Cooks | Credit: Winthrop University Athletics
The Eagles are widely tipped to be named as the #14 seed and face Jack White's Duke squad first up in the East region.
Jo Lual-Acuil Jr | Baylor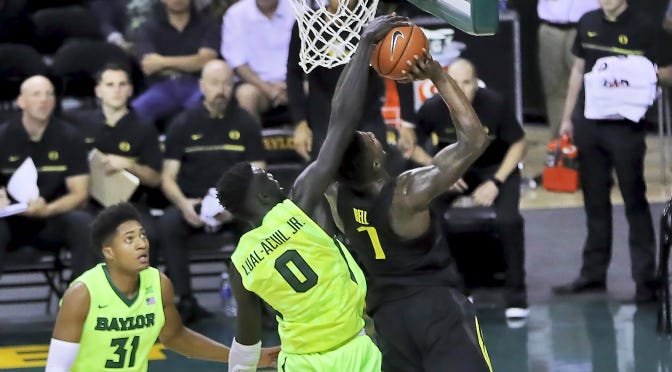 Jo Lual-Acuil Jr | Credit: Baylor Athletics
The 7'0 Aussie plays for one of the nation's top programs in the #11 ranked Baylor Bears. Lual-Acuil Jr has enjoyed a strong season, putting up 9.3 points, 6.9 rebounds and an impressive 2.7 blocks per game. The athletic big man is in a strong position to go deep into tournament action as the Bears are currently ranked #2 in the East region.
Keanu Pinder | Arizona
The Junior from Perth has been a contributor for the nation's #7 ranked program. The 6'9 forward will be looking to add a key punch off the bench for Arizona, having averaged 2.5 points and 3.1 rebounds in limited minutes this season. Pinder averaged 17.2 minutes per outing in the first six weeks of the season before in the New Year he experienced a dip in playing time, taking his season average down to 12.3. He is a key cog in their defensive unit, and could yet play a crucial role in just how far his team can go.
Jack White and Gorjak Gak are two Aussies who are well placed to see plenty of tournament action. However both are freshman on top programs, Duke and Florida respectively. The pair will likely struggle for court time with both registering DNP's regularly this season.
---
The Pick and Roll would like to wish all the Australian men participating in the NCAA tournament the best of luck.