NBL1 Tiers: A look at each team's early form
With about a quarter of the inaugural NBL1 season completed, it's time to take stock on where each team is sitting in the race towards the playoffs and title. Here are my team tiers:
LIVING UP TO THE HYPE
Teams: Kilsyth, Nunawading and Ballarat.
There will be a lot more detail to write on these three squads as the playoffs approach. Combined, they hold a 14-2 win-loss record after being labelled as the three standout teams in our season preview.
One of the two losses occurred in a match-up amongst themselves, and the other was with Nunawading missing three of their top players against Frankston.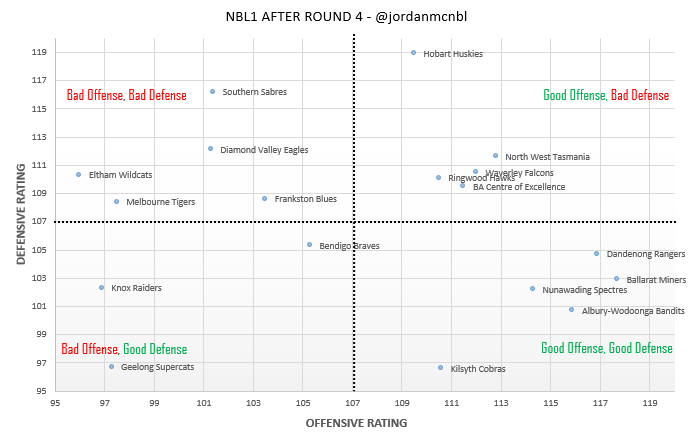 LIKELY PLAYOFF LOCKS
Teams: Dandenong, Geelong and Bendigo.
The Rangers have been the fourth most impressive team in NBL1 and boast a 4-1 record with Sam Froling in the line-up. Tim Lang has looked better than last season and, whilst they will have some players coming in and out of their line-up, they have a playoff-quality core group.
Geelong's elite defense has kept them afloat thus far, something that was expected to be their strength, and that will keep them in most games. The offense is a work in progress with Anthony Williams having only played three games and the remainder of the team posting some truly abysmal three-point shooting numbers (20-119 on 3PA excluding Williams).
Bendigo have added Deonte Burton and Mathiang Muo since game one and those inclusions should give them the exact boost that they need on offense to secure a playoff spot.
UNDERACHIEVING BUT TALENTED
Teams: Knox and Frankston.
The Raiders offense has been awful as they've struggled to make shots or get to the free-throw line (Cadarian Raines has only 3 FTA in 145 minutes). Damon Heuir will be a barometer for them moving forward as they finally get their full rotation together for a stretch of games and try to dig themselves out of this hole.
Frankston's defense leaked a bunch of points to start the season but their defensive rating has been a whopping 21 points better with Najeal Young on the court than off - per HoopsDB data. The offense has struggled with turnovers throughout, and Damon Bozeman hasn't quite been the one-man offense or league-MVP type of player that was expected, at least yet. The addition of Dan Trist from round six could kick-start some consistent form.
NEEDING TO BANK WINS BEFORE JUNE
Teams: Basketball Australia's Centre of Excellence and North-West Tasmania.
A unique aspect of this league is the number of players that have committed to a US college and typically this can see them depart their NBL1 teams at the start of June.
The Centre of Excellence have been one of the most impressive teams in the early goings with competitive performances and quality road wins throughout their schedule. They've used their athleticism to crash the offensive glass and get to the free-throw line and have been led consistently by Alex Ducas, Hunter Goodrick and Isaiah Lee.
The Thunder have been hovering around .500 and have had a good spread of scoring and steady play with the ball in hand (second lowest turnover-percentage across the league). Tre Armstrong is the high upside offensive player on their roster and once he departs for college their playoff chances will start to dwindle.
WE NEED TO SEE MORE OF THEM
Teams: Albury-Wodonga, Waverley and Ringwood.
The Bandits have started their season playing with the fastest pace in the league and are led by the league's most prolific scorer, Ken-Jah Bosley. The team did however fail their first real test on their schedule with a loss to the Centre of Excellence at home.
Waverley's fixture has also been a little soft with zero games against teams in the top two tiers listed here. Their roster pieces do fit together nicely though and the signs have been mostly positive with four out of five games featuring an above-average offensive rating – what is seen to be their strength.
Ringwood have played just four games and have done little wrong to count them out of playoff contention. The Big V rotation have made the step up in class with minimal issues so far and the import guards have been better than expected at getting to the free-throw line.
IN TROUBLE ALREADY
Teams: Melbourne, Eltham, Diamond Valley, Southern, Hobart.
The tier with the most teams. This group will need some extra personnel to join their squads if they are to reach the playoffs.
Melbourne got smacked on the weekend without Dane Pineau and that's an obvious problem given that he is their only legitimate big and their only path to a passable defense. The Tigers have some young talent, and will have some good showings, but consistency will be tough to come by on either end.
The talented and fiery Grandy Glaze has departed Eltham in what could be a season-shaping move. The Wildcats roster was tilted too far towards the front-court and this gives them an opportunity to add a guard who can help provide them with more shot-creation from the perimeter to boost a struggling offense.
Diamond Valley's roster is also one that is top-heavy. Unsurprisingly, as predicted in the season preview, the offense is well below-average as they lead the league in turnover-percentage with just one true ball-handler in the starting unit. The pieces are a tough fit and their best path to competitiveness may be on the defensive end unless they make a meaningful addition to the back-court.
I hoped that the Sabres would add a starting calibre center in the early part of the season but this has not eventuated. Instead, they have punted on their center minutes which has cost them defensively and made them non-competitive at times.
Hobart squeezed out a win in their season opener and, to their credit, have actually overachieved in terms of being competitive and putting points on the board. The Huskies are way too young and unproven to be winning many more games though.