Discover more from The Pick and Roll
We're all about Aussie hoops. Independent, objective analysis and commentary. Insightful narratives built around Australian basketball. Read about our men and women in the NBA, WNBA, NCAA, Europe, national teams, NBL, WNBL, NBL1, prospects and more.
Over 2,000 subscribers
NBL: Vukona stays, Kestelman takes second bite at cherry
The New Zealand Breakers currently display their fourth and latest championship trophy front and centre of their administrative offices; however, it's not just the trophy that's looking good in that building.
The Breakers management can celebrate one of their most positive player signings they are going to score all off-season; the recommitment of captain Mika Vukona.
Vukona is a cult figure in New Zealand and basketball has come a long way in the country with Mika at the helm.
The new three year deal, will secure the captain until the start of the 2018/19 NBL season, which means he would have played for the only Kiwi side for seven years.
The 32 year old says that he is blessed that the club continues to want him back.
"I have a lot of things I want to achieve in the next three years to take my game to another level, adding more to it rather than being seen as one dimensional."
Head coach Dean Vickerman was excited his on-court leader was coming back for an extended period of time.
"Mika lives the team's trademarks and club values everyday – the quality of person and the leader that he is assists our club and team culture immensely, Mika is the glue in all of that to hold us strong and ensure that we continue to progress."
Vukona will play out his contract in Italy playing for Roma, before returning back to New Zealand for preparations for the upcoming NBL season. The Breakers roster currently stands at five, with Vukona joining Alex Pledger, Cedric Jackson, Reuben Te Rangi and Duane Bailey.
---
Larry Kestelman, current part-owner of the Melbourne United franchise has made his second attempt at buying the entire competition.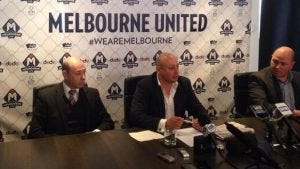 Despite a story coming out regarding his attempts to inject $7 million and then some to acquire 51% share of the league before the commencement of the 2014/15 season, Kestelman has had a second bite of the cherry according to Boti Nagy yesterday.
From what Boti reported, it seems as though finally someone is prepared to step up and take ownership on the league, instead of all sitting on their laurels.
Although Kestelman is reported to step away from the United brand as such if this was to go ahead, one would have to think how much of an effect would it have on the competition.
Not only would a second 'expansion' team in Melbourne most likely be declined, there would be thoughts that the league 'power' would simply shift from a Perth focused model to a Melbourne based model.
The vote is expected to conclude before next Friday's release of the NBL free agents list, as reported by Boti.