Discover more from The Pick and Roll
We're all about Aussie hoops. Independent, objective analysis and commentary. Insightful narratives built around Australian basketball. Read about our men and women in the NBA, WNBA, NCAA, Europe, national teams, NBL, WNBL, NBL1, prospects and more.
Over 2,000 subscribers
Reviewing NBL TV's desktop streaming platform
The NBL's lack of a desktop streaming product has been an obvious gap since last season. Now that the league has finally released their desktop streaming product, it's time to get on board the NBL TV bandwagon, and go on a test run.
How is the signup process like? Is the site easy to use? How do I search for videos? Let's take a look together.
Signing up for NBL TV
The NBL TV website is found on --no surprise here-- www.nbl.tv.
Click on the Sign Up Now button on the top right, in bright orange.
This season's NBL TV offers a few options:
You can follow your favourite team for free. This includes both live and replay options.

All Access Pass, which gives access to all content including all games (live and replay) for this season, and NBL classics as well.

You can either pay $5 per month, or

Get it free via Telstra Pass if you're an existing Telstra mobile customer.

Australian NBL club members will be contacted separately via their clubs on log in codes.
The signup process is fairly straightforward:
You enter your email address and desired password (would have preferred being able to enter a password twice to limit typos)

Fill up your personal information (name, mobile number, address, date of birth)

Payment is made either via credit card or PayPal.

You return to the home page right after payment is approved, which is strange. There isn't the usual payment receipt screen, confirming the transaction has been successfully processed. You will instead receive two emails from Cleeng (the authorised payment provider) containing details of the transaction and the subscription.
Using NBL TV
Live games: A puzzling game schedule display
The first thing that stands out, is the way the game schedule is arranged.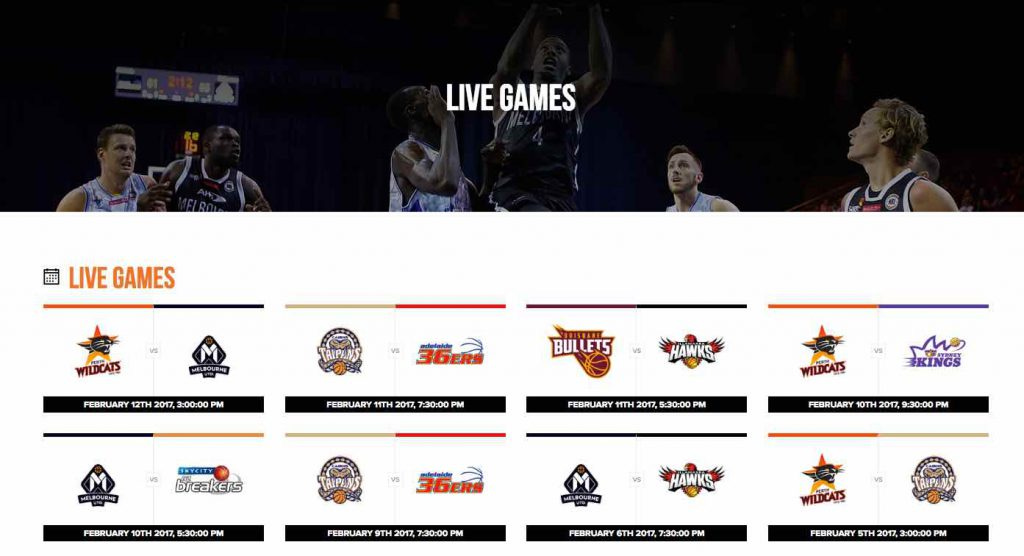 Instead of listing the nearest upcoming live match as the nearest clickable option (logically: the game we would like to watch), the first game displayed right under the Live Games header is instead, one that will be played on Feb 12 2017: Perth Wildcats vs Melbourne United.
Scrolling through the games shows the games are arranged in a newest to oldest order, where oldest is likely the game you'd want to catch. The last game on the list? Perth Wildcats v Brisbane Bullets, Oct 6 2016.
To spare users the grief of needless scrolling, games that are closest to the current date should be displayed first, in an ascending order. This needs to be fixed, and is certainly easy enough to change on the backend.
Highlights
The highlights section is fairly straightforward. Clicking on a video brings up a larger video display.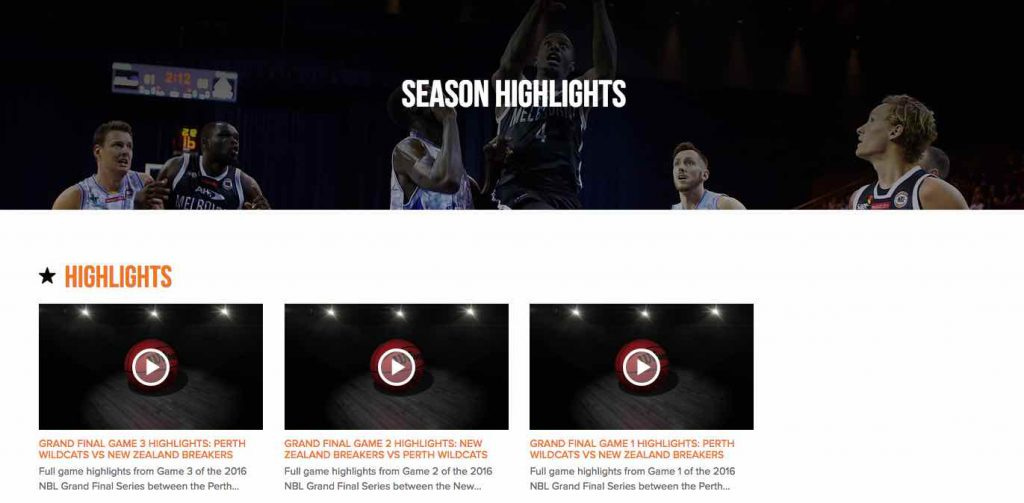 Once you start the video, you'll notice several controls at the bottom of the video: play/pause, volume, progress timer, social sharing, video quality and a full-screen option.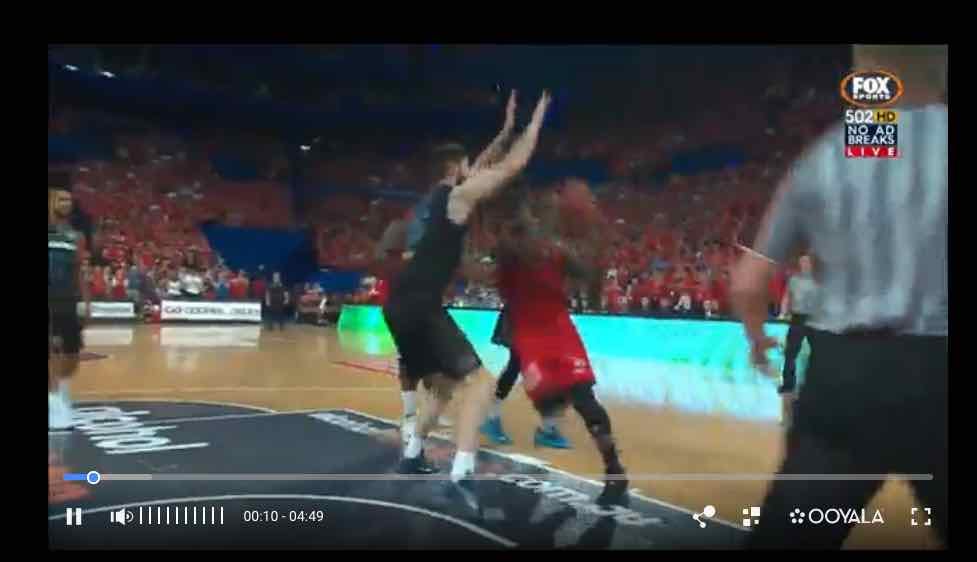 Clicking on the progress bar to fast forward or rewind is easy. Loading time is minimal, with almost no noticeable lag. This obviously might change as the season ramps up, and server load becomes a factor.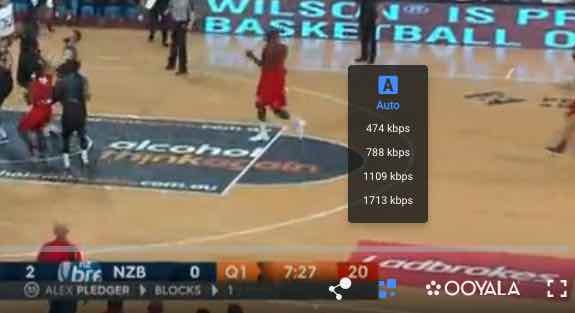 It's worth noting that the maximum video bitrate available here is 1713 kbps, in comparison to NBA League Pass which offers streaming at 3000kbps.
Here's a pet peeve: closing the video takes extreme skill with your mouse, especially when you're moving quickly.

The X (close video) is situated right next to your account name. When you move your mouse up towards the X, you could very well trigger the rollover menu. It then very helpfully expands to show a Logout option overlapping the X. In a lot of cases, I succeeded in logging myself out more than I did closing the video.
Workaround: click on another menu option, don't close the video.
Game replays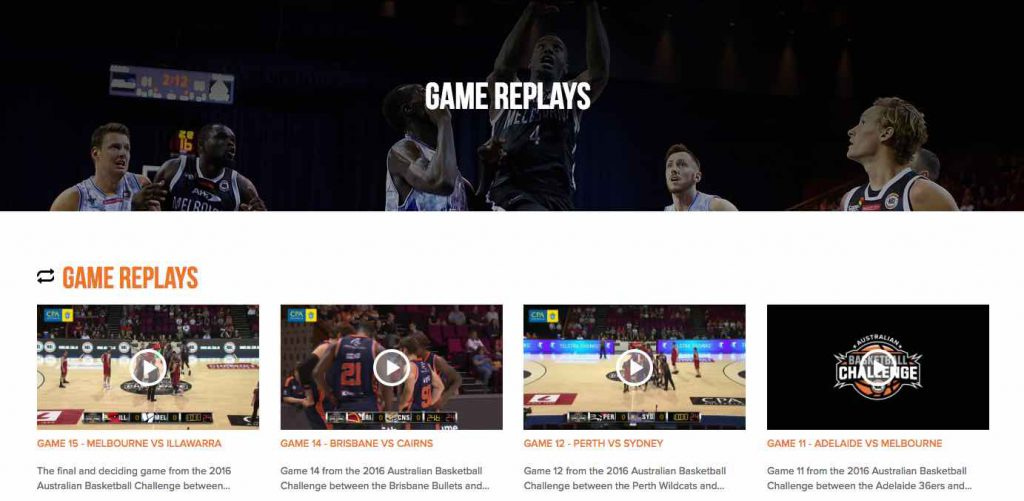 This is similar to Highlights, no elaboration required.
Most games from the 2016 ABC (Australian Basketball Challenge) are available here, so if you missed them, it might be a good time to catch up.
NBL classics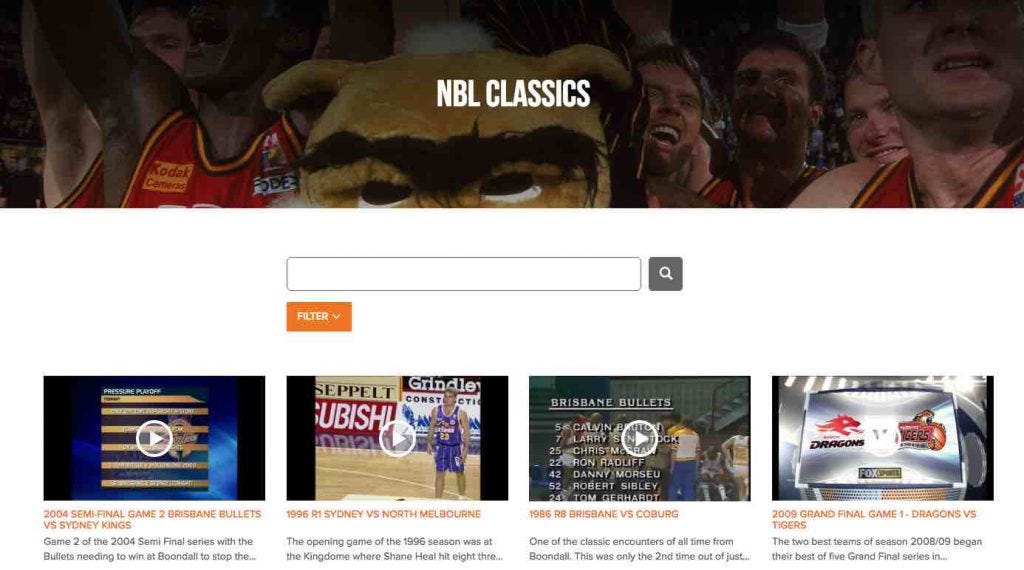 The NBL Classics section is fairly similar to Highlights and Game replays. What's really good about this section, is the search bar and video filter.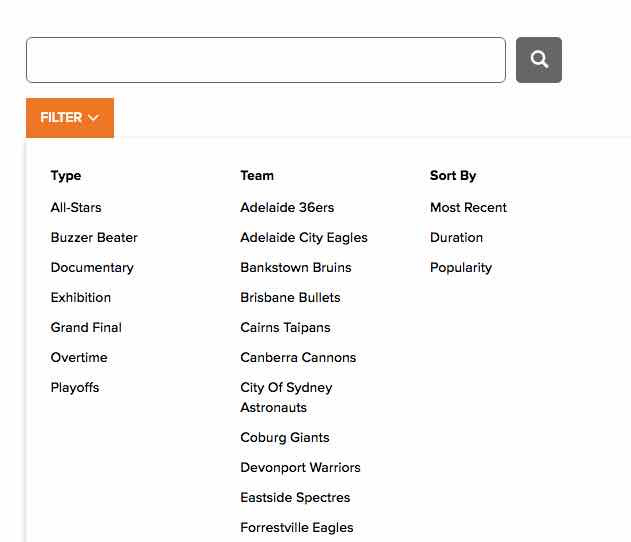 The Team filter seemingly stretches on forever, and lists teams ranging from the current Adelaide 36ers to past teams like the Canberra Cannons, Newcastle Falcons, South Melbourne Saints to the Townsville Suns. If they haven't got every single NBL team in there, it should be pretty close.
Having said that, the video repository does not seem to be complete. Either that, or the videos are missing their respective tags.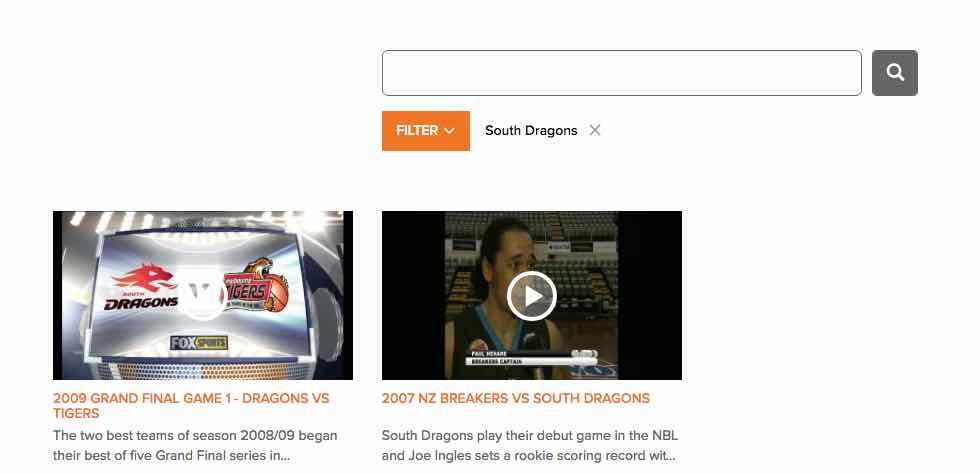 I used the South Dragons as a test, and the filter only yielded two games.
Teams

This brings up a display of all eight NBL teams. Clicking on a team takes us to the team page, with neatly organised tabs (season games, highlights, classics, schedule) for easy access.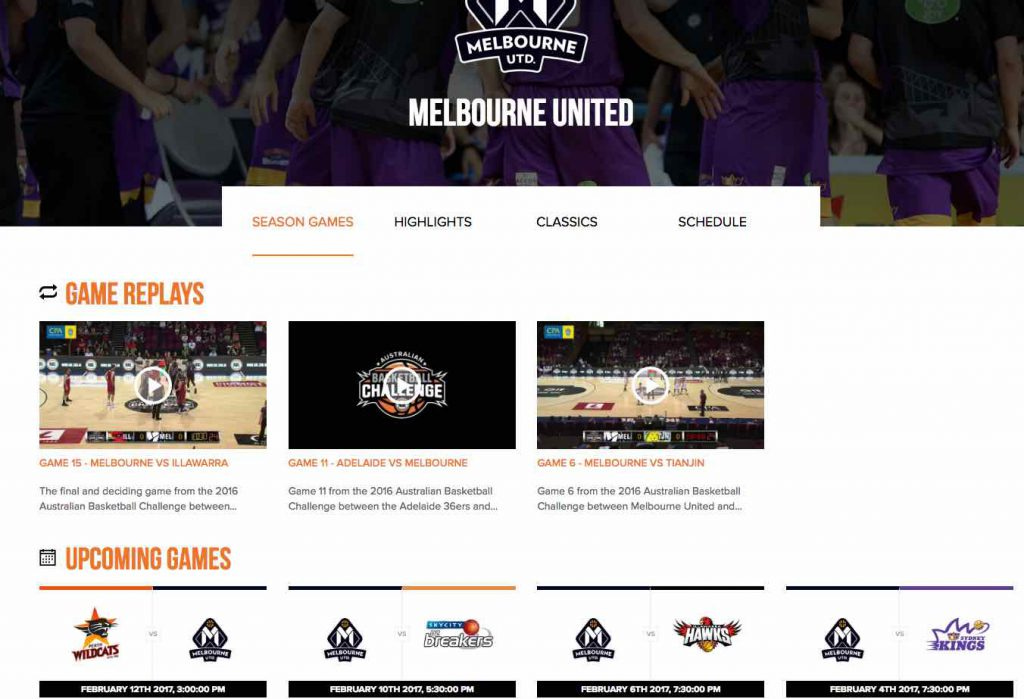 One thing I would have liked to see on this page: having a stat section available, with access to box scores and player/team statistics.
Most of the sections are self-explanatory, but the schedule section was the part that interested me the most.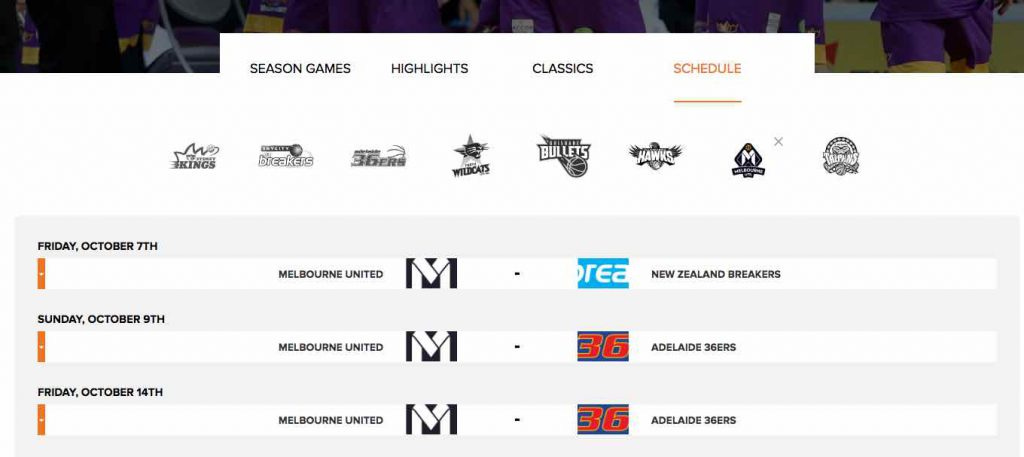 It had a list of current NBL teams that you could toggle on/off. I was expecting to be able to click on two teams (for example, Melbourne and Cairns) and be able to see a list of games when only Melbourne United played the Cairns Taipans, and no one else.

You can tell teams are toggled on, by the little X beside their team logos. Unfortunately in this case, all it did was to bring up all the Melbourne and Cairns games, regardless of opponent.
Schedule
This is pretty much the same schedule that was explained above. The only difference is that all eight teams are toggled on by default, so you get a full season game schedule.
Search is not quite perfect
Search is always a handy feature to have, but shows room for improvement.
I started with a search for Gaze and got three video results:
1991 Illawarra vs Melbourne, where Gaze scored 40 points before half time.

1993 R22 Brisbane vs Melbourne

2005 QF Townsville vs Melbourne
Searching for my favourite Aussie in the NBA, Joe Ingles was worse. I got one video: 2007 Breakers versus South Dragons, when Ingles set a rookie scoring record with 29 points.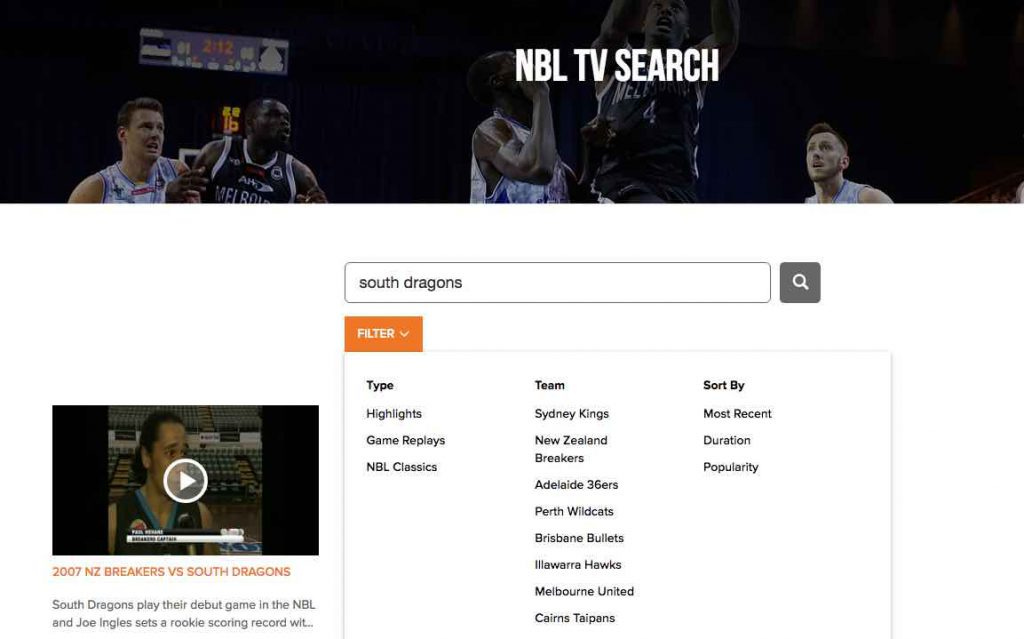 Sidenote: the filter button only shows current NBL teams, and not classic NBL teams. If you're looking for a classic team, you have to enter the team name in the search field.
Interestingly, searching for South Dragons gave me the same video; I was expecting to see a whole list of South Dragon games displayed instead. Searching for Dragons got me two videos - the same 2007 Breakers video, and Game 1 of the 2009 Grand Final, when the Dragons played the Tigers.
I tried searching for Melbourne United, and got seven videos.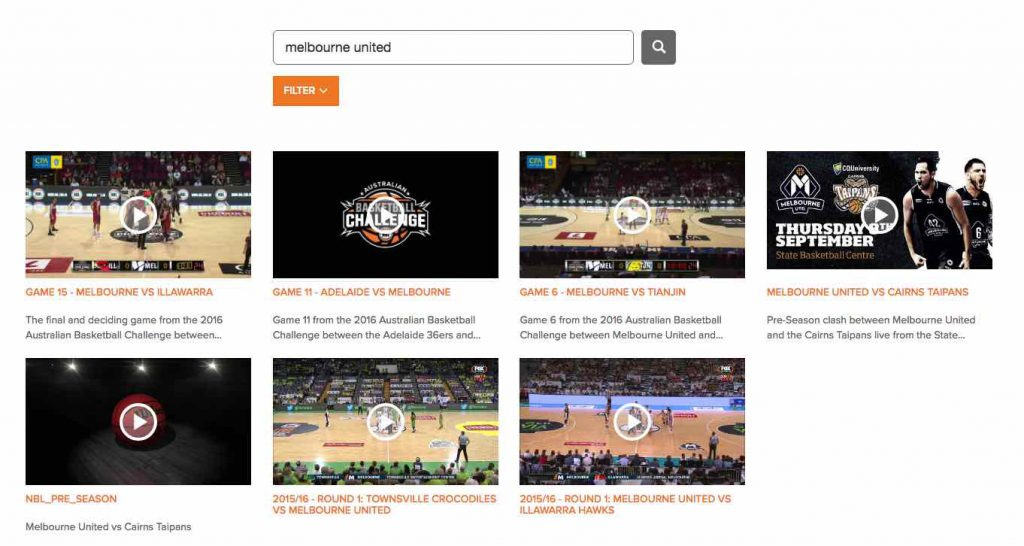 It looks like more work on the title and video descriptions (and/or any metadata not visible) is needed, to make search a richer experience. Either that, or NBL TV's missing a lot of videos.
As of right now, it's a little hit and miss.
Summary
The overall product is designed in a logical manner; most of what the fan needs is already present within this framework. There are however kinks that should be smoothed out, for a quality experience. This includes things like the unintuitive display of games on schedule, positioning the close video button away from the logout option, and improving video metadata for a better search experience (or improving the video repository if games are missing).
It's likely tweaks can and will be made to the platform as the season progresses. With that said, at $5 a month, NBL TV is definitely worth signing up for. I for one, am looking forward to watching games on my computer at last, and with that comes an added option to enrich our NBL content in the season ahead.