NBL: Top 5 Centres of the Season
As we look back at the midway point of the 2017-18 campaign, it's time to review and assess the premier players at each position in the 40th Anniversary campaign of the NBL.
Today, we're going to discuss the NBL's monsters of the midway. The behemoths. The first 12 rounds have revealed plenty about the league's leading bigs, exposing some weaknesses and shining a light on their skills both inside and outside.
Josh Boone is far and away the best rebounder in the league. Is it enough to be crowned the best big in the NBL? What should we make of the unique skills and 'doesn't show up on the stat sheet' play of someone like Nnanna Egwu? Is AJ Ogilvy's unbroken run of All-NBL 1st team berths about to come to an end?
Before we dive into the rankings, let's lay down a few ground rules.
We've evaluated these players from the beginning of the current NBL season to the conclusion of round 12 only. The last five years and potential future don't matter one iota, but I've watched endless reels of film (so to speak) and poured over countless reams of statistical data from RealGM, NBL.com.au and crunchtimeshots to compile this list.
To be eligible, players must hit one of two benchmarks to qualify: either 8 games or 100 minutes game time. That means Michael Carrera and Jeremy Kendle, for example, don't meet the criteria and therefore don't get in.
Also, some websites list certain players in the wrong position: Derek Cooke Jr, Majok Majok and Delvon Johnson are listed as power forwards but Majok Deng is listed as a centre on RealGM. I don't agree with that and have therefore swapped certain players to the position I believe they play more often.
If your favourite player doesn't appear on this ranking they may appear on the rank for a different position.
If they don't appear on that list either... you should find a new favourite player.
ICYMI: here are the PG's and SG's. Keep your eyes peeled for the SF's, PF's to follow.
Now, let's get to ranking.
---
The Almosts (10-6):
Isaac Humphries was a well sought commodity before heading to the Kings | Credit: UK Athletics
10. Isaac Humphries, Sydney Kings
Age: 20
2017-18 Per-Game Stats: 6.7 points, 3.5 rebounds, 0.7 assists, 0.7 steals, 0.8 blocks
Shooting: 55.8 FG%, 0.00 3PT%, 63.6 FT%
Advanced Metrics: 14.5 PER, 106.4 ORTG, 115.5 DRTG
Happy 20th Birthday on the 5th January rookie!
My gift to you is a place in the top 10 centres, ahead of elder statesmen Delvon Johnson (Illawarra), Matt Hodgson (Adelaide) and David Anderson (Melbourne). Bad time to be a son, I guess.
Isaac has already showed he will be a load down low for a long time to come. His best game came against the Adelaide 36ers when he had a double-double and set career highs of 17 points and 10 rebounds to go with 2 assists, 2 steals and a block. He shot 8 of 10 from the field that night.
Finds himself in a tough spot splitting time with centres Jeremy Tyler and Amritpal Singh; not to mention Sydney's early desire to play small ball with Perry Ellis at centre.
---
9. Rob Loe, New Zealand Breakers
Age: 26
2017-18 Per-Game Stats: 7.1 points, 4.8 rebounds, 0.9 assists, 0.8 steals, 0.7 blocks
Shooting: 48.5 FG%, 35.9 3PT%, 45.5 FT%
Advanced Metrics: 15.5 PER, 118.7 ORTG, 109.1 DRTG
Is the only centre with the green light to shoot from behind the arc.
He's no Dirk Nowitzki by any stretch but he is draining a very respectable 35.9% of his treys this season, a career high number. Makes his 45.5 free-throw percentage even more bizarre.
Scored a career-high 23 points on 4 of 8 from downtown against Sydney in December 2017. Finds a way to make a positive contribution in every game and as his minutes have slowly crept up, his contributions have too. In seven December games, the man with the Hollywood name averaged 9.7 PPG and 4.4 RPG whilst shooting 56.0/43.8/55.6.
---
Photo credit: NBL
8. Angus Brandt, Perth Wildcats
Age: 28
2017-18 Per-Game Stats: 8.4 points, 3.9 rebounds, 1.4 assists, 0.2 steals, 0.1 blocks
Shooting: 51.9 FG%, 0.00 3PT%, 68.8 FT%
Advanced Metrics: 15.9 PER, 117.9 ORTG, 112.3 DRTG
There was some stunningly accurate commentary from Cam Tragardth during the recent game between Cairns and Perth. Brandt had the ball on the low block and a defender on his back. He quickly turned to face the defender and at the same time ripped through to go baseline, knowing he would get hit and a foul would be called. Cam intimated that Matty Neilson (Asst Coach) had clearly been doing a heap of work with Angus, as there's no way that move was in his repertoire before.
While the numbers have remained fairly similar all four years of his NBL career (two with Sydney, two with Perth), 2018 Angus is clearly a far superior player, with a higher basketball IQ and better fundamentals than when he arrived at Perth for the 2016-17 season.
Prone to allowing the officiating to get under his skin; he can feel aggrieved when the whistle blows and subsequently goes off the boil seeking retribution. When he keeps his head and just plays his brutish style of ball, Angus is dangerous with the best mini-hook shot in the game from either hand.
---
7. Nnanna Egwu, Cairns Taipans
Age: 25
2017-18 Per-Game Stats: 5.4 points, 4.8 rebounds, 2.2 assists, 0.5 steals, 0.7 blocks
Shooting: 49.4 FG%, 20.0 3PT%, 81.0 FT%
Advanced Metrics: 10.8 PER, 112.3 ORTG, 110.4 DRTG
I didn't fully understand why Cairns brought Nnanna back for another season. His numbers and overall play were underwhelming and not what you'd expect from an import player: 5.1 PPG, 3.7 RPG, 0.8 APG. Imports with those stats tend to get the chop pretty quickly in these parts.
Surely there was a better option available, Jameel McKay perhaps?
Well, I'm woke now Cairns!
Nnanna is actually the Damian Martin of big guys. You can't look at the per game stats to make an accurate judgement. You have to watch them play, see how they lead their teammates, see how they can be just the right amount of proactive and reactive on any given play. They play ball to win and only win. A coaches dream. That's why he plays more minutes per game (24.1) than any other centre.
I get it.
---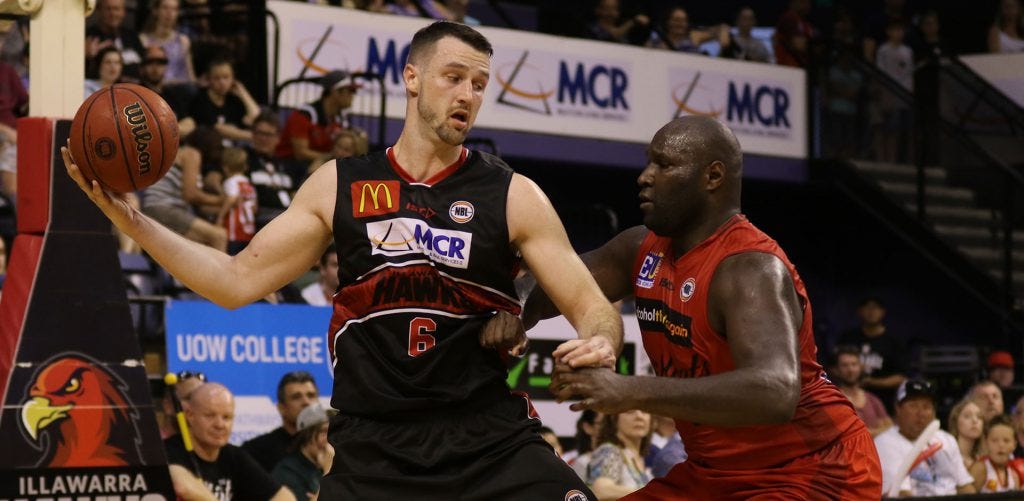 6. AJ Ogilvy, Illawarra Hawks
Age: 29
2017-18 Per-Game Stats: 11.5 points, 6.3 rebounds, 2.2 assists, 0.7 steals, 1.7 blocks
Shooting: 54.8 FG%, 14.3 3PT%, 63.6 FT%
Advanced Metrics: 17.3 PER, 108.9 ORTG, 110.1 DRTG
Compare the per game numbers and they are almost identical to his last campaign in which he was named All-NBL 1st team. In 2016-17, Ogilvy was good for 11.1 PPG, 7.6 RPG, 2.6 APG and 1.5 BPG. He led the league in blocks with 1.5 per game and is leader again this year with 1.7 rejections a game.
The best big guy of the past two years and I can't squeeze him into the top 5? Something just feels off with AJ and the Hawks this season.
Has missed four games (currently sidelined with a hip injury, though he could return as early as Round 13) but his play even before the injury was nonplussed. AJ has been held to 5 points or less four times already (has played 13 games). Last year he was held to 5 or less on three occasions in 34 games.
---
The Cream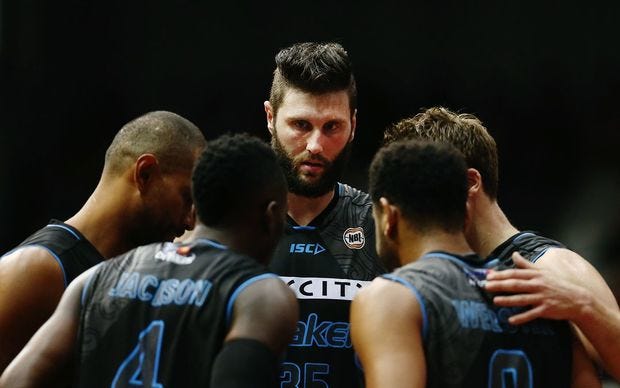 5. Alex Pledger, New Zealand Breakers
Age: 30
2017-18 Per-Game Stats: 7.7 points, 5.6 rebounds, 0.8 assists, 0.3 steals, 0.1 blocks
Shooting: 54.6 FG%, 0.00 3PT%, 73.5 FT%
Advanced Metrics: 18.2 PER, 127.5 ORTG, 111.1 DRTG
Kills teams with his free-throw line pick and pop game. Coach Henare uses this play to great effect against every team in the league and Pledger is all too happy to keep hitting that mid-range shot if you don't recover or the help doesn't rotate. This simple but deadly set is probably the main reason Alex has the best offensive rating of all qualified centres in the NBL (127.5).
Comparing all centres per 40 minutes, Alex ranks 8th in scoring (16.6), 3rd in rebounding behind Boone and Cooke Jr (12.2) and 3rd in blocks behind Ogilvy and Cooke Jr (2.3).
His player efficiency rating (18.4) is top 5 among centres.
---
4. Tom Jervis, Brisbane Bullets
Age: 30
2017-18 Per-Game Stats: 10.9 points, 4.8 rebounds, 0.9 assists, 0.4 steals, 0.6 blocks
Shooting: 59.0 FG%, 0.00 3PT%, 84.8 FT%
Advanced Metrics: 18.6 PER, 121.8 ORTG, 116.4 DRTG
The 2016-17 Eric Watterson All-Star has finally been given more responsibility and is responding with his best offensive season in the NBL.
Jervo is on track to set career highs in minutes (20.5 MPG), usage rate (22.5), points per game (10.9), field goals made and attempted, free throws made and attempted, field goal percentage (59.0%), true shooting percentage (63.9% - 6th), effective field goal percentage (59.0% - 8th), turnover percentage (13.5% - 33rd) and offensive rating (121.8 - 15th). He has the 8th best player efficiency rating in the league at 18.6.
Unfortunately, the defensive work he was renowned for with the Perth Wildcats under Trevor Gleeson has slipped markedly at Brisbane with Andrej Lemanis; he is on track to see his defensive rating slip again, from a career best 97.8 points per 100 possessions with Perth in 2015-16, to a career worst 116.4 points per 100 possessions with Brisbane this year.
Tom is an efficient offensive player with a sneaky post game. Unfortunately, playing with the worst defensive team in the league has seen his play at that end suffer greatly.
---
3. Derek Cooke Jr, Perth Wildcats
Age: 26
2017-18 Per-Game Stats: 6.0 points, 4.6 rebounds, 0.5 assists, 0.8 steals, 0.8 blocks
Shooting: 62.5 FG%, 0.00 3PT%, 72.7 FT%
Advanced Metrics: 21.5 PER, 126.2 ORTG, 103.4 DRTG
Don't let the raw numbers fool you.
Derek is the only player in the league that gives you 15+ points (16.9), 10+ rebounds (13.0), 1+ assist (1.4), 2+ steals (2.1) and 2+ blocks (2.3) per 40 minutes.
Frustratingly, Coach Gleeson seemed to employ a "break in case of emergency" methodology for the start of the year and even now Derek still plays ridiculously low minutes for his output.
The retirement of the bushman, Matthew Knight, gave Gleeson no option but to unleash this chiselled Adonis on unsuspecting fools and he has been an athletic highlight-waiting-to-happen ever since.
If you've watched Perth a lot, you'll have noticed his post repertoire is surprisingly good for someone who seems a little raw, a little uncoordinated at times. DC has a crazy good 'spin cycle into a quick jump hook release that touches nothing but net' move that I've had to rewind and watch four or five times to see how it happened. It's a blurry, blink and you'll miss it move. Good luck defending it.
Has the flattest free throw shooting stroke in the league, barely getting above his shoulder height but it's surprisingly effective.
Derek is this high because he would dominate given more minutes. It's that simple. Playing with a Perth team that likes to go small a fair bit and alongside another developing big man who needs to eat too (Brandt), means he doesn't get the minutes of a Jeremy Tyler or Josh Boone.
If he was in their situations, he would be just as dominant - particularly on defence.
---
Image Credit: Sydney Kings
2. Jeremy Tyler, Sydney Kings
Age: 26
2017-18 Per-Game Stats: 13.6 points, 6.1 rebounds, 1.3 assists, 0.8 steals, 1.1 blocks
Shooting: 56.7 FG%, 0.00 3PT%, 66.7 FT%
Advanced Metrics: 22.8 PER, 117.4 ORTG, 114.7 DRTG
The NBL's version of New Orleans Pelican Demarcus Cousins.
Just like Cousins, he appears to be a big ball of childish emotion, one that could explode at any moment if the wrong button is pushed. And just like Cousins, he is a tantalising riddle of basketball skills rarely seen in a big man.
If he could be harnessed for good instead of evil then Sydney has themselves a dominant force, a match up nightmare and a potential MVP candidate. You can count with one finger the big men that can stop Tyler when he's engaged. Himself.
Unfortunately, for this foul prone big man, he allows his emotions to cloud his judgement and easily lead him astray during the course of a game.
During a six-game stretch between 30 November and 21 December, Jeremy dominated the competition and flashed his enormous potential: 18.3 PPG on 61.0 FG%, 7.3 RPG, 1.5 APG, 1.0 SPG, 1.8 BPG in 25 minutes per contest.
Harness that emotion and Sydney has an inside/outside wrecking ball trio along with Jerome Randle and Kevin Lisch.
---
Image Credit: Melbourne United
1. Oscar Joshua Boone, Melbourne United
Age: 33
2017-18 Per-Game Stats: 13.1 points, 10.1 rebounds, 0.5 assists, 0.5 steals, 0.8 blocks
Shooting: 63.4 FG%, 0.00 3PT%, 40.0 FT%
Advanced Metrics: 23.2 PER, 124.5 ORTG, 101.9 DRTG
The oldest man on the list and the premier big guy in the NBL. Is basically a walking double-double.
Josh has a league best 7 double doubles (McCarron and Buford are second with 4 each) and has missed out on another two by a single rebound.
Leads the league in total rebounds, rebounds per game and offensive rebounds per game. His total rebound percentage of 23.8% (the percentage of available rebounds he gobbles up whilst on court) is more than six percent better than Alex Pledger in second place.
Is 2nd to Mitch Creek in FG% (63.4) and 2nd to Perrin Buford in defensive rebounds per game. Tied for 6th in the league with 0.8 BPG.
Amongst all players, is tied for 2nd in defensive win shares and 6th for offensive win shares.
Has the best PER (23.2) and defensive rating in the league (101.9) and is the only player averaging double figures in points and rebounds.
A leading candidate for the NBL MVP and Defensive Player of the Year awards. A lock for selection on the All-NBL 1st Team. Boone is easily the best centre in the NBL today.
---
Matthew L Smith contributes NBL coverage for the Pick and Roll. Follow him on Twitter: @ALLeigHOOPS
Unless otherwise indicated, all stats are from RealGM, NBL.com.au or Crunchtimeshots and are current at the conclusion of Round 12 and heading into games on January 5.