Discover more from The Pick and Roll
We're all about Aussie hoops. Independent, objective analysis and commentary. Insightful narratives built around Australian basketball. Read about our men and women in the NBA, WNBA, NCAA, Europe, national teams, NBL, WNBL, NBL1, prospects and more.
Over 2,000 subscribers
NBL: Cairns need to improve defensively
Through five games, Cairns have been down on expectations on both ends of the floor after last season posting an impressive 110.5 offensive rating and 103.7 defensive rating (points scored/allowed per 100 possessions) on their way to a Grand Final appearance (per RealGM).
Whilst the offense has slipped (down to a rating of 106.1), largely thanks to their historically bad three point shooting, Cairns' defensive numbers are also reason for concern. The Taipans currently own the league's worst defensive rating (114.7) after hovering around the league's best mark last season.
Below is a visual of Cairns' defense via spatialjam.com, accompanied by my numbers. Note the defensive issues at the rim and from behind the arc.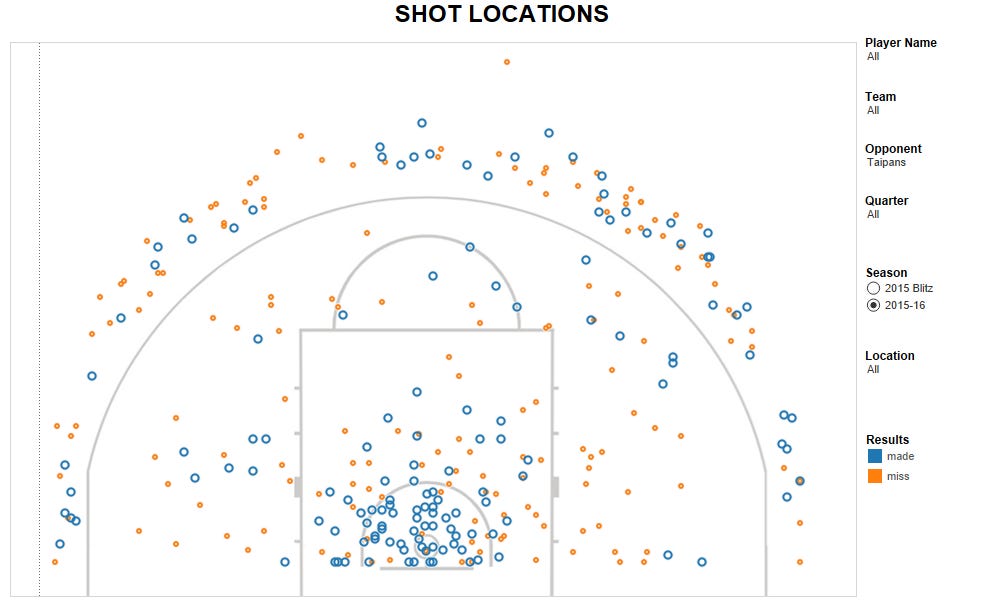 Cairns' D Restricted Area Non RA Paint Overall Mid Range Above Corner 3 Corner 3 % 79.0 41.4 60.8 31.3 36.6 52.9 Attempts 12.4 11.6 24.0 13.4 20.2 3.4 Cairns' opponents shot just 30.3% from three point range last season (a league best defensive mark) as well as just 42.2% overall from the field. This season the Taipans are allowing a league worst 39.0% from deep and league worst 60.8% in the paint (79.0% in the restricted area).
Coach Fearne has already made a starting line-up change with Mark Worthington joining Matt Burston in the frontcourt instead of Alex Loughton, with this being significant due to the fact that they had such continuity in this area in 2014-15.
With all four of their big men over the age of 32 (and none of them being significant rim protectors in terms of blocks), some gradual decline on the defensive end could be real. Given what the team did last season though, it's also a definite possibility that this team will get back towards the defensive numbers that made them a top defensive team. It's certainly something to monitor.
The Markel Starks and Scottie Wilbekin debate is heating up with the availability of Wilbekin and the current struggles of Starks. Wilbekin was a two way player in the NBL last season with his low turnover rate, above average defense at his position, and a number of memorable crunch time moments that helped hide his streaky shooting percentages.
https://twitter.com/SynergySST/status/622452214578216960
Starks has been a solid ball mover but inconsistent in his willingness to score, poor with his jump shot, and reportedly has some issues with his body.
https://twitter.com/wenzel87/status/658099658007277568
Advanced stats via RealGM Shot chart visual via spatialjam Shot chart numbers via crunchtimeshots