Discover more from The Pick and Roll
We're all about Aussie hoops. Independent, objective analysis and commentary. Insightful narratives built around Australian basketball. Read about our men and women in the NBA, WNBA, NCAA, Europe, national teams, NBL, WNBL, NBL1, prospects and more.
Over 2,000 subscribers
NBL Starting 5 - July 13 2016
Welcome to the Starting 5.
The Starting 5 is an NBL column which depicts and then informally dissects five recent and relevant topics within and surrounding Australia's national men's competition and its purpose is to hopefully create a little bit more of a discussion surrounding the evolving league that is the NBL.
The best part about it - it doesn't stop here. It's not just my opinion that wants to be heard, we want the discussion to flow over to YOUR social channels and beyond (tweet me, or us - we'll respond if you're interested to share your view!).
Simple right?
Let's get cracking - here's this edition's Starting 5!
---
NBL well represented in Australian Boomers team
It may only be because our best Australian team has not been assembled due to injury and NBA duties, however it is extremely pleasing to see that our NBL players are being noticed to be selected for the national team.
With as many as nine Aussies in the NBA this season (potentially ten), plus adding the numerous players on top European outfits, one would be forgiven if you didn't see a single NBL player in the team. However, it's credit to the re-rise of the league seeing Chris Goulding, Damian Martin, Kevin Lisch and emergency Aleks Maric (new to NBL this season) playing in green and gold.
When it comes to the future of the Boomers however, speaking of the Rio Olympics, I don't buy into the hype that the Boomers are contending for gold.
Tuesday night the Boomers stepped out in Melbourne and played against a Pac-12 College All Star team, shaking off the cobwebs and hitting the court for the first time together. It wasn't pretty, but the guys got to run through their sets against an interesting opposition.
With such a tough group to get through in Rio, I'm concerned we're building up an expectation that may not be warranted.
---
The final Emerging Boomers update
Remember these guys? It's the team that flew out to China to play against a few teams including a pair of international teams. In my last update they were 3-0 and moved to another part in China to play three more.
Credit: Basketball Australia
Well, good news - they're back in Australia now after a perfect 6-0 tour.
The Boomers defeated Serbia (103-93), Chinese club Liaoning Leopards (86-79) and Cameroon (76-72) in Shenyang, China.
Sydney's Jason Cadee was magnificent against Serbia, pouring in 40 points, which was a tour high.
The tour was to give our young, potential up and coming Boomers international experience in a different environment. With basketball finding its way onto mainstream media lately, it's disappointing we didn't hear much about this tour.
---
Can't stop the Rot...from coming back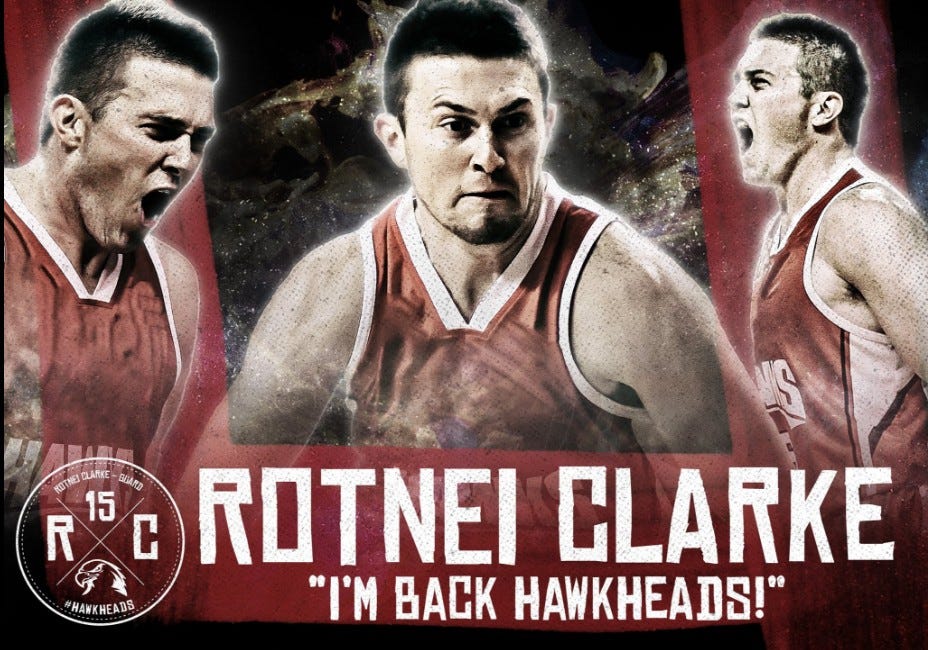 Credit: Illawarra Hawks
Music to our ears. Former NBL MVP Rotnei Clarke is coming back to play for the Illawarra Hawks on a two-year deal.
The level of talent on NBL rosters just keeps getting better and better, however the real winner here is that we're now able to not only retain talent, we're also able to reel talent back in after they believe they're better for it.
Retaining Chris Goulding was the first get, welcoming home Aussies who have been playing in Europe was the next (Aleks Maric for example), and now welcoming back Rotnei Clarke (who Blake Griffin said Steph Curry reminded him of Clarke) are all positives to the ever improving league.
The talent level in the NBL is already stacked and we've only secured a small number of imports with plenty more to be injected. Speaking of imports....
---
Summer League has everyone's keen eyes peeled for future imports
Where are we going to find this explosive injection of imports? Oh, where else - the NBA Summer League. There's always a bunch of guys running around in NBA colours, either pretending to be an NBA star or wanting to be one.
A host of NBL coaches and scouts are currently sitting in the bleachers of NBA Summer League games trying to sign the next face of the franchise, while others are coaching at the Worldwide Invitational (America's version of the new NBL Combine, which we copied).
Credit: NBL
The interesting thing about the Summer League though, is watching past NBL imports go back to try out for an NBA team. Perth's Casey Prather and New Zealand's Charles Jackson are two players impressing during their short tenure in the Summer League - Prather donning a Mavs jersey, Jackson part of the D-League Select team.
Marcus Thornton on the other hand, who had a questionable season in Sydney last year, is playing for the Boston Celtics. The Celtics drafted Thornton at pick 45 in the 2015 NBA draft and is continuing to decline.
Yes, he really did get drafted.
Ps. Good luck trying to watch Summer League and correctly assign one player to an NBL team. There's just too many to worry about.
---
Imports may not be the way this season
Ok ok, I know, you're telling me off - this is the third position in the starting five that's speaking about imports.
But hear me out.
The league made a big change at the end of last season, announcing that teams were to be allowed three imports on their roster.
Roster spots are quickly filling up for season 2016/17 and so just how many teams will go with three imports?
My prediction - not many, if any (uh uh, uh uh, I don't know anybo...ok sorry too far)
Look at it though, teams are filling up:
ADE (2 imports, 1 spot left - how much money to spend?)

BRIS (1 import, 3 spots left - newest team, do they have to make a splash?)

CNS (0 imports, 4 spots left - can they afford 3?)

ILL (1 import, 1 spot left)

MEL (1 import, 1 spot left)

NZ (1 import, 2 spots left)

PER (0 imports, 5 spots left - maybe?)

SYD (0 imports, 3 spots left - deep talent pool)
Let me know your thoughts, which team(s) will use their three import spots?