Discover more from The Pick and Roll
We're all about Aussie hoops. Independent, objective analysis and commentary. Insightful narratives built around Australian basketball. Read about our men and women in the NBA, WNBA, NCAA, Europe, national teams, NBL, WNBL, NBL1, prospects and more.
Over 2,000 subscribers
The NBL is in Randle Mall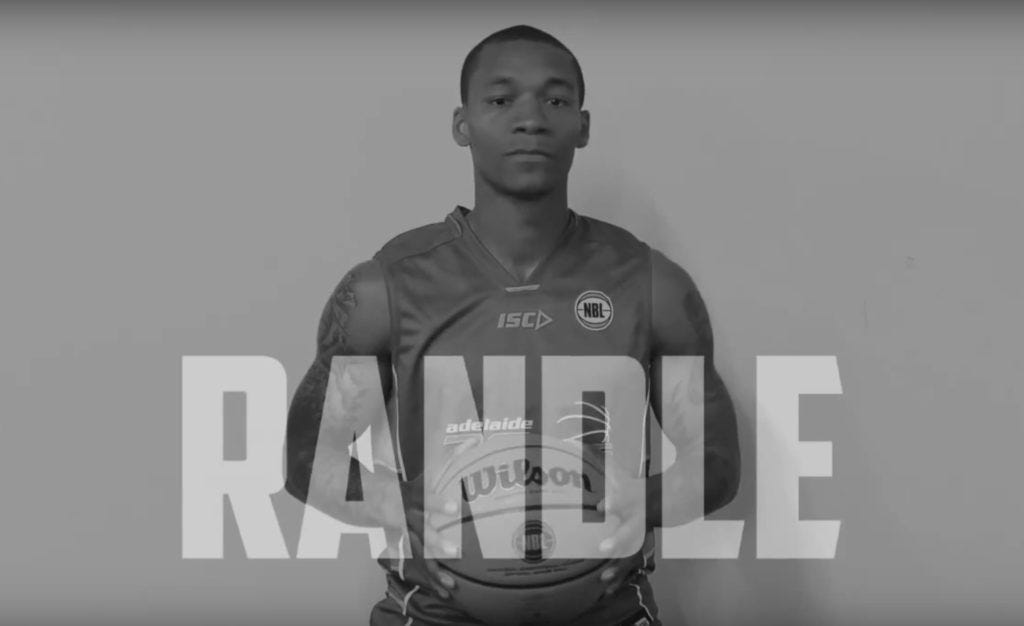 How does Jerome Randle relate to your basketball career? Sure, you may not have made it at a professional level, you don't have the dribbling ability that he possesses, or even a hashtag.
However, (I'm guessing) you can't quite dunk, you have always been up against the odds and, well, we've all tried to immitate Stephen Curry recently!
In saying this, Adelaide's in-season import replacement for Kenyon McNeail has been nothing short of breathtaking. The now favourite for the league's most prestigious individual award has proved that little guys belong down under...something Wollongong import Jahii Carson couldn't do last season.
But don't try to compare the two though. How could you?
Randle jumped off a Boeing 747 ready to play nearly the same day; always wearing his heart on his sleeve, while wanting to play for the name on the front of his jersey, before the back.
Jerome Randle's first game in Adelaide colours after just touching down in Australia
Carson turned out to be a little closer to a one trick pony - one that didn't really help much in in-game situations either.
So at 5'9'', what has made 'Handle Randle' such a unique and dominating player? He's found his showcase (NBL) in Australia as his style of play is what's breaking news in this modern time. I mentioned earlier about everyone trying to imitate Steph Curry in the backyard every time you play one-on-one with your brother/sister/best mate - well, Randle is putting it on National television!
Sixers teammate Anthony Petrie told Boti Nagy that Randle is the greatest import he's played with.
"He (Randle) is probably the best import I've played with. He's got crazy handles, puts it to the floor, makes great decisions out of on-balls and can shoot it.

"He is a super-talented player and we're lucky to have him in Adelaide and the NBL is lucky to have him."
Randle knows his way with words too.
"It shouldn't be about height, it should be about heart and your ability."
On-court performances are one thing. Making an impact off it is the next. Randle is making use of his claim to fame in Adelaide and the NBL. While Fox Sports commentator Corey 'Homicide' Williams' "Ant-Man" nickname is dead and buried, Randle has gone out to pursue the off-court impact with'Jerome Handle Randle'.
Thank you, guess when u get 2 know me....im not so bad right? Lol Luv good people n love BBALL that's all that's it https://t.co/3JKy9fdpB7

— jerome randle (@jerome_randle) January 11, 2016
His constant activity on Twitter has fans engaged - he's sharing with the fans in the modern, digital era - something many Aussies haven't witnessed. The creation of 'Jerome Handle Randle' t-shirts is continuing to push his brand out there, but also the competition as a whole.
Available tomorrow JHR t shirts 3 different colors pic.twitter.com/2OAzvyAWJE

— jerome randle (@jerome_randle) December 22, 2015
It just so happens to be, that Randle touched down in Adelaide - where Rundle Mall plays host to many tragic sports fans. Something which is becoming more and more potent about the South Australian population, they LOVE sports.
Take note - in the AFL, Adelaide Crows registered a home crowd average of 39,719 (above the AFL average), while Port Adelaide have had averages of 33,000 and 37,000 over the past two years (up from 20K and 27K previous two years). Adelaide United in the A-League average over 10,000 at Coopers Stadium, while they managed to secure over 20,000 at the Adelaide Oval in their fixture against Melbourne Victory. Finally, crickets Big Bash League has Adelaide the largest average attending crowd number in the competition, with 37,872 (as at 7 Jan 2016) - 10,000 more than their next rival.
Time for the Sixers to join the club.
It's a time like now where players like Randle play such an important part to the development of this league. Too many times of late have we seen talented restricted players leave our shores with so much more to give.
The ball is in the Adelaide 36ers court.
A mammoth push to the NBL finals is upcoming, however that's just the short term goal.
It is encouraging to know that positive discussions are already taking place between the 36ers front office and their franchise player.
Randle's rise to stardom is no dissimilar to that of Stephen Curry in the NBA - he's relatable!
Do what it takes (within reason) for the fans to see Randle in blue again next season, because you just never know what the future may hold; you might not get as lucky as a rival club passing on a potential league MVP next time.
***
Ps: Jerome Randle is a Chef Curry fan!
I don't know, I am a @StephenCurry30 fan though https://t.co/l7sZEY3wJV

— jerome randle (@jerome_randle) January 7, 2016