NBL Plus Minus - Round 9
Crafty guards and their signature moves. Centers who run the floor. All this, plus the baddest jerseys in the game.
---
The Trice to Jervis Connection (Plus)
Since moving south in the offseason to play for Andrej Lemanis and the Bullets, Travis Trice has found himself amongst a group of guys still learning how to play together. Is he feeding the post or sprinting to keep up with Perrin Buford's limbs? Does he play alongside Stephen Holt or Adam Gibson in the backcourt? Coach Lemanis is still tinkering with what works best.
What's been there since Round 3 for Trice – when Brisbane actually got to settle into their season – has been a great two-man game with Tom 'Lunch-Pail' Jervis.
https://twitter.com/Alexanderobins_/status/940369980935172096
Jervis is every teammate's favourite teammate and Trice is the distributing guard to reward his relentless work.
https://twitter.com/Alexanderobins_/status/940742678991343616
When your big runs the floor like this it's no wonder you lead the league in assists.
The timing on Trice's passes is so much fun to watch, and Jervis has the poise and manoeuvres to finish every time (or feast on scrappy offensive boards – just under two per game).
https://twitter.com/Alexanderobins_/status/940746692558761984
In the half-court, the pair's chemistry has been equally impressive. Jervis has a knack for playing in the pick and roll, and his ability to move without the ball has put him in similarly great situations on back-cuts.
---
Josh Boone End-to-End (Plus)
When it comes to bigs that run the floor, look no further than Melbourne United center Josh Boone. The heart and soul of the team, Boone has steadied the United ship alongside Casey Prather with both his vocal leadership and his on-court play.
Halfway through the season, Boone is averaging a double-double – putting up 13 points and pulling down 10 rebounds per game. You want a basket: hit Boone in the paint. You miss a shot: he'll clean up after you.
https://twitter.com/Alexanderobins_/status/940759120415772673
Operating in Dean Vickerman's offense, Boone is either setting picks or collecting put-backs under the basket. Round 9 saw a return to a bit of interior passing that has been sorely missed since the early flashes and high hopes against the Oklahoma City Thunder in the preseason (fitting that those two played each other). Tai Wesley plays well when he puts the ball on the floor and his team is even better when he makes the extra pass.
https://twitter.com/Alexanderobins_/status/940749093000884224
What Boone does best though is rumble. It's not just the fact that Boone and his 6'10" frame are charging down the court each and every time United get out on the break, it's how he times his runs.
https://twitter.com/Alexanderobins_/status/940764016049377285
It seems like no one ever wants to pick Boone up when Melbourne push the pace. A dominant finisher in the paint, the veteran has displayed a textbook example of how to change speeds and slip behind reeling defences.
Time and again Boone has left opposing teams flat-footed and a step behind. Time for United to do the same.
---
Chris Goulding, spin artist (Plus)
We've seen a lot of spin moves recently – Adelaide, Cairns and New Zealand to cite a few – with none sweeter than a pair of dizzied-defences from Aussie visionary Ben Simmons and his 'don't-mind-if-I-do' destruction of the NBA.
https://twitter.com/NBA_AU/status/940035198476984320
https://twitter.com/NBAItalia/status/939810108326010880
Back home in our NBL, there's only one pirouette that's captivated me in the first half of the season.
https://twitter.com/Alexanderobins_/status/940042088325906439
It's the pinnacle of Chris Goulding's court presence; the signature on his masterpiece of reckless abandon. Goulding catches the ball and instinctively twists around an opponent simultaneous to making a dash down the court or to the basket.
Goulding's coaches coming up in Australian basketball must have gone crazy from the sideline every time he caught the ball and risked twisting into a teammate or defender. At some point though, when Boomer jerseys are donned and scoring comes in waves, the ability to spin on a 5c echidna becomes a celebrated habit.
It's even more consistent than his galloping no-look pass on the fly, and just as fun as seeing him go 7-for-11 from deep.
https://twitter.com/NBL/status/940144389120069633
We'll see what the second half of the season has in store for us - will Goulding be left standing in a corner waiting to catch and shoot, or will he be given the green light to operate with the ball, slip behind screens and carve up the competition?
---
Black Strips (Plus)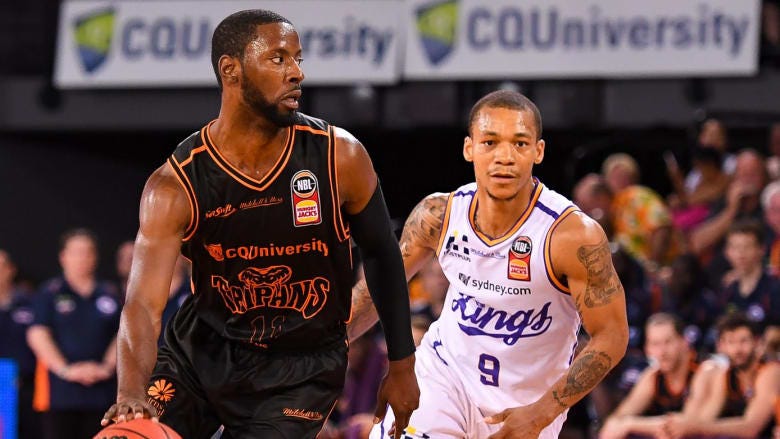 Minimalistic orange on jet black has the Taipans at their deadliest.
Uniforms matter to teams and the players stepping on the floor for them. They can leave a franchise in non-descript mediocrity or make a statement about what kind of approach a team, their fans and their city bring to the game.
Sydney goes 'Hollywood Nights' with bold logo & sleek trim.
For Cairns, a team colour is definitive enough to wear every single game of the year. Teams like Perth might mix it up for a good cause (pink is bold, but looks right at home in the Jungle), and the newly reformed Brisbane Bullets stick with the obvious Queensland maroon as an alternate that looks damn good on a basketball jersey.
It's just black & white. Updated piping on the ribs would've put this instant classic at the top.
Halfway through the season and five out of eight teams have worn black uniforms. They're all great, and deserve to stay part of each side's kit selection for seasons to come (no more blue on blue, please).
Māori themed back makes up for the font and powder blue rectangle on the front. (Photo: NBL)
Yes, I subjectively ranked all five of them.
The red with white font works, but the overall balance needs work. (Photo: NBL)
---
Cotton Off the Dribble (Plus)
Bryce Cotton is no longer new to the NBL. He's still smaller than just about everyone else on the floor, and he's still quicker than all of them too (yes, even Jerome Randle).
Cotton is the starting point guard for the team that gets everyone's best shot, round after round. The Wildcats currently have both the best offense, and defense, in the league. Like the rest of the 'Cats, Cotton is a known quantity to every opponent. You know – first in scoring (19.1 per game) and seventh in steals (1.3).
Week after week, no matter what defences throw at him, Cotton is getting his with ball-handling that the rest of the league just can't keep up with.
https://twitter.com/Alexanderobins_/status/940729915112030208
He starts dancing side to side: you're either too slow or too scared. Teammate sets a screen for him: it's over.
My personal favourite is his step-back - right leg lunges forward, and before the defender realises Cotton jerks back.
https://twitter.com/Alexanderobins_/status/940733453250609152
Best-case scenario is being so late to react that you find yourself still in front of him and then try to trail on his hip towards the basket. Most of the time, you're desperately flailing as a silky smooth jumper sails past.
Nothing but net.
---
Jason Cadee Gets the Start (Minus)
It's Round 8 and the Sydney Kings are rolling. Yes, rolling. They're on their way to a rare victory when the inevitable Sydney synergy of 2017 strikes.
https://twitter.com/NBL/status/936161804522160130
Todd Blanchfield, who's putting himself together a nice first half of basketball, somehow bangs heads with seven-foot teammate Isaac Humphries. Insult to injury; another starter out.
Two nights later, in steps Jason Cadee – the one consistent guard in a Kings' season that has seen Kevin Lisch go down with a calf injury and Travis Leslie released (a duplicate of existing roster talent, but a talent nonetheless).
I was genuinely excited about Cadee getting the start. He'd shot well all season; created well in the pick and roll and had played well alongside new point guard Randle.
https://twitter.com/NBL/status/936165367767904256
In those four starts, Cadee has struggled. He's been caught out on defense and has shot just 26% from the field. In Round 9 he managed a team-worst minus-12 against the Bullets and - 22 while on the floor against United.
Playing in Melbourne, Cadee got asked to do the legwork on defense with Randle playing through the flu. United ran Cadee (and every single player in white) off the court with a lot of backscreens and lights-out shooting.
https://twitter.com/Alexanderobins_/status/940743835642138625
Casper Ware's destruction of Sydney's perimeter defense was outright disrespectful – what are you meant to do when the guy starts pulling out these moves?
Kevin Lisch, you ready yet?