NBL Player Profile: Kendrick Perry
Steve Chalmers provides a background check on the new Sydney Kings import; you know, the one who's been shadowed by Josh Childress coming to town.
---
Who is Kendrick Perry?
Perry, 21, is a 6'0'' point guard who has found his way to Australia off the back of four years at Youngstown State University.
He has electrifying speed and is incredibly quick up and down the floor, finishing with big dunks despite his size. He is known predominately as a scorer, which can be frustrating at times for a PG to have a 'score first' mentality. However, most of his scoring takes place in transition, which means he dishes off plenty of passing in the half court.
"I pride myself on my leadership, not just on the court but off the court as well and I think that'll be the most important thing I'll be adding to the Kings," - Kendrick Perry
In saying this, his passing game isn't as big of an advantage as his scoring, with his ability to create on the offensive end something scouts have targeted as a weakness. The Sydney Kings will be looking to run the floor when Perry is on the court in hope of getting some of those easy transition buckets.
---
History
Perry has just completed his university career at Youngstown State with an average of 21.3ppg shooting 50% from the field in his Senior year. The guard then went undrafted in the 2014 NBA draft, however was involved in a Summer League stint with the Orlando Magic playing one game in the Orlando Summer League.
"Even though I didn't play as much as I expected I still feel as though I was able to learn a lot by sitting and listening to the coach...The biggest thing I learnt was probably how much faster and physical the professional game is not just NBA but professional games everywhere...I definitely know what it takes just from the experience because I learnt there and I'll take it wherever I go." - Kendrick Perry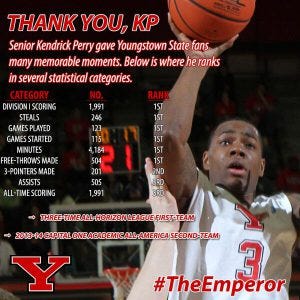 Photo Credit: kendrickperry.com
In Perry's four years at university, he made the All-Horizon League First Team in every year except for his Freshman year, which compliments his consistency as a scorer in Division I. For his final three years, he averaged 16.8, 17.3 and 21.3ppg respectively, which featured a career-high 35 point performance in his final outing for the school.
---
Highlights
https://www.youtube.com/watch?v=fylEhe_rG6I
https://www.youtube.com/watch?v=VPigEsE32Q8
---
Future
For Perry, it's a matter of fitting in to the Sydney Kings system. While it shouldn't be too hard to find his feet under coach Damian Cotter, his passing and vision need to improve dramatically to play a role for his side in the 2014/15 season.
The next thing Perry will have to prepare for is the size disadvantage he'll endure, with the NBL's top point guards substantially larger than the 6'0'' that he stands. He'll have some trouble when he comes up against someone like the 6'6'' Stephen Dennis, who'll be roaming both guard positions for Melbourne United.
---
"The Horizon League hasn't produced many over the past few years, but they have included two highly regarded point guards coming out of college, Norris Cole (Cleveland State) and Ray McCallum (Detroit). Now, Youngstown State's Kendrick Perry is looking to add his name to that list." - Ed Isaacson NBA Draft Blog
Click here to check out the range of Sydney Kings memberships on offer.