NBL MVP Race: October
The month of October has come to an end, with some thrilling basketball and standout performances from the NBL's opening month. The MVP race is wide open at this early stage, so let's break down the top 10 candidates for this season's award after October.
---
1. James Ennis
Ennis has been the star of the league so far, averaging 24ppg to go along with 6.8rpg. His athleticism is unmatched in the competition and he has provided a number of highlight reel plays already, staking his claim as one of the most exciting players to play down under in the history of the league. The American superstar has had a lot to do with Perth's 5-0 start and is the deserved hot favourite to take out the MVP award at this early stage.
---
2. AJ Ogilvy
Ogilvy has enjoyed a strong start to his first season in the NBL, averaging 16.3ppg, 10.0rpg and a whopping 4.7bpg while shooting at 53% from the field. While the Kings are 1-2 to start the season, so are a host of other teams and the form of their star big man can't be ignored. He is the only player in the league to average a double-double of any kind and if the Kings enjoy some team success then Ogilvy will without doubt be a hot contender for the award by season's end.
---
3. Shawn Redhage
Arguably playing second fiddle to Ennis, Redhage has also enjoyed a scorching start to the 2012/13 campaign with averages of 17.0ppg and 5.4rpg while shooting at 50% from the floor in Perth's undefeated start. He has carved out a reputation for making big plays and has showed that again so far this season. The veteran has also hit a number of clutch shots down the stretch to ice games and has been as impressive as anyone else in the league, despite Ennis getting all the headlines.
---
4. Gary Ervin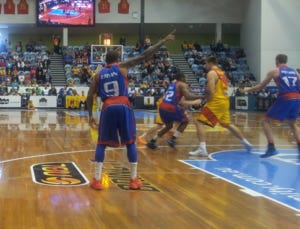 Photo Credit: The Pick and Roll
Former league MVP Ervin has averaged 17.2ppg and 5.2apg so far this season in a very solid start to the year, with the Sixers impressive as well. His poor shooting percentage, sitting at just 42%, is a major downside of his game, and is the only thing separating him from the top three in this list at this point. He is more than capable and will be one to watch if his team continues to win.
---
5. Kerron Johnson
Johnson's Breakers are 1-4 and below par at the moment but the import guard has flourished down under so far, averaging 17.4ppg and 5.0apg while shooting an astonishing 67% from the field across five games. There is little doubt about Johnson's credentials to take out the MVP award, however his Breakers need to start winning for him to be any chance of snagging the honours when all is said and done.
---
6. Alex Loughton
Loughton has started the season off in hot form as his Taipans have gone 2-1 to sit in 2nd place. His numbers don't stand out and he has been scoring at just 15ppg, but has done it at 62% from the floor and 50% from beyond the arc and has been the consistent star performer in the Snakes' strong start. If he can keep it up, the Taipans will be right there when it comes playoffs time.
---
7. Chris Goulding
After missing the first game through injury, Goulding has come back into the Tigers side and dominated with averages of 23.5ppg and 4.0apg in two games since. Goulding is the Tigers' x-factor and has the capability of exploding on any night. His 29 point effort against Adelaide got the Tigers their first win and put them into the top four, and we could see Goulding climb up this list if Melbourne continues to win. Watch this space.
---
8. Daniel Johnson
Adelaide's Johnson started the season on fire with a 28 point haul in Perth, and has since dropped off slightly but is still averaging 16.4ppg to go along with 5.8rpg and an impressive 55% from the field. The 36ers have started the season strongly and sit in 3rd place at 3-2 and Johnson has been one of the catalysts in providing instant offense and second efforts, with his inside-outside game particularly important given Luke Schenscher's small minutes.
---
9. Rotnei Clarke
The pre-season hype about Clarke seems to be on the money, with the sharp-shooting guard averaging 18.3ppg and 4.0apg in some blistering shooting displays. However, a lack of consistency has held him back so far and the jury is still out; if he can sort that out we will see Clarke averaging 20+ by season's end and the Hawks will be in playoff contention.
---
10. Mark Worthington
Worthington has been solid without being spectacular so far, with consistent performances over the course of the first three games. He has averaged 16.0ppg and 6.7rpg at only 44% from the field but has been the only constant in Melbourne's 1-2 start. If he can improve that output as we know he can, and his team continues to get better, then he will come into serious contention for MVP honours.
---
On the Fringe:
Keep an eye on these guys in the next month...
Jarrid Frye, Cameron Tragardh, Alex Pledger, Jamar Wilson, Josh Pace, Lucas Walker