Discover more from The Pick and Roll
We're all about Aussie hoops. Independent, objective analysis and commentary. Insightful narratives built around Australian basketball. Read about our men and women in the NBA, WNBA, NCAA, Europe, national teams, NBL, WNBL, NBL1, prospects and more.
Over 2,000 subscribers
NBL MVP Race: January
While nothing much changed at the top in January there was plenty of movement throughout the top ten as a host of players put their hand up for a spot on the list, with anywhere up to 15 of the league's best pushing strongly for a spot in the rankings. *Ranking (Last Month's Rank)
---
1. (2) Chris Goulding
While Goulding's numbers were steady rather than spectacular in January, he snares top spot from James Ennis for the first time this season largely due to his team's impressive form. The Tigers went 4-2 for the month and consolidated a top four spot, recording two impressive wins in their road double against Perth and Wollongong to finish it off. Goulding was immense in both of those, scoring 54 points over the weekend to get his team over the line when the Tigers season looked to be balancing on a knife's edge. His month generated 21.8ppg to go with 3.3apg despite shooting the ball at just 42%. He remains the league's leading scorer with 23.3ppg and is shooting at a touch under 45%, and his ability to hit tough shots when the Tigers are in need is priceless.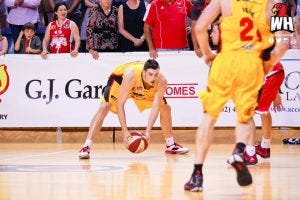 Credit: Joel Armstrong |
---
2. (1) James Ennis
Ennis slips from top spot for the first time this season despite another strong month by the numbers alone. He again seemingly scored at will, going at a mammoth 24.5ppg at an impressive 46% from the floor. His 7.8rpg and 2.5apg were also strong; however his side went 3-3 for the month and looked shaky for the first time this season. Ennis fouled out in an overtime loss to Wollongong, had a costly turnover late in another overtime loss against Cairns, while against Melbourne he was more than well-held all night. While there is no doubt his 22.9ppg, 7.0rpg and 49% shooting from the floor are of an MVP calibre, his short drop in the rankings comes as a result of the Wildcats failing to win the tight games and his failure to make the difference between winning and losing for his side.
---
3. (3) Daniel Johnson
Johnson enjoyed yet another superb month and remains right in calculations for the award. He holds sway at number three thanks to a month which garnered 22.8ppg at 52% shooting as well as 7.5rpg. However, his Sixers dropped two games to Sydney to go 2-2 across four games for the month, failing to capitilise on Perth's drop in form and letting Melbourne gain some ground on them in the process. His season numbers are huge, with the star big man averaging 19.4ppg and 6.9rpg whilst shooting at an incredible 54% from the floor. Johnson's last two months have been as good as either Ennis' or Goulding's and the Adelaide centre will a strong chance of taking out the MVP honours if his form continues.
---
4. (4) AJ Ogilvy
After a poor December and slow start to January, Ogilvy returned to his early season form over the Kings' last five games to hold onto fourth spot once again. The Sydney big man averaged 12.3ppg and 8.7rpg over the month, however a 6-point, 3-rebound outing against Cairns to kick off the month skews the numbers somewhat. Impressively, he also managed 3.0apg and 2.8bpg in an all-round performance that helped the Kings to a 4-2 record for the month. His 7-7-4 game against Adelaide on Australia Day also delivered a season-high 8 blocks, while his 18 and 14 effort against the same Sixers earlier in the month was also a standout.
---
5. (9) Sam Young
Young was enormous throughout January in the Kings' six games, leading the way with 21.5ppg at 52% from the floor. His 3.7rpg and 2.2apg were also handy as Sydney went 4-2 for the month and consolidated a spot in the top four after a hellish December. Incredibly, Young managed those numbers despite a 7-point, 3-rebound game against Melbourne which saw him shoot 3-11 from the floor. His season tallies of 21.4ppg and 4.8rpg while going at a touch under 50% from the field certainly look like MVP numbers, but with his delayed start to the season and the fact that he shares the role of 'most valuable Sydney player' with Ogilvy hold him from breaking into the top echelon of contenders for the award.
---
6. (5) Rotnei Clarke
Clarke had an up-and-down month after a blistering December as his Hawks went 2-4 and slipped down the ladder. The American point guard kicked off January with a 28-point, 7-assist performance while playing all 45 minutes of an overtime win against league leaders Perth but failed to go on with it in the remaining five games. He averaged 18.2ppg for the month – down on his 20.3ppg on the season – and shot the ball at just 42% from the field and 29% from beyond the arc. He went a combined 2-18 from long range in his last three games as the Hawks slumped to end the month. He remains the third-highest scorer in the league and can light it up at any moment; however his inconsistencies and his side's struggles see him slip down a spot in the rankings.
---
7. (-) Mark Worthington
Worthington shot into the rankings in January with some huge performances against top quality sides as his Tigers went 4-2 in six games. The Australia forward has been hindered by back issues for most of the first half of the season but looks to be well and truly past those now as he begins to hit top form as the playoffs approach. He rockets into the top ten and flies up the pecking order thanks to 15.3ppg and 6.2rpg in January, with his 50% shooting from the field showing no signs of any niggling injuries. His 24-point, 10-rebound effort against Perth was capped off with a three-point bomb on the buzzer to hand his side the win and was undoubtedly the pinnacle of his month. He has managed 14.8ppg and 7.2rpg to this point in the season in an incredible display of consistency, and despite having Goulding in front of him it is never too late for a player of Worthington's calibre to make a run up the rankings.
---
8. (-) Tom Abercrombie
The high-flying Abercrombie enjoyed a very good January which saw him reach the 20-point mark in four of his side's five matches to break into the top ten. He managed 17.6ppg and shot the ball at 54% from the field in a scorching month's play as the Breakers got themselves into playoffs contention with a 3-2 record. His numbers come with an asterix as well, given his 3-point performance on 1-8 shooting came in amongst his big nights. Taking away that game makes his month elite, with 21.2ppg and 61% shooting to show for his efforts across the remaining four games. After an inconsistent first half of the season the athletic Kiwi is hitting his straps as New Zealand look to finish off the season strongly in their bid for the final playoffs spot, with numbers of 15.3ppg and 3.6rpg whilst shooting at a 49% clip more than serviceable.
---
9. (6) Shawn Redhage
Redhage struggled for consistency in January as the Wildcats dropped three games out of their six, with two of those being on their previously impenetrable home court. He still averaged 17ppg over the month, however also had four games that returned less than 15 points. His 27-point effort in an overtime loss to Cairns was the highlight for the Perth star and helped bump up his monthly numbers. He only managed 3.7rpg, down on his 5.0 average for the season, but improved on his 3.0apg with 3.7 for the month. His shooting percentage remained very healthy at 51%, and while his season averages remain at 15.6ppg at 50% he drops in the rankings due to a host of other players improving and going past him, as well as Perth's indifferent form of late.
---
10. (-) Jamar Wilson
Cairns played a league-high seven games in January, with Wilson starring as the Snakes went 4-3 and came into playoffs contention once again. Despite coming off the bench, Wilson managed 15ppg over the month, while he also contributed 3.7rpg and 2.9apg and shot the ball at 46% from the floor. As good as any player in the league in the clutch, the wily point guard made an array of big shots when his side needed them as he helped to close out wins against Sydney, Wollongong and Townsville while coming up huge in the fourth against Perth despite missing overtime after fouling out. His season numbers of 13.8ppg, 4.0rpg and 2.8apg at a tick under 50% shooting are as good as any other true point guard in the league, let alone ones that come off the bench. With the business end of the season fast approaching, don't be surprised to see Wilson coming up big when it counts. *Dropped out: Gary Ervin, Alex Loughton, Mika Vukona
---
On the fringe:
Keep an eye on these guys in the next month: Ben Madgen, Scott Morrison, Demetri McCamey, Gary Ervin, Brian Conklin, Alex Loughton, Kevin Tiggs, Adam Gibson, Kerron Johnson