Discover more from The Pick and Roll
We're all about Aussie hoops. Independent, objective analysis and commentary. Insightful narratives built around Australian basketball. Read about our men and women in the NBA, WNBA, NCAA, Europe, national teams, NBL, WNBL, NBL1, prospects and more.
Over 2,000 subscribers
NBL: Mid-Season Fan Challenge
NBL Fans, get your game on!
Study, Discuss and then Debate - can you make the best team?
The rules are simple, you have $15 to create your Starting Five. Don't go over! (There's no luxury tax here!)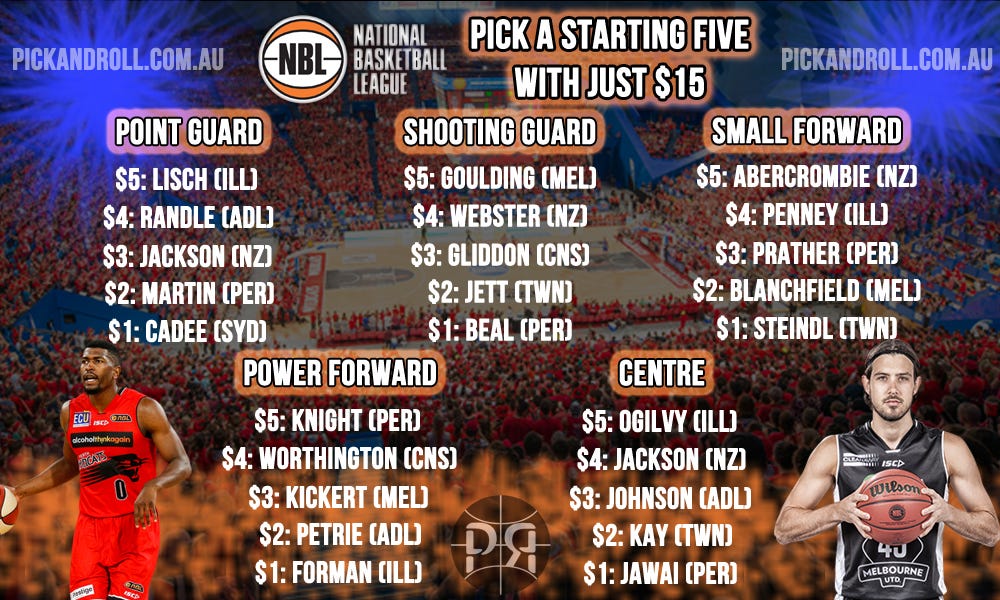 How did you go? Let us know your side either via Facebook or Twitter!
Here's some the NBL team at The Pick and Roll prepared earlier:
Steve Chalmers: Cadee ($1), Webster ($4), Penney ($4), Forman ($1), Ogilvy ($5)
Dean Zardo: Martin ($2), Goulding ($5), Steindl ($1), Worthington ($4), Johnson ($3)
Corey Kennedy: Randle ($4), Beal ($1), Blanchfield ($2), Kickert ($3), Ogilvy ($5)
Warren Yiu: Jackson ($3), Webster ($4), Blanchfield ($2), Forman ($1), Ogilvy ($5)
Tony Loedi: Randle ($4), Webster ($4), Prather ($3), Kickert ($3), Jawai ($1)
Tom Harrison: Martin ($2), Webster ($4), Steindl ($1), Kickert ($3), Ogilvy ($5)
Hayley Wildes: Randle ($4), Beal ($1), Penney ($4), Kickert ($3), Johnson ($3)
Liam Flynn: Jackson ($3), Jermaine Beal ($1), Abercrombie ($5), Forman ($1), Ogilvy ($5)
Jordan Mc: Martin ($2), Beal ($1), Penney ($4), Kickert ($3), Ogilvy ($5)