Discover more from The Pick and Roll
We're all about Aussie hoops. Independent, objective analysis and commentary. Insightful narratives built around Australian basketball. Read about our men and women in the NBA, WNBA, NCAA, Europe, national teams, NBL, WNBL, NBL1, prospects and more.
Over 2,000 subscribers
NBL marketing a big tick for round 1
The NBL unveiled a new clean and crisp website for season 2015/16, just one of the big winners in their off-season restructure (Image: NBL)
In just a six month period, the NBL has lifted itself from the depths of despair, to a well structured product back into the Australian sporting landscape.
After many predicted the league would even cease to exist for season 2015/16, executive director and now 'Australian basketball's saviour', according to some, Larry Kestelman has the revamped NBL transformed from a ground zero product, to a television and consumer friendly sporting spectacle.
While this ever so quick rise back into relevance has occurred thanks to many different aspects from multiple sponsors, partners and people; none can be more viewable in the public eye than the NBL's off-season marketing campaign.
A chaotic amount of hours would have been spent in the boardroom, scribbling whiteboards, designing graphics, re-drafting drafts and then some; however, marketing has become one of the key deciding factors as to why the general public are now paying some sort of attention to the local game.
The result? #Hardball and a LOT of promotion!
---
We'll start with the new and improved NBL Live, an application for both Apple and Android users which facilitates a basketballers interest of the competition in the palm of their hand. The ability to live stream games, check box scores, read the latest (and updated) news and reviews coming out every day, along with a host of other features really sets the tone that the NBL wants their share of the marketplace.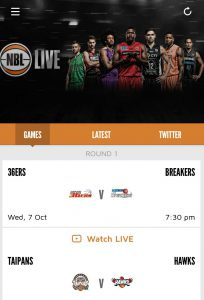 Product placement in key cities across the country has also been identified as an important piece of the puzzle, as billboards and posters have featured heavily across local areas who field an NBL team.
Another wonderful initiative that continues to place local hoops square in the front of people's minds when travelling around town.
Marketing 101 at Townsville airport prior to the NBL Blitz
In round one, we saw the very first game day initiative with every single person who attends/attended a home fixture had a #Hardball t-shirt waiting for them on their seat, which included their clubs logo on the front.
This NBA playoff type feature brings colour and atmosphere to the arena, as every attendee will feel as 'one'.
A sea of orange is prepared for opening round tip-off (Image: Cairns Taipans Twitter)
Finally, the biggest winner of them all goes to none other than Melbourne United, who, thanks to their commercial partners in AHG; will be giving away a brand new car!
Melbourne United are giving away a car on opening night (day*)
Can you believe that, one person who attends the NBL this week (in Melbourne) will walk away with a new car!
The cost of that car probably equates to the entire marketing budget of last season....well, maybe not that far, but you get the idea.
---
Kudos to you NBL and the associated clubs. Let's hope this buzz continues to electrify basketball fans across the country all throughout the season. So far. So good.