NBL free agency: Quick fire reactions to news and rumours, Part I
The NBL free agency period has finally arrived! News is coming through thick and fast — here are Brad's initial thoughts.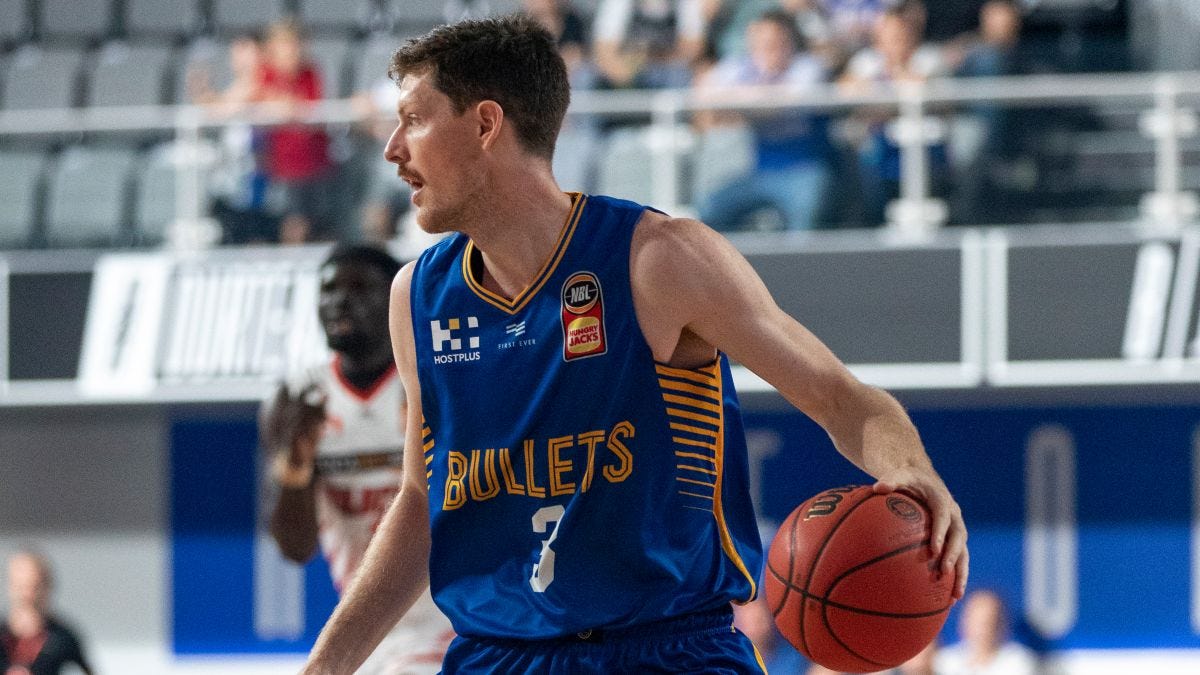 Credit: Russell Freeman Photography
---
It took longer than usual to get here but the NBL's free agency period is finally upon us! It's at last time to receive pay off for all of the reckless speculation we have engaged in over the past few months.
Because of the delayed lead up, free agency announcements are coming through so quickly that I can barely keep up. If you don't have Twitter notifications turned on for Liam Santamaria and Olgun Uluc, you're missing out big time.
Without spending too much time on one announcement, here are my lukewarm takes about some of the most interesting confirmed and rumoured moves thus far.
Are the Wildcats right to target Todd Blanchfield?
No signing has been made yet but seeing as Santamaria noted that the Wildcats are keying in on Blanchfield after missing out on Dejan Vasiljevic and Sunday Dech, it's well worth discussing.
To me, this would appear to be a particularly un-Wildcat like move. As I explained in April, the Wildcats don't generally go after established, high-profile locals who have already hit their prime. Since 2013, the Wildcats have signed just one local who fits that billing: Nate Jawai. As an established, starter-level local who recently turned 29, Blanchfield is an exemplification of the type of player the Wildcats tend to avoid.
However, after losing the best local in the league and having seen their import quota reduced by one, the Perth front office may feel that it's necessary to abandon their usual strategy. The Wildcats desperately need an injection of ready-made talent, so it's understandable that they'd choose to do so.
From a fit perspective, Blanchfield slots in seamlessly. The swingman's most weaponised skill has always been his three-point shot. Since entering the league, over half of Blanchfield's field goal attempts have been triples. When he's flying around off-ball screens, Blanchfield is especially dangerous — according to jordanmcnbl.com, Blanchfield scored 1.11 points per possession off those plays last season. Problematically, in Matt Flinn's system, Blanchfield registered just 48 of those possessions all season long.
Blanchfield wouldn't face the same struggle for opportunity in Perth. Trevor Gleeson's men ran by far the most amount of off-screen action in the league last year. The trio of Cotton, Terrico White, and Clint Steindl registered 235 such possessions last season between them. For reference, that's more than twice as many as Illawarra attempted as a team. Blanchfield would feel right at home.
As an added bonus, from a roster-construction standpoint, adding a starting 3-man allows Perth to utilise their remaining import slot on a Nick Kay replacement (assuming Cotton doesn't nab citizenship). Look a bit deeper, though, and question marks start to arise. Blanchfield may fill the void left by Terrico White, but they are far from like-for-like players. They're comparable from long-range but White is a more versatile defender, a better playmaker, and, as a result, probably a better fit next to Cotton.
The playmaking void is particularly troublesome. Not only are Perth likely to abandon White but they've lost Kay's highly underrated passing ability, and are at risk of seeing Damian Martin retire. It never made headlines, but Perth's collection of capable playmakers made Cotton's life significantly easier on offence. With the likes of White and Kay able to carve up defences in 4-on-3 situations, opposing coaches were forced away from double-teaming Cotton up top.
As with any signing, there are pros and cons to weigh up for the Perth front office. Given their track record, whatever the right move is, they'll be sure to find it.
The Phoenix turn into Bullets South
In nabbing Cam Gliddon and, reportedly, Reuben Te Rangi, the South East Melbourne Phoenix have not only stolen two Bullets, but they've also taken Brisbane's roster building ideology from last season.
The 2019/20 Bullets loaded up on two-way, switchy wings and rim-rolling bigs to surround their ball-dominant stars. Brisbane have now reversed course on that plan and the Phoenix have assumed their position. With Te Rangi and Gliddon to go alongside Mitch Creek, Adam Gibson, and the developing Kendall Stephens, South East Melbourne are putting together a formidable wing rotation. All five can launch it from the outside, while most are capable defenders across multiple positions.
That rotation is a huge upgrade on last season's crop of wings. In their inaugural season, Simon Mitchell was forced to depend on the ageing Gibson, Ben Madgen in the twilight of his career, and supersized lineups where Creek was forced to play next to two bigs clogging the lane. Outside of those options, Mitchell had the underwhelming Devondrick Walker, the enigma that was Terry Armstrong, as well as undersized and defensively impaired lineups where Kyle Adnam and John Roberson shared the floor. With their wing rotation lacking depth, athleticism, and defensive versatility, it's no surprise that the Phoenix ranked dead last in defensive rating. In leaking an astounding 122.5 points per 100 possessions, per Spatial Jam, there's hardly any way the Phoenix could get worse on that end.
To complement their upgraded wing collection, the Phoenix are in desperate need of a lead guard who can fit in with their burgeoning defensive versatility and provide off the dribble firepower. Outside of Creek, the Phoenix have virtually nobody on the roster capable of consistently creating their own shot. Getting a perfect fit for that role is going to be tough, especially with the limited cash available to clubs for the upcoming season. If they can somehow find one, though, the Phoenix are primed for big things with an additional import slot still up their sleeves. Tommy Greer is only a year into the job, but it seems like he's learnt from his first-year mistakes and is loading up for a real run in year two.
Adelaide doubles down
After bizarrely telling Anthony Drmic and Harry Froling to find new homes months ago, the 36ers have pivoted swiftly into a new batch of exciting young talent.
Since adding coveted Next Star Josh Giddey, the Sixers snagged fringe-NBAer Isaac Humphries, Arizona alum Keanu Pinder, and are heavily rumoured to be Sunday Dech's next club.
In a vacuum, I like all of those players. Giddey is a legit NBA prospect.
Pinder's energy, length, athleticism, and defence will allow him to fill a role immediately. Humphries will be a productive big from day one, even if it remains unclear as to how the Sixers plan on stopping other teams with him and Daniel Johnson sharing the floor. I rate Dech lower than the NBL consensus but he's clearly a sought-after talent who will only get better.
Zoom out and something becomes crystal clear: Where the hell is Adelaide going to get shot creation and floor spacing from? Not much about this depth chart screams either of those things:
By all accounts, they're in the market to sign a superstar import guard. Whoever that is might be able to inject enough off the dribble juice into the lineup. However, one import won't be able to solve their spacing problem. Between Brendan Teys, Jack McVeigh, and Daniel Johnson, the Sixers only really have three reliable and established floor spacers.
Under Joey Wright, the 36ers decided to row against the current of basketball evolution. They seemed to actively avoid the three-point line on offence. While other clubs raised their three-point attempts steadily from season-to-season, Wright's Sixers showed no such trend. Their player development and sheer talent had carried them through until the last couple of seasons when their disdain for modern basketball philosophy finally caught up to them.
Figures via the Spatial Jam Shot Machine
Under a new coach and front office, I thought they'd reverse course. Instead, they're doubling down. Getting rid of Drmic and Froling for a bunch of guys who aren't as accomplished from three-point land, as well as recruiting a traditional centre to play next to Daniel Johnson, points to this exact conclusion.
Breakers complete their annual news dump
No team is worse at spacing out their signing announcements than the Breakers. Does anyone else remember this from last year?
Or how about when they announced a new assistant coach, a local signing, a star import, and a Director of Basketball in one press release?
Regardless, the Breakers spiced things up on Wednesday morning by announcing the additions of Tai Webster, Dan Trist, and development player Kyrin Galloway.
The Galloway signing is the most intriguing and shrewdest of the bunch. Getting him on a three-year deal, with his first as a development player, is unbelievably savvy business. A deep dive into his college stats reveals the potential for a high-upside two-way freak. Advanced metrics (Box Plus-Minus, Win Shares, etc.) adored him during his college career. At 6'8'', he's got an uber-high 3-point attempt rate and a ridiculous block rate. As I pointed out on Twitter, few players in NCAA history have ever possessed Galloway's combination of shooting and rim protection.
(Stats via https://www.sports-reference.com/cbb)
That isn't bad company. Watch this space.
I'm less enthusiastic about the Dan Trist signing. While he is a perfectly serviceable back up big man with offensive touch, the fact that he failed in lock down meaningful minutes at either Melbourne club says a lot. He also doesn't offer anything drastically different skill-set wise to the Breakers rotation — a rotation that could very well be found bereft of the highly valuable defensive versatility of Brandon Ashley.
At the very least, Trist is a reliable big body who wouldn't have costed the earth, which makes the signing hard to criticise all too much. Still, it's hard to avoid thinking that the Breakers could've secured someone younger who might offer more rim protection and upside.
Then there's the acquisition of Tai Webster, perhaps the biggest headline of free agency thus far. This certainly looks and feels like a home run — getting a Tall Black with high-level European experience who has yet to hit his prime has all the hallmarks of one. The Breakers fan inside me loves every piece of it.
On the other hand, my inner pessimist is sceptical. Webster is incredibly talented, especially as a slasher and playmaker, but he isn't without his faults. He's merely an average threat from downtown (35% from deep across his European career, per RealGM) and isn't an amazing defender. With Santamaria reporting that the Breakers are confident of luring back Scotty Hopson, those attributes make his fit with Hopson and older brother Corey puzzling.
Considering Corey's defensive deficiencies and Hopson's tendency to float in and out of optimal defensive effort, the Breakers risk being vulnerable on the perimeter. On the other end, the elder Webster and Hopson are already high-usage offensive studs. Plopping an average three-point shooter who likes to have the ball in his hands at point guard therefore carries some risk. This is especially since the Breakers' offence and season took off last season once Corey departed for China and the team's offence was firmly in the control of Hopson. Per Spatial Jam, the Breakers' offensive rating was 7.8 points per 100 possessions better with Corey in China than in New Zealand. Adding a third ball-dominant threat after they found the most success with just one worries me.
Still, the talent remains ever-present and it would've been hellishly difficult for the Breakers to pass on a local as good as Tai Webster. Regardless of how smooth the fit turns out to be, the Breakers have clearly upgraded their talent stocks big time.
Harry Froling chooses the strangest landing spot possible
In April, I wrote around 2000 words about Harry Froling's free agency. I noted that any team wanting to get the best out of Froling needs to have a roster filled with athletes, length, and shooting. Most pressingly, an ideal Froling suitor would be able to provide as many minutes as possible to further his development.
Here's a snippet from that article:
"For starters, Froling needs minutes. South East Melbourne and Brisbane both have at least two good big men locked in for next year who will eat into Froling's minute totals, ruling them out."

Harry Froling might be the NBL's most fascinating free agent in 2020
And now this has happened.
*Cue the appropriate theme music*
With Matt Hodgson and Will Magnay (provided he doesn't wind up in the NBA) locked in for next season, Froling has landed at perhaps the only club outside of Adelaide that didn't need another big man. It's worth noting that the Bullets also have young Kiwi 7-footer Tyrell Harrison on the books.
Not only will Froling now have to fight for minutes that he desperately needs but he'll also be playing most of his minutes next to another big man. Those lineup combinations will immediately limit the aforementioned athleticism and shooting that Froling needs around him to succeed.
Andrej Lemanis is a fantastic coach and I'm sure he has a plan way more thought out than anything I can conceive of. Still, this move just screams weird.
(More to come as NBL free agency continues its barrage. Stay tuned.)