NBL: Free Agency finally begins!
Today finally marked the first day of free agency for the upcoming 2015/16 NBL season. With a plethora of signings to come, we share the most recent transactions with the knowledge that we assume eight teams will be participating in the competition.
---
Tai Wesley sticks around, Tom Abercrombie and Corey Webster are expected to, however Ekene Ibekwe/Rhys Carter gone
To the delight of no New Zealand basketball fan, championship winning forward Ekene Ibekwe will not be back to defend the Breakers' crown, with the Kiwi side unable to satisfy his contract demands.
However, in more positive light, Tai Wesley announced today that he has signed a one year extension with the champs. In their bid to achieve back-to-back titles for the third time in franchise history, the Breakers are expected to announce the re-signings of both Tom Abercrombie and Corey Webster in the near future.
In what is an extremely good buy for the only Kiwi side in the competition, Wesley will again provide that spark needed off the bench, as well as putting his hand up for a starting role if no replacement is found for Ibekwe.
Speaking of, Ibekwe's departure could arguably be the biggest loss to the competition. The Nigerian international found his feet throughout the back half of last season and was taking major steps to become one of the biggest, if not the biggest, force in the NBL.
---
Perth drop Ross/U'u, Beal picks up second year option
In somewhat unusual Perth circumstances, the Wildcats have announced that they have released both Drake U'u and Earnest Ross in preparation for next season.
Ross, who is of Guam descent, tore his Achilles mid way through last season. It has been made public that Perth will fulfil all of their financial commitments to the shooting guard, as his contract was cut loose just one year into a three year deal.
Multiple NBL clubs will be interested in Ross, who's 'local' player status is of huge advantage to the 24 year old.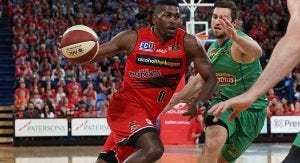 Jermaine Beal exercised his player option to secure the second year of his deal, with the import point guard looking at improving on last season. Beal, who starred in his first year as a Wildcat, which included picking up an NBL Finals MVP had to slug through last season, with opposing clubs finding ways to limit his influence.
It is known the Wildcats will again head to the NBA Summer League is search to fill their final import spot.
---
DJ inks 3, Jamar not on urgency list
The Adelaide 36ers have started retaining their roster by the multi-year signing of last year's late returnee Daniel Johnson.
An NBL All-Star just two season's ago, DJ played most of his basketball last season in Poland before being released and making a swift return back to his old stomping ground.
Head Coach Joey Wright declared that Johnson was the foundation of next season's roster.
With that being said, there has been no rush from the Adelaide side to retain the services of Jamar Wilson.
The point guard, who won the club's Most Valuable Player last season, is now on the ropes for the second time in two seasons, after departing Cairns under similar circumstances. Certainly more to come on this topic.
---
Ben Madgen off to Europe
The Sydney Kings announced today that Ben Madgen will not be with the club for the upcoming season after his intention to ply his trade in the European competition.
Madgen exercised his option to leave the club under contract to pursue his long term goals of playing in Europe.
"I've been working towards playing in Europe for a few years now. I feel a new challenge and new experience would be really beneficial for me," said Madgen.
Madgen spent five years with the Kings, and it is assumed he has a European club lined up prior to cutting ties in Sydney.