Discover more from The Pick and Roll
We're all about Aussie hoops. Independent, objective analysis and commentary. Insightful narratives built around Australian basketball. Read about our men and women in the NBA, WNBA, NCAA, Europe, national teams, NBL, WNBL, NBL1, prospects and more.
Over 2,000 subscribers
NBL Fantasy: Season Starter Pack
NBL Fantasy content created by Steve Chalmers and Dean Zardo
Well, it's that time of the year again!
The NBL Pre-Season has completed and the NBL Fantasy game has opened (a little earlier than anticipated this year as well!).
While in years gone by we'd ask you to put the earphones in or switch your car audio to the bluetooth and listen to Box Score, your NBL Fantasy Podcast - we've decided to switch things up a little bit this year as we'll be providing a weekly piece, hopefully to lift your team to NBL Fantasy glory.
With the season just days away, it's time to take a deep dive into your NBL Fantasy team! Whether you are just starting out and it's your rookie season, or you're a seasoned veteran gunning for that umpteenth championship - the 2019/20 NBL Fantasy season starter pack can be a helpful guide to get you on your merry way.
So what do you need to know before we start picking sides? Well, here's a quick snapshot:
The way your players score can be easily found below your team on your NBL Fantasy team homepage.

The season schedule is your bible (psst: You'll find it below)

The bible is so important because you need to maximise the amount of players that play multiple games in a round.

IE: Round 1 sees both Adelaide and New Zealand on a BYE, therefore it'd be silly to include players from those respective teams into your opening round side.

Two trades per round, no season cap.

Dual Position Players (better known as DPP's) are extremely useful, especially when you're having to chop and change your side to fit a player you desperately want/need.

You want to know who's going to play MINUTES. Not quite sure? Check out the NBL Depth Charts for each squad.
Season Schedule - aka. The Bible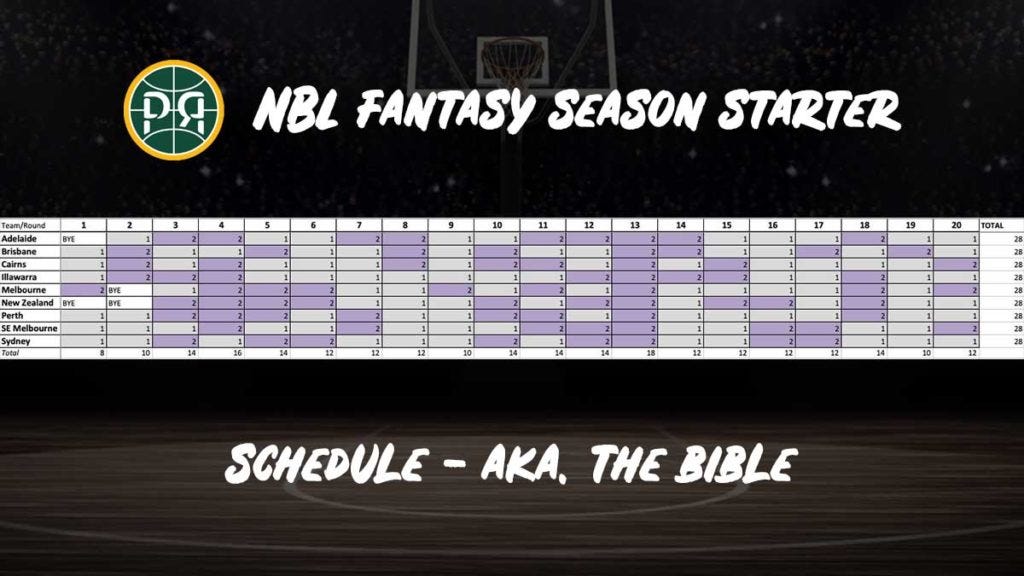 Who do I choose to start the season off you ask? Well, let's take a look by position:
---
Point Guard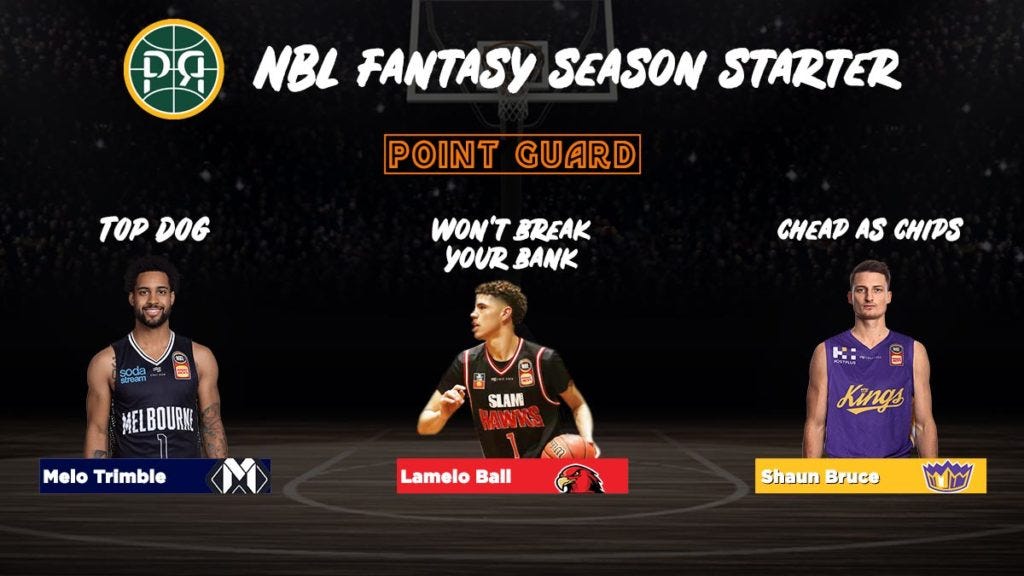 Melo Trimble (Melbourne United) - PG
Price: $1.65m
2018 avg: 42.61
With Melb Utd. the only team to see double in R1, it's quite the simple choice to find their starting point guard. If he can provide the output he showed in Cairns in the big smoke, he's going to lead all comers in the PG position again.
Lamelo Ball (Illawarra Hawks) - PG
Price: $0.85m
NEW
The hype machine of the league will come to play this NBL season and he's quite reasonably priced for his potential output. A suitable prospect considering their R2-4 schedule.
Shaun Bruce (Sydney Kings) - PG
Price: $0.31m
2018 avg: 7.86
A seasoned veteran who secured a late contract in Adelaide last year meant that his services were warranted again in the competition. The Kings have found a suitable back-up to Casper Ware who is set to get some minutes.
Others that require a mention: Jarrod Kenny (CNS $0.61m)
---
Shooting Guard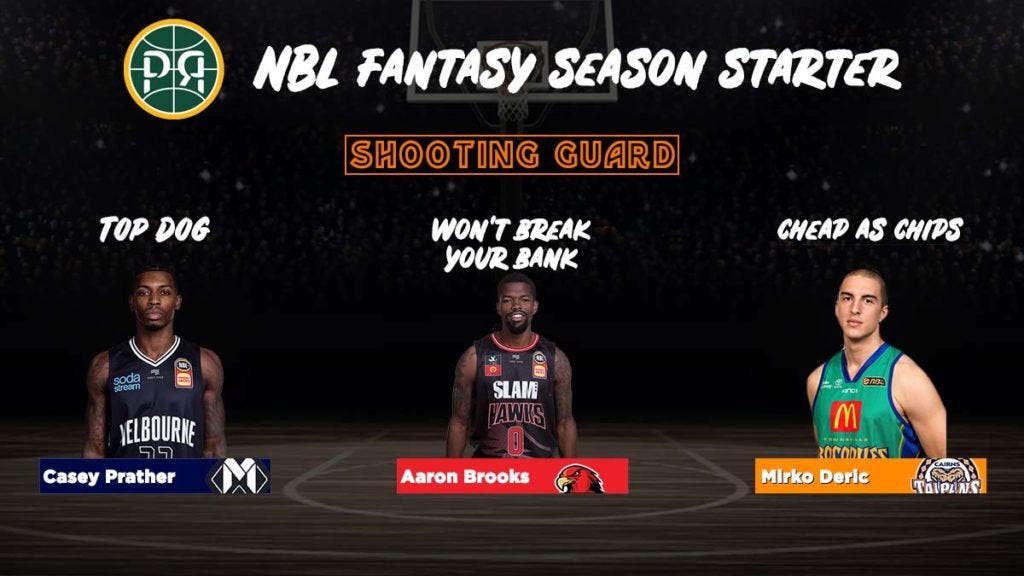 Casey Prather (Melbourne United) - SG/SF
Price: $1.57m
Returning to the NBL
Fans have come to expect great things from the three-time NBL champion, and despite taking the 2018/19 season off, Prather will be hot property thanks to his opening round double and his DPP eligibility.
Aaron Brooks (Illawarra Hawks) - PG/SG
Price: $1.00m
NEW
The $1m import entry price tag always seems such a delicious proposition each and every season, however there always seems to be some players that can fall into an import heavy trap. You shouldn't find such damage with Brooks in your side who will be a force in season 2019/20 alongside the positivity of his early schedule boom.
Mirko Deric (Cairns Taipans) - SG
Price: $0.30m
Returning to the NBL
It looks as though it's slim pickings in the cheapskate department at SG early on in the season due to the schedule, however some may decide to side with Deric who will earn himself good minutes as the season goes on.
Others that require a mention: Mitch McCarron (MU $1.37m), Chris Goulding (MU $1.12m)
---
Small Forward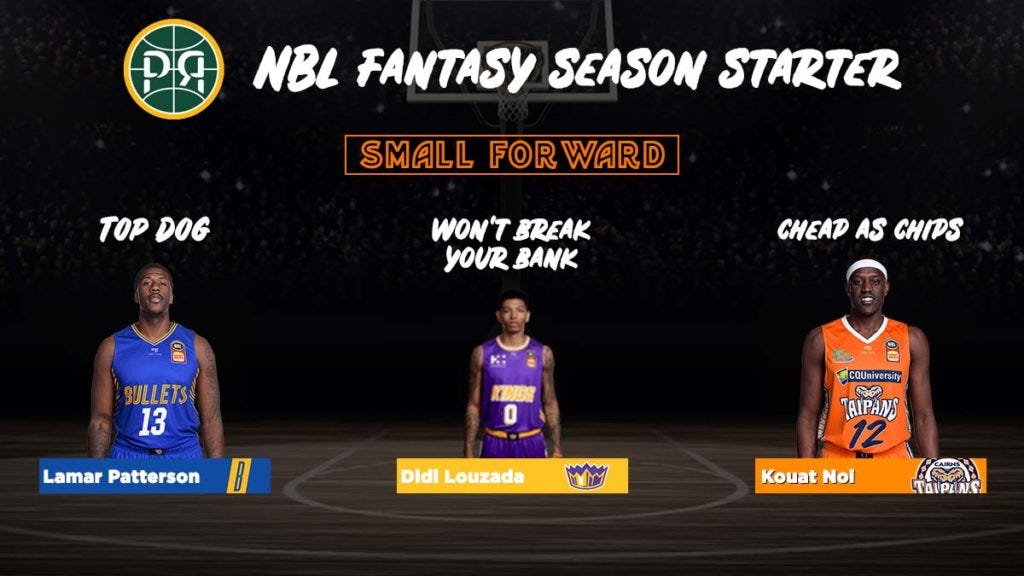 Lamar Patterson (Brisbane Bullets) - SG/SF
Price: $1.64m
2018 avg: 42.29
Patterson looks to have been in a great pasture over the off-season and really who can blame him? Who doesn't love good food? It hasn't seemed to bother his output though as he showed in the pre-season. Once he's back to full fitness he'll be a legitimate MVP candidate with a full year to take flight.
Didi Louzada (Sydney Kings) - SF
Price: $0.85m
NEW
For a bloke that can't speak a lip of English, he sure makes up for the language barrier with his on-court talents. In fact, it's the main reason why he's here - to speak the language, otherwise he was a sure fire fit on the New Orleans Pelicans (the NBA team that drafted him).
Kouat Noi (Cairns Taipans) - SF/PF
Price: $0.25m
NEW
I'm sure he'll be the most owned player in the game come opening night and it's no surprise considering how good this guy has been over the pre-season. Will come in and provide the Snakes with a bit of everything in the front court and could well be on his way to the Rookie of the Year prize.
Others that require a mention: Todd Blanchfield (ILL $1.25m)
---
Power Forward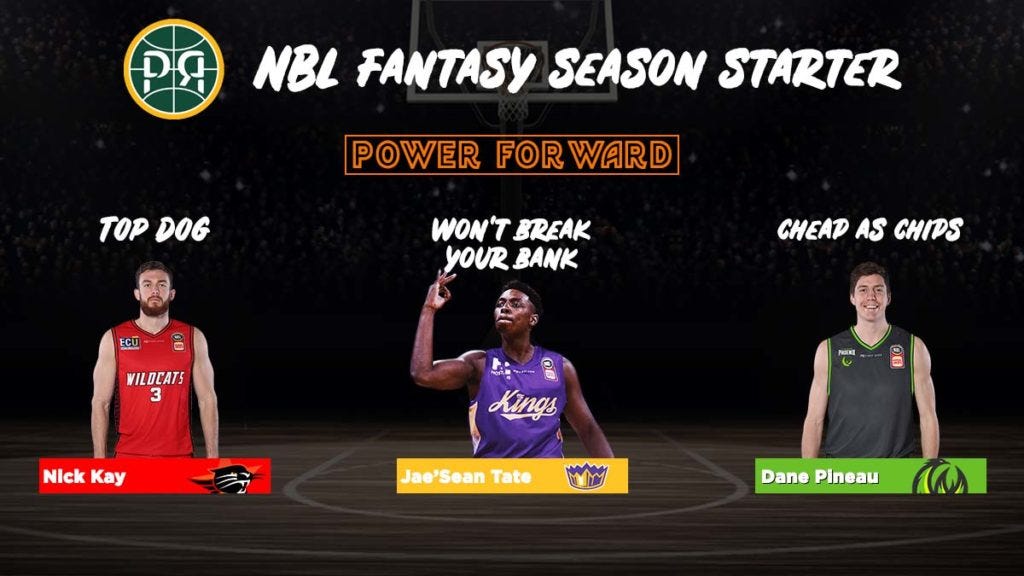 Nick Kay (Perth Wildcats) - PF
Price: $2.03m
2018 avg: 52.68
He's the second most expensive player in the game and for good reason. Considering he's played ball non-stop for about 18 months, the latest against arguably the best in the world; he's primed for an MVP-calibre season where the Wildcats' hustle machine can take it up another notch in 2019/20.
Jae'Sean Tate (Sydney Kings) - SF/PF
Price: $1.00m
NEW
I referred to the import trap back in the Shooting Guard's section and this could be one when it comes to the depth of the Kings. Not to say Tate is destined to be a serviceable player on a stacked Sydney roster, but it may be just that - he doesn't get enough touches to reap fantasy reward. Might not though, and we're banking on the latter and he's a solid DPP option.
Dane Pineau (South East Melbourne Phoenix) - PF/C
Price: $0.32m
2018 avg: 8.23
Was rarely sighted in 2018/19 with the Kings until he won the league's best defensive player award (not really). His move back to Victoria looks to be a positive one after a stellar NBL1 season with the Melbourne Tigers.
---
Centre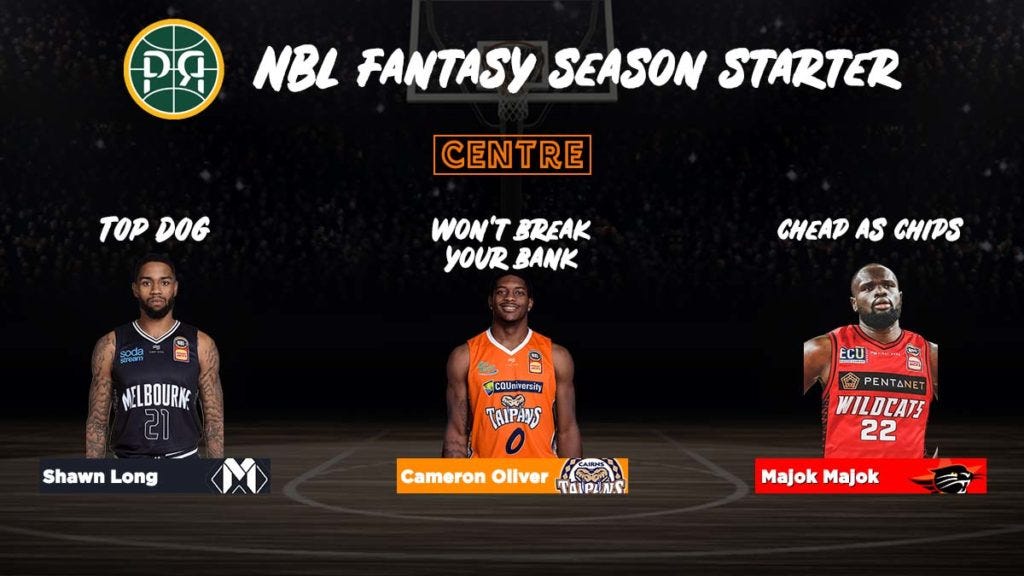 Shawn Long (Melbourne United) - PF/C
Price: $1.99m
2018 avg: 51.36
Mr Double Double will be exactly that on this Melbourne squad. You saw the combination of Tai Wesley and Josh Boone lead this squad to championship just two seasons ago, however both have now departed to make way for a new era. Long will be a presence in season 2019/20 and with foul trouble (hopefully) behind him, he's the real deal.
Cameron Oliver (Cairns Taipans) - PF/C
Price: $1.00m
NEW
The undersized centre will do a little bit of everything for the Taipans as his strength, finesse and efficiency should all equate to positive fantasy scores when combining with a point guard such as Scott Machado.
Majok Majok (Perth Wildcats) - C
Price: $0.25m
2018 avg: 6.45
Now on his third NBL club, Majok has arguably seen the highs and lows of the competition. After being a real sticking point on a Melbourne roster, to finding DNP's in New Zealand, a place like the Wildcats could be the perfect destination for a bounce back season.
Others that require a mention: Will Magnay (BRIS $0.25m)
---
So what are you waiting for? Start your NBL Fantasy team today!