NBL: Who can your team least afford to lose this season?
Injuries are the worst. There's nothing more deflating than seeing your favourite player courtside in a team polo and slacks. Partly because it's a crime against fashion, but mostly because we want to see the best of the best doing battle on the court.
Unfortunately, injuries in sport are as inevitable as the Perth Wildcats making the NBL finals. Even now, firmly in preseason mode, we've already seen injuries that will impact on the 2016-17 season.
Taipan Nate Jawai, Wildcat Matt Knight and Breaker Shea Ili are all set to miss the start of the season with finger, shoulder and back injuries respectively.
No matter how hard we try, we can't forget Cam Bairstow's shoulder dislocation in Rio. It sidelined him for the knockout rounds of the Olympic tournament, and he is not expected to make it back in time for the season opener for the Bullets.
The Breakers looked a shell of themselves at the Australian Basketball Challenge (ABC), going 0-3 without the injured Corey Webster and Kirk Penney. While both are expected to return quickly, it is hardly ideal preparation for the team to hit the ground running in Round One.
Injuries are going to happen, and the ability to overcome them is an essential characteristic of a championship team.
The contrasting fortunes of the Perth Wildcats over the last two seasons are a great case study. On New Year's Eve 2014, the 'Cats were up to their necks in a race with New Zealand and Cairns for the minor premiership. One patented 'freaky Matty Knight training injury' later (fractured toe, in a refreshing change from his usual revolving door of a shoulder joint) and Perth dropped five of the next six games as Knight watched from the sidelines. They limped, both literally and figuratively, into fourth spot and were easily dispatched by the Taipans in the semi-final.
Flash forward to 2015-16, and Damian Martin missed the first four games of the season with a calf strain. He returned for a brief three games, before Brian Conklin's now-infamous elbow sidelined him for another five games. In those nine games without their captain, Perth were a remarkably resilient 7-2, setting themselves up to secure home court advantage in the semi-finals and, ultimately, a championship.
Does this mean Matt Knight is a better player than Damian Martin? Not necessarily. It's about more than the value of the missing player. It's about roster construction, depth at the position, and the capacity of teammates to fill the gaps. So without further ado, who can your team least afford to lose in 2016-17?
---
Adelaide 36ers: Jerome Randle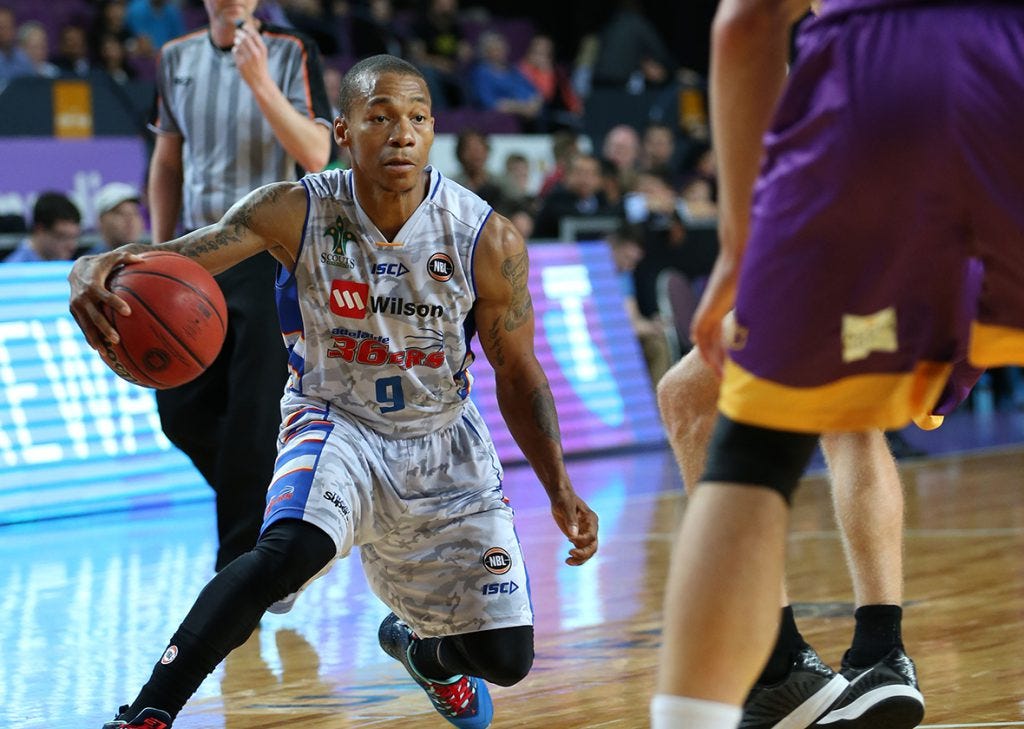 This one is a no-brainer. Late last season, Adelaide were the hottest team in the league on the back of Randle's dazzling offensive production. A 7-1 run had the 36ers in pole position for a place in the postseason before a knee injury to their playmaker brought them screeching to a halt. They went 0-4 to close the season and saw the Breakers overtake them for the fourth and final playoff spot.
Randle led the league in scoring (23 ppg) and was second in assists (5.17 apg) last season. Nobody could keep him out of the lane. Despite his 5'9 stature, he finished an excellent 70.7% within the restricted area (compared to a league average 67.1%, per spatialjam.com). If defenders tried to sag off him to deter him from driving, he flashed a killer mid-range jumper (57% on 2pt FG from beyond 5m, putting to shame the league average 39.8%, per spatialjam.com). Basically, coach Joey Wright can put 'Jerome Randle pick and roll' on repeat, kick back and relax. Unfortunately, like most coaches, I'm not sure Joey knows the meaning of the word 'relax'.
Surrounded by a young roster, without a veteran backcourt partner like Adam Gibson this season, Randle's importance only grows. He is this team's engine. Without him, it's hard to see who can pick up the playmaking slack for Adelaide to consistently compete.
---
Brisbane Bullets: Adam Gibson
The strength of Brisbane's roster this season clearly lies in their frontcourt depth. With a cast of Bairstow, Kickert, Petrie, Jervis and Young, the Bullets are set up to cover any absence in their big man rotation. Unfortunately, the same can't be said for the guards and wings.
There is enormous responsibility on the starting trio of Torrey Craig, Jermaine Beal and Adam Gibson. Injuries to any of them would leave a gaping hole in the lineup, and you could make a compelling argument for all three.
With a clear starting role, Craig can expect an uptick in minutes and offensive responsibility at his new club as opposed to his sixth man duties at Cairns. Add to that the prodigious talents he brings at the defensive end (Cairns conceded 5 fewer points per 100 possessions with Craig on the floor last season, per spatialjam.com), and his importance becomes clearer. He'll be backed up by Reuben Te Rangi, who has it all to prove after a dismal 2015-16 campaign in which he registered a close-to-league-worst 36.8 TS%. There is hope that youngster Matt Kenyon could provide unexpected assistance on the wing, given his impressive ABC performance.
Despite an inconsistent 2014-15 campaign, Beal still ranked in the top ten in the league in scoring with 15.7 ppg. There are question marks over the Bullets' offensive firepower, and Beal's ability to score in a variety of ways will be essential. Without him, the offensive burden on the rest of the team could be insurmountable.
But just barely, Gibbo gets the nod. He will be looking to bounce back from a disappointing 2014-15 campaign, and coach Lemanis will lean heavily on his experienced floor general to get this team executing his system. Back up point guard Shaun Bruce continues to confound with solid game management offset by some real shooting struggles, exemplified in his 1-8 (12.5 FG%) showing in a comprehensive 61-91 loss to his former Taipan colleagues at the ABC.
---
Cairns Taipans: Cam Gliddon
Not so long ago, I wrote a piece querying the Taipans' status as 2016-17 wooden spoon favourite. I hate to say I told you so, but an undefeated performance at the ABC has seen them shorten dramatically from $41 to $19 to win the 2016-17 championship. The bookies still have them as wooden spoon favourites, but maybe not for much longer.
Prior to the ABC, I had Nate Jawai pencilled in here. With Mark Worthington and Alex Loughton tending to drift to the perimeter as stretch four-types, I worried about the Taipans' ability to score inside without a post threat like Jawai. Backup centre, Nnanna Egwu, had struggled in early preseason games, but seemed to be finding his feet at the ABC.
I still think Cairns will need Nate firing to be a real championship threat, but Cam Gliddon's MVP performance at the ABC is impossible to ignore. 19.7 ppg, 5.0 apg, 1.7 spg, and leading his team to three wins without Jawai, Travis Trice or Mark Worthington. He looks like a man playing with the kind of fire you only get from barely missing out on making an Olympic Games team.
---
Illawarra Hawks: Rob Beveridge
In his Illawarra Hawks season preview, Warren Yiu wrote that Bevo was 'arguably the biggest signing for the Hawks'. It's hard to disagree.
Given what we saw in the NBA last season with Steve Kerr succumbing to injury, I'm bringing coaches into the mix here.
You might argue that I'm creating a blatant loophole to avoid making a really difficult choice. You'd be right.
Bevo has such a versatile roster at his disposal here, I just can't pick holes in the depth at any position. Their preseason championship at the ABC only served to highlight this.
[table id=132 /]
Among the players, it's probably between Ogilvy and Clarke for most unexpendable. But Kay and Holyfield are solid cover for Ogilvy. And with their powers combined, Norton, Harris, Martin and White are a pretty decent crew to sub for Clarke. So, like I said, I'm giving the nod to the coach.
Join the boys in the ice baths Bevo. You're irreplaceable.
---
Melbourne United: Cedric Jackson
Melbourne has no shortage of scoring threats, from the terrifying wing quartet of Chris Goulding, Ramone Moore, Todd Blanchfield and David Barlow to post maestros David Andersen and Tai Wesley. Cedric Jackson is the man responsible for getting the ball to these guys in the right spots at the right time.
Credit to Melbourne, they've got the right man for the job. Ced has led the league in assists in every season he has played in the NBL, with over six per game in each campaign. He has also finished top three in steals every season, and joins a team that ranked dead last in that area (3.4 spg) in 2015-16.
Reserve point guard Nate Tomlinson has shown the ability to be a solid facilitator, but there's simply no replacing the impact of Jackson at both ends of the floor.
---
New Zealand Breakers: Ben Woodside
I'm definitely letting my bias toward point guards shine through, but Ben Woodside carries a lot of responsibility into his first NBL season. Stepping into the shoes of Cedric Jackson is obviously no easy feat.
It's difficult to judge how effective the 31-year-old import will be in the NBL, with New Zealand sure to look very different from the injury-ravaged team that took the floor at the ABC. He has shown promising flashes in his ability to distribute the ball, but is yet to completely find his feet against NBL competition.
Corey Webster and Kirk Penney might seem the more obvious choices here, but their similar skill sets in causing mayhem tearing around off-ball screens means they can cover for each other's absence, at least to some extent.
Woodside, on the other hand, is backed up by the inexperienced Isaih Tueta until Shea Ili returns from injury. Tueta blew up NBL Twitter with his 22-point breakout performance against Adelaide at the ABC, but it's asking a lot for that to become a regular occurrence.
Webster can slide down to the point guard position, but it's just not his natural game. With the Breakers a little thin in this area, a significant contribution from Woodside will be essential if they are to return to the finals in 2016-17.
---
Perth Wildcats: Casey Prather
I was leaning towards Matty Knight here, based on what I wrote in the introduction. Tom Jervis filled in for Knight when he missed those games in 2014-15, played really well, and earned himself the NBL Rookie of the Year award. But Perth couldn't buy a win without Knight.
Then, last season, Knight had just about the worst on/off rating of any Wildcat (+2.8, whereas the team was +8.0 overall, per spatialjam.com). I still think Knight is really important, but numbers like that give you pause for thought.
Then, at the ABC, Casey Prather showed just enough glimpses to make me think he might be the best player in the NBL this season.
---
Sydney Kings: Kevin Lisch
With all due respect, this barely requires discussion. Don't get me wrong, Brad Newley looks like bringing a whole lot to the table for this team. But the freshly-minted Kings captain and reigning league MVP is absolutely vital to Sydney's aspirations this season.
At the risk of wildly misquoting someone, I believe Liam Santamaria (maybe it was Matt McQuade, but I think it was Liam) said it best during ABC commentary when he said (something along the lines of) "proven winner at this level" in reference to Kevin Lisch.
The Kings have not known a winning culture for a while now. Lisch is the man who can change that.