Discover more from The Pick and Roll
We're all about Aussie hoops. Independent, objective analysis and commentary. Insightful narratives built around Australian basketball. Read about our men and women in the NBA, WNBA, NCAA, Europe, national teams, NBL, WNBL, NBL1, prospects and more.
Over 2,000 subscribers
NBL 2015/16 Most Valuable Player Candidates
The NBL season is just a mere six days away from tipping off, with eight teams battling out for championship supremacy.
After Brian Conklin shocked a number of NBL fans at the conclusion of last season taking out the most valuable player award, along with the vast number of talented inclusions on rosters this season; many are already making their predictions as to who will claim top dog in 2015/16.
With the voting system closer to an AFL system awarding the Brownlow medal rather than an NBA MVP being named, the NBL MVP rewards standout players rather than simply the best player in the league.
After realising these differences, there are six players that have stood out from the rest of the competition and look to have the best chance at winning this year's NBL Most Valuable Player award.
---
Josh Childress – Sydney Kings
Injury hampered an MVP award in Chilly's inaugural NBL season last year as sitting on the sidelines for an extended period of time shot down the runaway favourite.
Playing 18 games with an average of 21 points and nine rebounds, Childress is already building himself for a bigger season. While the Kings have attempted to build around the ex-NBA star, coach Damian Cotter will still rely heavily on Childress' production on both the offensive and defensive end.
Once again the raging favourite leading into the season, the big thing for Chill is staying healthy and keeping himself on the court.
---
Brian Conklin – Townsville Crocodiles
The reigning MVP is back for yet another season, as his Townsville Crocodiles have tried to well from the fountain of youth in a bid to successfully sustain their position in the league.
With lots of young bodies lined up next to the Crocodiles' two imports in Conklin and Jordair Jett, Shawn Dennis will look for Conklin to provide the scoring punch needed to keep up with some talented teams this season.
As Conklin features heavily in any Townsville fixture, this bodes well in regards to the voting system that the league uses; something which helped him secure last season's award.
---
Stephen Holt – Melbourne United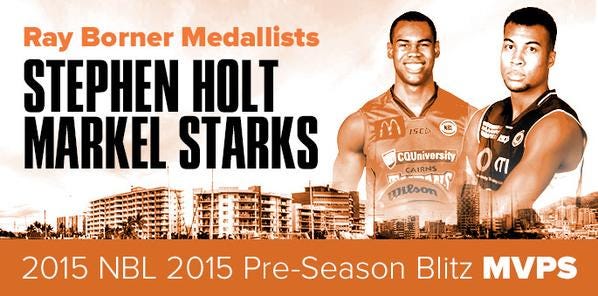 Holt was named as one half of the Ray Borner Medallist as the NBL Blitz's most valuable player, sharing the honours with Cairns Taipans point guard Markel Starks. He was also arguably the best player throughout the entire pre-season.
As Melbourne played a host of games prior to the Blitz, as well as winning the annual pre-season tournament, Holt was featured heavily. He ranged from defeating Louisiana State University to knocking over the Sydney Kings convincingly.
With a deadly perimeter game, Holt can score in droves while also having the necessary assets that complements what Melbourne's star-studded roster will bring.
---
Cedric Jackson – New Zealand Breakers
The second and final former MVP on this list, Jackson was named the 2012/13 MVP as the Breakers went on to win the championship in the same season.
After another stellar season with the Kiwi side averaging 12.8 points, 6.5 assists and over five rebounds per game which included two triple doubles, the electrifying 'Action Jackson' will once again lead the Breakers at the point hoping to deliver back to back championships.
---
Chris Goulding – Melbourne United
While imports are always the flavor of the month when it comes to the league's top award, this season has found a niche regarding the returning class of Aussies.
First cab off the rank of those who are back from a stint against Europe's elite is Melbourne's Chris Goulding. 'Bubbles', who is technically in United's colours for the first time, last played for Zaragoza in Spain.
His performances overseas didn't go unrecognised either, scoring an Australian Boomers call-up from Andrej Lemanis in the recent Oceania series against New Zealand.
Melbourne's stacked roster doesn't aid Goulding's MVP aspirations. However, if he continues his current upward trend, you may be seeing him take an MVP trophy over to the NBA with him in a year's time.
---
AJ Ogilvy – Illawarra Hawks
Kirk Penney - Most Valuable Player 2009. Kevin Lisch – Most Valuable Player 2012.
AJ Ogilvy – 2016? Maybe!
The ex-Sydney star forward/centre has returned to our shores, joining crosstown rival Illawarra Hawks after a year with Basquet Manresa in Spain.
His Sydney spell was one that commanded attention, leading the league in rebounds (8.7rpg) and blocks (2.3bpg), while averaging 13 points in 28 games.
Illawarra will be hoping for another productive season from their biggest (literally) coup, as Rob Beveridge will emphasise defensive intensity into his side.
Could the Hawks have three MVPs on their roster at season's end?
---
Who's your best pick for the 2015/16 NBL MVP? Remember to use #HardBall and #NBL16 in your responses!