Discover more from The Pick and Roll
We're all about Aussie hoops. Independent, objective analysis and commentary. Insightful narratives built around Australian basketball. Read about our men and women in the NBA, WNBA, NCAA, Europe, national teams, NBL, WNBL, NBL1, prospects and more.
Over 2,000 subscribers
NBL 2014/15 Round 4: Townsville show their bite from beyond the arc in stunning victory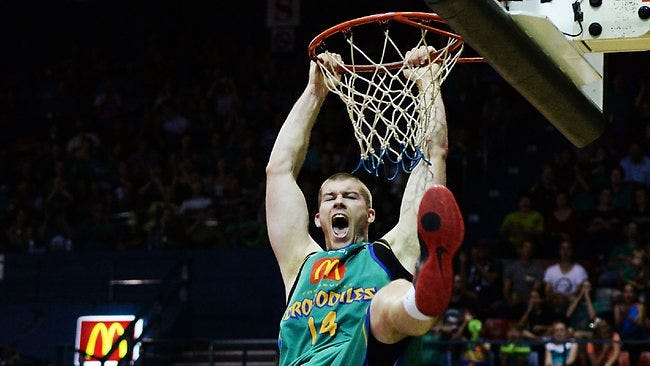 A barrage of three pointers has carried Townsville to their second home win of the season, out-scoring Perth by 21 from beyond the arc in a 102-80 demolition. The result means both sides finish the round with a 1-1 record but moves the Crocodiles into the top four.
Steve Markovic (4-6 from downtown), Clint Steindl (4-8) and Todd Blanchfield (3-7) took it in turns to light up the Wildcats as the Crocs shot 13-29 as a team and 54% overall from the field.
With scores of 22+ in every period, Townsville's total is a league best this season and could have been even higher had the game not been over by three quarter time.
The tone was set from the opening minutes with Blanchfield, Markovic and Steindl (twice) knocking in three's in the first two and a half minutes. The Wildcats seemed to be conserving energy by sitting back in a zone, most likely due to their second road trip for the round. However, this freed up the three point line and Townsville had no trouble with the open looks.
Mickell Gladness made his presence known with a huge swat on Shawn Redhage which he then followed with an intimidating stare-down. It seemed to spark Perth into action though as they finally got their inside game working.
11 offensive rebounds led to 9 second chance points in the first half while Jermaine Beal's 16 points started to swing the momentum in Perth's favour as they went into the main break trailing by just 3.
Townsville opened the third quarter with a determined effort to even up the points in the paint statistic, which they trailed 8-20. Brian Conklin came into his own with some strong post moves before taking a charge on Earnest Ross as the hosts started the second half with a 12-4 run.
Coach Trevor Gleeson was then called for a technical in the dying seconds of the period, summing up Perth's frustrations as Townsville put the visitors to the sword with a 28-15 third quarter that effectively ended the match.
Markovic led all scorers with 20 points, shooting 8-11 from the field. He was ably helped by Conklin (18 points, 4 rebounds, 3 assists) and Steindl (16, 5 and 3) while Mitch Norton added 11 off the bench. Gladness (5 points) had limited opportunities offensively but his 7 boards and 4 blocks were a concern for the Wildcats all night.
The Crocodiles were also careful with the basketball, giving up just 2 steals to a team that averages 10 steals a game.
Perth were led by Beal's 18 although he added just 2 after half-time. Matt Knight (14 and 7 rebounds) held his own under the ring but Redhage (9 points) was out-played by Conklin. Damian Martin was not his usual self with 2 points although he did collect 5 boards and 6 assists while Jesse Wagstaff chipped in with 13 off the bench.
Perth will look to regroup and should be fired up against Melbourne next Sunday while Townsville stay at home to host New Zealand in a week's time.
Townsville Crocodiles 102 (Markovic 20, Conklin 18, Blanchfield 17)
Perth Wildcats 80 (Beal 18, Knight 14, Wagstaff 13)
@ Townsville RSL Stadium