Discover more from The Pick and Roll
We're all about Aussie hoops. Independent, objective analysis and commentary. Insightful narratives built around Australian basketball. Read about our men and women in the NBA, WNBA, NCAA, Europe, national teams, NBL, WNBL, NBL1, prospects and more.
Over 2,000 subscribers
NBL 2013/14: Round 23 Preview
It all comes down to the final round of action as the Kings and Hawks, both 12-14, go head-to-head to decide who sneaks into the playoffs. With the rest of the ladder locked away all eyes will be on the Wollongong Entertainment Centre on Friday night.
---
New Zealand Breakers vs. Cairns Taipans
Friday, 21st March – 7.30pm (local time) Vector Arena The Breakers and the Taipans will battle it out to finish sixth after disappointing campaigns from both sides. New Zealand was gunning for a fourth straight title but fell way off the pace and may well finish the season second to last, while the Snakes started the season on fire but failed to deliver on their immense potential as they dropped seven straight games and never fully recovered. To win, New Zealand must… play with intensity in what is (possibly) CJ Bruton's last game. Despite the NBL stalwart stating midweek that he would like to play on, there is still a very real possibility that this match could be the last we see of Bruton on court, and especially in Breakers colours. His teammates should have plenty of fire in the belly as they play for the champion, and would be looking to finish the season on a high after demolishing Sydney in CJ's North Shore Events Centre send-off last week. To win, Cairns must… avoid an early shootout situation. With nothing riding on the game, playing for Bruton is the only thing that the Breakers will have in mind. Given they have been posting big scores all year at home, and hit 100+ against the Kings once again last week, the Snakes will be weary of the home side coming out all guns blazing from the perimeter to get the big Vector Arena crowd going. With Jamar Wilson missing last week and possibly on ice for this one too, it will be up to Demetri McCamey to lead the perimeter defence while dictating the pace on offense. Verdict: It will be all about Bruton on Friday night. Irrespective of whether he plays on next season or retires after the game, with Canberra looming as a possible destination for a new NBL side this may yet prove to be Bruton's last game for the Breakers. Sending him off with a win will be what spiritual leaders like Mika Vukona and Corey Webster will be asking of their team, with finishing sixth an afterthought. Cairns are capable of putting in a big offensive performance themselves, but the Breakers at home should end a disappointing season on a high. New Zealand by 8
---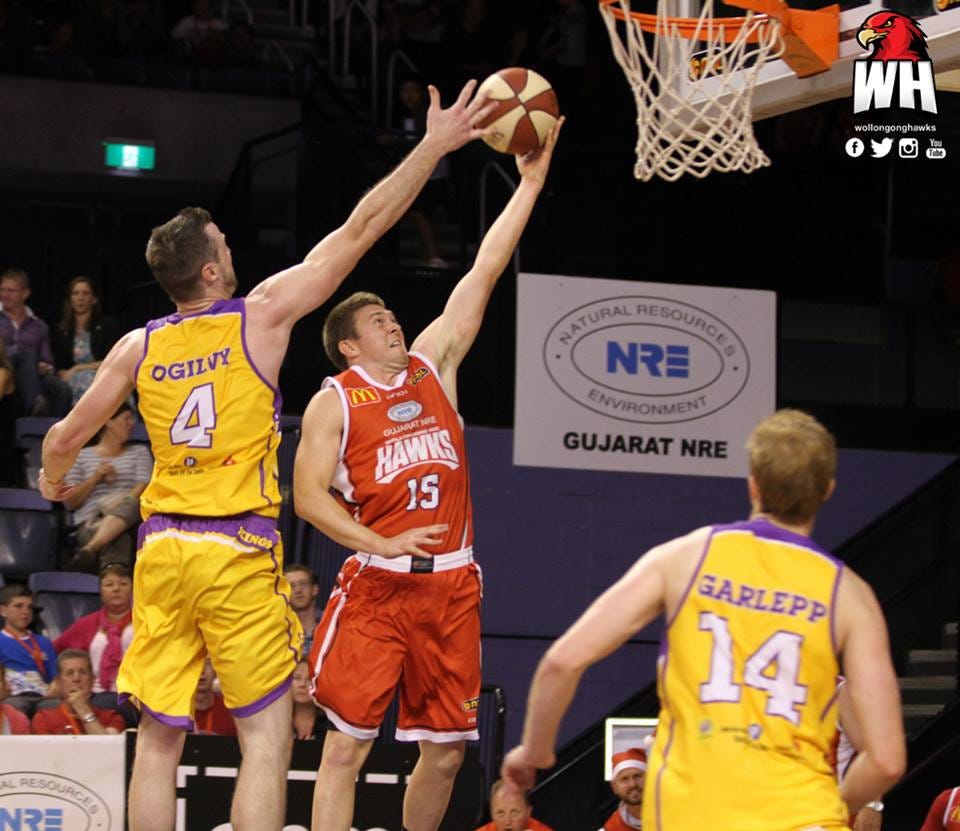 Credit: Joel Armstrong |
Wollongong Hawks vs. Sydney Kings
Friday, 21st March – 7.30pm (local time) WIN Entertainment Centre All available eyes in the basketball world will shift to Wollongong on Friday night for this clash, with the result all but deciding who will make it to the semi-finals and who will go on Mad Monday. The Hawks are the form team in recent weeks and hold a 3-0 series lead over the Kings so far, meaning that a loss for the Kings would mean their season is over no matter what happens over the rest of the weekend. To win, Wollongong must… find a way to contain AJ Ogilvy. The Sydney big man bounced back from a few lean weeks with a big weekend in round 22, scoring 47 points across the two games. With Wollongong being very much undersized it is the best chance for the Kings to gain an advantage over their opponents. The Hawks must work hard on the boards, with the likes of Larry Davidson, Dave Gruber and Oscar Forman all capable of winning plenty of rebounds at either end. The battle in the paint is key to the result of the match going Wollongong's way, and Ogilvy is susceptible to quiet performances just as much as he is able to tear teams apart. To win, Sydney must… keep Rotnei Clarke in check. With the return of Jesse Sanders, the Kings have re-added a new, or old, dimension to their backcourt. Sanders, despite exploding for a near triple-double last weekend, is a defensive point guard and has all the capabilities to slow down Clarke. While Wollongong's sharp shooter has been fantastic all season and is in great form once more, Sanders is just the player to be able to come out of the battle victorious, and that will be key to Sydney's chances of victory. Verdict: This is the big one, with the loser all but out of contention for 2013/14. The Hawks can remain alive despite a loss here, but would need the Crocs to beat the Kings before they knock off the Wildcats in Perth a day later, which seems unlikely. A loss for the Kings and they are out, and given the talent on their roster it would seem remarkable that they were unable to make it to the playoffs. The Hawks have the advantage of playing at home, with a big crowd expected to cram into WIN Entertainment Centre to support their home town team. With the Kings unable to beat the Hawks so far this season and with the home side in better form of late, Wollongong gets the slightest of nods. Wollongong by 1
---
Sydney Kings vs. Townsville Crocodiles
Saturday, 22nd March – 7.30pm (local time) Qantas Credit Union Arena Depending on the result of their clash with the Hawks, a win here could see the Kings snatch fourth spot. With a roster stacked with talent, anything less than a finals appearance will be deemed a significant failure. A win against the Hawks will mean a W here sews up fourth spot, while a loss the night before renders this game useless to their finals ambitions. The Crocs will collect the wooden spoon after an up-and-down season which saw a 4-13 start turn into a mini-revival mid-season as they toppled the Wildcats. Playing away from home and for nothing but pride against a side in playoffs contention will be tough, but with Russell Hinder retiring after the match it will be up to his teammates to send him off in the proper fashion. To win, Sydney must… stay focused. The added pressure of what is potentially riding on this game could have a funny effect on the Kings, particularly since they are facing the worst team in the league and in the comfort of their home gym. Nothing less than a win will be accepted by the fans and the Kings will surely fancy their chances too, but if they are playing for fourth spot then they certainly can't afford to look ahead to next week. The Crocs have been dangerous all season and went very close to knocking off the in-form Hawks last week, so Sydney will need to knuckle down and grind out the win in whatever fashion is required. To win, Townsville must… channel Hinder. The big man hasn't always been the best player on the floor but has always embodied the spirit required to be a leader. He rarely takes a bad shot and is always looking to benefit his team first, rather than making himself look good. The Crocs, and particularly now that they are down a star, will all need to play the same way if they are to spoil the Kings' party, starting with Steven Markovic and Josh Pace and going all the way down the bench. Verdict: The fate of the Kings in their clash with the Hawks just 24 hours earlier will drastically alter the way this game is played and, perhaps, the result. A loss to the Hawks would be a savage blow for Sydney and likely leave them with nothing left for this clash, while a win would see them ready to clinch a finals berth in front of their home fans. With all the focus on beating the Hawks, however, the Crocs may well sniff an upset as they potentially face an unprepared Kings outfit. On paper the home side should win, whatever the circumstances may be, but we will wait and see what happens on Friday night first. Sydney by 7
---
Adelaide 36ers vs. Melbourne Tigers
Sunday, 23rd March – 12.30pm (local time) Adelaide Arena These two sides will meet in the semi-finals after the Tigers wrapped up third spot last week and Perth clinched top spot. Adelaide leads the season series 2-1 so far, and had they gone down to Perth last week then this matchup could've been to decide home-court in next week's series. The Tigers have been riding Chris Goulding's red-hot form over the past four games, in which the star has averaged 34ppg. He will be looking to continue that scoring as Melbourne head into their first playoffs appearance in over five years. To win, Adelaide must… make life tough for Goulding. While it will not only help them win the match, making Goulding struggle will ultimately aide the Sixers when their semi-finals series starts next week. Goulding is very much a form player, and after scoring just 10ppg throughout the entire month of February he has hit back over the last three weeks with monster numbers. He has been taking plenty of shots as he has attempted to re-find his touch, and the more he has shot the ball the better he has seemed to get. Taking away that 'practice' and putting the seed of doubt back in his mind is exactly what the Sixers will be looking to do, especially given Melbourne's heavy reliance on their shooting star for points. To win, Melbourne must… work the ball around and get everyone involved. At the other end of the scale, the Tigers will be looking to move away from that heavy reliance on Goulding and get as many of their other stars primed and ready for the semi-finals. Mark Worthington, Scott Morrison and Lucas Walker have all been in reasonable form but need to see more of the ball, while Mustapha Farrakhan is completely out of sorts right now but holds the key to success off the bench as a flat-out scorer. While Goulding continues to be the main man, big performances from the rest of the side will not only see a win in this match but prime the Tigers for the series to come. Verdict: One gets the feeling that both sides won't be taking the result of this match too seriously, with Chris Anstey and Joey Wright more than likely taking the opportunity to prepare their respective sides for next week's semi-final series. Ironing out the kinks and working on things mid-week will be the main focus, but both sides have plenty of stars to still put on an entertaining show for the fans. Tossing a coin for the result has never been more relevant, but the home town 36ers should warm up for the semis with a win against their finals opponents. Adelaide by 2
---
Perth Wildcats vs. Wollongong Hawks
Sunday, 23rd March – 2.00pm (local time) Perth Arena While Perth have sewn up top spot and will head into the finals as title favourites, the Hawks may well be fighting to extend their season into April as they head west. Depending on other results, Wollongong may need to beat the Wildcats to sneak into the finals at the expense of Sydney. If the Hawks beat the Kings earlier in the round, they will be playoffs bound regardless of the result here, but a loss to Sydney will mean they will need to win and hope the Kings fail to topple the Crocs on Saturday night. To win, Perth must… come to play. With nothing riding on the game for them, apart from who their semi-final opponent might be, the Wildcats could easily not turn up to play and focus on next week. Whether Trevor Gleeson rests his stars throughout the clash or keeps them on the bench altogether remains to be seen, but if they want to finish the regular season with a win they will undoubtedly need to play with the intensity that has become a trademark of the Wildcats at Perth Arena. To win, Wollongong must… work hard for the full forty minutes. Depending on what this game has riding on it, Wollongong simply can't afford to let up at any stage. If this clash is the decider of the Hawks' playoffs fate it will be up to the visitors to claw their way to victory through hard work and determination. It may sound cliché, but whether or not the 'Cats bring their best is irrelevant to the Hawks, and coach Geordie McLeod should be drumming that notion into his charges all week – 'win at all costs'. Verdict: This game may well go the way of the Hawks if Gleeson decided to wrap his stars in cotton wool in preparation for a tilt at the championship. Assuming both sides are at their best, the Hawks are still in with a big chance given they toppled the Wildcats earlier in the season, albeit in Wollongong. There is potentially so much more on this game for the visiting side than there is for Perth, but even so if the 'Cats are at full-strength and playing as they have all season then it is impossible to tip against them at home. Perth by 3