Discover more from The Pick and Roll
We're all about Aussie hoops. Independent, objective analysis and commentary. Insightful narratives built around Australian basketball. Read about our men and women in the NBA, WNBA, NCAA, Europe, national teams, NBL, WNBL, NBL1, prospects and more.
Over 2,000 subscribers
NBL 2013/14: Round 22 Preview
With two weeks remaining the battle for fourth is still in the balance, with the Kings and Hawks set to battle it out over the final games in their bid to reach the post-season. Season-high crowds and one outstanding individual performance for the ages headlined round 21, with more to follow in the penultimate regular season round for 2013/14.
---
New Zealand Breakers vs. Sydney Kings
Thursday, 13th March – 7.30pm (local time) North Shore Events Centre The Breakers will not participate in this year's finals series after going down to Melbourne last week, with the loss ending any chance of a four-peat for the three-time champions. Corey Webster led the way for New Zealand as Tom Abercrombie and Gary Wilkinson had quiet ones. Sydney also lost to the Tigers in round 21, this time unable to find an answer for Chris Goulding's incredible 50-point performance. Sam Young tried to drag his side over the line but failed, leaving the Kings' season in the balance for at least another week. To win, New Zealand must… stop Young. The former NBA forward was unstoppable against the Tigers once he started taking the ball inside and despite Goulding catching alight Young was able to keep his side within touching distance throughout the second half thanks to an array of moves in the paint. However his jump shot is much less reliable and Melbourne was able to make him settle for the jumper much more often in the first half. Keeping Sydney's star at the perimeter is something that the Breakers will be looking at as they look to topple the Kings. To win, Sydney must… find their range from the arc. Sydney has struggled to find consistency from deep of late, with only Ben Madgen able to continually connect from distance. New Zealand is able to play a fast-paced and high-scoring brand of basketball, especially at home, and the Kings will need to find their range to stay in touch throughout. Sydney isn't renowned for locking teams down defensively but has plenty of shooting talent, and the likes of James Harvey, Cody Ellis and Kevin White will be looking to rediscover their touch when they get their opportunities. Verdict: The Breakers have been reduced to playing for pride at this stage of the season but that pride is not something which they will take lightly. The club is stacked with champions and the winning mentality remains instilled in the team despite a testing season. The Kings, meanwhile, need to win if they are to challenge the Tigers for third spot over the final two weeks while also to shore up their own finals spot after failing to capitilise on Wollongong's loss last weekend. They sit just one loss ahead of the Hawks but have a game in hand, and that needs to be a win or they will suddenly be staring down the barrel of missing out on finals action altogether. The visitors should be desperate and should get over the line based on that alone. Sydney by 3
---
Adelaide 36ers vs. Perth Wildcats
Friday, 14th March – 7.30pm (local time) Adelaide Arena Adelaide warmed up for their top-of-the-table clash against Perth with a rout of the Crocs. Led by Gary Ervin the Sixers led by as much as 40 against the team who looks to be heading for a wooden spoon on their way to cementing second spot and a home semi-final for good. Perth also beat Townsville in round 21, with Damian Martin leading his side to a comfortable, but not easy, home win. They head into Adelaide following the fiery clash against the Sixers just a month ago which saw a post-match brawl in Perth. To win, Adelaide must… help Ervin break Martin's shackles. Adelaide's star import has had a history of being held well by the defensive superstar from Perth, with Martin being a constant thorn in Ervin's side. Last time they met Ervin was frustrated all night before letting some of that loose in the post-match scuffle as the Wildcats won by plenty. Both sides are stacked with talent but no match-up will be more important to Adelaide's chances of victory than this one, and Ervin needs to be at his best if he is to lead his side past the 'Cats. To win, Perth must… match the home side's intensity from the tip. There is no doubt that the Sixers will be fired up after their heated clash in Perth, with the treatment from the pro-Wildcats crowd only adding fuel to the fire. In front of their home fans they will be eager to avoid a repeat of the big margin they conceded, which means Perth will need to stay within striking range early and weather the storm. Intensity is the key, with a strong start sure to help quieten down the sure-to-be vocal crowd as well. Verdict: The last time these two met we saw plenty of fireworks. Unfortunately for the Sixers, they were all post-game as they went down in disappointing fashion. Joey Wright will fire up his side with plenty of focus on their performance in Perth, while the passion that spilled over after the match will no doubt be focused on the contest this time around. The Wildcats have nothing to gain other than another win against the team they will be likely to face in the grand final series, while the 36ers have respect to gain back from their opponents and the NBL world. Thrashing the Crocs doesn't prove as much as responding strongly against the best team in the league. Adelaide by 2
---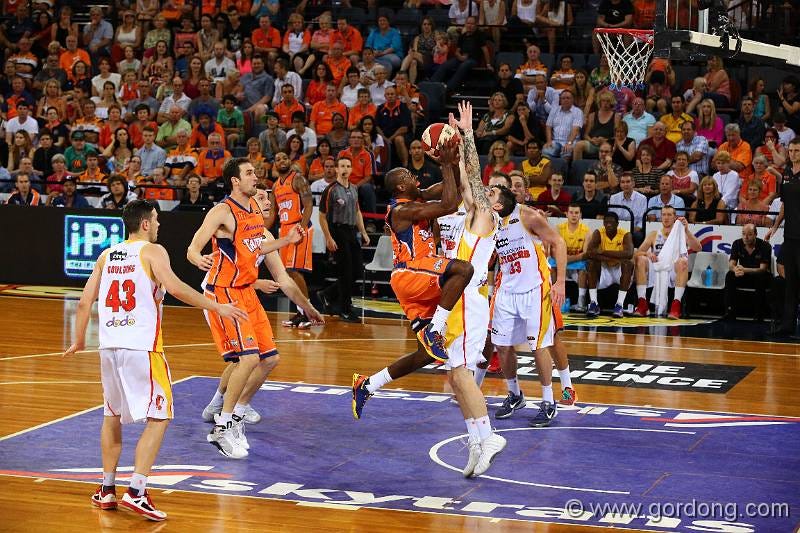 Credit: Gordon Greaves of Gordon G Photography -
official photographer for the Skytrans Cairns Taipans and Cairns Basketball Inc
Cairns Taipans vs. Melbourne Tigers
Friday, 14th March – 7.30pm (local time) Cairns Convention Centre Cairns notched a surprise win in Wollongong when they upset the Hawks last week. Led by Jamar Wilson's brilliance and Cam Gliddon's hot shooting the Snakes managed to hold out the fast-finishing home side in the dying minutes and walk away with a victory. The Tigers went 2-0 in an important weekend as they all but secured third spot on the ladder and a probable semi-finals matchup with Adelaide. Beating the Breakers away from home was impressive but nobody saw Chris Goulding's 50-point game against Sydney coming. The star shooter was incredible and managed to secure his place in history as the Tigers got a very important W. To win, Cairns must… stop Goulding. Last week's scoring exhibition signalled Goulding is well and truly over his form slump, and that means trouble for the Taipans. The star guard was unstoppable and single-handedly kept the Tigers going on offense when they looked to be breaking down at times with bailouts and off-balance threes coming from everywhere. The Snakes simply can't afford him to get into the zone again, and that means clamping down and allowing him no space from the opening seconds of the match until the final buzzer. To win, Melbourne must… find other avenues to the basket outside of Goulding. There's a very good chance that Goulding won't go for 50 again this week, and there's an even better chance that he will be the main focus of Cairns' defensive endeavours. That means that Melbourne needs to find other consistent avenues to the basket. The likes of Scott Morrison and Mark Worthington have been in more-than-reasonable form of late, while Lucas Walker and the out-of-sorts Mustapha Farrakhan are capable when on. A heavy reliance on Goulding means poor offensive sets and a lot of standing around and watching him go to work, which has been the Tigers' biggest problem all season. Verdict: Cairns looked as good as they have all season against the Hawks last week, but hosting Goulding and the Melbourne Tigers will provide plenty more challenges. The Tigers are almost certain to finish third and a win here would only bring that closer to reality, while the Snakes are playing for nothing after another promising season amounting to nothing. Last week showed the home side won't simply drop their heads and be done with it, but Melbourne is heading towards the post-season and just starting to get up a full head of steam in preparation. Melbourne by 2
---
Townsville Crocodiles vs. Wollongong Hawks
Friday, 14th March – 7.30pm (local time) Townsville Entertainment Centre The undermanned Crocs went down to the two best sides in the league last week, with their match against Adelaide particularly disappointing. Their season is over and it seems to be catching up with the club, while having their stars in and out of the side over the last month hasn't helped their cause either. Wollongong suffered a shock loss to Cairns and missed a golden opportunity to jump Sydney and grab onto fourth spot as a result. Rotnei Clarke went berserk in the final quarter but it was too little too late for his Hawks. To win, Townsville must… keep Wollongong's shooters on the leash. Cairns managed to achieve this for three-and-a-half quarters last week before Clarke caught fire and nearly stole the game away from them. Without their shooters hitting from deep the Hawks found themselves down by as much as 23 points in the last quarter, but the late flurry showed just how dangerous they can be if given the opportunity. Townsville need to apply the pressure to the perimeter players all night if they are to repeat the feats of their north Queensland neighbours, starting with floor leader Clarke. To win, Wollongong must… put last week behind them and keep focused. It would be easy for the Hawks to lament on their loss last week and think about 'what could have been' if they had have come away with a win, particularly given they dropped the ball in such disappointing fashion. However given they sit just one loss behind the Kings with three games to play (four for Sydney) it is imperative that they don't drop their heads just yet. They must press on and continue to win now, and that begins with the Crocs. If they win and Sydney split their double then they will leapfrog the Kings by round's end anyway, but a loss would mean they need to start relying on other teams. The fate of their season remains in their hands and requires complete focus and discipline above all else. Verdict: The Crocs were alright against Perth but woeful against Adelaide, and while we can't read too much into that it would seem they are limping to the finish line. With nothing to play for it could potentially turn ugly over the last two games for Townsville, but a strong showing is all they need to keep the haters away. Wollongong need to bounce back and will be desperate to come away with a vital win. They rely heavily on their outside game and if the shots aren't falling they suddenly look like the side that sat second last just over six weeks ago. Given their last month and a bit, however, the benefit of the doubt over last week must go the way of the Hawks and they should bounce back with a win. Wollongong by 3
---
Sydney Kings vs. Adelaide 36ers
Sunday, 16th March – 1.00pm (local time) Qantas Credit Union Arena Sydney and Adelaide will face off in a huge game for the Kings' playoffs aspirations, while providing both sides with a good preparation for the upcoming playoffs. Both sides will have played earlier in the round, with the Kings having an extra day off in between games. To win, Sydney must… get on top inside. The paint is the key for Sydney, with AJ Ogilvy struggling to find the outstanding form he showed early in the year. Coming up against Daniel Johnson, who is undoubtedly the best centre in the league right now, means Ogilvy needs to lift his output. The Kings big man has all the tools to match Johnson's performance, while Sam Young will look to fire against Anthony Petrie in another big battle. If the Kings can win the battle of the boards and control what goes on inside the paint then they will be in a good position to secure an important win. To win, Adelaide must… exploit Sydney's 'new' guard combo. The Kings have had disruptions to their guard combo all season, with the departure of Sanders followed by the departure of Carmouche and re-signing of the former just a fortnight ago. Sanders and Ben Madgen are both quality players, but they will not have the fluency in their combination that Gary Ervin and Adam Gibson, the best guard combo in the league, have built over the course of the season. Adelaide must look to exploit Sydney's weakest spot, which remains their backcourt for the time being. Verdict: There is little doubt that the Kings possess plenty of weapons, both offensively and defensively, and are stacked with talent all the way through their roster. However they sit fourth with two rounds remaining and are in very real danger of missing the playoffs. A loss in New Zealand would make this a must-win situation, while a win from the Hawks on Friday night will also heap the pressure on. The Kings have had the wood over the Sixers this season and will be desperate to beat them again, and with their finals ambitions on the line they might sneak across the line in a very close one. Sydney by 1