Discover more from The Pick and Roll
We're all about Aussie hoops. Independent, objective analysis and commentary. Insightful narratives built around Australian basketball. Read about our men and women in the NBA, WNBA, NCAA, Europe, national teams, NBL, WNBL, NBL1, prospects and more.
Over 2,000 subscribers
NBL 2013/14: January Power Rankings
The NBL was in full force throughout January, with the comp tightening up more than ever. Check out which teams soared and which teams didn't in this month's Power Rankings! *Rank-(Last Month)-Team-(Record)-(January Record)
---
1. (1) Perth Wildcats (15-5) (3-3)
Although the 'Cats may not have been the flavour of the month, they certainly kept the foot on the gas, continuing to chalk up wins to stay on top of the table. With James Ennis still scoring at a clip of 22.5ppg to sit him second in the league (end of January), he is still hot favourite to take out the season MVP. Not to mention everything else he does on the court. However, the fact is that Ennis doesn't make up the Perth Wildcats and that's what makes them so good. Guys like Damian Martin and Shawn Redhage keep the team intact when the going gets tough. With losses to the Melbourne Tigers and Wollongong Hawks this month, including their first home loss for the season, Perth isn't looking to hit the panic button yet. It still seems as if it will take a very good outfit to knock them off in a playoff series.
---
2. (5) Sydney Kings (9-9) (4-2)
The Kings started January on a slow start with a loss to the Taipans at home in which they were thoroughly outplayed in the final quarter. From there, Shane Heal has rallied his troops to bunch together and play some really great team basketball. The emergence of A.J. Ogilvy in our competition continues despite the introduction of Sam Young and the continuing streaky force of Ben Madgen. Between the three of them, they have created nearly the NBL's best 'Big 3' which can surely be up for debate (but we'll save that for Social Media).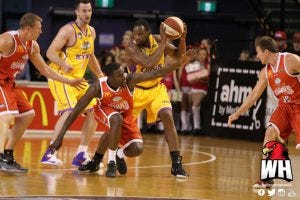 Credit: Joel Armstrong |
Wollongong Hawks The real difference for the Kings finding their groove is that they have solved their point guard problem since the Jesse Sanders saga. Carmouche is much more confident on the court now after his team backed him and he's paying them back with some great performances. At 11.7ppg, Carmouche could be the X factor on the race to the playoffs and beyond.
---
3. (2) Melbourne Tigers (12-8) (4-2)
The big road double to end the month was huge for all Tigers members as it jumped them from a .500 team for the month and could have even dropped them back to .500 for the season if they had have lost both. The big win against the Wildcats inside the Perth Arena will be a massive boost in confidence for Anstey and his men going forward looking into the future and their very tough schedule right up until the end of the season. Questions now remain whether or not Melbourne can continue their steady force into the post-season as they play the top two teams in Perth and Adelaide multiple times, however they have now proven to all of NBL fans that they can beat both teams, it's now all about mental games. Big month coming up for the Tigers. One of the main reasons Melbourne have turned a corner is due to their offensive sets. They can now no longer rely only on the league's leading scorer Chris Goulding to produce a high percentage of their points. Mark Worthington, Scott Morrison and Mustapha Farrakhan can all put the ball in the basket and have shown major improvements over the last bunch of games.
---
4. (3) Adelaide 36ers (12-6) (2-2)
Adelaide didn't seem to be their normal selves during the month of January and you can easily see why. They missed their star PG in Gary Ervin for a majority of it. Ervin who is averaging 16.4ppg, injured his knee right before the New Year which forced him to sit for a number of games. Although they may have gone 2-2 for the month, with one loss coming from when Ervin played, the Sixers could be forgiven for slowing down at this point in time. That little bracket right before the run to the playoffs is probably the best time to take a breather before you hit some kind of form streaking into the post-season. In saying that, maybe Ervin going down now was the best possible time, as it gave him some time off while it also gave others some time to log heavy minutes and start producing for their team. Adam Gibson is a major example of this as he was on fire for the month of January and you could tell he was lifted due to Ervin's absence. Their big guys such as Daniel Johnson and Anthony Petrie continued to be threats down low which is a great sign looking into the future.
---
5. (6) Cairns Taipans (9-11) (4-3)
Cairns have had an up and down month and not really making up much ground on the top four. An emphatic overtime victory over Perth away from home was the highlight for the team, which has been the most recent win on their three game win streak. While this has happened, it has been their bigs doing the damage on the inside, getting back to their very best. Alex Loughton struggled throughout the month, getting into foul trouble often and not being able to stay on the floor for long periods, especially at critical times down the stretch. However he was brilliant in their win over the 'Cats and will be looking to take that form into their next set of games. Cam Tragardh is one player who will be needed sooner rather than later, with the team hoping he's not far away coming back from injury. In the meantime, guys like Stephen Weigh and Clint Steindl found their shots and were nice back-ups in that role. Jamar Wilson is always improving his chances for sixth man of the year, with another impressive month, reminding everyone that he is just all class while he's on and off the floor. A tough month ahead for the Snakes, as they continue to fight for that fourth spot, however they have to battle both Sydney and now New Zealand which makes it very hard to slide in.
---
6. (8) New Zealand Breakers (8-11) (3-2)
Have New Zealand been a disappointment this year? Going from three time defending champs, to now sitting sixth in power rankings and also on the NBL table. Losing Alex Pledger for a period of time certainly didn't help the case, with the team having to sign Casey Frank for a while. His impact hasn't made much of a difference, with the usual suspects continuing to provide coach Vickerman in bunches- Abercrombie, Vukona, Wilkinson. While they have had a successful month over .500, the race to the playoffs is a hard one, having to catch up multiple wins on Sydney in a limited amount of time. The Breakers may not even be able to defend their title in the post-season. An opening game against the Kings to start the month is huge in regards how they'll make up the difference, and then games against Cairns, Wollongong and Adelaide may decide their fate.
---
7. (5) Wollongong Hawks (6-13) (2-4)
The Hawks didn't have the month that they wanted on their path to the playoffs. Now that dream is suddenly fading fast. A pair of tough games in which they were on the wrong side of the result certainly didn't help matters, with the team needing both games to have a chance at playoff basketball. If the two games against New Zealand and Cairns went their way, the Hawks would be sitting nicely at 8-11, pushing for Sydney's fourth spot. Nowadays, it's more of a 'stay off the bottom' mentality. Kevin Tiggs was Wollongong's player of the month, with the import breaking out into a nice purple patch. However, the downside to this was that the coach barely gave him any fourth quarter minutes, showing NBL faithful that he may have trust issues in that department. Rotnei Clarke on the other hand is still showing his inconsistencies. His performances at home were above average, which led them to a handy win over the Wildcats. However away from home his struggles are real, not being able to find the basket with as much ease putting his team in a hole. The good signs are that Oscar Forman and Rhys Martin are starting to show signs and finding form, which counters Clarke's poor shooting nights on the road.
---
8. (7) Townsville Crocodiles (5-13) (1-5)
A month to forget for the Crocs, picking up a solitary win in their final game of the period with a gritty victory over the Hawks. This has now killed their chances at seeing any action post-season and now their thoughts are heavily turned to getting off the bottom of the NBL ladder. The early injury to import Josh Pace certainly didn't help anyone's case at the club, as it all fell apart soon after. Losses to Melbourne, Perth (x2), Adelaide and Cairns probably show that they were always in for a tough month, however with such an even competition, the Crocs would have been expected to win at least one more of their games. Brian Conklin stepped up nicely with the exclusion of Pace, with the team finding their big man inside, letting him go to work. Now averaging 16.3 points per game, Conklin is fifth in the league in scoring; something that the Crocs can really lack at times. Perth, Cairns, Wollongong, Sydney and New Zealand are the Crocs' opposition in February, which shows that the schedule doesn't get any easier for the boys in green.