Discover more from The Pick and Roll
We're all about Aussie hoops. Independent, objective analysis and commentary. Insightful narratives built around Australian basketball. Read about our men and women in the NBA, WNBA, NCAA, Europe, national teams, NBL, WNBL, NBL1, prospects and more.
Over 2,000 subscribers
NBL 2013/14: February Power Rankings
The NBL is fast approaching the post-season, yet we have only have two secure teams at this stage. Who will make their run to the playoffs? Let's find out The Pick and Roll's Power Rankings after February. *Rank-(Last Month)-Team-(Record)-(January Record)
---
1. (1) Perth Wildcats (18-6) (3-1)
The Wildcats are once again the team to beat on any given night, with the 'Cats having another great month only dropping the one game. James Ennis still proves to be the MVP favourite despite slowing down his production throughout February. Averaging a league best 21.9ppg, Ennis continues to be Perth's number one offensive option, despite a plethora of other areas the team can find ways to put the ball in the basket. For the coming month, the duo of Jermaine Beal and Damian Martin will be pivotal, as the two guards will become a handful if they can both find top form. Beal is averaging 15.6ppg with most of those coming from beyond the arc (hitting 73, a league best), while the pair are averaging 7.4apg combined.
---
2. (4) Adelaide 36ers (15-9) (3-3)
Are the Adelaide 36ers really contenders for the NBL championship? That's probably the question on many NBL fans' mind as of late, after being declared the main threats to Perth. Going .500 for the month indicates that the Sixers aren't hitting their strides quite yet, while dropping the big games to tougher opposition. Their home court must become a fortress in the next month or so if they are to be who they claim. Adam Gibson, who has been very efficient lately, may become one of three Adelaide 'X' factors, along with Mitch Creek and Rhys Carter who will need to see an increase in minutes. If the Sixers are to be seeing action in the Grand Final, it comes down to the consistent play of Daniel Johnson (19.8ppg, 6.7rpg) in addition to Gary Ervin (15.9ppg) finding his early season MVP form again.
---
3. (7) Wollongong Hawks (11-13) (5-0)
You can't stop the Rot! No seriously, you actually can't right now. February was very kind to the town of Wollongong, providing a five win, zero loss month.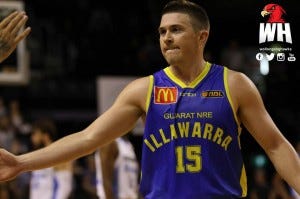 Credit: Joel Armstrong |
Wollongong Hawks Rotnei Clarke is currently on a tear, now averaging 21.6ppg, along with upping his assist averages to 3.3apg. With big wins against worthy opponents (those heading for the playoffs), will it be the Hawks who join the party at the end of the season? The loss of Kevin Tiggs will certainly come around, as Tiggs was the most efficient player in the league, scoring at a rate of 15.6ppg (on 52%FG) in such limited minutes. The great thing for the Hawks is that so far the team as a whole has been picking up his production, with guys like Oscar Forman, Rhys Martin and Larry Davidson all chipping in when needed.
---
4. (2) Sydney Kings (11-11) (2-2)
The Kings sat at a .500 level in February not showing any signs of improvement. While there were games in which they looked the goods in patches, they were never able to produce a solid four quarter effort. Sam Young (21.7ppg) will look to become the league's most dominant force on his road to the finals, as his motivation should be fuelled by the chance of returning to the big leagues. He has every opportunity to do so with a huge final period of this 2013/14 NBL season. While Ben Madgen (14.4ppg) and A.J. Ogilvy (12.7ppg, 9.5rpg) become solid role players behind Young, it is the return of Jesse Sanders that will play a major part in Sydney's run to the playoffs. Sanders will provide the 'X' factor the Kings need to rise up above their opponents in this next crucial patch of games.
---
5. (3) Melbourne Tigers (12-11) (0-3)
In what was a short month for the Tigers playing only three games, it certainly ranked high on the importance scale. Unfortunately for Melbourne, they were unable to take advantage of the rest and found themselves winless in all three. Melbourne's leading scorer Chris Goulding was awfully quiet during this stint, in which he managed to tally single digits in one game, while just passing double digits in the other two. This is obviously something coach Chris Anstey will need to sort out, however he should be seeing some positives coming out of it, such as the emergence of import Mustapha Farrakhan. Farrakhan will be the Tigers' 'X' factor moving forward, with the combo guard averaging 12.9ppg and just over 2 assists per game. Starters Mark Worthington (14.3ppg, 7rpg) and Scott Morrison (11.3ppg, 7rpg) are the two consistent Tigers over the course of this season, with the pair combining for a large majority of points and rebounds for the team. With Lucas Walker returning, the team will be at full strength for what's hoped to be the remainder of the season, a very important period for the Tigers if they are to challenge for silverware.
---
6. (6) New Zealand Breakers (10-14) (2-3)
As New Zealand faced a very tough month, they have barely escaped with a 2-3 record, facing a near impossible NBL task if they are to win their fourth consecutive championship. The Breakers are now faced with needing to win all four of their remaining games to mathematically have a chance of making the playoffs. With Thomas Abercrombie (15.8ppg. 3.7rpg) in fine form, the chances of that happening just increased dramatically, as Abercrombie provides the ignition for the Breakers engine. While Alex Pledger remains on the sidelines, the question remains whether or not he will return, with the team playing some good basketball with replacement Casey Frank on the floor. The large issue standing in the way of the Breakers being a dominant force in the next month, is the amount of minutes both Gary Wilkinson and Mika Vukona play with the pair always being caught up in foul concerns. Their fate is in their own hands at this stage.
---
7. (8) Townsville Crocodiles (8-15) (3-2)
In what was a great month for a team that was basically out of the playoff hunt already, the Crocs didn't let any of their faith in team success go away. Playing basically as giant killers, Townsville were able to knock off three teams out of their five tries this month and played some great basketball in between. In what could have easily have been an even better month, due to their close loss to New Zealand and a gallant effort against the streaking Hawks, the Crocs have been shown glimpse of the future as their youth have started to show great patches while their older guys like Peter Crawford bow out with much respect. American import Brian Conklin has been really lighting up opposition teams as of late being one of many positive influences. Averaginng 16.4ppg and 4.8rpg, 'the Conk' is proving his worth. One other great showing has been the improvement of Todd Blanchfield, who has been providing great effort at both ends. Blanchfield (11ppg, 5.3rpg) has, and will continue to benefit from the suspension of import Josh Pace (who will miss three games at the end of Feb/start of March) and will hope to continue that hot form even after Pace returns.
---
8. (5) Cairns Taipans (9-15) (0-4)
A disappointing Cairns outfit have sunk to the bottom of the Pick and Roll Power Rankings with a winless month and an overall below par season. Will so much hype before the NBL season even began, the height advantage that the Snakes were meant to have was quickly ignored due to the new run and gun pace of the competition. With Alex Loughton, Stephen Weigh and Co. the big man rotation just hasn't seemed to work to full effect. The positive out of this is that the guard rotation between players such as Jamar Wilson and last season's rookie of the year Cam Gliddon has provided some great performances. Wilson will be looked at one of the main candidates for the NBL's Sixth Man of the Year award, which could look very strange if Cairns are to finish on the bottom.