Discover more from The Pick and Roll
We're all about Aussie hoops. Independent, objective analysis and commentary. Insightful narratives built around Australian basketball. Read about our men and women in the NBA, WNBA, NCAA, Europe, national teams, NBL, WNBL, NBL1, prospects and more.
Over 2,000 subscribers
NBA Global Academy's win streak continues with decisive win over World Select Red
NBA Global Academy's third pool game was competitive throughout. Despite not shooting well from the three-point line, NBA Global Academy kept close through the first three quarters through good ball movement and offensive rebounding, that led to second-chance efforts.
NBA Global Academy held a 9-point lead late in the fourth quarter, that led to intentional fouls from World Select Red and repeated trips to the free throw line. Back-to-back threes from World Select Red closed the gap, but the boys held steady and made 13 of their 14 free throw attempts, leading to a 34-18 Q4 and a 89-77 win.
Mojave King was second on the team in scoring, with 13 points, 4 rebounds and a steal. His athleticism helped create breaks in the defence and second-chance baskets, but made only 1 of 4 threes this game.
King currently leads the tournament in scoring (53 points) and free throw accuracy (8/8) and is tied for first rank on three-pointers made (7), alongside teammate Santiago Vannet NBA Academy China's Honglin Qiu.
Egyptian centre Aly Khalifa impressed through all games as a solid scoring option and defensive cog, and recorded 11 points, 7 rebounds, 3 assists and 1 block. He currently is ranked second in the tournament with 10 assists made.
Taran Armstrong was the only player on the team who made more than 1 three in this game; he was 3 of 6 from the 3-point line, and came away with 11 points. Joshua Giddey scored 11 points (5/7 on two-point field goals), 3 rebounds, 1 assist and 1 steal. Giddey is tied for second place in steals made in the games (7), together with TSF's Issa Muhammad.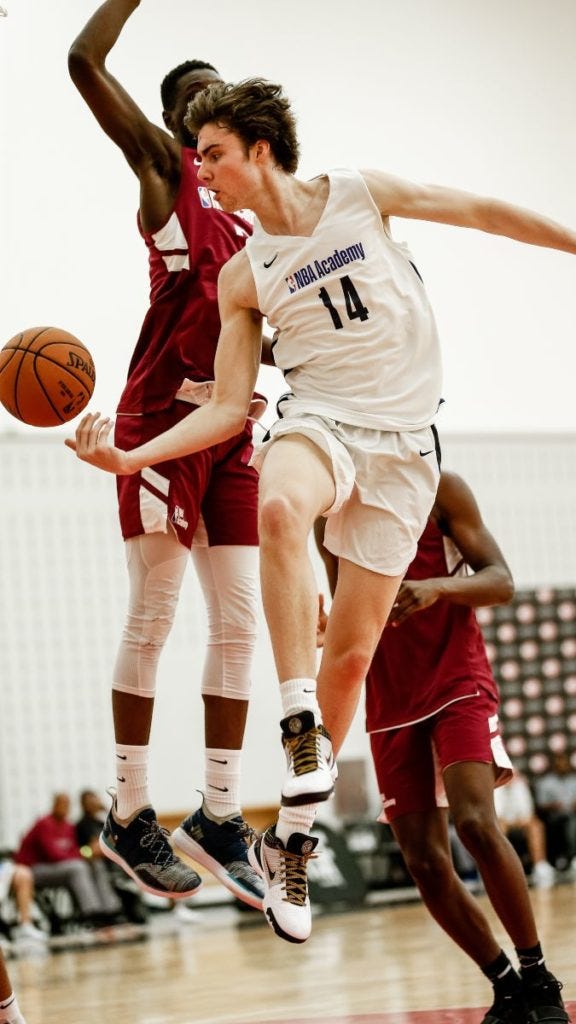 Credit: NBA
Blake Jones had 4 points, 2 rebounds, and missed all four of his three-point attempts. He's fifth in the tournament on field goal percentage (6/8, 75%).
Dyson Daniels and Kane Waters did not score; Daniels had 2 rebounds. Despite his slight stature, Daniels currently is ranked 4th in defensive rebounds (16) in the Academy Games so far.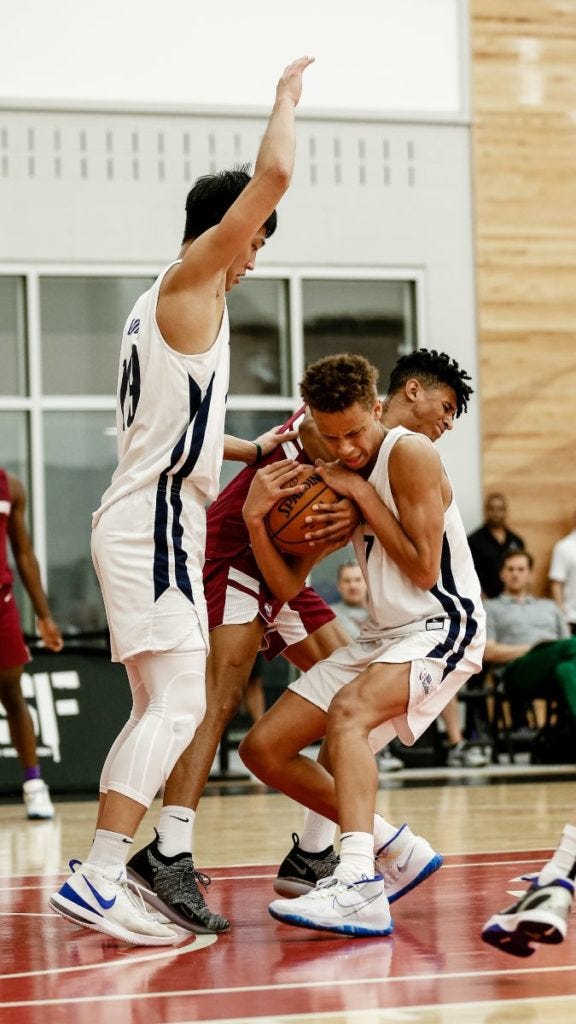 Credit: NBA
NBA Global Academy as a team, is shooting 60.7% on field goals, and 36% (31/86) on threes so far. They are second in total assists (53) behind World Select Blue (57), and are ranked sixth in total rebounds (131), way behind NBA Academy Africa (161).
Replay stream available via NBA Academy website.
Catch up on all NBA Global Academy games on The Pick and Roll.
Full box score can be found on the NBA Academy website.
NBA Global Academy leads the tournament with a 3-0 win streak, and enter the tournament stage next. They face Pool B's bottom-ranked NBA Academy India (0-3) at 4pm ET on 13 July 2019 (Saturday), which makes it 6am AEST on 14 July 2019 (Sunday).