Discover more from The Pick and Roll
We're all about Aussie hoops. Independent, objective analysis and commentary. Insightful narratives built around Australian basketball. Read about our men and women in the NBA, WNBA, NCAA, Europe, national teams, NBL, WNBL, NBL1, prospects and more.
Over 2,000 subscribers
Your NBA Draft primer on Jonah Bolden and Isaac Humphries
The contingent of Australians in the NBA have been steadily increasing every year, and last year proved to be no exception, when Ben Simmons and Thon Maker were drafted with the first and tenth selections respectively.
Many familiar names are undergoing workouts with NBA teams right now, including the likes of Nathan Sobey, Mitch Creek, and Mangok Mathiang, but we will be taking a closer look at two prospects in this article: Isaac Humphries and Jonah Bolden.
We'll start off with a quick recap on both players, and defer to the opinions of two journalists, who are very acquainted with the topic at hand.
Kevin O'Connor, who is currently an NBA staff writer for The Ringer, might be a familiar name to Boston Celtics fans. He started out blogging about the Celtics, and made his mark as the author of an extensive NBA draft guide, an affair that began in 2014. Kevin also hosts a podcast called High Upside on The Ringer NBA Show, where he --no surprise-- discusses upcoming prospects in the NBA draft landscape.
Olgun Uluc on the other hand, is definitely no stranger. Olgun had his basketball roots in scouting, and helped profile talented Australian juniors at The Pick and Roll, before becoming Fox Sports Australia's lead basketball writer in 2015. Despite having expanded his basketball repertoire, Olgun remains a trusted source for basketball scouts on the Aussie scene, including the college and NBA level.
Isaac Humphries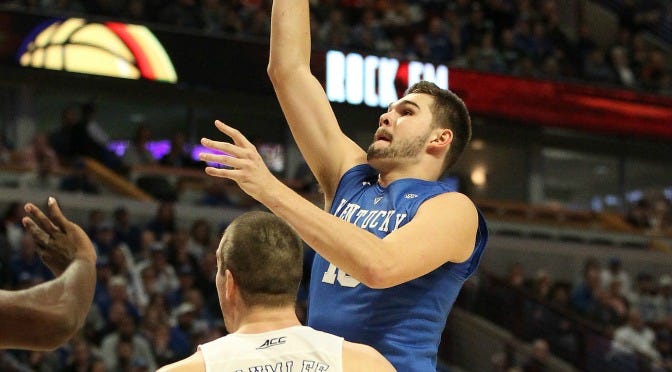 Isaac Humphries | Credit: UK Athletics
During his last college season, Humphries did not get the court time he needed to show his skills off, averaging 2.8 points, 2.8 rebounds in 8.3 minutes over the course of 38 games. He had an outstanding career night with the Kentucky Wildcats in the NCAA tournament against North Carolina, but failed to advance past the Elite 8.
The 7'0" big man subsequently declared his intention to hire agent representation, and turn pro. Humphries was seen recently working out for the Milwaukee Bucks and Denver Nuggets, with other teams in the mix.
https://www.youtube.com/watch?v=E2g-hvV-50k
"I didn't really play all that much at Kentucky, so I know that I have to come in and show a lot and show my skill set, because a lot of the teams don't really know what I bring to a team. So it's really cool to be able to do that and give myself an opportunity to show what I could potentially bring to a team," Humphries said, as reported by NBA Australia.
Humphries: Mobility
We've all heard that phrase about 7-footers not growing on trees; that might end up being one of Humphries' biggest positives, along with youth and malleability.
"Humphries' most valuable strength might be something that's out of his control, and that's the fact that he's 7-foot, and only 19 years old," Olgun says.
"For an NBA team, a young, skilled big man like that is just a perfect asset, even if that team doesn't plan on playing him from day one.
"On the court, Humphries' biggest strength has always been how mobile he is for his size. Lately, we've seen more of his post-game and his mid-range game, but his ability to run the floor, move his feet on the defensive end, and show off his footwork around the rim, is something that's rare in young 7-footers, and could open a lot more doors for him in today's NBA climate."
Humphries: Defensive versatility
Despite the NBA's trend towards small ball --Kevin Durant's appearance as a center during the Finals is a perfect example of this-- defensive big men who can hold their own on strategic mismatches, say in a 1-5 pick and roll are always valuable.
Kevin O'Connor sees it as a key to survival for Isaac Humphries.
"Humphries will need to improve on defending the perimeter, or else he has little chance of playing a significant role, due to the need for versatility on defense."
Humphries' mobility might be a valued trait, should he further hone his defensive instincts and footwork.
Humphries: Athleticism
Olgun Uluc sees something else that could take Humphries' game to the next level: athleticism.
"Humphries' biggest downfall at Kentucky was his explosiveness, which is something he's undoubtedly been working on, and will be big for him if he wants to compete with NBA bigs.
"His size helps him a lot, but being able to get off the floor is important in today's NBA, and it's something that he didn't necessarily have at both Kentucky and the junior level. If he can improve his ability to get off the floor, that would entirely change his game, and his ceiling."
Humphries: Shooting
Shooting might be another make-or-break trait for Humphries.
We all know 3-pointers are valued more than ever with every passing NBA season. Humphries however, has yet to prove his worth on deep shooting, much less at NBA 3-point range. During the course of his two seasons with Kentucky, Humphries did not attempt a single three.
Humphries shot a respectable 51.1% from the field in his final season. That doesn't mean much however; he knows he has to prove his long-range shooting, and talked about it after the Denver workout.
"I think I could bring a strong inside presence as well as the versatility of spacing out with my mid-range, and I'm working on my three-point range right now. It's obviously something to get used to, jumping from the college three, but I'm working on it every day and I'm just trying to be more versatile."
Humphries: Draft projection
Kevin O'Connor expects Humphries to be undrafted, and it stems from the limited versatility and inconsistent shooting that's been displayed so far.
Meanwhile, Olgun thinks there's still hope in the draft for the Kentucky big man.
"For Humphries, it's tough to say where he'll get picked up, if at all.
"I've seen enough of his game to know that a team would benefit from drafting him, but he didn't get enough of an opportunity at Kentucky, so teams are wary of drafting a guy they haven't seen much of. His game is also relatively workout-friendly - teams will see how skilled he is for a 19-year-old, 7-footer - so that'll be a big help for him, and, realistically, his workouts would be among the only body of work some teams will have to go by.
He's worked out for the Bucks and Nuggets, and I know he'll take part in a lot more, so there's a lot of interest from a player like him. I think there's a good chance a team takes him late in the second, but, regardless, he'll easily make his way onto a team for Summer League."
Jonah Bolden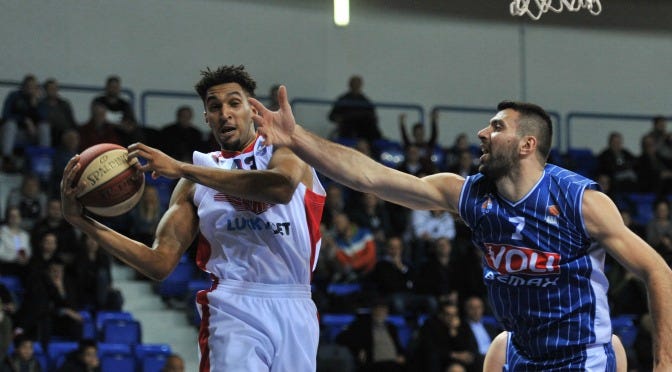 Jonah Bolden | Credit: Buducnost VOLI
Bolden meanwhile, went down the less-trodden path. Instead of following through with the college route, he chose to leave early. After withdrawing from UCLA last year, Bolden started his professional career in Europe with Serbia's FMP Belgrade. Calling the move the best decision he had ever made for his career, Bolden was named the Adriatic League's top prospect, along with impressive season averages of 12.9 points, 7.2 rebounds and 1.8 assists a game, and affirmed his readiness for the big stage.
"I believe I'm more than ready for the NBA."
[Exclusive: From UCLA to Serbia: Jonah Bolden's quest for NBA success]
https://www.youtube.com/watch?v=3BqeAZK4V0U
Bolden: Versatility and shooting
The word versatility might be getting old at this point, but the modern NBA is basically that. You need to be able to hold your own on defensive mismatches, and at the same time, have enough tricks up your sleeve to grease the team offence: be it handling the ball, knowing where to pass, or simply knocking the open shot down.
"As a role player, you need to be able to excel in both to shine at the highest of levels," O'Connor confirms. "That is why I like Bolden so much, because he potentially brings both versatility and shooting."
Not only is Bolden a capable shooter --he made nearly 40% of his threes with FMP-- he also has NBA range, he also saw time at the power forward spot in Europe, which will undoubtedly serve him well.
"Bolden's combination of his skillset and size would be his biggest drawcard," Uluc agrees.
"He has that 'unicorn' aspect to his game; the ability to play as a guard and a big at 6'10. He can stretch the floor, is an elite athlete, and has an underrated passing game, so there's a lot for teams to work with there."
Bolden: Defense
Despite Bolden's promise of NBA versatility, both O'Connor and Uluc have questions when it comes to defense.
Olgun's question stems from potential matchup issues.
"With Bolden, I wonder how he'll be able to make the leap to the NBA, from a physicality perspective," Uluc said. "He put on some size toward the end of his season in the Adriatic League, but it's tough to see how he'll match up with NBA fours, and even threes, defensively.
"Bolden's offensive game is perfect for the league, but I know he has the desire to be a three, moving forward, so that's probably my biggest question mark with him. What position does he defend in the NBA?"
Kevin on the other hand, feels it comes down to consistency.
"Bolden needs to get better at handling the ball, and playing with consistent effort on defense."
While the numbers don't paint a full picture on Bolden's inconsistent defense --he held a Defensive Rating of 100.8 in his last season with FMP-- the faster, stronger NBA will present new challenges for Bolden in the days ahead. One slight attention lapse is all an attacker needs to score.
Care with the ball however, is definitely something that needs to be looked at. Bolden had an assist to turnover ratio of 0.84, which meant he had less than one assist for every TO made.
Bolden: draft projection
The 6'10" swingman is versatile enough to play a range of positions, and has been projected to be a second rounder at the upcoming draft, or even a late first according to our experts.
"I'm a big Jonah Bolden fan," O'Connor admits. "I have him ranked 27th [to the Brooklyn Nets] and I'm not sure of another resource that has him that high. My guess is he ends up in the back of the first round."
(It's interesting to note that Kevin's mock draft has a fellow Aussie pegged as Bolden's best-case scenario: our favourite glue guy, Joe Ingles.)
Uluc similarly, has Bolden pegged in the late 20s.
"With Bolden, he's widely projected as an early second-rounder, but I imagine he'll be able to sneak into the end of the first round.
"He's shown an impressive body of work over at FMP, and the NBA scouts I've spoken to have raved about his versatility. His game is very workout-friendly, so his stock should only improve after he works out for NBA teams."
---
Thanks again to Kevin O'Connor and Olgun Uluc for sharing their thoughts.
Follow Kevin on Twitter at @KevinOConnorNBA. Read his work at The Ringer, and listen to The Ringer NBA Show on SoundCloud.
Olgun can be found at @OlgunUluc. Follow up on his work on Fox Sports Australia.