Discover more from The Pick and Roll
We're all about Aussie hoops. Independent, objective analysis and commentary. Insightful narratives built around Australian basketball. Read about our men and women in the NBA, WNBA, NCAA, Europe, national teams, NBL, WNBL, NBL1, prospects and more.
Over 2,000 subscribers
Three In The Key Pre-Draft Edition: Rest 'Em For Exum?
Welcome to the latest edition of 'Three In The Key', The Pick and Roll's virtual roundtable. The reason for its name has been lost in the mists of time, but we've narrowed it down to two possibilities: it's either a basketball pun, or so named because our 3 participants are only allowed to leave after correctly answering all questions thrown at them.
The way it works is that #TeamPnR picks three of our best writers that are most suited to the topic at hand. Then, through a mixture of civilised debate, passive aggressive retorts, and, at times, violent outbursts that would put 'The Ultimate Fighter' to shame, consummate enlightenment is reached.
This edition of 'Three In The Key' focuses on the upcoming NBA draft and Dante Exum in particular. For this reason, it is fitting that the participants consist of three Aussies. Olgun Uluc, our Aussie high school and college basketball expert makes his roundtable debut, accompanied by seasoned campaigners Matt McLean and Josh Lloyd, both of whom wear many hats including that of fantasy analysts.
Could Exum possibly be the best ever Aussie export since Vegemite? Can our participants tell the difference between a dark horse pick and a Darko Mulecic? Read on as all will be revealed!
---
Is Dante really the enigma that NBA journalists are making him out to be, or is there is enough information to assess his NBA readiness and make comparisons?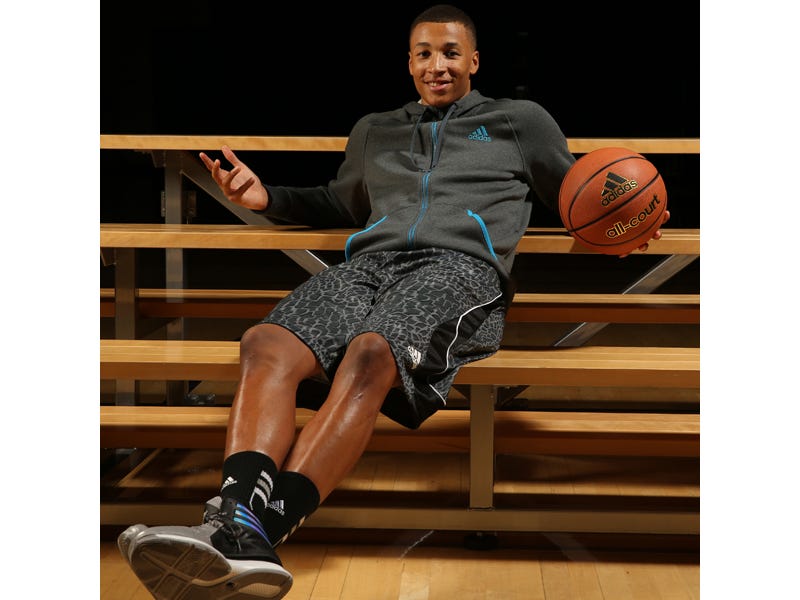 Dante Exum signs with adidas
Josh: Don't be fooled by the supposed lack of info on Aussie young gun Dante Exum. While most of the American media may have not have assessed Exum as much as his contemporaries, NBA scouts and GMs have seen plenty. He's projected to go top five for a reason and that's because GM's love what they see. He's super quick, probably the fastest player in the draft, huge for a point guard and aggressive off the dribble. The most common comparison I've been seeing for Exum is Penny Hardaway, and if he turns into anything like Penny, NBA teams will be stoked.
Matt: Dante's also been likened to last season's rookie of the year, Michael Carter-Williams, but I believe that is merely because of his height and everyone's lack of knowledge about his game. As Josh has mentioned, he is extremely quick, posting incredible athletic results at the draft combine. Just check his 3/4 quarter court sprint time: 3.19 seconds, which is faster than both Chris Paul and Damian Lillard. His 10.75 lane agility drill topped at the combine, and he posted a very solid 34.5 inch max vertical. In many interviews, Dante's stated that he models his game on Derrick Rose, and I think that's an apt comparison, particularly in terms of his attack on defenders and the basket. In saying that, I don't expect Dante to be the next Derrick Rose but I expect him to have a better career than other tweener guards like Brandon Knight.
What about his potential strengths and weaknesses? There are concerns about his passivity, lack of court vision, outside shooting and strength?
Josh: The major criticism I've heard, apart from the shooting, is his passiveness, that he didn't put opposition teams to the sword when he was clearly the superior talent. Is it a case of playing within the game and down to the talent a little?
Olgun: Exum's passiveness isn't an issue for me. He was extremely aggressive at both FIBA tournaments and at the Hoop Summit. The passiveness at Schools Champs was firstly because he was coming off an injury and another injury would hurt his stock. And secondly, he wanted to work on his jumpshot. No better time to do that than in a tournament that doesn't really matter in the long term.
I've been fortunate enough to see him play for a lot of his junior career and he's definitely the real deal. His skillset, combined with his size and athleticism is why he's such a touted prospect. The 2 biggest knocks were his jumpshot and his slight frame, both of which he's working on. He's up about 12lbs since I last saw him at Australian Schools Champs, and the mechanics on his jumper are already good and something he can easily improve on over time.
Josh: Outside shooting is definitely the biggest criticism of his game, but historically, rookies have struggled with their shooting anyway. Brandon Jennings and Ricky Rubio still can't hit 40 percent of their shots. From what I've heard, Exum's explosiveness is great, even on an NBA level, so he'll still be able to get to the rim with some regularity. With NBA coaching, they should be able to sort out any hitches in his shooting stroke and develop him into a consistent and solid shooter outside the paint.
Olgun: Dante has been to a number of camps in the US (adidas nations, Nike Hoop Summit), and he not only held his own, but was a standout. Same with the Combine -his athleticism was as good as, if not better than the other guards. Combine that with his skill set, which in my opinion is something that's undoubted, and he'll at least be an average player in the league.
Matt: I've also been impressed by his adaptability. Exum played extremely well out of position during the Nike Hoops Summit, shifting to play off the ball at shooting guard for the tournament. So well in fact that he was named on the events All Star team.
Josh: There are always risks with any prospects, not just internationals, but, I have a good feeling here. Maybe it's bias, maybe it's not. But, even if Exum doesn't turn into Penny Hardaway, I think we can expect a decent NBA career. And I'm not entirely convinced that he lacks vision. The lack of competition is a valid point, but that also means his teammates were not up to snuff, meaning he didn't need to use vision or his teammates may not have been in the correct positions.
Last question on Exum. Which team will he be playing for in the upcoming season?
Matt: Mock drafts have him placed in Philadelphia with ex Aussie coach Brett Brown. This would be the perfect landing place, as he would form a twin point guard back court with Carter-Williams and have all the minutes he could handle to hone his game.
Josh: There's a huge chance that Exum goes in the top three with the injury to Joel Embiid, and I'm reasonably confident he goes to Philadelphia as well. Touching on your point about twin point guard backcourts, I have been espousing this notion for a while and I feel that it will become the norm in the NBA sooner rather than later. With the lack of quality two-guards in the NBA, positional restrictions will go out the window. But I get the nagging feeling that the rumors of MCW heading out of the City of Brotherly Love have a lot of substance to them. We could have Exum playing alongside Nerlens Noel, plus pick seven and pick 10 (maybe Gary Harris and Julius Randle) and that is a very young and very intriguing core.
Olgun: I agree on Exum going to Philly. Some of my sources in Australia tell me that Brett Brown is really high in him, and vice versa. Also with this Embiid injury, he falls right into Philly's lap. I thought Embiid would have gone #1 if it wasn't for this injury.
On that point, how is Joel Embiid's injury going to effect the draft?
Josh: Joel Embiid suffering yet another injury, throws the entire top of the draft into chaos. It seemed like Embiid was a lock to go to Cleveland, but with his broken navicular, that seems like a long shot. Could Embiid still be the best player in this class? It's possible, but two stress reactions within six months to a seven-footer does not bode well for his future.
Matt: The jury was already out on Embiid and his injury history, and I'm with Josh that this latest setback has only clouded the top of the draft and left teams reeling now that he has suffered yet another serious injury in his four short years of playing basketball. It is very rare for a player to suffer from this particular injury and make it back for a long career! Yao Ming, Zarunas Illgauskas, Bill Walton and Brook Lopez all suffered the same type of injury, so the forecast isn't good. My money is on Embiid falling out of the top 10! There are too many guys that can come in and help your team right away, and to take a chance on a guy that realistically may not ever play a full season is rather unwise.
Josh: I highly doubt he falls out of the top six, let alone the top 10! And while I'd be extremely hesitant with taking him, teams love a bargain and grabbing the top prospect at pick six would definitely be considered that. As for the injury, it's not completely unheard of for a player to return as good as new. Ilgauskas did suffer the injury, but went on to play unhampered by his foot problems. There was also a guy called Michael Jordan who suffered the same injury in his second season and he did okay after coming back! The fear is real, but it's not completely the death knell, although his size does compound matters.
Olgun: I don't see Embiid falling below 7. If the he's still around I say the Lakers take him. Too much upside to turn him down.
That brings us to the other highly touted draft picks. Which draftee is the most 'NBA ready' and likely to win Rookie of the Year and which will be judged best at the 5 year mark?
Olgun: It's hard for me to choose between Jabari and Wiggins. Jabari's game is so refined, he's obviously the most NBA-ready player coming in whereas Wiggins showed glimpses of brilliance at Kansas, especially on the defensive end. Both are super exciting to watch and I think the Rookie of the Year voting will go down to those two. I'll give it to Jabari but I think Wiggins has the better career after 5 years. His athleticism and improving jumper, along with his amazing defense will help him go far. At the worst he'll be a Rudy Gay type of contributor. But I think his ability to finish around the rim, with his defensive intangibles, will turn him into a superstar in no time.
Josh: It's Parker for me on both questions. He'll win the Rookie of the Year this year and I think he'll be judged the best player when all is said and done. I know this is hardly breaking news, but I'm a big Jabari Parker fan. I've known about Parker since he was just a high school standout in Chicago and so far he has lived up to all the hype. While many are pointing out he doesn't have as high a ceiling as Andrew Wiggins or Joel Embiid, he is probably the most ready to contribute . As for his ceiling, Parker has the look of a perennial All-Star. Cleveland is most likely going to go with Parker at one now, but I'd really love him to end up in Milwaukee as that gives him a better chance to shine immediately.
Matt: For the Rookie of the Year I will tip my hat to Marcus Smart. Point guards get noticed and Smart is an extremely hard working, big bodied guard. If the Magic do take him with their selection at #4 he will have Jameer Nelson to learn from and keys to the young offense. Rob Hennigan is as smart as they come when picking talent, and Oladipo and Smart will be both offensively beautiful and a very staunch defensive back court.
At the 5 year mark I have Andrew Wiggins. If indeed the Cavs are smart enough to get out of their own way and take him, he and Kyrie Irving will form an absolutely deadly 1/2 punch. Kyrie is clutch; no one can doubt that and with his own version of a reliable Scottie Pippen in the wings, Wiggins will live up to all of the hype!
In retrospect, was the 2014 NBA draft worth tanking for because it is loaded with franchise saving players, a very deep draft without clear-cut superstars or somewhere in-between? How does it rate compared to previous deep classes?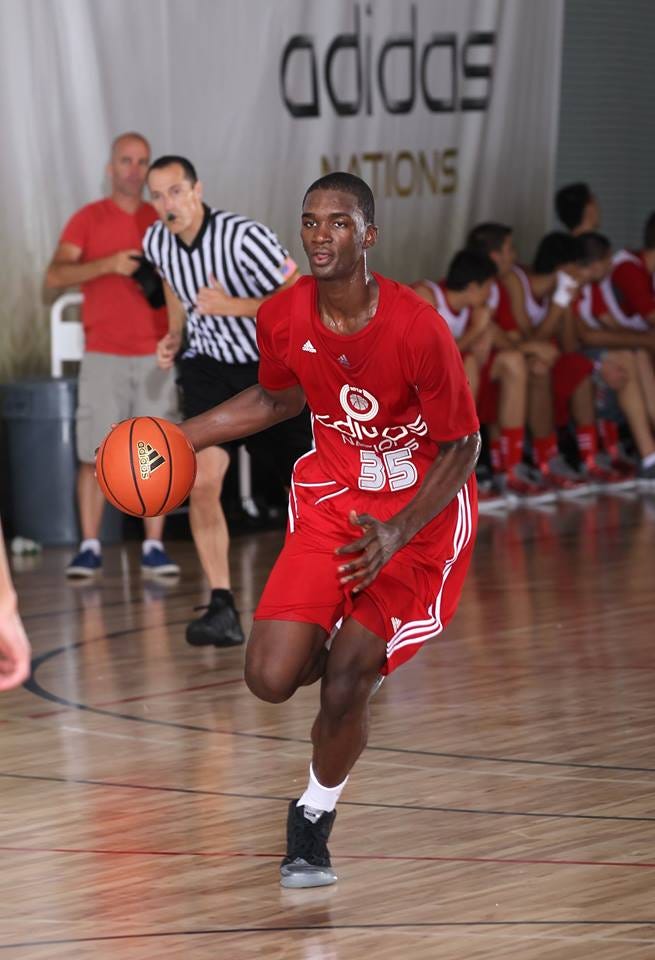 Credit: adidas
Josh: I'd lean toward the latter, but the truth probably lies somewhere in between. I'm confident there'll be at least one franchise player, but whether it's Wiggins, Parker, Embiid, Exum or a dark horse, remains to be seen. We'll undoubtedly see the names selected on Thursday filling up NBA rosters, if not All-NBA teams for years to come. There's no debate there's more talent than 2013, but does it compare to the legendary 1984 draft? Or the amazing (minus Darko) 2003 draft? Only time will tell, but the excitement for Thursday night is palpable.
Matt: I'm very much in the mindset that the 2014 draft is indeed very deep, but the superstars are yet to be determined. This draft class to me does have shades of the 2003 draft. But If I was to look back on a particular year and try to forecast what we potentially have this season I would say 2010. That year boasted 6 studs from the first round. There's a potential franchise player oozing out of the top 30 picks!
In a recent article I wrote, I mentioned that as far as comparisons go, the class is full of Robin's not Batman's. Andrew Wiggins in particular I likened to Scottie Pippen. He has a phenomenal nose for defense, obviously has off the chart athleticism and can hold his own on the offensive end. Like Pippen and Batum, Wiggins is a perfect complimentary piece. The guy that should be a household name is Julius Randle. He has phenomenal vision out of the post and I liken him very much like Elton Brand/Zach Randolph. If he works tirelessly on his conditioning he will be a nightly double double machine.
Josh: I also love Randle and the fact that people see Noah Vonleh going before him is ludicrous.
Olgun: Randle and Vonleh are iffy for me. Both undersized for PF's. It will be interesting to see how Randle's post game translates. I really like Aaron Gordon. He has NBA level athleticism and is a great defender. I can definitely see him as a Shaun Marion type of guy with a long career ahead of him.
Let's finish this roundtable with your thoughts on sleepers and second round gems?
Josh: One of the few bright spots of the 2013 draft was Giannis Antetokounmpo. Well, get ready to double your Greek Freakness, because Giannis' older brother Thanasis is going to get drafted this year. The original Greek Freak, the older Antetokounmpo, came to the States last year with Giannis and played the 2013-14 season with the D-League's Delaware 87ers. Not quite as tall as Giannis, Thanasis still boasts exquisite length and defensive presence, averaging over a steal and a block per game for the 87ers last season. He probably doesn't have All-Star potential like Giannis, but he looks like he will be a solid NBA player for whichever team takes the plunge.
Matt: Even down to drafting role players this year there's an absolute quiver of guys that have the skills to step in and contribute straight away. Guys like Kyle Anderson, TJ Warren, Rodney Hood, Elfrid Payton, Clint Capela, Jerami Grant, KJ McDaniels, Glen Robinson III, Cleanthony Early, Spencer Dinwiddie and Thanasis Antetokounmpo are all prime sleeper candidates and given the minutes, could play a bigger role than most of the rookies from years past.
My personal favourite from this draft crop is Kyle Anderson. I would go as far as to say that Anderson is better than Michael Carter-Williams! Anderson posted nearly 15 points, 9 rebounds and 6.5 assists from the point at UCLA. His shooting has improved out of sight in the last 18 months and at 6'9" would be a freak at the point if whoever drafts him opts to play him there. He is listed as a small forward in every mock draft and who doesn't love a little bit of point forward on the court?
Olgun: As much as I'd love Anderson to be a poor man's Magic Johnson (he's 6'9 so obviously that comparison is there, as far-fetched as it may be) I have doubts as to his effectiveness. Watching his pre-draft workouts, he seems quite slow and lacking in explosiveness.
Matt: Anderson does look a bit like he drags around the court, but I remember people saying the same of Jason Kidd. His size may work against him with the way the league is headed now. Point guards are mostly combo guards, they're getting bigger and more explosive (Westbrook, Rose even Dante to a degree). It makes me wonder if the days of a 'pure' point guard are done. We don't have many left in the league. Rondo, Chris Paul and you could argue Carter-Williams since his shooting is so bad. There's not many guys that can still dish 10+ assists a game over an entire season.
Josh: Anderson is definitely intriguing, given his 6'9" frame, but I'd be shocked if he lasted past pick 20. All those names you mentioned are super exciting, and I can't wait to see how this all shakes out. I like a couple of international guys; Damien Inglis and Bogdan Bogdanovic, and also Louisville guard, Russ Smith. I don't expect Inglis to come over straight away, but I like his potential and I think Bogdanovic can be a really solid scorer as soon as he arrives.
Olgun: I have two sleepers in this draft; Isaiah Austin & Deandre Kane. Austin's Marfan Syndrome diagnosis is heartbreaking. He had an awesome stint at Baylor, is 7'1, super skilled and can stretch the floor. Kane had a good career at Iowa St and, while being one of the oldest prospects in the draft might hurt his stock, he's a guy that can help a team immediately. Kind of like how Draymond Green has been a good role player for the Warriors.
---
For more basketball goodness, don't forget to follow our #TeamPnR specialists on Twitter. Josh: @redrock_bball Matt: @WWFantasyTeam Olgun: @australianbball