Discover more from The Pick and Roll
We're all about Aussie hoops. Independent, objective analysis and commentary. Insightful narratives built around Australian basketball. Read about our men and women in the NBA, WNBA, NCAA, Europe, national teams, NBL, WNBL, NBL1, prospects and more.
Over 2,000 subscribers
NBA Academy Games: Mojave King leads Team Global with 16 points in win against Team China
The third NBA Academy Games have begun in Atlanta, GA. The NBA Academy Global team outscored their opponent in 3 of 4 quarters --including a dominant 17-8 third quarter-- and took a 111-62 victory over NBA Academy China.
Update: NBA confirmed technical difficulties with the website, player stats will be confirmed and updated soonest.
Mojave King led the team and scored 16 points, hitting all 5 of his 2-point field goals and 2/4 on three-pointers. King showed his aggressiveness off early against NBA Academy China, charging down for an undefended two-handed dunk. He displayed an excellent transition game, but had a little less polish on playmaking.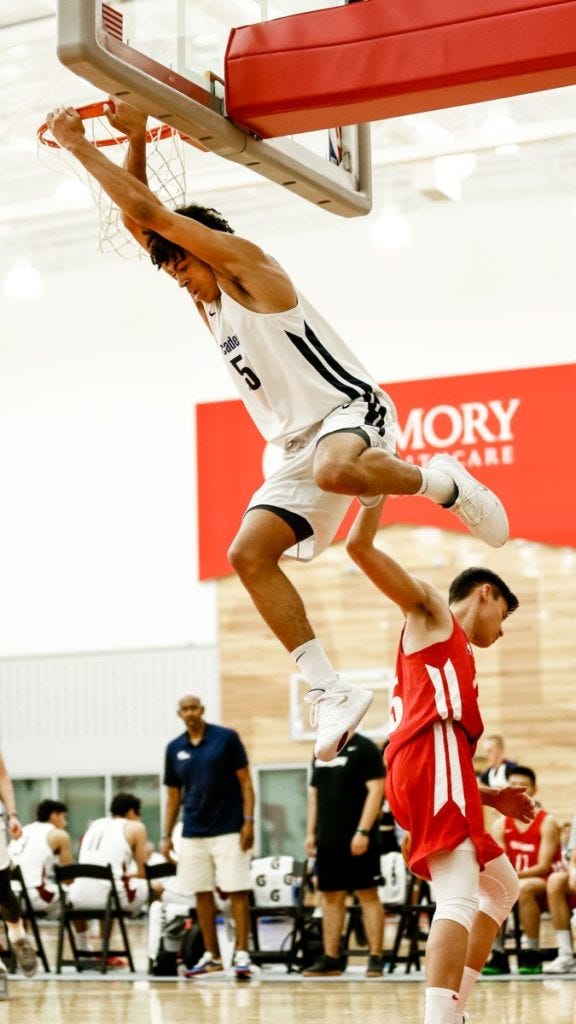 Blake Jones recorded 9 points and 2 rebounds. He showed good movement off the ball, cutting for scoring opportunities. Joshua Giddey had 7 points, 3 rebounds and 2 steals, while Taran Armstrong had 4 points and 1 steal. Giddey in particular, showed solid poise as the ball handler, driving and finding passes to open teammates. And despite the low scoring output, Armstrong played confidently on both ends, and looked very comfortable setting the team up during offence.
https://pickandroll.com.au/six-australians-to-attend-third-nba-academy-games-in-atlanta/
Kane Waters did not score, but grabbed two offensive boards. Dyson Daniels, who recorded 7 points, 3 rebounds and 1 assist, moved the ball well whenever he had possession, never holding it for too long and making the right pass. Waters did not get the ball much, but showed good rebounding effort on both offence and defence.
Replay game stream: NBA Academy Global vs NBA Academy China
Catch up on all NBA Global Academy games on The Pick and Roll.
Box score available on NBA Academy website.
NBA Academy Global game schedule (AEST)
Friday 12 July 2019 - NBA Academy Global vs The Skill Factory (TSF) at 10:30 pm

Saturday 13 July 2019 - NBA Academy Global vs World Select Red at 6:15 am
Game streams available on NBA Academy website.