Discover more from The Pick and Roll
We're all about Aussie hoops. Independent, objective analysis and commentary. Insightful narratives built around Australian basketball. Read about our men and women in the NBA, WNBA, NCAA, Europe, national teams, NBL, WNBL, NBL1, prospects and more.
Over 2,000 subscribers
Nathan Jawai's passing and post play
There's one guy who jumps out more than the others when looking through the league's assist leaders and that is Nathan Jawai. RealGM has his Assist Rate at 25.8% thanks to 2.8 assists in under 20 minutes per game. Those are guard type numbers, and although he has registered a negative assist to turnover rate in his European stints, he's generally shown some nice vision and a willingness to pass during stages of his career
Using spatialjam.com's 'Assist Connections' numbers, we can dig deeper to find out who the big man has been hooking up with on the court.

Opponents have been willing to send a double team to Jawai in the low post both early and often which has forced him into making a quick pass, either to a cutting teammate inside, or to a wide open three point shooter (usually the direct opponent of the help defender that is leaving their man to double).
Jarrod Kenny has often been the player that a team helps off of with his reputation coming into the league being that he's a reluctant shooter. Through ten games, Kenny has shown real patience on offense turning down a number of three point shots early in the shot clock. The result of this selective approach for Kenny has been an impressive 14-28 from deep which will surely boost his confidence and his attempts as the season goes on (although 50% shooting would likely be unsustainable).
Even without a double team though, Jawai is still a willing passer and can find the cutting teammate with a pass out of either the high or low post.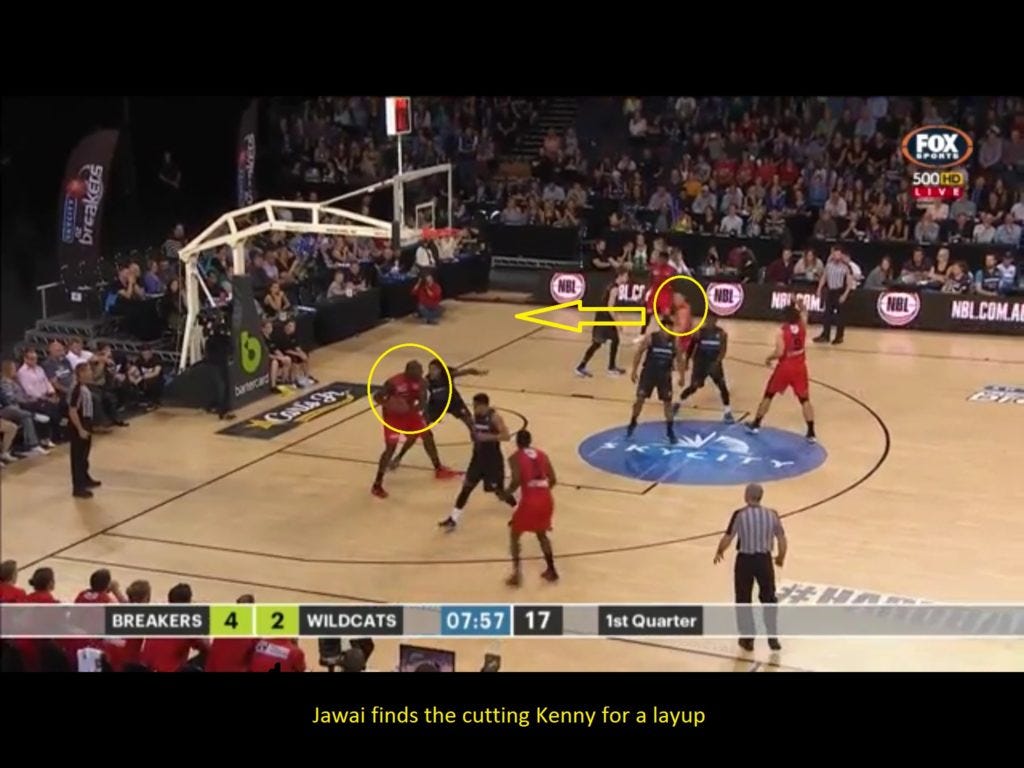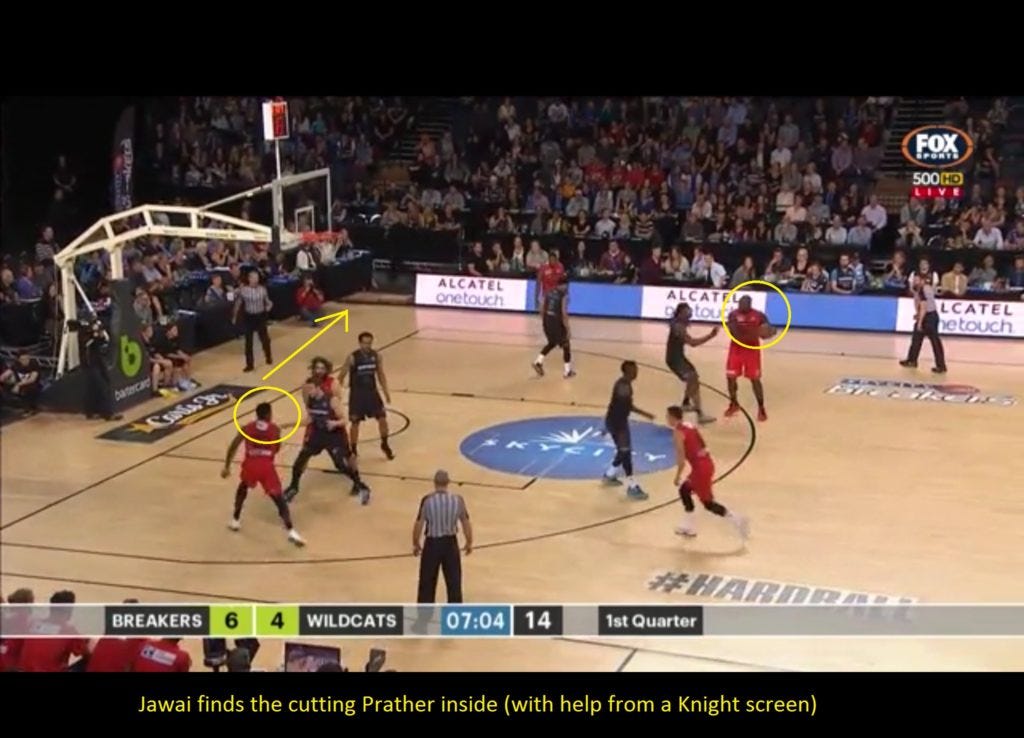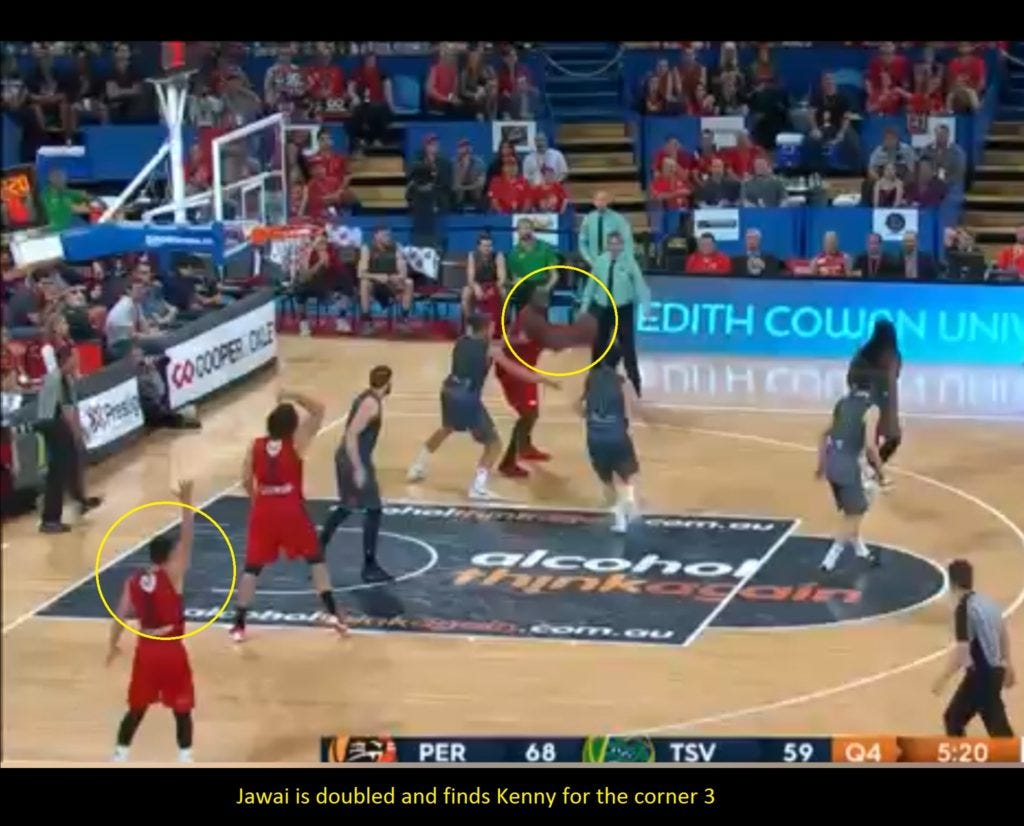 Jawai has had some mixed results in the early part of the season when looking to score in the post (62% of his shots or turnovers come from this play type) and it's been evident that he's left some easy points out there. He has drawn 27 fouls in nine games though and his effectiveness off of cuts, offensive rebounds, and in transition has been excellent according to Synergy Sports (more from them below) Post offense Nathan Jawai % Time Points PPP Rank Rating FG% % Score Post-up Scoring 68.1% 43 0.694 23% Below Average 38.1% 33.9% Post-up Passing 31.9% 43 1.483 83% Excellent 60.9% 58.6% Other common play types % Time Points PPP Rank Rating FG% % Score Cut 13% 21 1.615 92% Excellent 100% 84.60% Offensive Rebounds 12% 14 1.167 63% Good 63.6% 58.30% Transition 7% 13 1.857 N/A N/A 100% 100% Importantly, Nate has created as many points for others out of post-up situations through his passing as he has with his shooting, and on about half the number of possessions. The result of regularly going into him in the post is netting a far superior outcome than if you were going to a big who didn't have his terrific passing skills.
With the presumption that he will hit peak form and fitness in the second half of the season, you can expect his footwork and finishing to become sharper and his passing to be just as deadly alongside it. Monitoring if opponents send doubles, how often they do, and who they help off of will certainly be interesting to track as the season unfolds.
Special thanks to Liam Flynn for the Synergy Sports stats. Follow him on twitter @coachflynn7 Assist connection stats via Andrew Price at spatialjam.com. Follow him on twitter @andrewbprice Other stats via RealGM.com
Any questions? Find me on twitter @crunchtimeshots