Midseason NBL rankings: Here's the top 5 players for every position
The mid-way point of the 2019/20 NBL season has arrived, and what better time to check in and see who the real stars of the show are!
Over the last ten rounds you would have heard all of those Melburnian commentators refer to players as five men, 'the best centre in the game', swingman, three man, point guard and the like.
So who is the best shooting guard of the class of 2019/20 at the halfway mark? Is Homicide spot on every time he calls Mr Double-Double the best in the business?
As a disclaimer, given certain players' relative size and versatility, a player may be used in more than one position during the course of a game, however we've used their main position as their ranking.
Let's dive in!
---
Point Guard
5. John Roberson (South East Melbourne Phoenix)
2019/20 Stats: 19.3ppg, 2.4rpg, 5.8apg, 49%FG
https://twitter.com/SEMelbPhoenix/status/1185744947506487304
Roberson burst on the scene in the opening part of the season, lighting up Melbourne Arena with his dazzling three-point shooting. He's more than just a one-trick pony though, with his ability to share the sugar on offence and take care of his responsibility on the defensive end.
4 - LaMelo Ball (Illawarra Hawks)
2019/20 Stats: 17ppg, 7.5rpg, 7apg, 37%FG
What more can you say about Ball which the world doesn't already know. He's putting the league on a pedestal and has been included in multiple highlight reels across the globe many thanks to his recent back-to-back triple double efforts. He's improving as each game goes by and its a credit to his ability that he's on the list surrounding stars in what is a deep position in the league!
3 - Melo Trimble (Melbourne United)
2019/20 Stats: 22.1ppg, 4.1rpg, 4.6apg, 46%FG
In his second year in the competition now and in a much brighter spotlight thanks to coming down south into the big smoke of Melbourne, Trimble has done his very best to lift United out of that early season hole. Trimble has one of the league's best first steps when attacking the basket and, while his defensive efforts are still questioned, he'll lead Melbourne deep into the season.
2 - Casper Ware (Sydney Kings)
2019/20 Stats: 20.8ppg, 2.8rpg, 3.9apg, 39%FG
Having to do a little less this year after making the rivalled move to Sydney, Ware is still one of the best shot creators and closers the competition has to offer. After taking his time to settle in with his new teammates, albeit while rattling off a major win streak, Casper will look to make his claim as the number one point guard in the second half of the season.
1 - Scott Machado (Cairns Taipans)
2019/20 Stats: 15.5ppg, 3.3rpg, 8.4apg, 46%FG
https://twitter.com/Tarco_Bell_Ski/status/1198188872980561920
Having an NBA background is one thing when you enter the league; putting it on display in every game you suit up in is another! The Taipans seem to have a knack of recruiting superstars at the point guard position and Machado is no different. The Snakes were supposed to be one of the bottom feeders according to pundits pre-season, however Machado's dominance has given them playoff aspirations.
---
Shooting Guard
5 - Devonte Newbill (Cairns Taipans)
2019/20 Stats: 18.2ppg, 2.7rpg, 3.1apg, 48%FG
Picked up from where he left off really has DJ Newbill. Burst onto the scene in New Zealand a couple of seasons ago now and has found a home in Cairns where he is leading a young group to some big things.
4 - Chris Goulding (Melbourne United)
2019/20 Stats: 18.9ppg, 2.4rpg, 2.3apg, 44%FG
https://twitter.com/MickRandallHS/status/1192347744301539328
The now NBL veteran can still play at such a high level and season 2019/20 has been no different. The various ways he can find the bucket is what he's known for in basketball circles, however his passing ability has been on display excellently so far this season.
3 - Mitch McCarron (Melbourne United)
2019/20 Stats: 10.1ppg, 6.4rpg, 3.4apg, 46%FG
McCarron can really do it all and is becoming the NBL's 'Mr Fix It' - plugging holes where needed in this United lineup. When called upon, McCarron can do anything for you, whether it be stopping the opposition's best player to grabbing 12+ rebounds in a game to secure victory.
2 - Corey Webster (New Zealand Breakers)
2019/20 Stats: 19.2ppg, 3.9rpg, 4.4apg, 44%FG
https://twitter.com/Buzzpicks/status/1185784810318385152
Despite missing game time so far this season, Webster has come to play every time he's hit the floor. In what even he would determine as sub-par seasons to his standards over the last couple of years, Webster has hit back and really found form where he has found good health again (obviously before the ankle injury).
1 - Bryce Cotton (Perth Wildcats)
2019/20 Stats: 20.6ppg, 4.2rpg, 4.1apg, 42%FG
Credit: Michelle Couling
A unanimous number one at this position, Cotton is still one of the competition's best, if not, the best. Continually finding ways to lift Perth off the canvas during times where all seems lost, Cotton has made the Wildcats his own and will find ways to win games off his hot hand in the second half of the season as well.
---
Small Forward
5 - Kouat Noi (Cairns Taipans)
2019/20 Stats: 11.8ppg, 6.9rpg, 1.2apg, 41%FG
The hot favourite for Rookie of the Year at the halfway mark, and who could blame the selection? He even said so himself at the beginning of the season! Noi has been that bouncy, reactive athlete that just works perfectly with the way the Taipans are set up.
4 - Brad Newley (Sydney Kings)
2019/20 Stats: 11.5ppg, 4.9rpg, 1.4apg, 47%FG
Credit: Russell Freeman Photography
Always underrated, Newley slots in here as he continues to find a suitable role for the Kings as he does his thing. Nothing super flashy about what he is producing or how he goes about it, it's just simply filling the right spot and role for this winning Sydney team.
3 - Anthony Drmic (Adelaide 36ers)
2019/20 Stats: 12.1ppg, 5.3rpg, 2.4apg, 52%FG
After being really up and down to start his professional career, could this be the year that Anthony Drmic really bursts out and onto the scene? It's starting to look like it with the Sixer producing at a nice clip and it's only trending upwards at this stage.
2 - Lamar Patterson (Brisbane Bullets)
2019/20 Stats: 18.7ppg, 6rpg, 5.2apg, 42%FG
https://twitter.com/d_j_m10/status/1197829850049810432
Slotting into a small forward role is Lamar Patterson and speaking of players trending upwards, Patto is getting better and better as the season goes on. The Bullets were on a little bit of a slide at one point, however if history can repeat itself - Patterson's second half of last season was MVP-esque, could he be the difference maker for this Bullets squad?
1 - Scotty Hopson (New Zealand Breakers)
2019/20 Stats: 16.2ppg, 6.8rpg, 2.8apg, 43%FG
https://twitter.com/nblfacts/status/1185335217415843841
Injury has left this guy off the floor for the last number of weeks as we hit the mid-way point of the season, however when he was on it he was simply superb. Hopson was a shining light of a Breakers squad that was disintegrating right before our eyes (and that was before Rice Jr was signed!) and he'll once again be expected to lead the charge now he's returned.
---
Power Forward
5 - Majok Deng (Cairns Taipans)
2019/20 Stats: 13.9ppg, 4.1rpg, 1.4apg, 51%FG
In what is definitely the thinnest position on the list, Majok Deng lands at number five after playing his role well in the development of success in Cairns. Switching between a starting role and coming off the bench on different occasions, Deng has provided different looks on both ends in comparison to Jawai/Oliver combination.
4 - Eric Griffin (Adelaide 36ers)
2019/20 Stats: 15.6ppg, 5.8rpg, 1.2apg, 55%FG
https://twitter.com/stevebarrett88/status/1188062771939725313
It's been a little bit of an odd start to the season for the run and gun Sixers, however they've hit another bullseye in terms of an import that can fit the system. Griffin has that athletic ability to find the right spots on the floor and then use his skills to its highest effect. No better showing than his latest outing off the pine when he exploded for 34 and 9 boards against Melbourne.
3 - Jae'Sean Tate (Sydney Kings)
2019/20 Stats: 16.2ppg, 6rpg, 1.8apg, 66%FG
https://twitter.com/Jukes01/status/1198157619120107521
The Tim Tam man - that's what he goes by these days right? Well, even if he doesn't, he eats hustle and he's become a staple of success out at the Kings. If there was a Hustler of the Year award, he'd be right up in the conversation (which is also a very good discussion topic!).
2 - Nick Kay (Perth Wildcats)
2019/20 Stats: 13.5ppg, 7.7rpg, 3.1apg, 52%FG
Coming off a stellar FIBA World Cup campaign, it looked as though Nick Kay was going to take his game to even bigger heights this season. Despite doing what he does best on both the glass and Perth's offensive sets, Kay has arguably seen a slight dip in form which may have been due to a heavy off-season load. Nevertheless, he's the catalyst for this Wildcats outfit.
1 - Mitch Creek (South East Melbourne Phoenix)
2019/20 Stats: 21.4ppg, 7.5rpg, 4.1apg, 47%FG
https://twitter.com/DylanAlcott/status/1195604061740883968
Was probably tough to punch him up to PF instead of leading the list at SF, however with Tai Wesley in street clothes for basically the entire first half of the season Creek has had to slide up a play a lot of four. There's no questioning he's one of the best talents in the competition no matter his position played and he's leading his new franchise into a potential playoff spot.
---
Centre
5 - Dane Pineau (South East Melbourne Phoenix)
2019/20 Stats: 8ppg, 7.4rpg, 1.1apg, 67%FG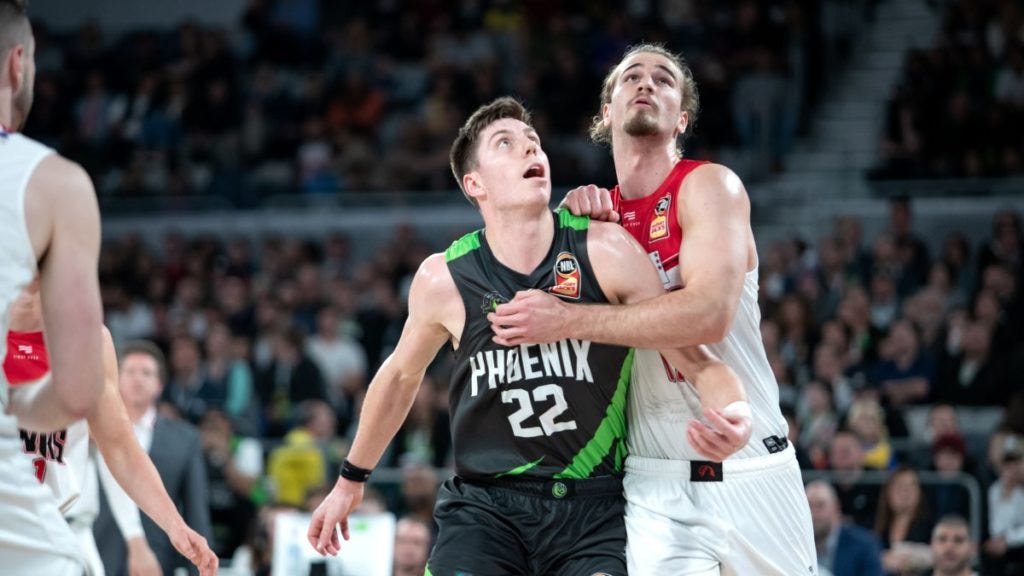 Credit: Michelle Couling Photography
Having rarely seen much court time last season in Sydney, Pineau is making the most of his time in the 'Heartland' and is relishing the starting spot. His stats may not look too appealing, however he's efficient and doesn't foul a whole heap which keeps him on the floor and keeps his team out of the bonus.
4 - Daniel Johnson (Adelaide 36ers)
2019/20 Stats: 16.6ppg, 8.6rpg, 2.2apg, 51%FG
Another unassuming customer, DJ continues to produce for his Sixers outfit without anyone really having to bat an eyelid. Another season is going by and Johnson is carrying most of the offensive load for Adelaide and continues to be one of the better players the NBL has seen this decade.
3 - Cameron Oliver (Cairns Taipans)
2019/20 Stats: 16.2ppg, 7.9rpg, 1.2apg, 55%FG
https://twitter.com/BradWinter12/status/1197043136591122433
Oliver has been a revelation in Cairns as the stretch big man continues to make big play after big play for the Orange Army. His consistency has been the key to his success, with just one minor hiccup along the way in the first half of the season - Oliver has become a really tough matchup for opposition teams.
2 - Shawn Long (Melbourne United)
2019/20 Stats: 19.6ppg, 9.6rpg, 1.4apg, 52%FG
Most NBL fans knew exactly what to expect from Shawn Long after he hit our shores last year in a Breakers uniform. He took a little while to get going across the ditch, however he hasn't needed the extra time to get going this season as he's putting on a nightly display in Melbourne.
1 - Andrew Bogut (Sydney Kings)
2019/20 Stats: 8.4ppg, 9.9rpg, 3apg, 54%FG
https://twitter.com/MickRandallHS/status/1191286937174167552
His statistics never show it, however Andrew Bogut is leading the league's best defences and his team is winning games off the back of it. Sitting pretty a game clear at the top of the tree, Bogut continues to excel in the areas he knows best - defence and passing.
So there it is, your leading candidates by position after ten rounds. There will be plenty of disagreement with (hopefully) a little bit of agreement along the way.
Want to have your say? Discuss and share with us on our socials, hit us up on Twitter @PickandRollAU!