Discover more from The Pick and Roll
We're all about Aussie hoops. Independent, objective analysis and commentary. Insightful narratives built around Australian basketball. Read about our men and women in the NBA, WNBA, NCAA, Europe, national teams, NBL, WNBL, NBL1, prospects and more.
Over 2,000 subscribers
Makur Maker declares for 2020 NBA draft, but college remains an option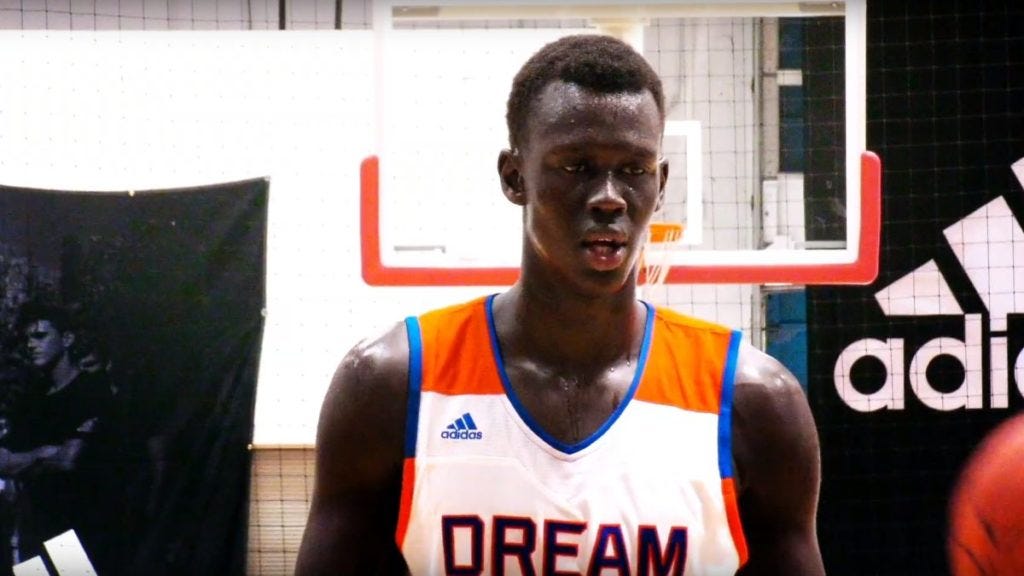 South Sudanese-Australian big man Makur Maker has declared for the upcoming NBA draft, joining Sydney native Josh Green. Makur will be hoping to follow in the footsteps of his cousin Thon, who was drafted by Milwaukee with the 10th overall pick in 2016.
(It's important to not confuse Makur with his other cousin Matur Maker (Thon's brother), who plays for the Rio Grande Valley Vipers of the NBA G League.)
A 6'11 power forward/centre with guard skills, Makur Maker was initially expected to enter the 2021 draft. ESPN's Jonathan Givony ranked him 21st in his first 2021 mock draft, back in October. Since then however, Maker has received clearance from the NBA to reclassify into the 2020 class. The 19 year old has a chance to leap straight from high school to the pros - his cousin Thon was actually the second player in over a decade to attempt this, back in 2016.
However, not everything has gone to plan for the new Maker on the block. His draft stock has plummeted in the past six months, to the point where Givony has him 75th on ESPN's current big board for 2020. A series of poor showings in front of executives, throughout December and January, led to his slide down the rankings.
It's unclear as to whether we will actually see Maker on an NBA roster next season. He still has the option of attending a US college, and mentioned four possible schools when questioned by 247 Sports. "Out west I'd consider UCLA and maybe Oregon, but if I'm not out west I'd consider Kentucky, you know Kentucky has everybody they produce pros like Anthony Davis, Boogie Cousins, coach Calipari has it all and maybe Auburn also," Maker said.
The 19 year old also visited Howard University in October of last year. He is leaning towards college rather than the G League, if the NBA doesn't come calling. "The NBA G League reached out and approached my coach, but if it's not the NBA then I'm going to go to college because I'm young and still want to learn more," Maker told 247 Sports.
ESPN's ranking isn't the be all and end all for Maker. He is a touted prospect, having received an early invite to represent the World Select team at the 2020 Nike Hoop Summit.The event was unfortunately cancelled over coronavirus concerns, meaning Maker missed out on a major opportunity to showcase his talent. Nonetheless, it's an achievement in itself that the Perth native was part of an exclusive group to receive the early call-up.
"I was planning on getting some workouts with some teams, I still do not know how that is going to go," Maker told 247 Sports. "But with corona everything has changed everyone's plans. I was hoping to come to Hoop Summit and kill everybody and the Iverson Classic also."
The coronavirus outbreak has also thrown draft preparations into a tailspin. NBA teams are unable to meet with players for workouts, and the May combine is likely to be cancelled. This has major implications for a prospect like Maker, who needs every opportunity he can get to improve his draft stock. However, despite facing such adversity, Maker's guardian Ed Smith remains undeterred. "He is [a] lottery talent," Smith told AAP. "He is really the only true 6ft 11 player in the draft who can stretch the floor and still be physical around the basket."
Maker is facing the unenviable task of impressing NBA scouts while the coronavirus pandemic rages on. Regardless of what happens though, there are several US colleges lining up to recruit him. If the NBA isn't an option, we might see Maker at a high major school such as the University of Kentucky.