Discover more from The Pick and Roll
We're all about Aussie hoops. Independent, objective analysis and commentary. Insightful narratives built around Australian basketball. Read about our men and women in the NBA, WNBA, NCAA, Europe, national teams, NBL, WNBL, NBL1, prospects and more.
Over 2,000 subscribers
LSU completes 5-game tour of Australia, are well prepared for the upcoming season
Louisiana State University's (LSU) men's basketball squad has finished their 2-week tour of Australia, finishing the trip with an admirable 3-2 record.
Photo credit: Jasper Cicero, LSU Basketball
---
In his return home to Melbourne - and what was the team's final game of the tour - Ben Simmons and his LSU team were struck by fatigue, falling 82-64 to a well-drilled Melbourne United squad.
Simmons still managed to post an impressive 16 points, 11 rebounds, 3 assists, 2 steals & 3 blocks, but admitted that, after a gruelling schedule against some of Australia's best professional teams, he wasn't mentally or physically prepared for the matchup.
"Definitely for me, mentally I don't think I was prepared," said Simmons at the post-game press conference. "Physically I was tired. My legs were kind of shot. We were supposed to be ready. Mentally I was supposed to be ready, but I wasn't. We learned a lot during the five games and I'm just happy we were able to come down here."
---
LSU began their tour in NSW, first arriving in Sydney to talk with media, in front of a stunning Sydney Harbour back-drop.
Ben Simmons, coach Johnny Jones and Darcy Malone | Photo credit: Jasper Cicero, LSU Basketball
The squad then travelled to Newcastle - a location of Simmons' youth - to face an All-Star squad at Newcastle Basketball Stadium, with LSU coming away with an impressive 89-75 victory, to begin their tour on a high.
Simmons had 22 points, 10 rebounds, 4 assists, 3 blocks & 2 steals, while fellow Australian, Darcy Malone, finished with 6 points & 5 rebounds.
LSU's second game was against a tough Sydney Kings side, featuring veterans Julian Khazzouh and Steve Markovic. In front of a sold-out crowd at Brydens Stadium, Markovic hit a go-ahead mid-range jump-shot with 3.6 seconds to go, sealing the 97-95 win for the Kings, while handing LSU their first loss of the tour.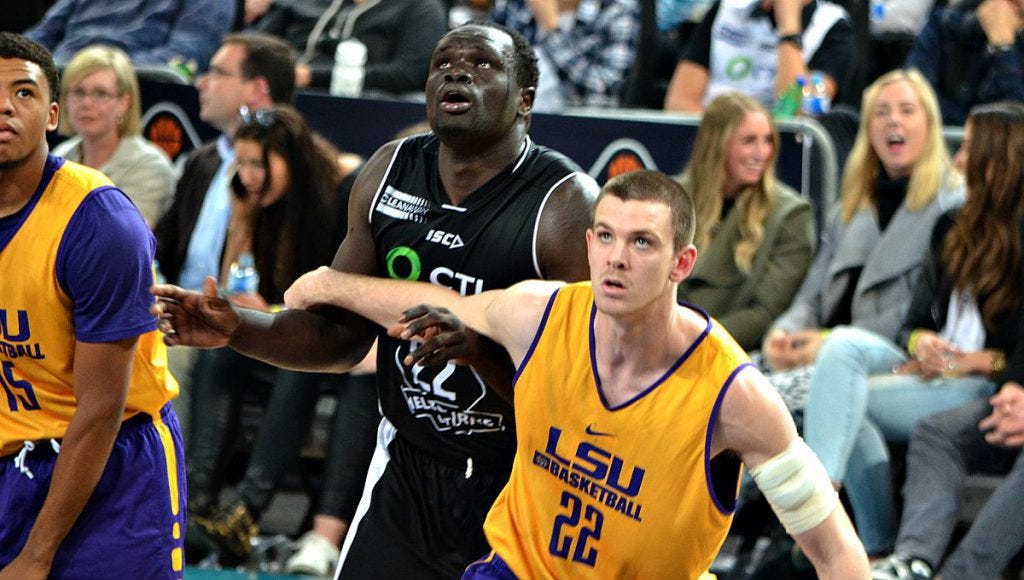 Ben Simmons continued his impressive all-round play with 26 points, 5 rebounds & 8 assists, missing a tip-in that would've send the game to overtime. Canberra-born Darcy Malone, whose friends and family travelled to Sydney for the game, finished with 4 points & 3 rebounds before fouling out.
The team would then travel north to Auchenflower, Queensland, to face an All-Star squad at NAB Basketball Stadium. This game also proved to be a close fixture, with Simmons playing hero, hitting the go-ahead layup to lead LSU to a 91-88 victory.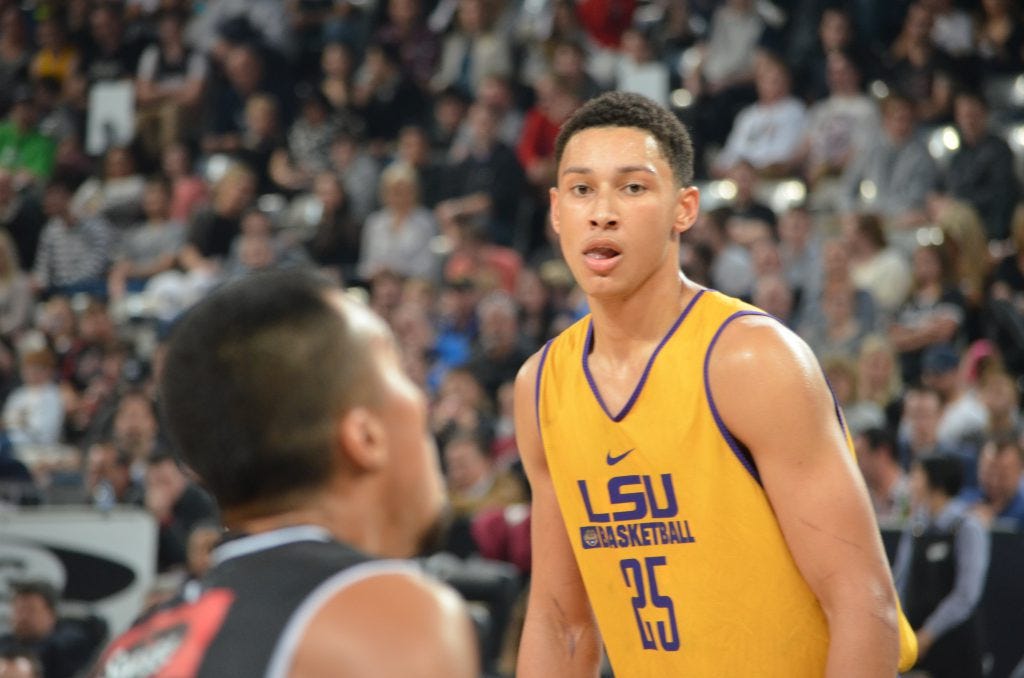 Continuing his stat-stuffing play, Simmons posted 18 points, 12 rebounds, 5 assists, 8 steals and 3 blocks, with head coach Johnny Jones praising his team's late-game execution against a competitive Queensland All-Star squad.
Tonight, it was a tight game late. I thought our guys made some plays and executed and gave us an opportunity to get out of here with a victory. Again, that was a tough team we faced. They were good quality guys who knew how to play. They could score. They were professional guys that made it tough for us.
The final leg of the tour was to Simmons' home-state of Victoria, where they would play two games against Melbourne United.
LSU got the better of the NBL side in the first matchup, coming away with the 97-89 victory at Dandenong Stadium. This game proved to be one of the better games of the tour for LSU, with the Tigers shooting 50.6% from the field for the game, 43-of-85, making eight three-pointers, along with 19 assists and just 9 turnovers.
However, Melbourne United would redeem themselves a few days later, ending LSU's tour of Australia on a low.
---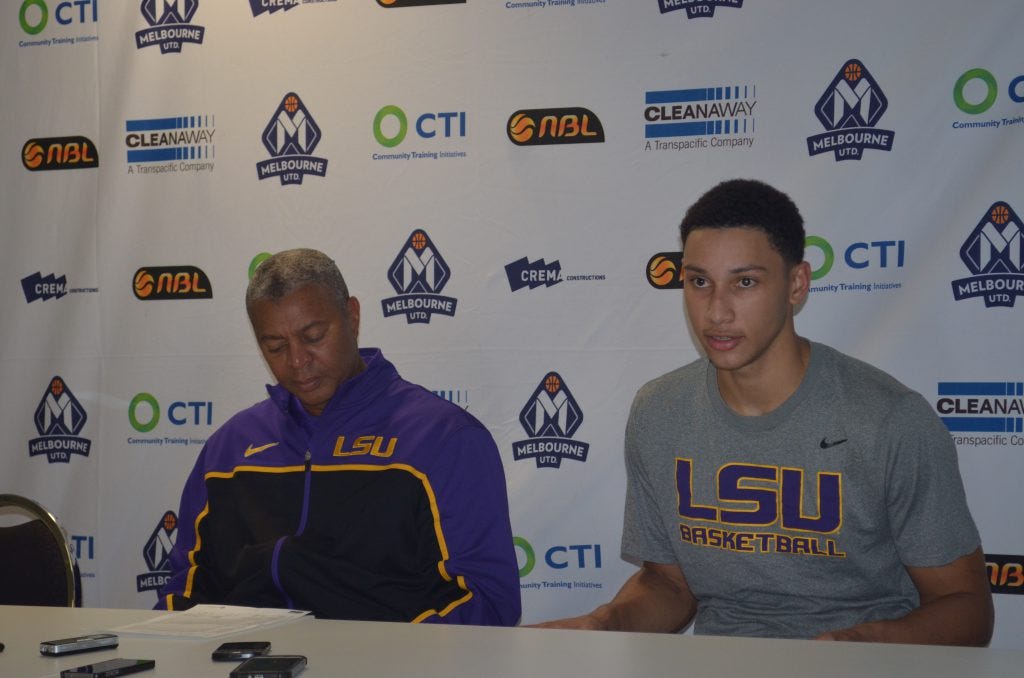 Despite a tough loss in the final game, the LSU Tigers finished their Australian tour with a 3-2 record, with head coach Johnny Jones praising the team ahead of what's expected to be a successful 2015/16 NCAA season.
Anytime you put a group of guys together like that for the period of time that we did and they are getting along and bonding, I think it's been great for our team... Getting here, I thought we did some good things throughout. We have five games. I'm really pleased with the effort of the guys during the time we were here and there are certainly some things that we look forward to working on when we get home.
With California and Yale also having successful pre-season tours of Australia, LSU's tour brought a different type of hype - centred around the two Australians on the squad.
LSU begins their autumn semester on Monday, and official season workouts begin in early October in preparation for the team's season opener on November 13 against McNeese State University.
Had an amazing time in Australia, appreciate all the love and support we had while we were here???? #25

— Ben Simmons (@BenSimmons25) August 23, 2015