Discover more from The Pick and Roll
We're all about Aussie hoops. Independent, objective analysis and commentary. Insightful narratives built around Australian basketball. Read about our men and women in the NBA, WNBA, NCAA, Europe, national teams, NBL, WNBL, NBL1, prospects and more.
Over 2,000 subscribers
A look inside the strangest Game 2 in NBL Grand Final history
It was a game like none before.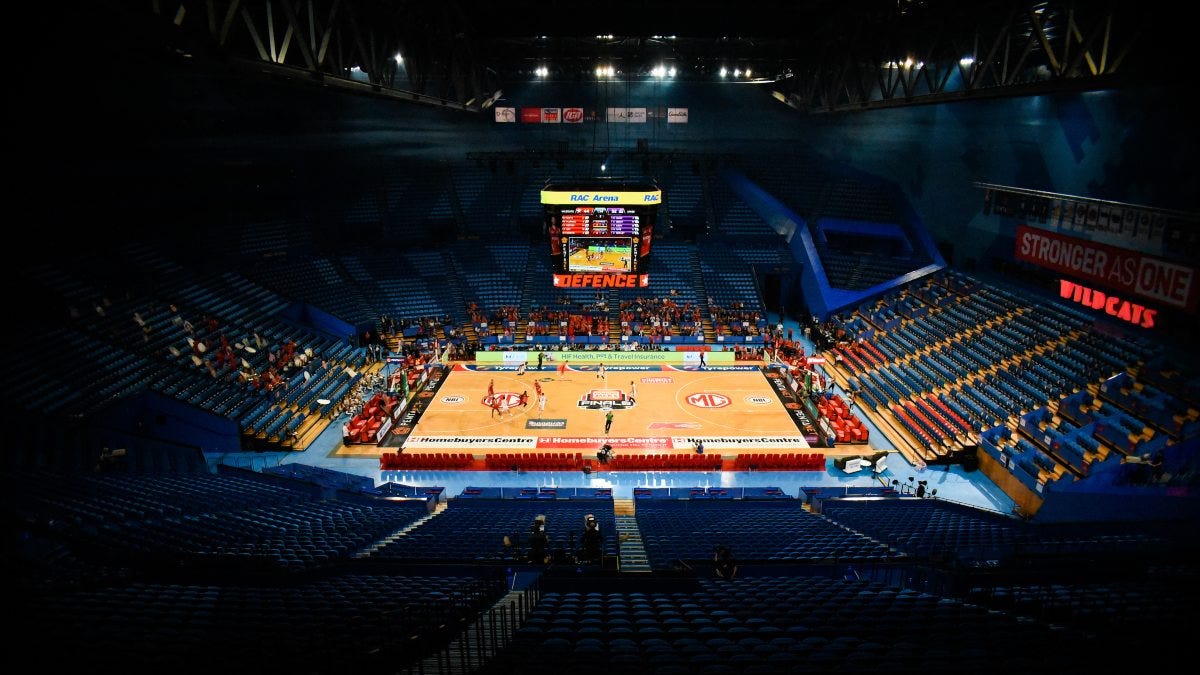 Credit: JBC Studios
---
PERTH – Those inside Perth Arena on Friday night, laid witness to the proverbial tree falling in the woods.
As an experience, it was many of those clichéd trademarks you would expect. It was eerie. It was uncanny. It was confronting. An entertaining basketball game eventually broke out, but in those split seconds where the mind can wander, a litany of reminders on our current predicament came to the surface.
Take the sensation of an early Miles Plumlee free throw. When the American stepped to the line, the arena went quiet. Dead quiet. The music was shut off. The handful of people in attendance stood breathless. There were no fans swapping banter, or corporate types sitting courtside clamoring for social media attention. It was a moment in time, affixed with complete calmness and quiet. To live in a world like that right now.
With ball in hand, Plumlee stood still, and you could have literally heard a pin drop onto the floor. Or if basketball platitudes are preferred, screams that followed from the Kings bench could be heard with crystal clarity. They could be detected for what they really were: the only noise in this building that wasn't controlled by the Wildcats' staff or loved ones.
Entering the arena two hours before tip off felt as normal as ever. Players from both sides were warming up on the hardwood; the scene around them was customary of a leading sporting event.
Support staff working tirelessly to prepare the entertainment spectacle for an international television audience. Cheerleaders twirling and jumping; readying for their subsequent performance. Media members gossiping about the latest happenings in the sporting world. For a fleeting moment, it all appeared normal. It definitely felt normal, and that mindset definitely faded quickly.
Game 2 of this NBL Grand Final series will forever be remembered as the contest where the Sydney King and Perth Wildcats duked it out in front of an empty gym. The reasons behind this are well known and don't need more attention. Not in this moment, and especially not from me. There are smarter minds for that. So let's jump back into what actually happened inside Perth Arena tonight.
Sydney levelled the series with a thumping 97-83 victory. Andrew Bogut looked like the NBA All-Star he almost became a decade ago. He, of course, isn't as lethal as when he strutted around the NBA in Milwaukee. But relative to his current competition, the version of Bogut seen tonight, was as dominant as ever.
"Bogut does what experienced, tough, physically and mentally tough people do," Will Weaver explained postgame.
The Kings have regained home court. They now sit two victories from a drought breaking championship. It can be achieved by winning games on their home court. Perth, just as they did entering the evening, holds a similar fate. Although another rousing victory in New South Wales is required for them to lift the trophy.
The thought of Game 3 is tantalising. This series is percolating to a delicious boiling point. Bogut has Bryce Cotton as a heavyweight companion, while the subsequent acts around the pair play their roles.
Both sides, for their respective reasons, sit on the precipice of history. But will they get the chance to fulfil that opportunity? This is where the real world kicks back into the equation. Because in answering that question, there is nothing inside the sporting ecosystem that can provide a guaranteed answer.
"There is a lot of stuff outside our control," Trevor Gleeson said after the game. How simple and true.
On the court, these squads control their fate. That is the beauty of sport: once athletes enter the playing field of choice, they become the orators of their story. Beyond that, however, these athletes NBL fans adore are just like the rest of us. They are subject to life's greatest truism: nothing is guaranteed. In basketball, in Australia, and especially in life. Will these teams see the court again this season? I hope so. The Australian sporting system hopes so. But as has become commonplace, we'll have to wake up in the morning and find out.
Professional sporting events inside empty arenas is currently the "normal" state of play. On a night that was anything but, I'll admit that everything feels normal as I sit down to write this.
Half a dozen children are running suicides on the court in front of me. It's the same court where their fathers and uncles finished a Grand Final game an hour earlier. There are mothers laughing and children playing. For a moment, life feels normal. However fleeting it is, it feels comfortable. It feels just like a game.