Discover more from The Pick and Roll
We're all about Aussie hoops. Independent, objective analysis and commentary. Insightful narratives built around Australian basketball. Read about our men and women in the NBA, WNBA, NCAA, Europe, national teams, NBL, WNBL, NBL1, prospects and more.
Over 2,000 subscribers
A look at how David Andersen fits into Melbourne United's offence
There was a lot of fanfare surrounding David Andersen's signing with Melbourne United in the offseason. Andersen, a four-time Olympian, was making his return to the NBL after a successful career overseas, and was expected to bolster an already dominant offensive unit.
Melbourne finished second in offensive rating and effective field goal percentage last season, while ranking third in true shooting percentage. Throwing Andersen into the mix, an accomplished scorer overseas who averaged double-digit scoring in his final three seasons in Europe, was expected to improve those statistics.
With a third of the 2016-17 campaign gone, though, United's offence hasn't flourished with Andersen. Melbourne is sitting last in offensive rating, seventh in true shooting percentage and fourth in effective field goal percentage. Andersen, however, has been solid offensively, averaging 12.1 points, second on the team.
Circumstances have been a big reason in United's offensive drop. Chris Goulding and Todd Blanchfield, two key cogs in the offensive system, have missed prolonged stretches with injury. Cedric Jackson was released and last season's second-leading scorer, Stephen Holt, is playing in Spain.
While it would be easy to marry Melbourne's offensive struggles with Andersen's arrival, a closer look shows that United have actually used the 36-year-old in sets that highlight his strengths.
Figuring it out
There was always going to be an adjustment period attached to Andersen's signing. This has proven to be true, as Andersen has been limited to a minute restriction of five-to-six minute bursts, and his teammates have needed to get used to his play style. However, it seems that minute limit has been lifted and Andersen is feeling comfortable within himself. The constant roster changes, though, has meant United is still working out some kinks on the offensive end.
"I'm starting to find my legs a bit more, physically, and I'm getting up and down the floor a bit more," Andersen said, after United's recent loss to the Sydney Kings.
"You obviously start to blend in but then again, we have changed some personnel, so it throws a spanner in the works. I'm trying to find my niche, or ways where I can help the team.
"Tonight some of my shots didn't go down that I thought would, which is the way the game goes sometimes, so that side needs to improve."
While Andersen's shooting rates show room for improvement (44.2 percent from the field and 28.6 percent from the three-point line), he believes he will eventually figure it out.
"It's definitely got nothing to do with my shooting style, you don't want to change that after a couple of decades playing the game," Andersen said.
"It's probably more just a confidence thing. I've had a couple of injuries in my shoulders as of late, so that definitely hinders you when you're shoving and pushing, and then you got to go out and shoot a three, it never helps.
"I want to get my percentages back up, I want to be a good predominant three-point shooter. Certainty confidence is not lacking, if you leave me out there, I'm going to shoot that every time without thinking about it."
Despite his shooting struggles, United's loss against the Kings was a reflection of how Andersen helps Melbourne's offence.
Coach Dean Demopoulos has built his offensive philosophy on a variety of screens, which forces the opposition to switch, allowing United to work with mismatches.
"We've only got 24 seconds," Demopoulos said last season, via The Pick and Roll's Liam Flynn.
"That's not a whole lot of time. Move the ball, see the open man, get the defence in rotation early, (and) exploit the mismatch if you can find it."
Forcing mismatches for Andersen
With Andersen's unique offensive skillset, one that mirrors that of Dirk Nowitzki, Melbourne has been able to intertwine their screen-heavy actions to get Andersen the ball in favourable situations.
Switching doesn't always mean an open look for the offensive player working with the mismatch. Instead, it opens up the entire floor, as the defence must change their coverage to deal with the mismatch, and help defence becomes all the more important, meaning someone is bound to be open. United does a good job at this with Andersen in the below play.
https://gfycat.com/FailingAcademicDogfish
In this set, the switch comes when Andersen screens Jason Cadee. This leaves the 6'1" Cadee guarding the 6'11" Andersen, while Greg Whittington is left on Nate Tomlinson. The athletic Whittington is dragged out of the paint, an area where he reigns second in the league for blocked shots.
Andersen recognises the switch and goes into the low post right away on the undersized Cadee. At the same time, the sharpshooting Ramone Moore unobtrusively moves from the corner to the wing, ready for a three-point opportunity. Moore's defender, Kevin Lisch, is forced to follow suit.
Aleks Maric notices the mismatch and commits hard to helping Cadee. Majok Majok, Maric's man, sees this unfold, and he slowly moves into the undefended paint, that is now open with Whittington on the perimeter and Maric helping Cadee.
The play culminates with Andersen delivering a quick pass to Majok, who finishes an easy basket. Andersen didn't take the shot here, but his low post prowess forces the Maric help, which leads to the Majok basket.
Indecision pays a price
Even in plays where Andersen doesn't touch the ball, his presence is enough to assist United's other big man in getting easy baskets.
https://gfycat.com/CoordinatedIncompatibleGalapagoshawk
At the beginning of this play, Andersen and Majok set a double-screen, another familiar hitch in United's offence. The double-screen confuses defenders, and create that celebrated mismatch United is so fond of.
Whittington is guarding Andersen, and Maric has Majok. Cadee goes over the initial Majok screen, allowing Tomlinson to get the step on him. As Tomlinson makes his move, Majok uses his speed to slip behind Maric.
The key point in this set, is Andersen staying out on the perimeter. It might look incidental, but Whittington needs to respect Andersen's shooting ability. Once again, Whittington's shot blocking capability is nullified, allowing United to execute a simple lob play.
Sydney did not want to give a clean three-point look for a shooter who connected on 41 percent of such attempts throughout his 15-year European career, and they paid the price in the paint.
How United gets Andersen his perimeter shots
Against Sydney, we saw ways United can get Andersen the open perimeter looks he craves.
https://gfycat.com/DisastrousElasticCutworm
This set starts with a slew of confusing screens and switches on the strong side wing and corner, which eventually ends with Cadee guarding Moore and Josh Powell on Devin Williams.
The non-stop action distracted Andersen's defender, Tom Garlepp, and allowed Andersen to slowly work his way out to the perimeter. Despite the obvious danger from an open Andersen three, Garlepp is hesitant to follow. The constant switching has created for help defence, and the Kings forward is stuck in no man's land.
As soon as Garlepp committed himself to help Powell out, the ball moves from Moore to an undefended Andersen, ready and waiting.
Garlepp notices the situation too late, and only manages an awkward stumble towards Andersen, who fires the uncontested triple.
How not switching is a bad idea
When Sydney decided not to switch, it left Andersen with clean looks on the perimeter.
https://gfycat.com/KlutzyTerrificAmericankestrel
Andersen and Williams kick the set off, by setting a double screen on Steve Blake.
Tomlinson, who was Blake's defensive cover, gets the quick step past Blake thanks to the screens. This forces Garlepp to provide help defence. With Powell guarding Williams and Garlepp helping Blake out, Andersen is able to pop out above the break, where he is wide open.
Tomlinson delivers a bullet pass to Andersen, who takes the open shot. Garlepp closes out, but look at the space Andersen has when he goes into his shooting motion.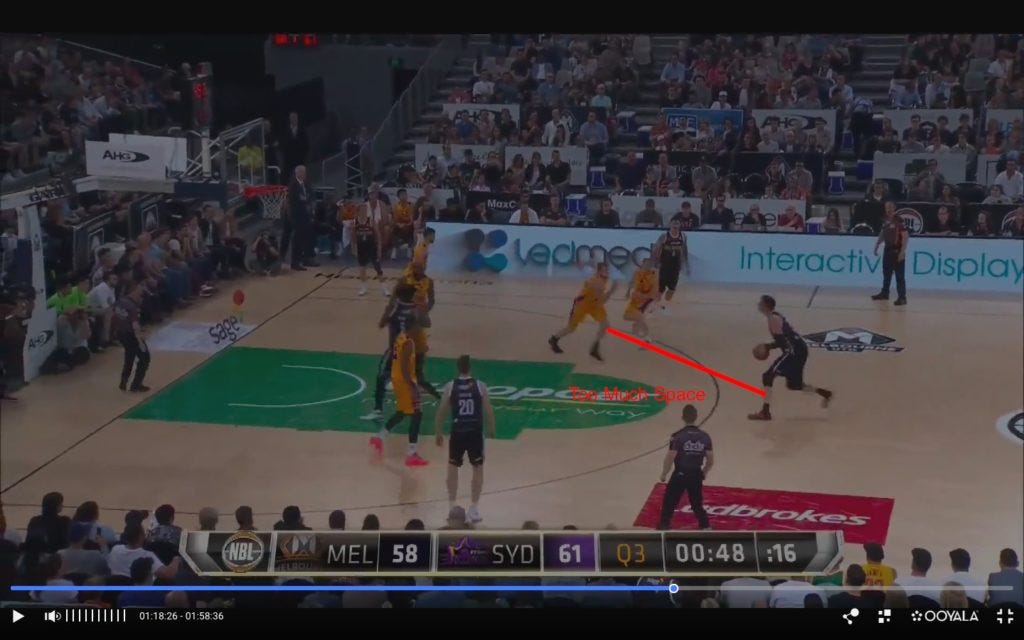 For a shooter with Andersen's ability, this is too good of a look to be giving him. This wasn't the only time Sydney left Andersen open thanks to a cleanly executed United set.
https://gfycat.com/PartialLikableIndianrockpython
While not as complex as the other plays, this simple Demopoulos set succeeds in creating a great look for Andersen.
As Andersen comes to set the screen on Cadee, Powell decides to stay low, a costly move when guarding a shooter like Andersen.
Andersen pops out to the three-point line, while Powell gravitates towards Tomlinson. This small movement from Powell leaves Andersen unguarded at the top of the three-point line, giving him a clean look.
With the floor spaced with shooters, no other King can afford to rotate onto Andersen, and this is with two of United's best shooters out. Add a healthy Goulding and Blanchfield back into the mix, and this sets doubles in potency.
The diamond and how it works with Andersen
Another play that United look to use is out of their 'power' series and it involves a diamond set-up, as Flynn broke down in more detail last season. While Melbourne hasn't used this action as often as it did last season, the results have still been positive when Andersen is involved.
https://gfycat.com/MilkyOrneryDogwoodclubgall
In this diamond set, Andersen and Williams are the two screeners on the posts. Tomlinson runs to top of the key, Owen Odigie is below the basket and Adnam brings the ball up.
Tomlinson and Odigie break away, thanks to the space created from Andersen and Williams' screens.
Before Tomlinson gets out onto the perimeter, he makes a quick cut back to set an off-ball screen on Garlepp, who is guarding Andersen. While Tomlinson's screen isn't the most effective, it gives Andersen just enough time and space to pop out to the mid-range corner.
Andersen quickly receives the ball from Adnam and goes straight into his shooting motion, the high release point allowing him to withstand Garlepp's contest.
The diamond set offers plenty of creative options to get Andersen --or any other United player for that matter-- an open look, but a quick-hitting action like this one could end up being the most effective at times.
On first glance, Andersen's per-game numbers may be a bit underwhelming to some. Combined with United's offensive troubles, and people may be quick to pin the problem on Andersen.
When we consider the injuries and roster turnover United has dealt with, along with how Andersen is now being used in Melbourne's offensive sets, it proves the 37th pick in the 2002 NBA draft is actually a central part to what Demopoulos runs on the offensive end.
Once Andersen starts knocking down the regulation looks he is being given, it should get United started on their return to offensive proficiency, hopefully to the level we saw last season.