Discover more from The Pick and Roll
We're all about Aussie hoops. Independent, objective analysis and commentary. Insightful narratives built around Australian basketball. Read about our men and women in the NBA, WNBA, NCAA, Europe, national teams, NBL, WNBL, NBL1, prospects and more.
Over 2,000 subscribers
Liz Mills: an Australian coach breaking the mould in Africa
Australia has produced some outstanding basketball talent over the years. Lauren Jackson dominated the WNBA, WNBL and European landscape to become one of the all-time greats. However, it took a player like Michele Timms to break new ground as the first Australian to play in Europe and the WNBA, that inspired and paved the way for talents like Jackson and now Liz Cambage.
Liz Mills may not be a household name in Australian basketball circles, but just like Timms, has been breaking new ground in Africa as a leading men's basketball coach.
Speaking with The Pick and Roll from Sydney, Mills discussed how a code switch from another sport served as the trigger for the start of her career in basketball.
Growing up as an identical twin who played netball, Liz Mills is a self-taught basketball player after discovering the WNBL as a fan with her sister Vic.
"We started in netball originally and only moved across to basketball when we were 15 after being really big fans of the WNBL," Mills explained. "We played junior and senior reps with Northern Suburbs in North Sydney and both began coaching junior teams there when we were 17, which led into coaching junior rep teams there as well.
"I went on to coach under 21 women's teams for Norths before heading across to Africa in 2011."
Mills never could see herself in netball long-term, due to her desire to play both ends of the floor and play a more global sport.
Her association with African basketball began after she graduated with a degree in Sports Science and Sports Management, while her sister Vic completed Social Science majoring in African politics.
"My sister and I finished university in 2008 and decided to do a world tour and did some volunteer work in Zambia. We kinda fell in love with the place and returned on several occasions, and in 2011 I went to the opening tournament (preseason event) of the men's national Super League.
"Zambia is where it all started for me. I have to give [Heroes Play United] credit as they were open to having a random Australian approach them to run a training session. The first session was only supposed to be an hour, but they encouraged me to stay and then come back for the next session which turned into working with them for the rest of the season."
Mills would go on to lead Heroes Play United to the national championship, one of her proudest accomplishments she cherishes deeply. She would go on to lead another Zambian club, Matero Magic, to a national championship soon after.
"Between 2011 and 2017 I coached club teams in Zambia, as well as the national university team, and was the assistant coach for their national team for the 2017 AfroBasket Qualifiers. In that time I also did some guest coaching for South Africa, Namibia and Kenya. Competing in continental club and national team qualifiers gave me exposure to a range of different teams across Africa, especially those in Southern Africa."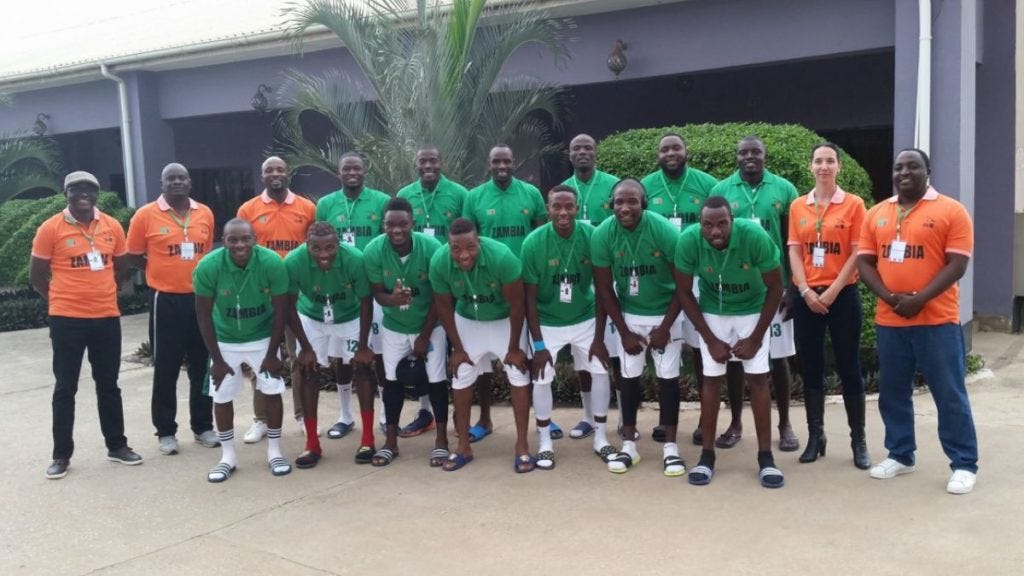 Zambia National Team | Source: Supplied
Zambia didn't qualify for AfroBasket in 2017, so Mills took time to reevaluate and plan the best path to take next for her coaching career. She loved southern Africa, and was determined to continue doing what she loved within the region.
"After 2017 I decided I really wanted to work with the top tier teams in Africa, those who had qualified for AfroBasket or who had been successful at FIBA Africa Club Championships – those teams being Senegal, Egypt, Tunisia, Morocco, Nigeria and Cameroon. So I went to the first window of World Cup Qualifiers in Tunisia and approached teams myself."
With her experience of coaching in Africa already on an impressive resume, coupled with her intense passion and attitude, she managed to sell her ability and the attributes she could offer as coach. As is important in any part of competitive life, the Australian native had an advantage that separated her from the pack, elevating her status as a coach to be sought after in Africa. Mills had immersed herself heavily in analytics and film breakdown – something which was virtually non-existent in Africa at the time.
One door may have closed in Zambia, yet another had opened in Cameroon. The head coach of Cameroon was without an assistant for the second window of qualifiers, providing Mills the perfect opportunity to prove her value, which she embraced with eagerness.
Cameroon's talent pool belies their current FIBA world ranking of 65, having been able to deliver a host of stars over the years, many of which have gone onto play in some of the best leagues in the world, including the NBA.
"I love the direction Cameroon is going, and that is without guys like Joel Embiid, Pascal Siakam and Luc Mbah a Moute," Mills enthused. "So they were definitely a team I wanted to work with and did whatever it took to be part of the team.
"Even without the Cameroon players in the NBA, the country still has immense talent with players such as DJ Strawberry and Kenneth Kadji, both having previous experience in the NBA and have played in EuroLeague and EuroCup. Then you have Landy Nnoko who was the best defensive player in the G League and is now playing in EuroLeague, and you also have former French Pro A MVP Jeremy Nzuelie, as well as other players playing in the top leagues in Europe. As an indicator, the squad only had two domestic based players which highlights the depth Cameroon has."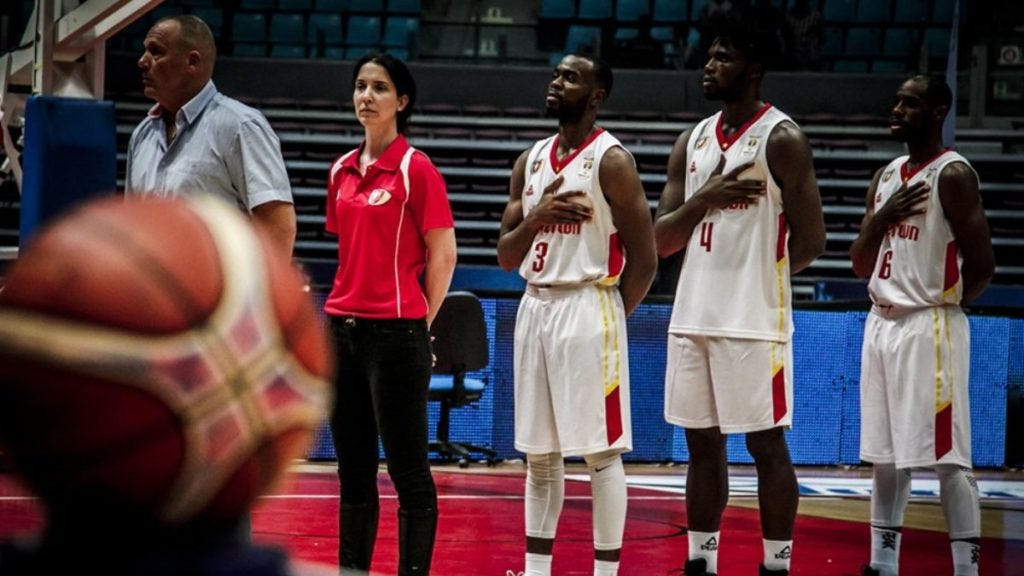 Liz Mills | Credit: FIBA
Although currently based in Australia, Mills continues to work with teams in Africa. More recently she consulted with several teams during the 2019 FIBA Africa Basketball League (ABL), providing them with team analysis and scouting reports. She also attended the Final Four of the ABL in Luanda, Angola in May.
An Australian basketball coach of elite African men in southern Africa is not exactly commonplace, let alone for a female of any nationality. Breaking the mould is nothing new for Mills, having found her calling in Africa, and she often gets asked about it.
"I get asked this a lot!" Mills exclaimed. "There is so much talent on the continent – you can go anywhere and the raw talent is ready to learn and get better and most importantly for me, they are coachable.
"These players don't have the same opportunities as those growing up in Australia would. When they get an opportunity, these players go for it and I like working with players with that kind of dedication, enthusiasm and mental toughness."
Mills also discussed the opportunities that had been afforded her despite her gender, while also speaking on the differences between the continent of Africa and her home nation.
"To be completely honest, I've had more coaching opportunities in Africa than I ever would have had if I stayed in Australia," Mills shared. "This doesn't just include coaching, but also being able to interact and learn from people within FIBA Africa and NBA Africa. Without doubt I would never have had those types of opportunities in Australia.
"There are now so many foreign coaches in Africa, that being white does not necessarily matter. Being a woman can be an issue - I think that is what is really remarkable about the teams that have hired me, is their willingness to see past my gender and assess me based on my ability as a coach. My resume speaks for itself."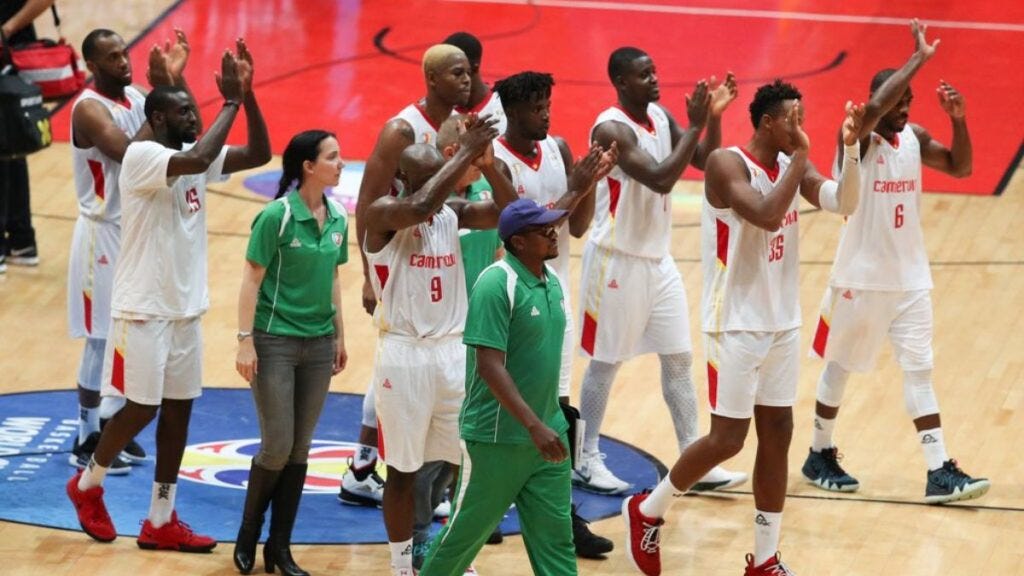 Liz Mills | Credit: Through the Lens KW
Mills reinforced that FIBA have been proactive in using basketball as a tool for good, and as stakeholders and fans of the game, it was imperative that everyone can participate regardless of the walk of life they come from. On a basketball court, Mills explained barriers are broken down, helping unite communities.
"Sport is an immense source of pride for any country and Africans are certainly extremely patriotic," Mills shared. "In basketball specifically, it's great to see some teams from politically unstable countries compete in tournaments and provide unity for their fans.
"Across Australia, you would come across huge South Sudanese communities. You just have to look at the NBA Global Academy in Canberra [and] how many African players [are] in that team? Basketball Australia really has to do a much better job in building relationships with the federations where these players are coming from."
The future looks rich with opportunity for Mills, with exciting news coming last week that she has been selected as an assistant coach for the Patriots Basketball Club. Patriots are the reigning National League Champions of Rwanda and are currently competing in the Basketball Africa League qualifiers.
Featuring twelve teams spread across two conferences, the Basketball Africa League is a partnership between FIBA and the NBA and will be the first NBA league outside of North America. Its aim is to showcase the growing talent on a global stage, held from March through to May next year.
Following her commitment with the Patriots, she is looking to coach a national team in the 2021 AfroBasket qualifiers which commence in February 2020. Mills is keeping her options open regarding where she is headed next.
"It won't necessarily work with Cameroon, even though I'd love to work with them again, but I am also open to other opportunities," said Mills.
With the growing number of strong, passionate and dedicated women like Liz Mills, becoming involved in the great game of basketball, on and off the court, it only will continue to grow in safe hands well into the future.