Discover more from The Pick and Roll
We're all about Aussie hoops. Independent, objective analysis and commentary. Insightful narratives built around Australian basketball. Read about our men and women in the NBA, WNBA, NCAA, Europe, national teams, NBL, WNBL, NBL1, prospects and more.
Over 2,000 subscribers
Leilani Mitchell's strengths could help the Mystics repeat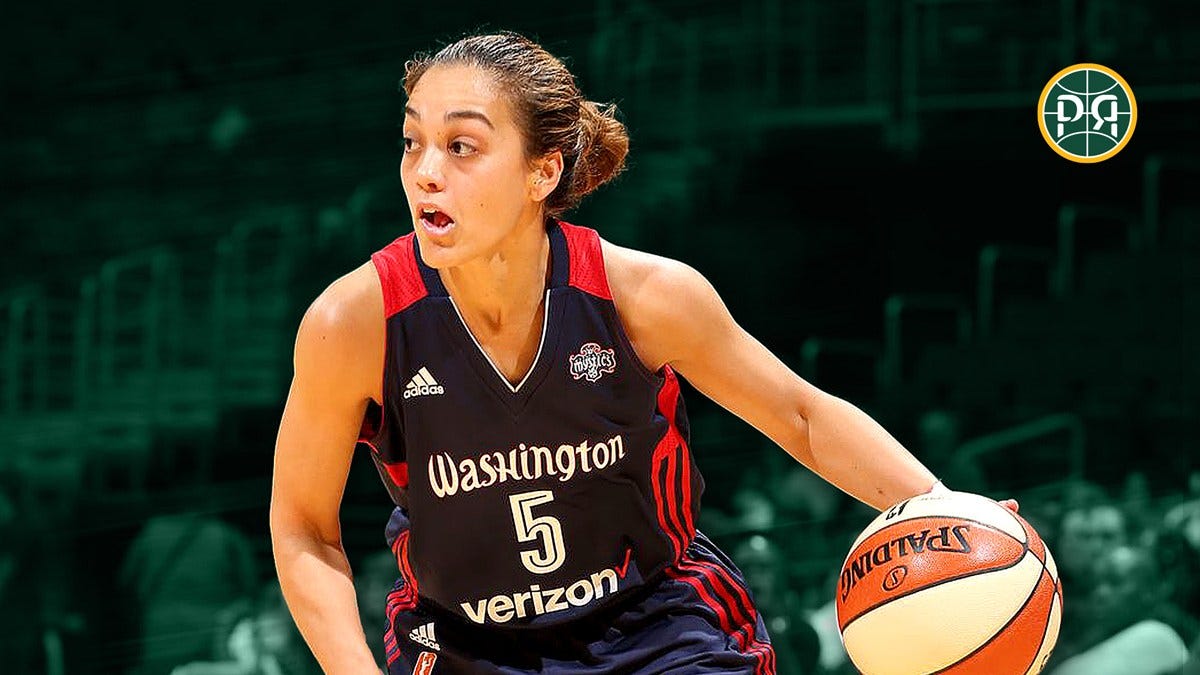 The Washington Mystics' signing of Australian Opals point guard Leilani Mitchell seemed to address a very clear hole in the team's roster – the departure of three-time All Star Kristi Toliver. Last Tuesday however, the addition of Mitchell has proven to be of even greater importance for the club as Natasha Cloud, Washington's starting ball handler, has chosen to sit out the 2020 WNBA season to focus her efforts on activism for the Black Lives Matter movement.
The combined impact of these departures is big for Washington. Between them, Toliver and Cloud provided 22 points, 11.5 assists, and a whopping 61.6 minutes per game last year. Replacing this level of production will be a challenge for head coach and GM Mike Thibault, however it would be wrong to say that Washington doesn't have options.
Reigning MVP Elena Delle Donne will continue to anchor this squad, accompanied by the superstar duo of Tina Charles and Emma Meesseman. Ariel Atkins and Aerial Powers, two versatile guard/forwards, will also see an expansion of their roles on both ends of the court, while the recent signing of veteran Essence Carson will add much needed depth to the guard rotation. While all these players make for a very talented-looking roster, none of them are true point guards. What this means for Leilani Mitchell is minutes, and lots of them.
2019's Most Improved Player
For most athletes entering their eleventh year in elite sport it might be assumed that their career would be on a downward trajectory, however during 2019 Leilani Mitchell emphatically bucked this assumption. Her campaign with the Phoenix Mercury saw her set new career highs in almost all major statistics. Her 12.8 points, 4 assists, 3 rebounds and 30.3 minutes per game earned her the award for Most Improved Player, becoming the first athlete in WNBA history to be given this honour twice. Known as one of the best shooters in the league – her 43% three-point mark ranked third last year – she expertly uses the high ball screen to create open shots, and if the shot's not open she's more than capable of taking the ball to the basket and finishing at the rim.
Looking at the heat map below, we begin to understand exactly how important these high ball screens are for Mitchell's scoring output. Standing at 5'5, she's one of the smallest players in the WNBA so her proficiency in creating separation from her direct opponent becomes incredibly valuable. Mitchell ranked first within the league as a scorer coming off screens last year – converting an excellent 1.31 points per possession in these setups.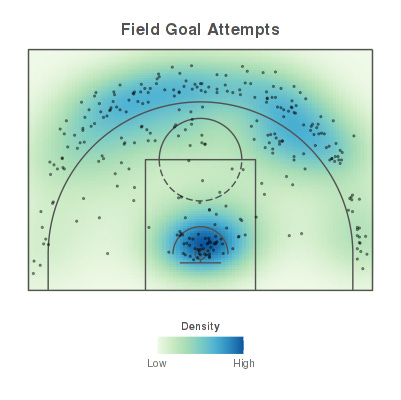 Source: Positive Residual
Not only did Leilani step up as a reliable scorer last year, she also showcased her aptitude as a distributor – her 4 assists per game led the Phoenix Mercury roster. Combine this with a solid assist to turnover ratio of 2.25 and the result is a very reliable ball handler. Aussie Hoops fans were able to see this first-hand when she returned to the WNBL last season with the Southside Flyers where she finished fourth in the league in assists with 5.2, along with being named in the leagues All-Star Five.
Last July, Leilani's scoring and distributing were on full display during a match-up with her new Washington team. In her 38 minutes of game time she dropped 28 points, 8 assists and shot 8 of 12 from deep to match the WNBA record for three's made. It's safe to assume that her performance left a lasting impression on Washington's head coach.
Mitchell's fit in Washington
"[Leilani's] leadership, ball handling, passing, and 3-point shooting will fit seamlessly with our style of play." It's hard to disagree with these words from Mike Thibault.
During the 2019 season the Mystics broke the record for the most three pointers made in a season, knocking down 317 from beyond the arc. They did this at a very efficient 36.6%. Over her career Leilani has taken 58% of her shots from beyond the arc with a career hit rate of 39.6% - a statistic that ranks her 5th among active players. Knowing this, it becomes obvious why Thibault is excited about her acquisition.
Washington thrives on being able to spread the floor, providing space for Elena Delle Donne to be at her dominant best. Last season when both Cloud and Toliver remained on the roster, opposing teams had a tough decision to make; leave Delle Donne one-on-on with her direct opponent and risk her taking over the game, or double-team her and watch the outside three-ball fly over their heads. With so many scoring options always on the court, Washington were able to produce arguably the greatest offensive season the WNBA has ever seen. With Mitchell at the point the team should be able to continue this style of play.
With one of the best front courts in the league and one of the best screeners in Emma Meesseman, Mitchell will continue to be able to create separation by using the high ball screen to create open looks and be a constant scoring threat. One of the key factors to Washington's success in the playoffs was Emma Meesseman's efficiency in the pick and roll. As a 'roller' in pick-and-roll situations, she ranked first within the league scoring at a phenomenal rate of 1.479 points per possession in these setups. Given Mitchell's skill in passing and weaving around screens, Mike Thibault should be able to utilise Mitchell and Meesseman in pick and roll situations to create easy looks.
An immediate role as the starting point guard should be on the cards for Mitchell. While it may be expected for a player to struggle upon joining a new team, it should be noted that she has already played under Thibault at Washington, so his style of play will be familiar to her. Now entering her 12th season, Mitchell will provide veteran leadership both on and off the court, which will be greatly needed after the experience lost by the team over the off-season. With her acquisition, Washington will remain one of the favourites to take home the trophy and become the first team since 2002 to win back-to-back championships. That elusive ring is finally within reach for the Aussie star.